I like to think i'm pretty cultured when it comes to eating and enjoy a wide range of cuisines but until last year I didn't know the first thing about Columbian food. That all changed after a visit to Levy Market where I got my first taste of Columbian street food from friends & fellow bloggers Jules & Bailey and their Arepa!Arepa!Arepa! stall. Jules is half Columbian and both have spent time in Columbia and South America so clearly know their stuff. I loved everything I tasted and even named their 'Ajiaco with Arepa' as my Best Street Food Dish of 2013.
Another exciting discovery I made last year was the joy of supper clubs; since attending my first in October last year I've not looked back having visited a further two in 2013 and have several booked already for 2014. When I heard  Jules & Bailey were planning a Columbian themed supper club I was naturally excited by an event combining two of my new favourite things. I was honoured when they invited me to be one of their guinea pigs and attend a trial run.
I arrived a little early to their lovely Levenshulme home full of apologies – I'd expected to find a chaotic kitchen with shouting, arguing and things being thrown around – but there was really no need,  instead, Jules had been working upstairs and Bailey appeared to be the coolest, calmest man on the planet. To say he had everything under control would be an understatement.
We spent the short time waiting for other guests admiring the charming and quirky decor and artwork around the house. Once they did arrive the food and drinks quickly followed. Starting with a refreshing cocktail; 'Guayaba', a guava cooler made from some of my favourite ingredients; ginger, rum and lime.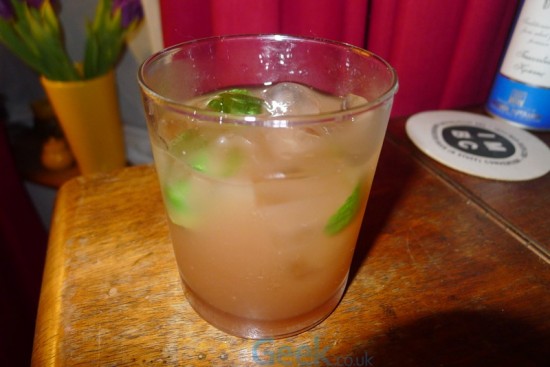 The first course, 'Coctel De Camarones' is a Columbian take on prawn cocktail with the prawns lightly cooked in lime juice served on a saltine crackers with a zinging hot sauce. This is my kind of food; the perfect combination of juicy prawn, citrus punch, chilli heat and crunchy texture from the cracker. I eagerly accepted the offer of more and would have happily eaten an entire plateful!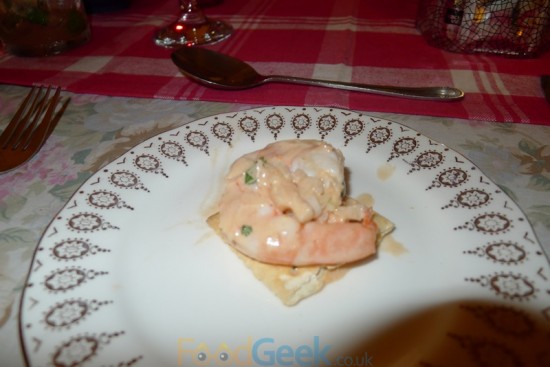 'Tamales De Pescado' arrived intriguingly wrapped up in a banana leaf. Inside was a large piece of steamed snapper on a bed of spiced masa mix (a type of cornflour I believe) with chilli butter. An exciting dish but it unfortunately also contained the only element of the entire evening that wasn't flawless. Due to one of the guests arriving late the snapper ended up being a bit overcooked which was a shame but of course not the chefs fault. It didn't stop me enjoying what was an otherwise fantastic dish. The fresh lime and corn salsa served on the side was fresh, light and complimented the flavours of the parcel wonderfully.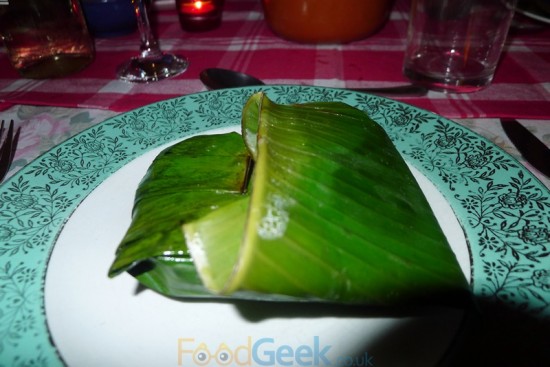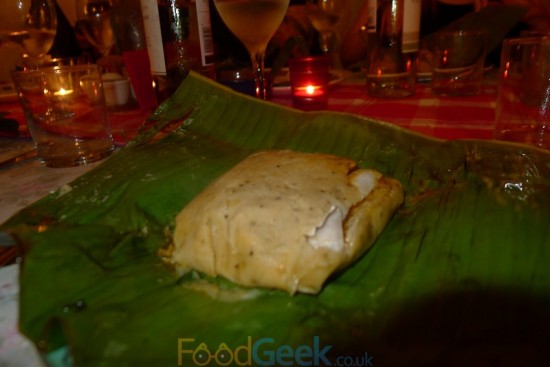 The main course 'Bandeja Paisa' is Colombia's national dish and consists of well, just about everything really. Our own plates arrived containing just rice and a fried egg and then plate after plate of delicious dishes were brought to the middle of the table including pan fried pork belly, chorizo, fresh avocado, baked plantain, slow cooked pinto beans & ham hock, powdered beef, tomato & onion sauce and mini versions of the arepas i've grown to love.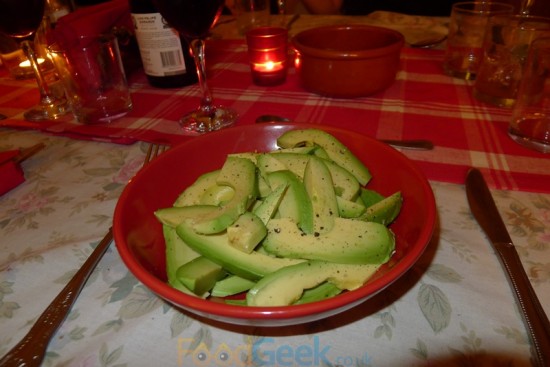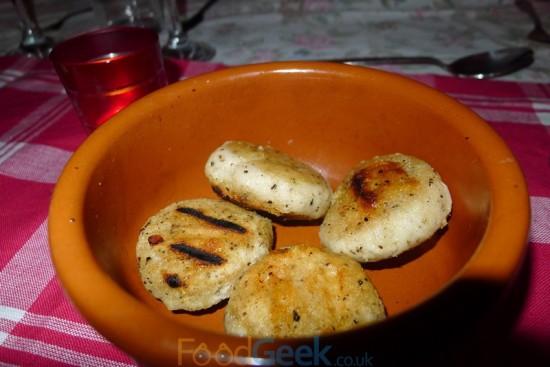 Making sure to get a little of everything (OK a lot of most things) I piled my plate. It wasn't the prettiest plate of food i've ever encountered but it was certainly one of the tastiest. Everything was brilliant with the highlights being the pork belly and chorizo and particularly the slow cooked beans and ham which were incredibly tasty.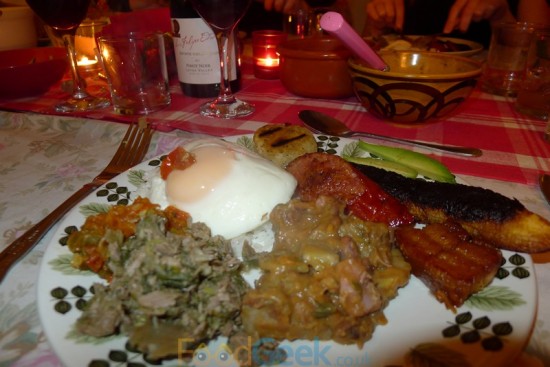 Onto dessert, 'Torta Negra Colombiana' is a traditional Colombian celebration cake made with molasses and alcohol soaked fruit. The gorgeous cake was served with ice cream which at the time I thought was pineapple but now know is cherimoya, an Andean tropical fruit which tastes like pineapple (to me at least).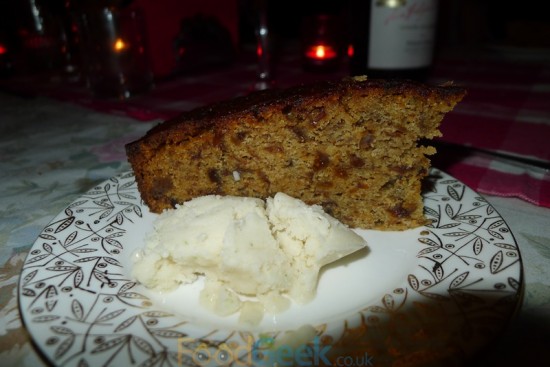 We ended with Colombian coffee and panelita. These tasty morsels don't look like much but were one of the best things i've eaten for a while. Difficult to describe exactly (not least as much wine and various spirits had been consumed by this point) but they tasted great and had a fascinating texture, soft and gooey with chewy bits and then a crunchy, oaty bit. I'm going to ask very nicely for the recipe or just turn up at every future supper club begging for panelita.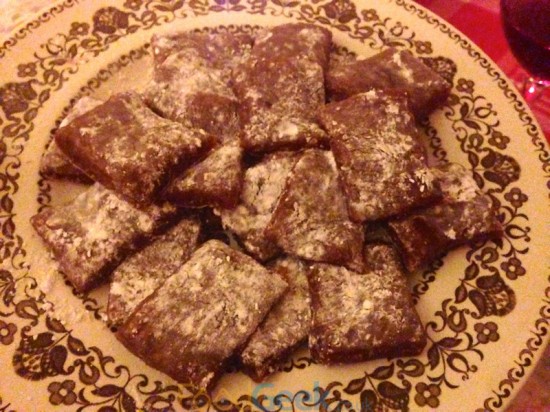 Jules & Bailey didn't charge for this event as it was a trial run but instead asked for donations to Trussel Trust which we were all more than willing to do as not only is it a very worthy cause but the standard of food we received was worthy of any fully paid supper club. You'd never have known it was their first time as everything was perfectly smooth and efficient.
I had a great time and got to extend my knowledge of Columbian food even further and still like everything I'm learning about it. They've just released tickets for supper clubs over the next few months which I believe are all sold out now. If that's the case i'd definitely look out for the next batch in the future, I know I will be doing!
* Edit * Apparently there are two tickets available for their Sunday Lunch supper club in February. I can't make it but if you can, go here to snap them up!
Date Of Visit: 25.01.14