My first thought upon hearing of the Drunken Butcher's Roast Dinner Masterclass was; "but I already know how to make good roasts". I am rather proud of my roast dinner skills but in the end couldn't resist attending anyway. I like Iain and it sounded like a fun way to spend a few hours on a Sunday afternoon. He certainly knows what he's doing in the kitchen, particularly when it comes to meat so I expected to pick up a few tips along the way too. But I'm not going to lie, I was mainly there to eat the end result rather than learn how to make it as i've never had anything other than an epic feast at any of his events.
He'd held this masterclass previously for the Women's Institute but promised no one scary would be turning up this time. We arrived around midday to find an organised kitchen with lots of prep having already been completed and an amazing smell courtesy of the shoulder of lamb that had been slowly roasting for 3 of it's 6 or 7 hours in the oven.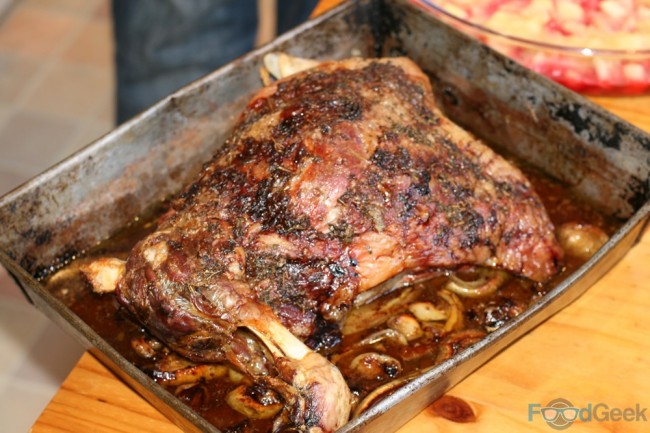 After a drink (or two) Iain got back to work, there was plenty to get through. On the menu was:
Slow roast shoulder of lamb
Roast loin of pork on the bone
Roast potatoes
Stuffing
Yorkshire puddings
Apple sauce
Proper gravy
Braised cabbage with bacon
Carrots with bay
Cauliflower cheese
Apple & Raspberry Crumble
Cheese cake
Phew. Just writing that was tiring.
It was fun watching Iain methodically work his way through the cooking whilst we enjoyed several more drinks and the occasional bit of pork crackling or lamb when it came our way (well he did leave the meat to rest right in front of me).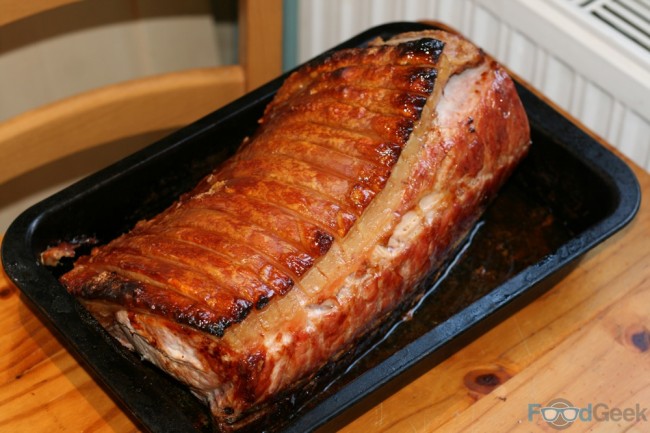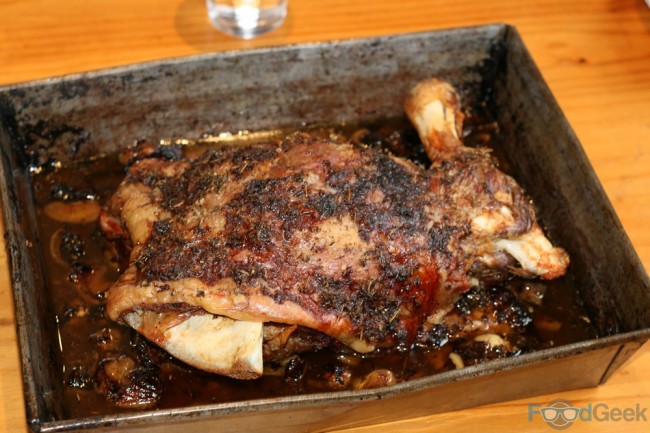 I also learnt a thing or two, what stood out the most is that although Iain is passionate about using the best quality ingredients when it matters – he orders all of his meat from the fantastic Taste Tradition – he's not afraid to cut costs where it would make little difference. For example, he unashamedly uses frozen cauliflower in his Cauli Cheese or cheap white bread as the filer in his stuffing.
Other great tips included not worrying if you cut down into the flesh when scoring pork fat as many chefs preach, be more concerned with the thickness of your meat rather than it's weight when determining cooking times and to use soft/cream cheese with just a handful of grated cheddar to make the best runny cheese sauces.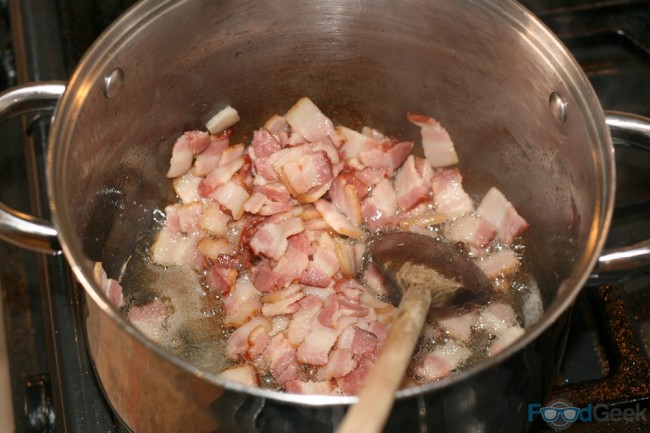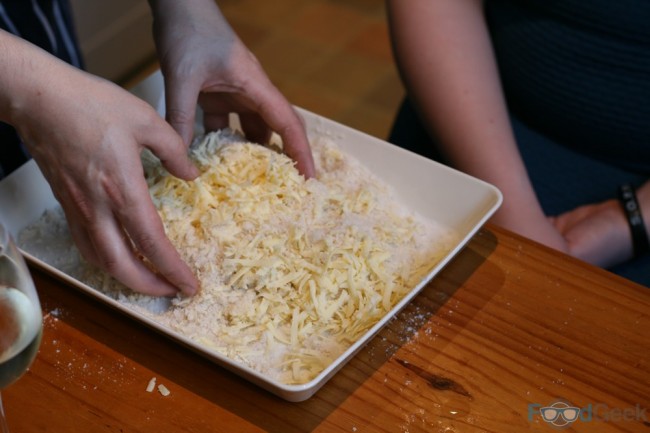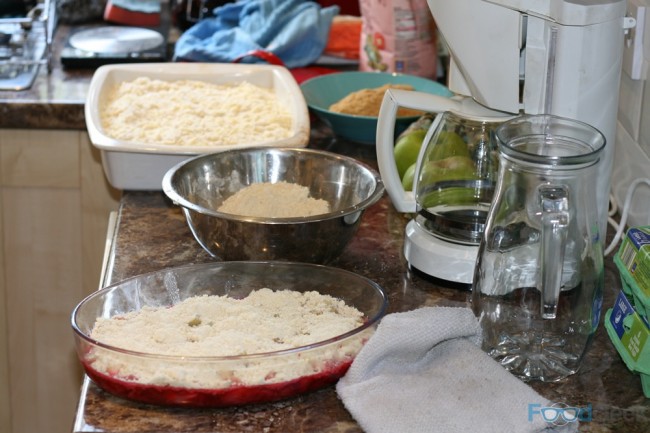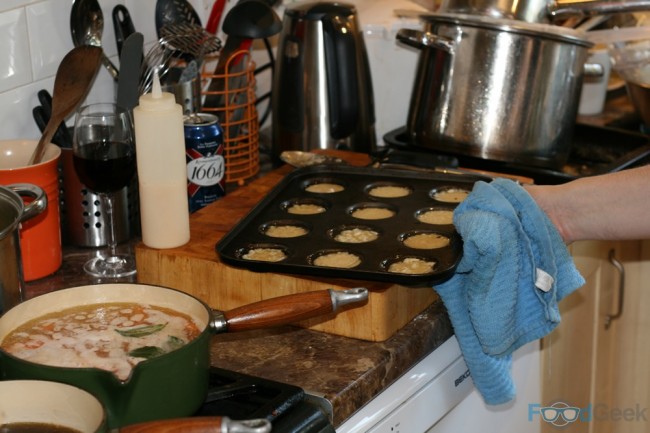 But as much fun as it was to watch and learn, I was most excited when it was time to serve up. Miraculously, everything came together and was ready at exactly the same time. The table was quite literally piled high with food as us hungry students/guests helped ourselves.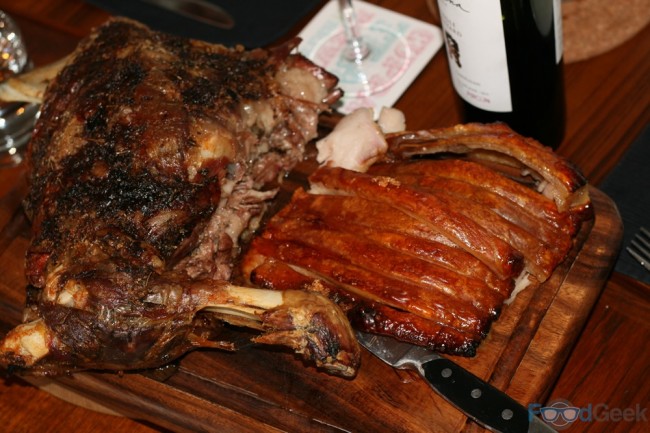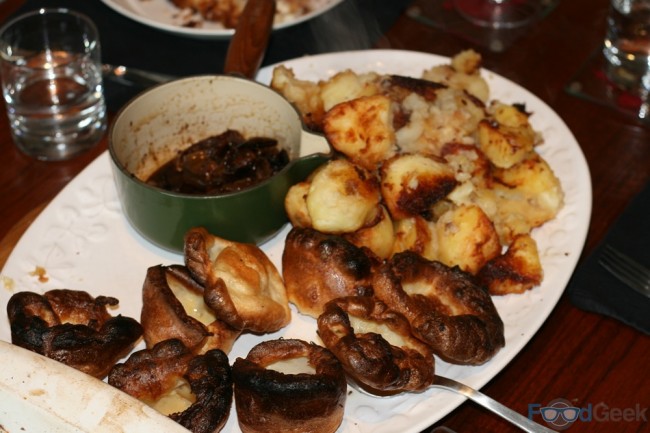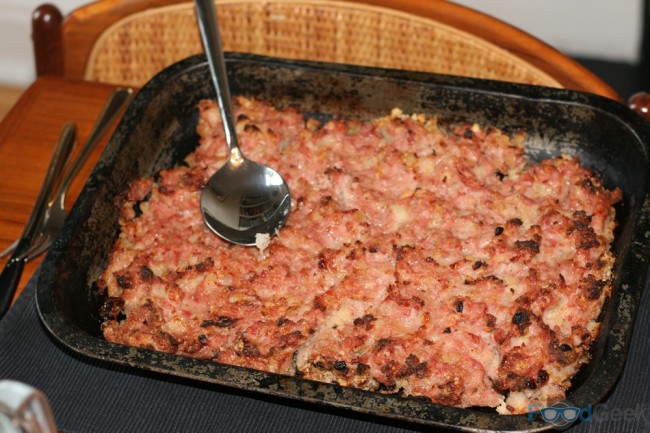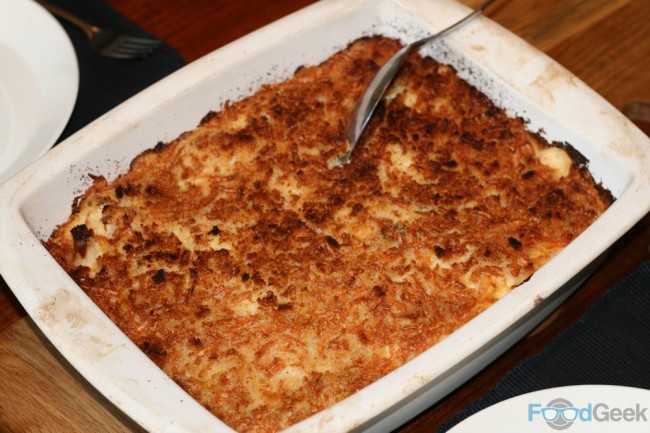 Everything was pretty much perfect, I can't remember eating many better roast dinners and i've had quite a few. The lamb was packed with flavour and pulled apart easily with a fork, roast potatoes were super crispy and the cauliflower cheese ridiculously comforting. The highlight though was the roast loin of pork, my least favourite cut as I often find it a bit dry and bland. This was neither, thanks to the phenomenal quality of the meat and the expert cooking it was tender, juicy and delicious with the best crackling. The sharp apple sauce was the perfect accompaniment and cut through the fattiness perfectly.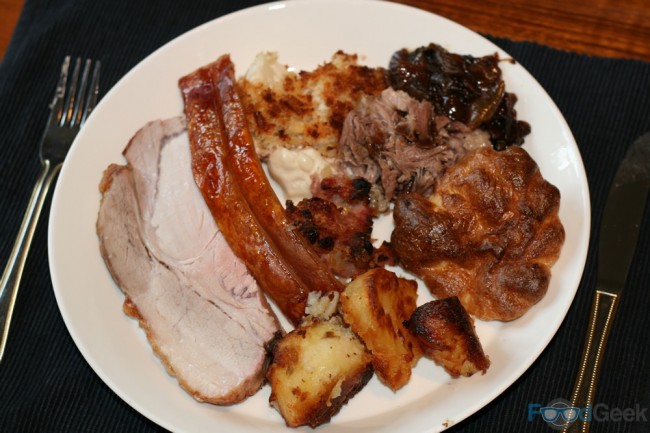 We ate our way through as much of the food as possible, being careful to leave room for the two desserts. Cheesecake is a favourite of Iain's and often features on his supper club menus, no wonder really when he can whip up one as good as this with so little effort, in no time at all. The cream cheese filling was flavoured with orange & lemon and it was served with a lovely berry coulis (made from frozen berries).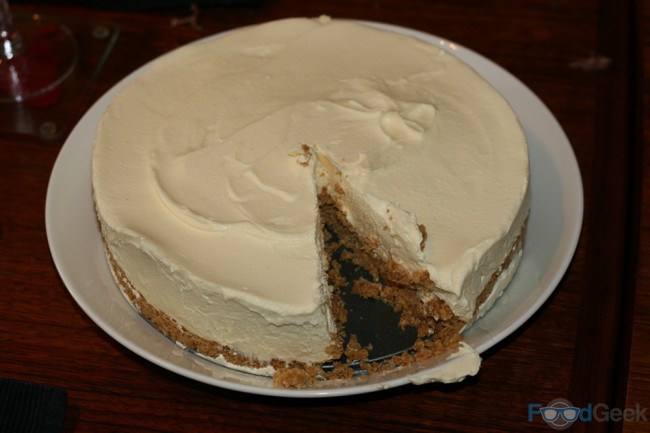 The second dessert had been taken off the menu originally but was later restored after a protest by Crumble obsessive Mrs FG. Thankfully she enjoyed it, as did everybody else, not least because it was served with Iain's amazing and incredibly alcoholic 'Old Fashioned Ice Cream'.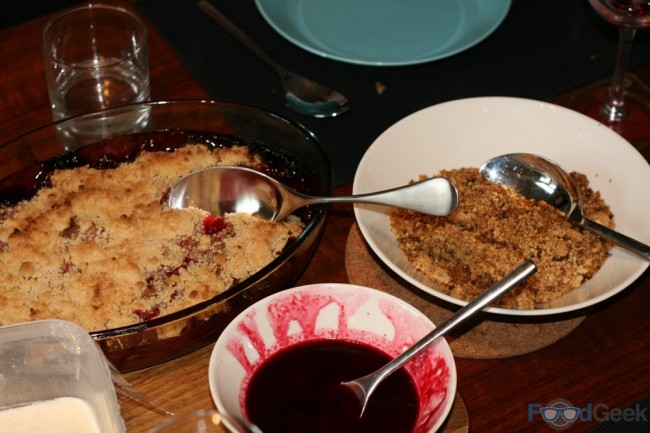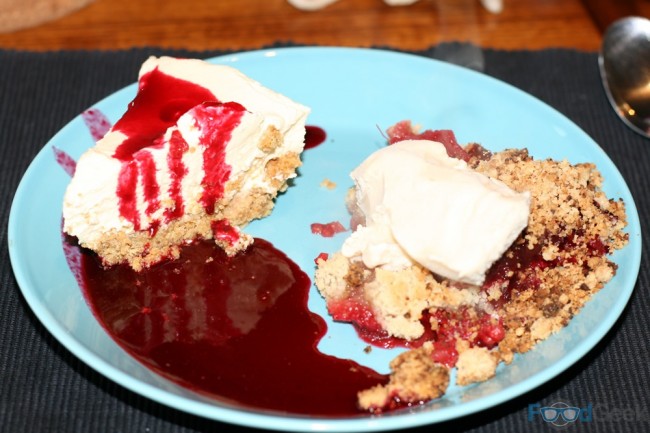 After a great afternoon we left Iain to do the mountains of washing up with our minds full of knowledge and our stomachs full of food. As well as a rather large doggie bag that made the most epic leftover pork sandwich the following day!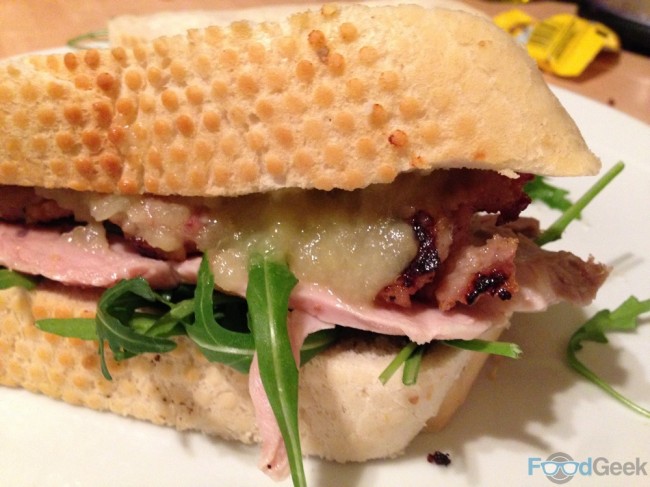 Date of visit: 09.03.2014