If you've ever read this blog before you may be surprised to find yourself here again, given it's been over 5 years since my last post.
Believe me, nobody is more surprised than me. I had no intention of blogging again, but for a few very good reasons, which I'll get to, it just felt right.
12 years ago this Saturday (Friday 6th August 2010) I took my lovely Mum to 3 Michelin starred Restaurant Gordon Ramsay for her 50th birthday.
It was one of my favourite ever nights. And I know she loved it too, cos she told everybody for years.
The only thing she didn't love was me 'not letting her' take photos. Not exactly what happened but that story stuck. It's true we didn't take any photos though and it's something I've regretted ever since and will for the rest of my life now.
We always talked about going back. For years I'd planned to take her again for her 60th in 2020. But I never got the chance as she died 3 days before her 60th birthday.
During her final weeks, when it became obvious she wouldn't make it, she made me promise I'd still go. There was no way I was ready for it in 2020 so soon after losing her (plus covid too of course). But last year, 11 years to the very day of the previous visit we went back in her honour.
I promised I'd take her with me, so that's what I did…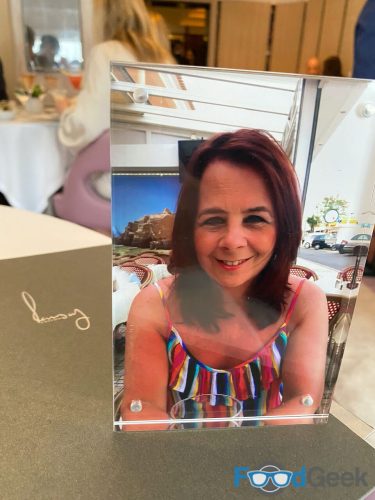 We ate, we drank, we laughed, we cried. We talked about her all night.
And most importantly… I took a LOT of photos!
So it seems only right that I dust off the keyboard and publish some of them here. Not least because she's read every single post on this blog and was always asking me when I was going to start again.
Knowing that made writing this one really tough though. I know she'd absolutely love it but it breaks my heart that she'll never read it.
I'm publishing this on what would've been her 62nd birthday. As a fitting and lasting tribute to an amazing Mum. Without whom this blog almost certainly wouldn't exist. No, not just because I wouldn't have been born. She was definitely the person who first inspired my love of food.
But more on that, and her later. This is still a restaurant review blog after all.
So lets see if I remember how to do this…
It started a mile or so from Restaurant Gordon Ramsay. In our swanky Chelsea apartment on Fulham road, overlooking Stamford Bridge. If we were doing this, we were doing it in style!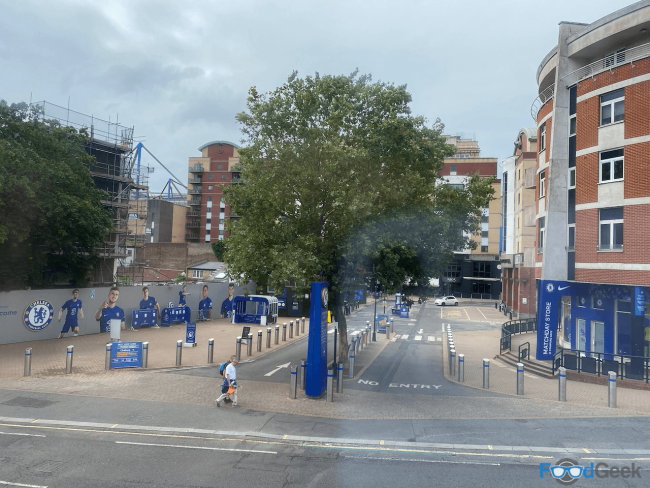 We began with a few drinks… naturally.
Two of her favourites sour beers including a very fine Belgian raspberry lambic (yes, she loved fancy sour beers!).
And one very sentimental to both of us. For my entire childhood, my Grandad (Mum's Dad) was a landlord of a Timothy Taylor pub in Keighley, near Leeds. My Mum lived there and I have fond memories of the pub from an early age. Dancing on the pool tables, 'borrowing' his keys for unlimited goes on the jukebox and fruit machines and of course, pulling pints behind the bar. Usually Landlord.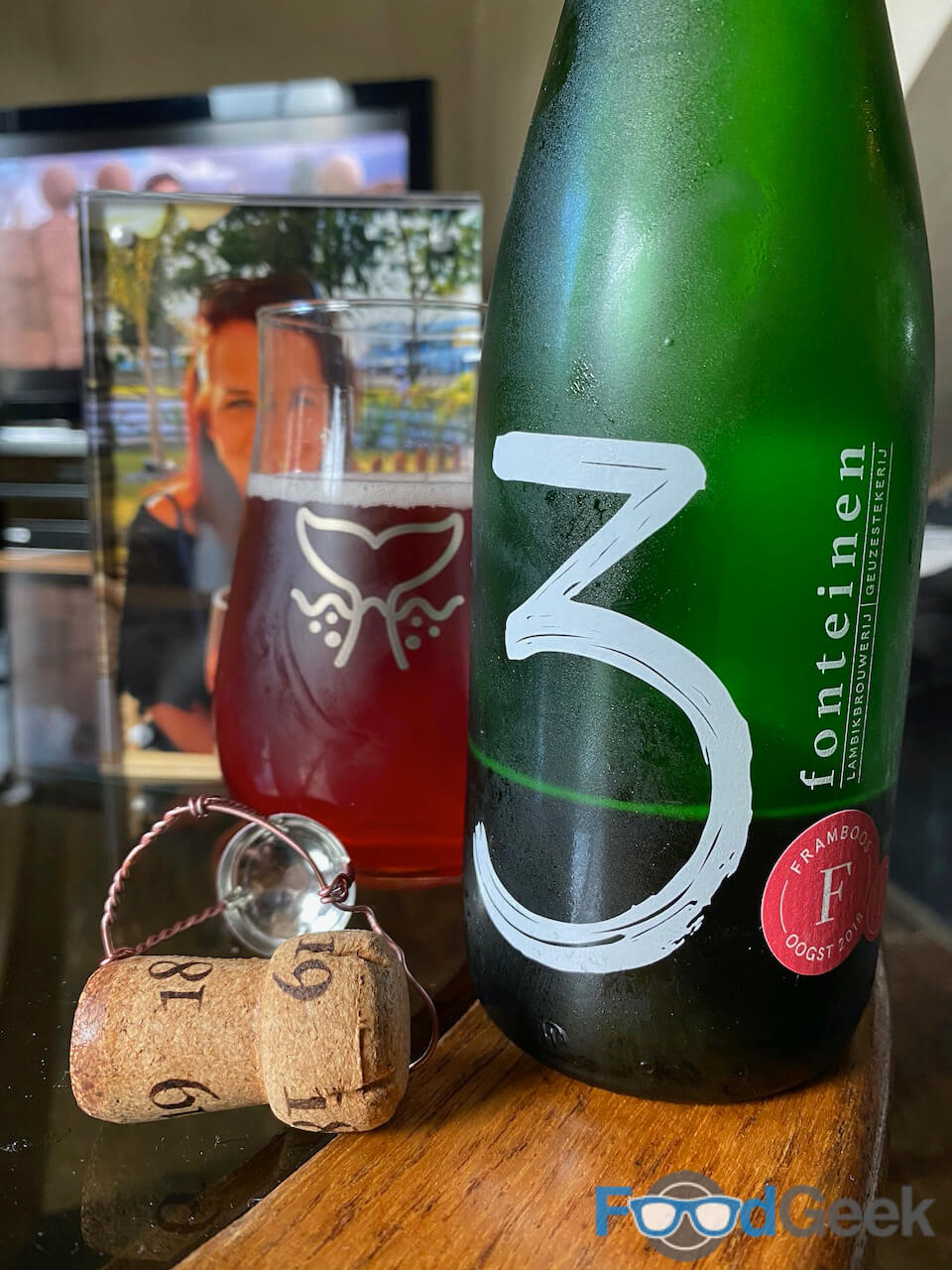 After a short drive down Chelsea Embankment, alongside the Thames, we turned into Royal Hospital Road. I recognised the restaurant immediately., despite it's small and subtle signage.
We weren't greeted at our taxi or even the front door this time, though. Perhaps a covid thing?
Inside seems to have had a bit of a facelift, it felt a little lighter and brighter than before. But besides that, the hand sanitiser on the tables and some of the staff wearing masks it was pretty much how I remembered it.
I was sad not to see Maître d' Jean-Claude Breton who'd looked after us so well on both my previous visits. Especially after learning he recently left after 24 years with the restaurant. The other staff did a pretty good job in his absence though.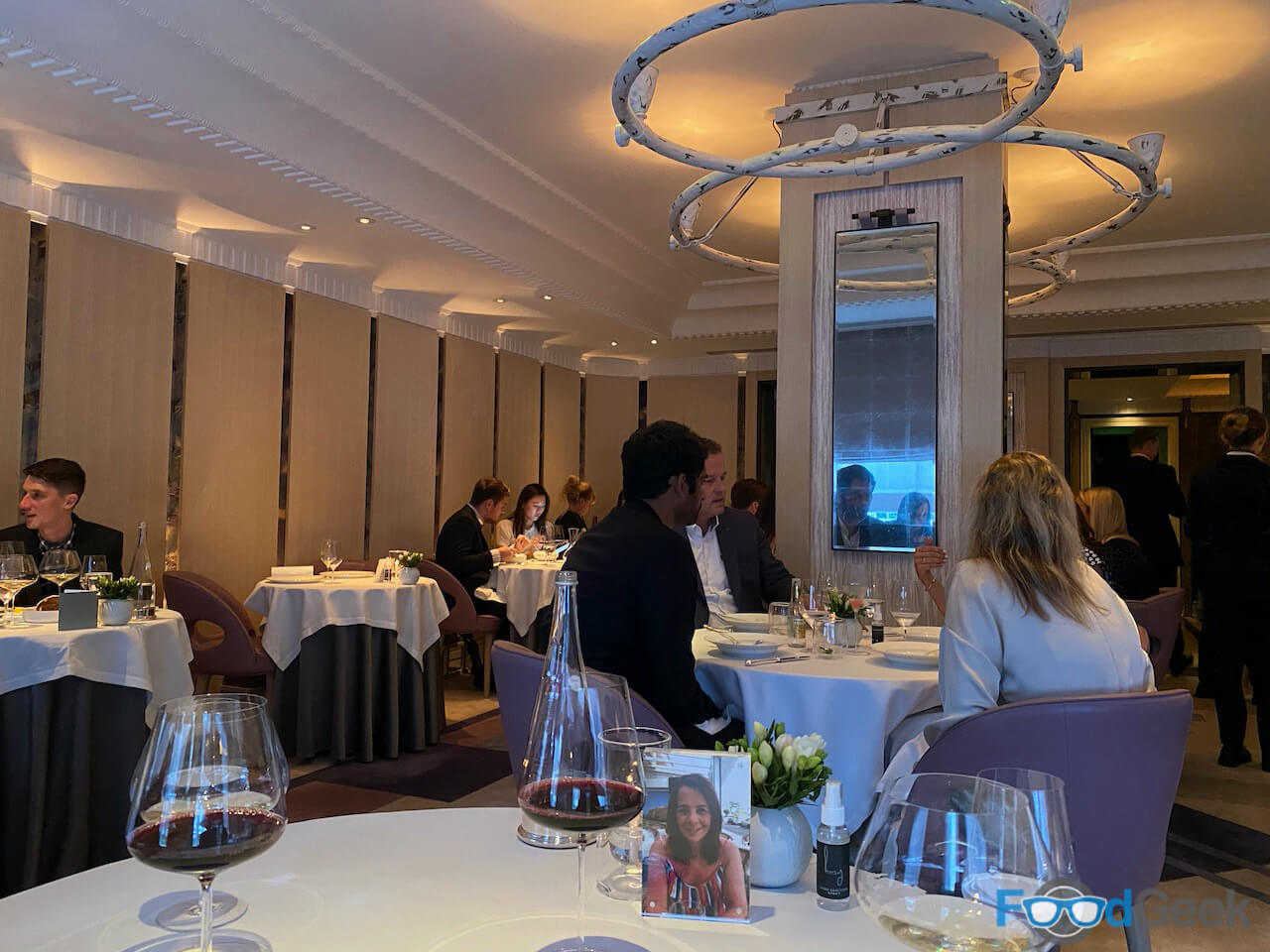 It wasn't long before the food arrived.
Starting with a selection of Amuse-bouches. Including whipped lardo tartlets topped with Iberico crumb & bee pollen, yellowtail kingfish sashimi rolled in dried citrus & herbs, caviar and delicate crisp potato leaves.
Followed by Sweetcorn Chawanmushi – a savoury Japanese set custard.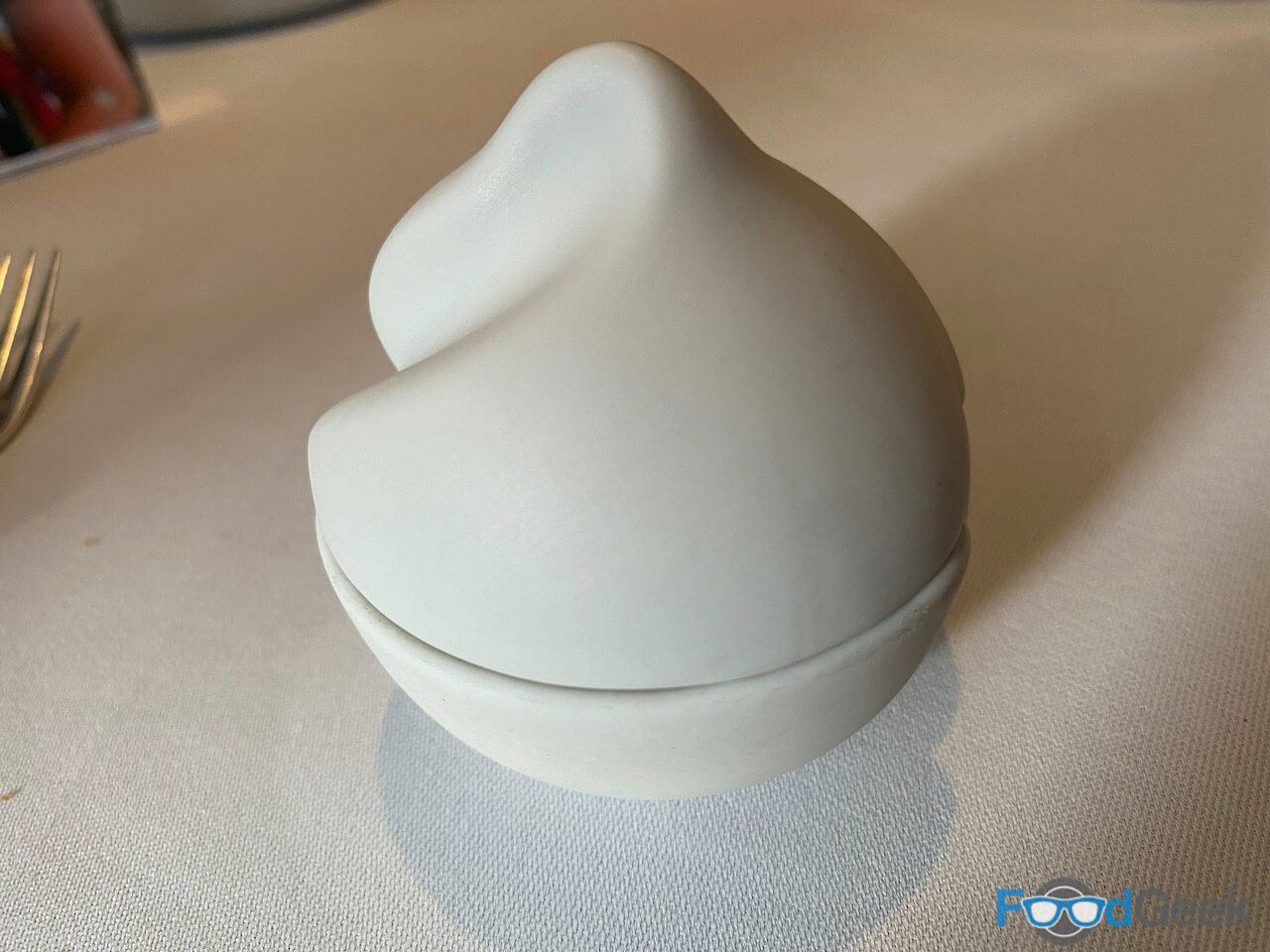 And ridiculously good Parker House Malted Sourdough with equally good cultured butter from Ampersand Dairy.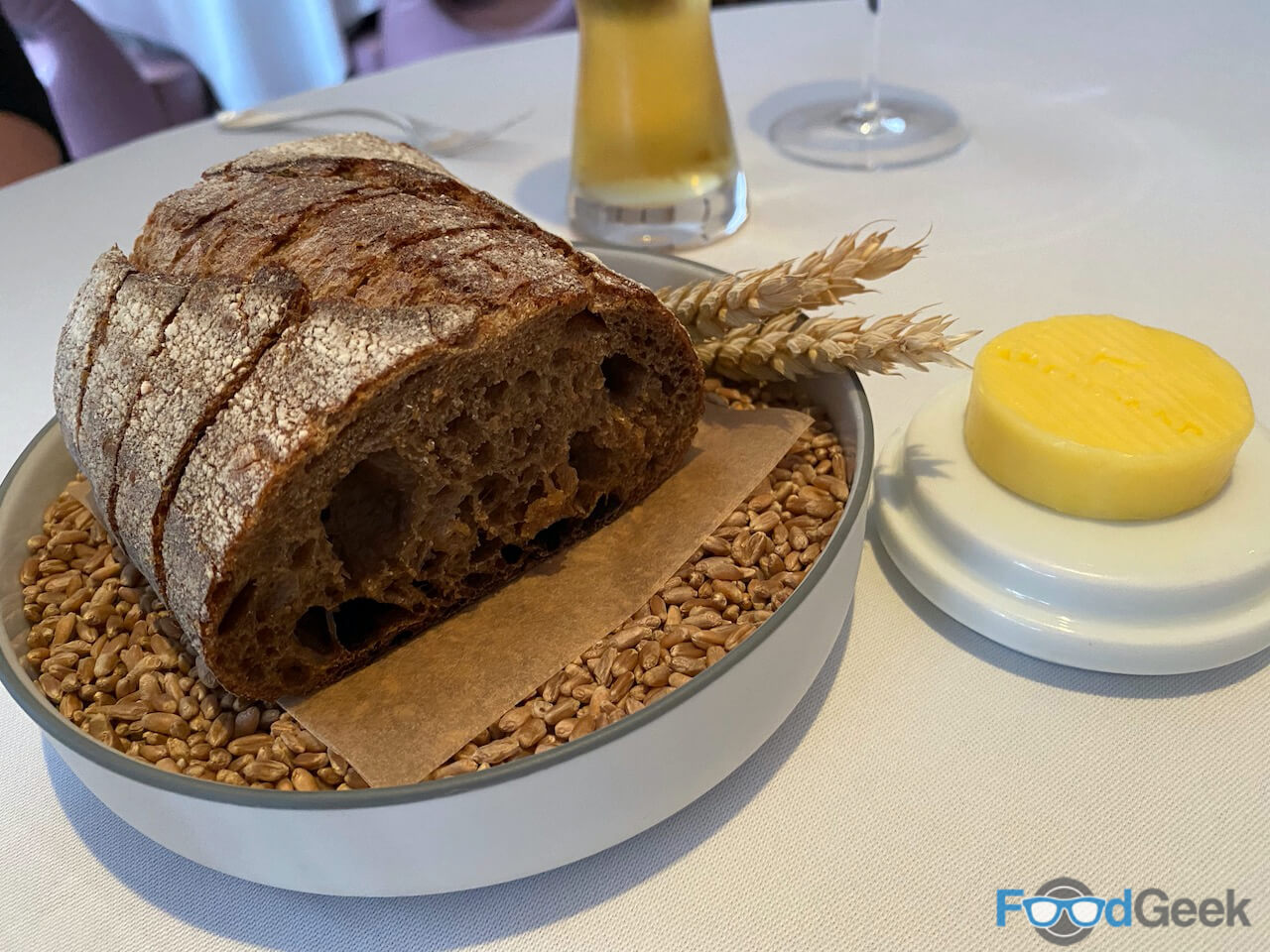 Finally it was time for the first course from our 'Prestige' tasting menu.
A beautifully plated 'Summer Salad' of smoked duck, peach, hazelnut and elderflower that tasted as good as it looked.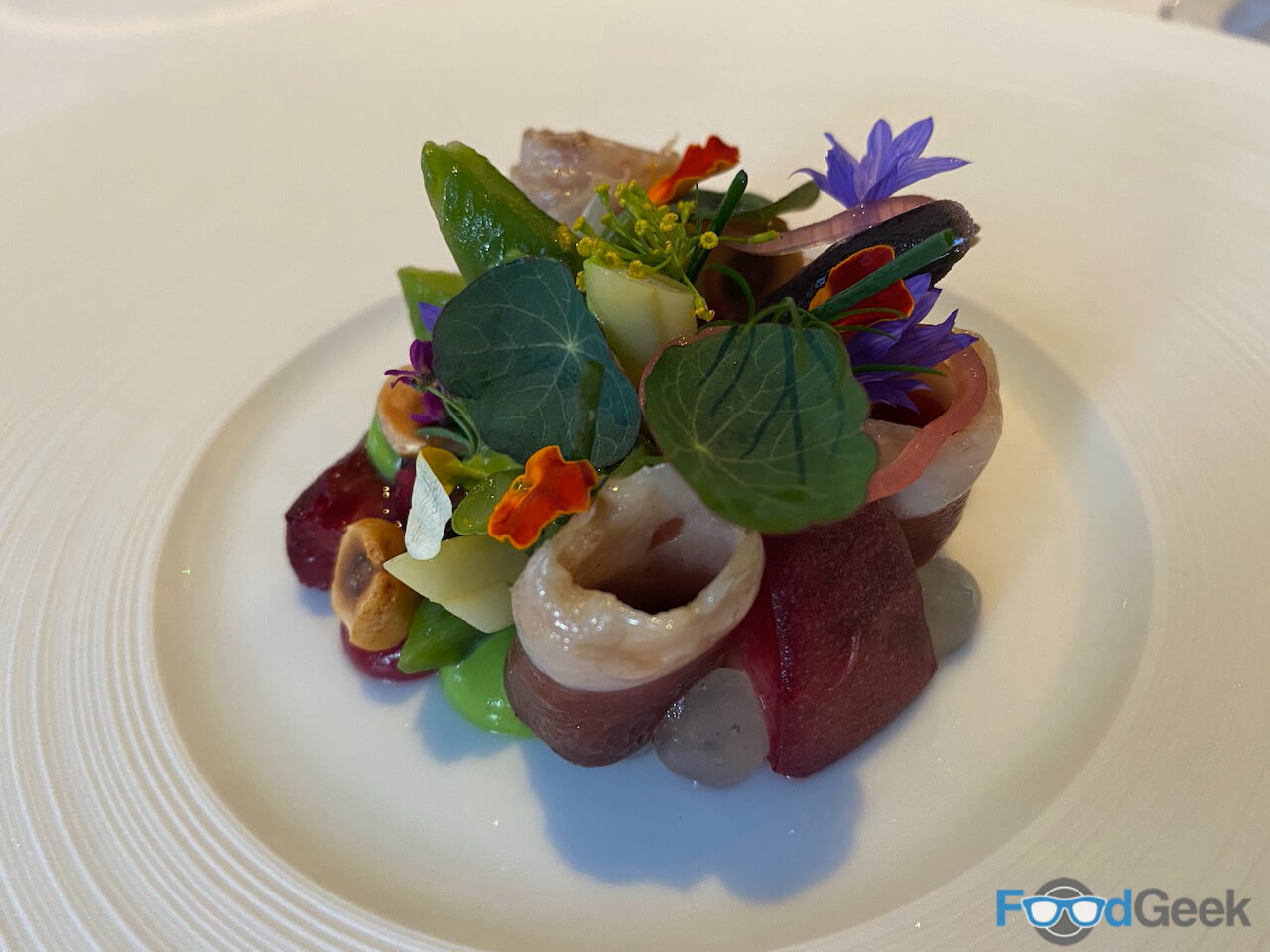 No sooner had we got going we took another break from the tasting menu.
This time for a special supplementary truffle dish.
Incredibly rich and buttery scrambled eggs with chunks of crispy Iberico ham and copious amounts of black truffle. The truffle carefully removed from its box – by a very serious looking well dressed man in gloves – and shaved at the table.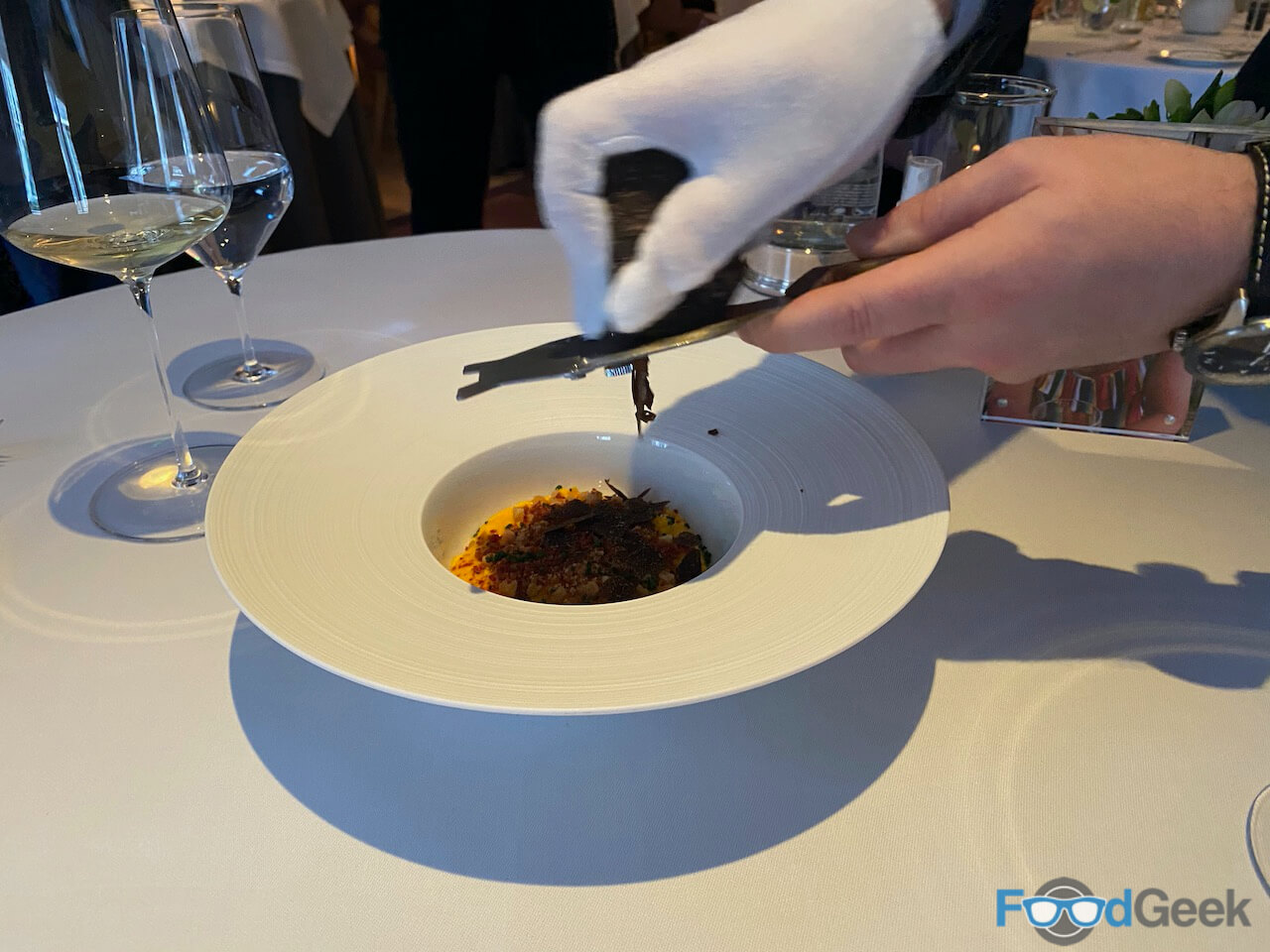 We returned to the Prestige menu with a dish that's been available here since 1988. I've personally had it on all 3 visits and loved it every time.
'Lobster Ravioli' is one of Gordon's signature dishes, no doubt. But this classic has had a modern tweak with the addition of lemongrass and lemon verbena to the lobster bisque. It smelled absolutely amazing. I could pick it out being served to other tables all night long as the aroma wafted over.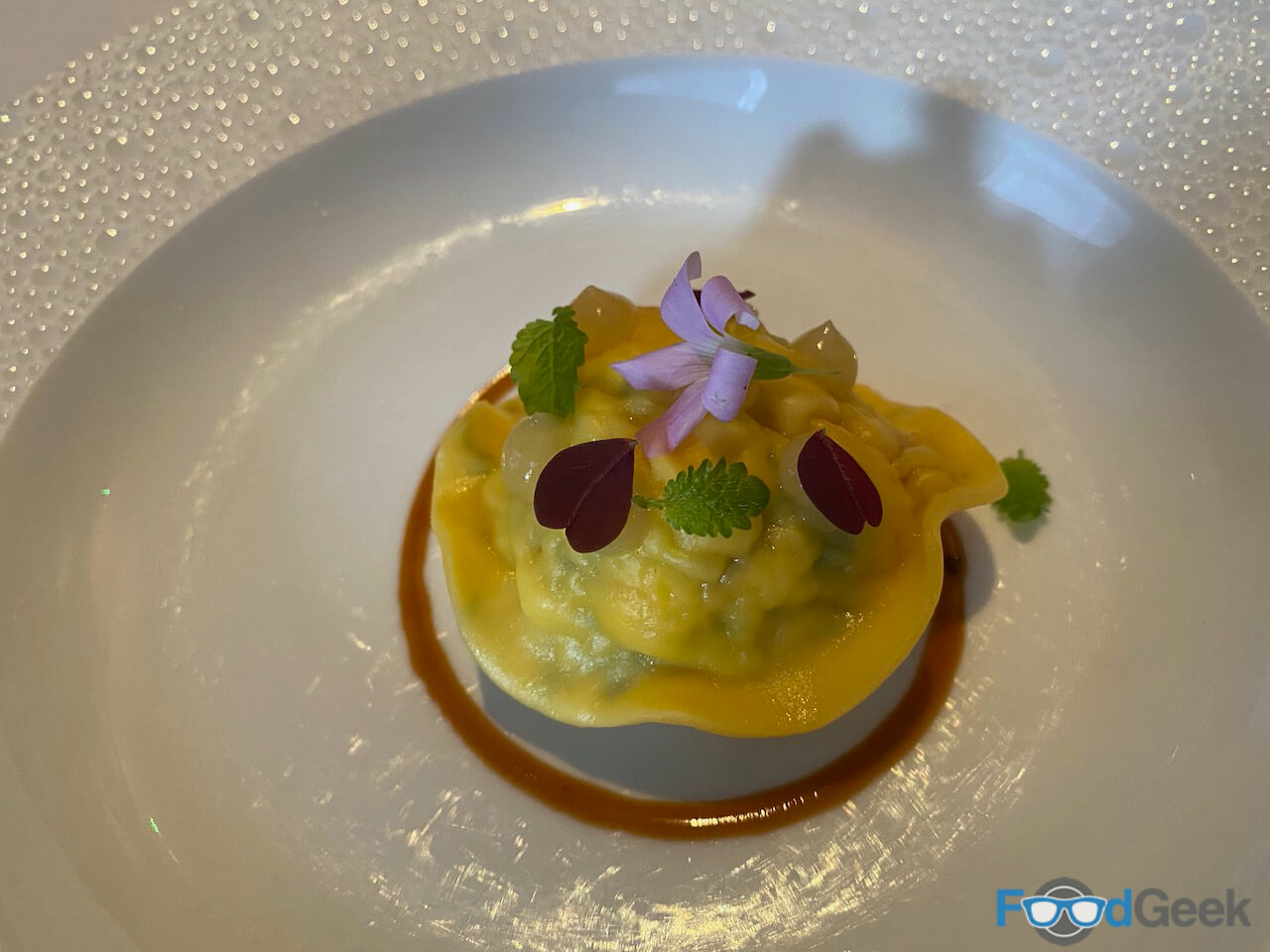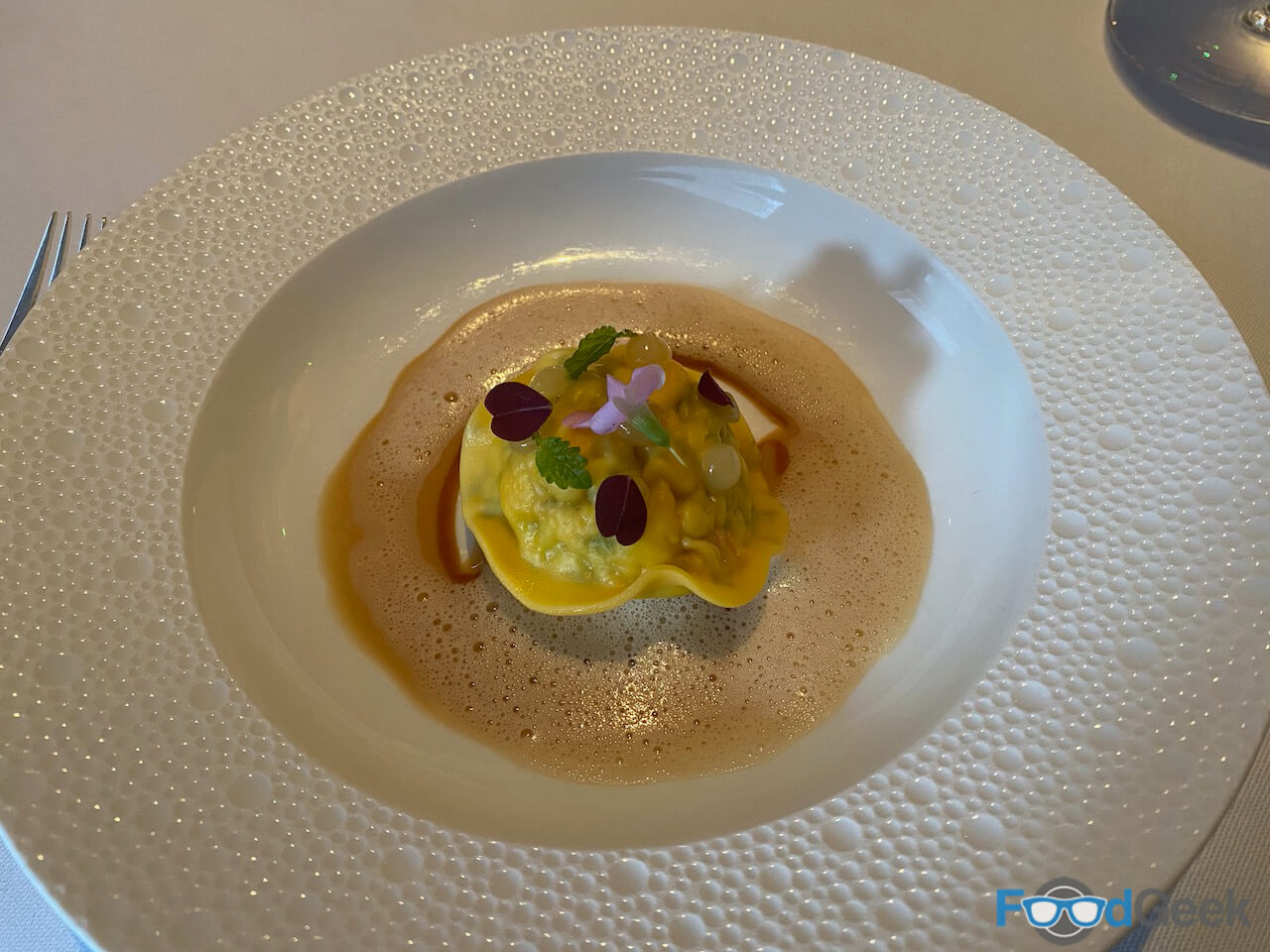 The fish course was a perfectly cooked piece of 'Cornish Turbot' with a selection of summery accompaniments.
Courgette, romesco, black olive and a basil vinaigrette. A fairly simple dish but ingredients that just sing together.
We went for the vintage wine pairing, where the sommelier selects the very best choice to match each dish, regardless of cost.
There were some sensational wines. Don't worry, I won't bore you with all the details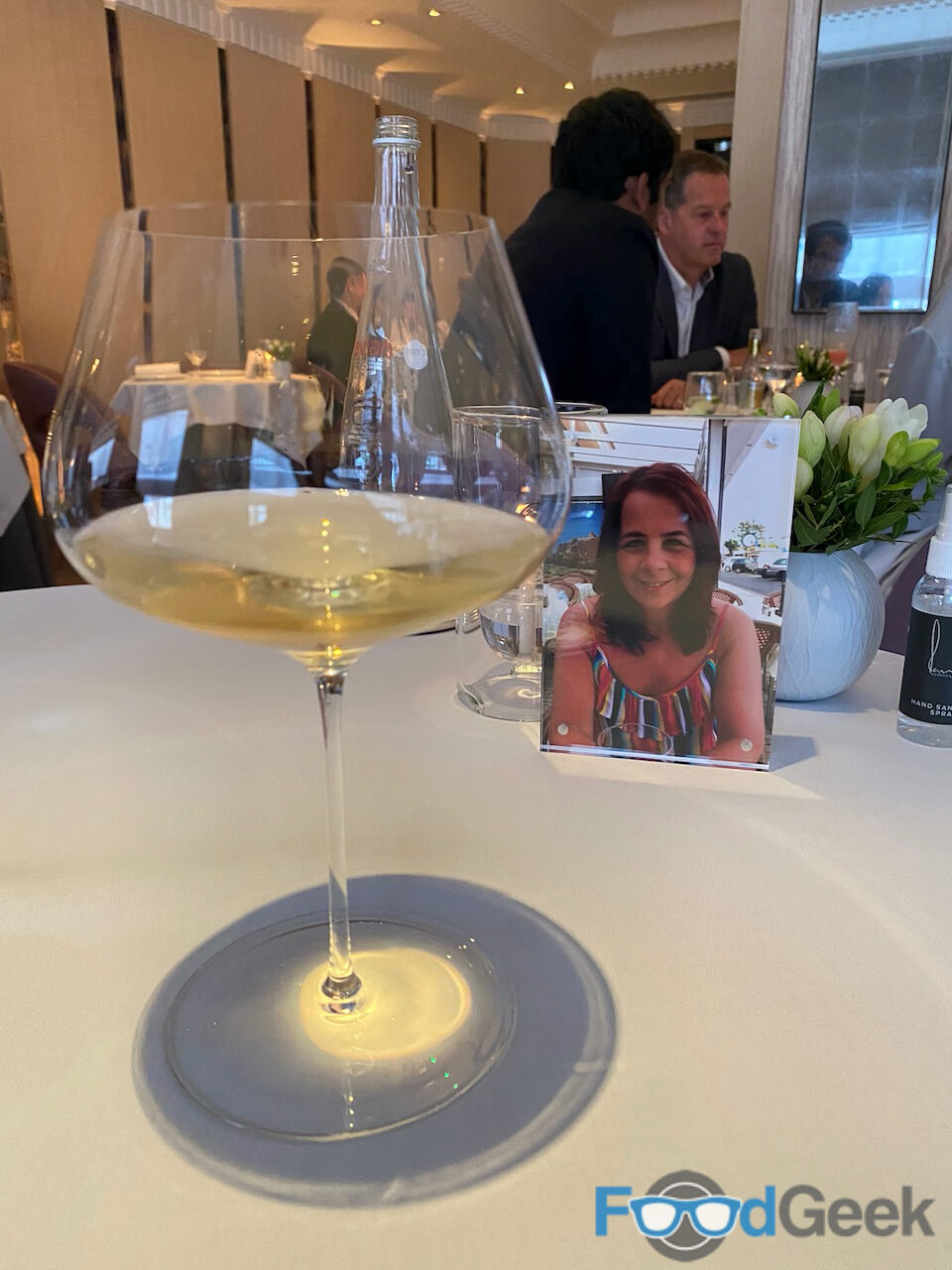 But this 2002 Château Lynch-Bages – Grand Cru Classé Pauillac is worthy of a special mention.
It was simply stunning and its blackcurrant notes a perfect match for our main courses.
We had a choice between pigeon and lamb. I went for the 'Roast Pigeon'.
The crispy skinned juicy rare breast, served on the bone with beetroot & cherry was a delight. But it was all about the crispy pigeon leg on the side. Oh my, KFC will never be the same again.
Mrs FG (wow, I've not said that for a long time!) had the 'Herdwick Lamb'.
Two succulent pink cutlets were delicious with their accompanying Tokyo turnips and deep cumin sauce. But the star of the show was the melt-in-the-mouth smoked belly.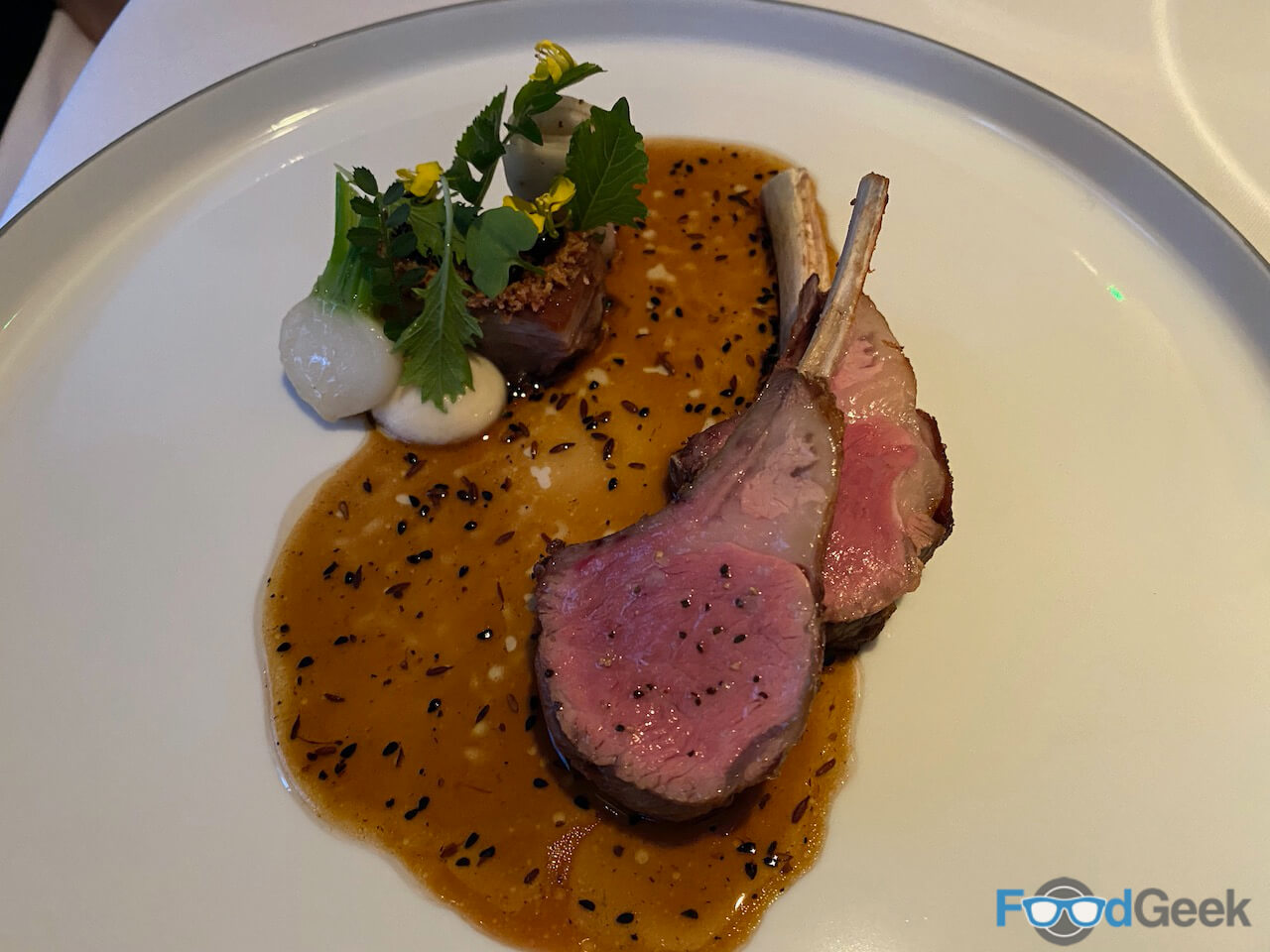 Of course we had to have the cheese supplement too.
I mean, we would have done anyway but one of the things I miss the most are cheese & wine/beer nights with my Mum. So it was nice to have this final one with her.
Highlights were the Camembert-style Tunworth and my favourite blue, Colston Bassett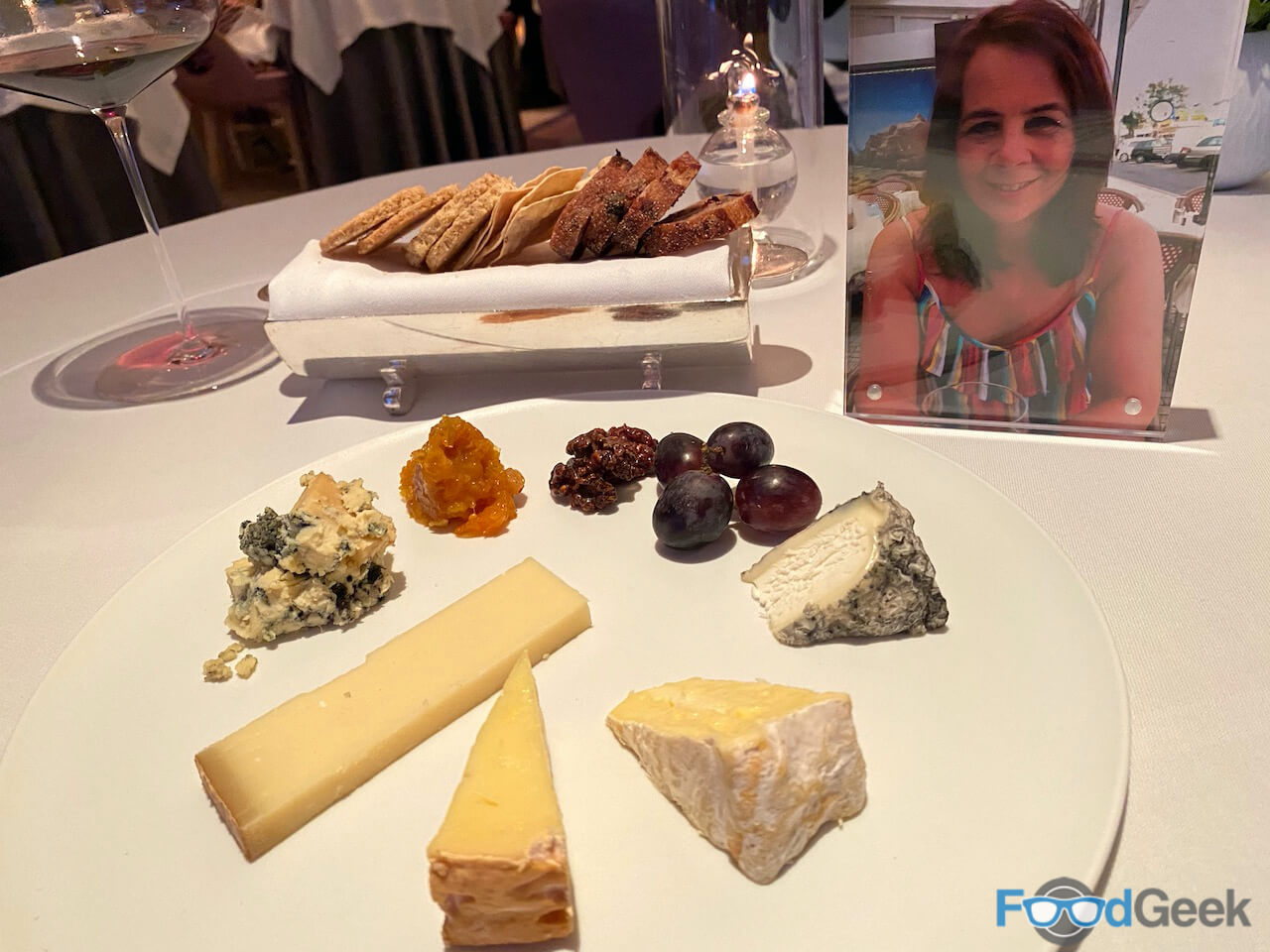 A pre-dessert of 'Melon Sorbet' was a perfect palate cleanser. Cold, light and refreshing with a slight citrus kick from lemon thyme.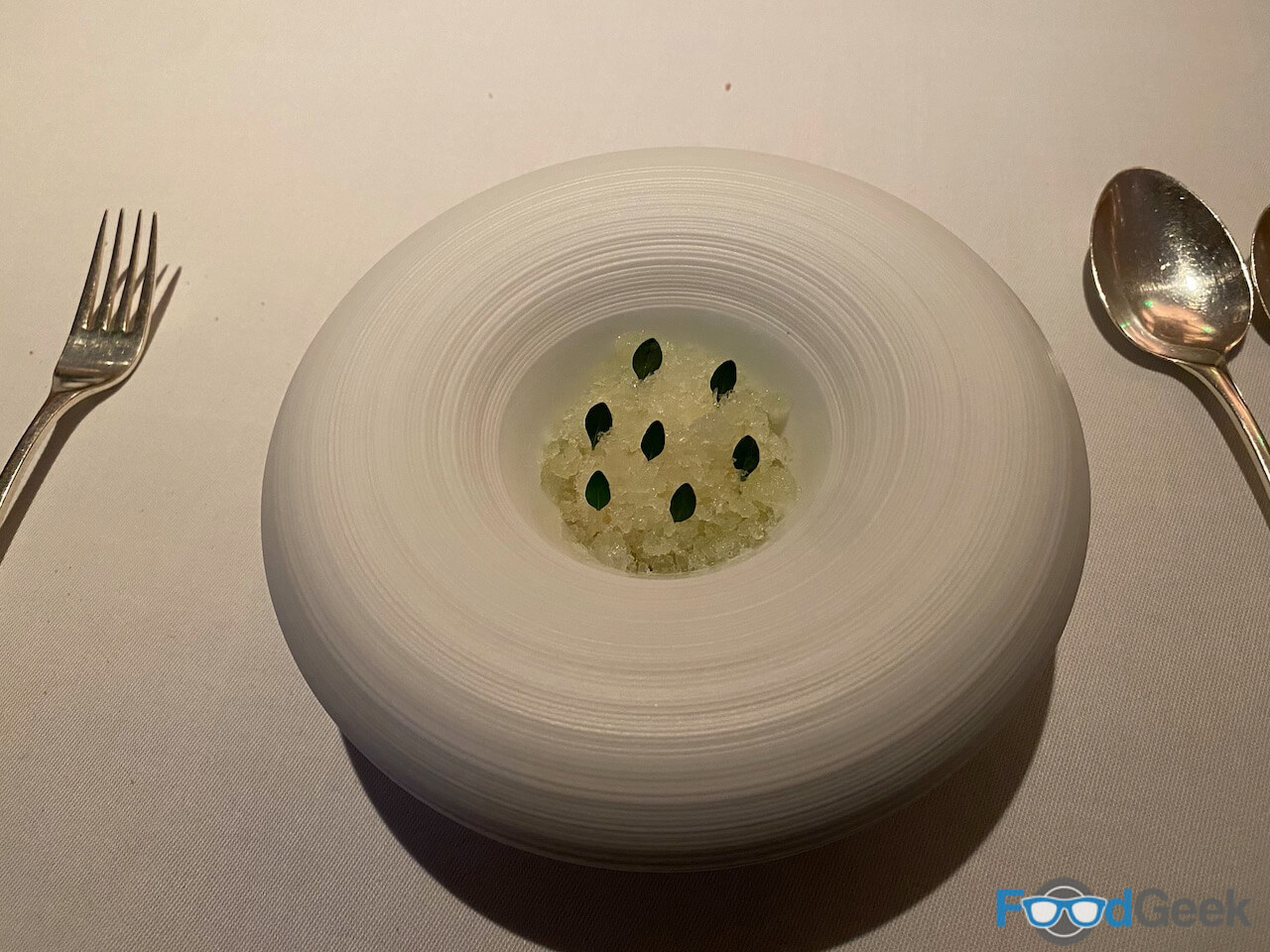 The main dessert was 'Pecan Praline Parfait'.
A rich, dark, intense blend of flavours and interesting textures. Chocolaty, bitter and slightly salty. And importantly for me, not too sweet. Topped with a crunchy dark chocolate tuile and stunning quenelle of cocoa nib ice cream.
Undoubtedly a rich dessert but somehow not at all heavy.
We finished with excellent coffee and a selection of Petit Fours. Including blackcurrant jellies with a fancy name (but were essentially posh Fruit Pastilles) and cute tartlets of goats curd and salted caramel, both topped with intense dark chocolate.
So that was that. A beautiful emotional rollercoaster of a night.
By far the most expensive meal of my life but worth every single penny.
The food was amazing, the wine perhaps even better. But most importantly it was a fitting celebration of the life of a wonderful person.
I'll never get over not getting the chance to take her back but this was the next best thing.
As I alluded to earlier, this will definitely be my last ever blog post.
It feels like a fitting way to end given she was such a big supporter. She read every single post, even of places she had no interest in.
When the blog got popular and I started writing for publications like TimeOut and Groupon she was so proud. She told everybody I was a food writer for a while – slight exaggeration but you don't argue with your Mum!
More importantly, as mentioned previously, she undoubtedly inspired my love of food and therefore, indirectly at least, this blog.
Some of my earliest memories are of her in the kitchen. She taught me my first recipes, took me to my first restaurants. It's thanks to her tradition that my own children have had increasingly ambitious homemade birthday cakes every year.
And when I'd left home, she always had something great for me to eat when I came back, no matter what time I turned up, often unannounced.
For as long as I can remember food was a massive part of both of our lives, especially when we were together. Which is both a blessing and a curse.
On the one hand I'll always have these amazing memories. But at the same time, it's tough to carry on with the thing I'm most passionate about when it's a constant reminder of what I've lost.
I cried when I watched the Great British Menu final both this year and last. We'd watched many of them together and if we didn't she'd be on the phone as soon as it finished to discuss it.
I've not been able to watch MasterChef Australia for two years since and may never be able to again. That was always 'our thing'.
And I'll always think of her every single time I have a G&T (which thanks to her is fairly regularly).
I'd do absolutely anything for a chance to show her this post. But I know it's impossible. Instead, I'm truly thankful for everything she gave me and so grateful that she loved me enough to read the previous 432 posts.
Happy Birthday Mum. Love you forever… xxx
Date of visit: 06.08.2021