It's hard to write about the Parkers Arms these days. Hard not to write stuff that's already been said a million times anyway.
Pound for pound, taking everything into account it has been my favourite place to eat for almost four years now. I just love everything about the place, from the location to the service and of course the food.
Over the last couple of years it seems everybody else has realised how great it is too. Pretty much every time I go back they've received some other award or accolade. All thoroughly well deserved too.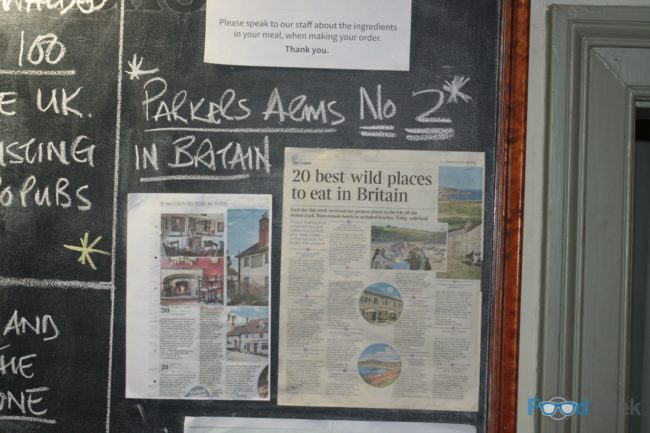 It's one of my favourites at any time of year but even more so at Christmas. There's just something about the setting that makes it feel naturally festive.
We've enjoyed visiting the Parkers Arms at Christmas for the past few years, including a magical Christmas Eve in 2015. This time we visited on the Sunday before the big day as the Blackburn Cathedral Boys choir were due to perform a carol service in the afternoon.
Sadly they didn't turn up. But at least the place was looking suitably festive and we knew we'd be in for a treat when it came to the food.
Quite literally. As after a typically warm greeting by front of house don AJ we were seated in front of the equally warm fire and the food soon started to arrive.
And as usual, if chef Stosie know's you're coming you're treated to lots of little extras. #tweettreats as she likes to call them.
Starting with the amazingly crunchy, pork crackling like potato skins that we know and love.
Followed by 'Gin Cured Salmon'. We'd had similar versions of this before but it was tasting better than ever as the gin was much more noticeable this time.
And one of the nicest small bites I've had for a long time. Fantastic mimi 'Game Pasties', crisp pastry parcels stuffed with rich game meat, herbs and spices. Served with amazing homemade Piccalilli.
I'd kill for a full sized version.
Our final #tweettreat was actually a full blown starter.
Stosie is often referred to as the 'Queen of parfait's' and for good reason. Her mushroom, crab and scallop parfaits are legendary and this 'Game Livers & Port Parfait' didn't disappoint. Not as light and subtle as the others – presumably due to the richness of the offal – but amazing flavours and super smooth texture.
Served with a lovely apple & ginger chutney and toasted sourdough.
My actual starter was a thing of beauty.
'Spiced Potted Manx Kippers' were just incredible. Pieces of juicy smoked fish in a pot of gorgeous spicy melted butter. Eating the kippers and sauce was a delight in itself, but letting the butter soak into the crisp sourdough soldiers and topping with the fish made for an exquisite mouthful.
'Pheasant & Autumn Vegetable Broth' was a hearty bowl of warmth with extremely generous chunks of pheasant.
Finally, the 'Root Vegetable & Red Onion Fritters' were crisp and tasty but I felt they were a touch dry. I absolutely loved the sweet chilli & pickled ginger sauce though.
The starters were very good but main courses were on another level.
The highlight being probably the best main course I ate in 2016 and possibly the best vegetarian dish I've ever eaten. Its title 'Roasted Whole Cauliflower' really doesn't do justice to this flavour sensation.
The cauliflower itself is dark, gnarly and caramelised, giving it an amazing nutty flavoured exterior whilst soft and juicy inside. As good as any joint of roasted meat.
But the best flavours were sitting underneath it. From the bed of spiced pilaf to the topping of toasted pine nuts and sweet and sour pomegranate seeds. But mostly from a delicious creamy tahini, lemon and garlic sauce that held everything together.
There aren't many places to get a better pie than the Parkers Arms. This 'Lancashire Cheese & Onion Pie' was visually stunning and tasted every bit as good.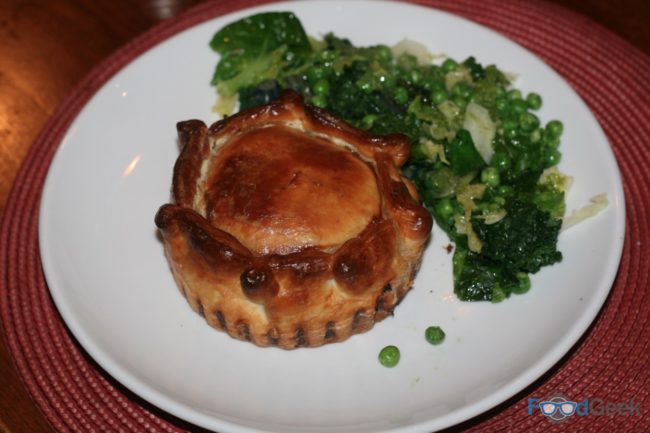 Ridiculously tender 'Braised Pork Cheeks' literally melted in the mouth. While the 'creamed mash' was almost more cream than potato. Again though the best bit was the sauce. This time a fruity cider and apple gravy.
'Roast Ballotine of Pheasant' is monster of a main course. Albeit a very tasty one.
Boned, rolled pheasant breast is stuffed with herbs and wrapped in bacon with festive trimmings.
Including winter greens, brilliant roast potatoes, more of that amazing creamed mash, pigs in blankets and another one of those fabulous game pasties! With sherry gravy and cranberry relish on the side.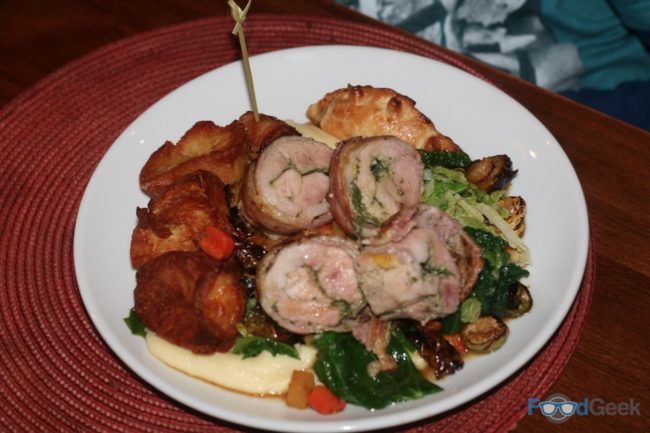 Dessert is often unnecessary at the Parkers Arms due to over ordering, generous portions and #tweettreats. But they're also too good to ignore. So we soldiered on.
With the poshest rice pudding I've ever eaten. Thick, rich and creamy and topped with damson compote, pistachio crumble, meringue and Chantilly cream.
A 'Spiced Apple Tart' actually made with a base of sweet, crisp sourdough toast came with a delicate shaved apple salad and lovely warm honey & toasted almond dressing.
But the highlight was a melting 'Chocolate Pudding'. With a perfect oozy chocolate orange centre and served with marmalade ice cream and orange sauce.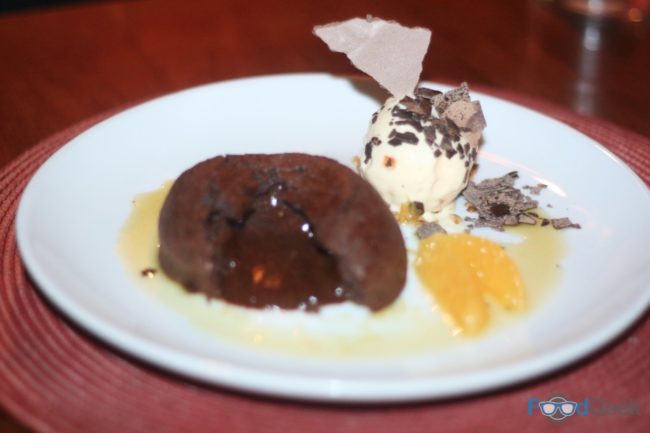 There was just about room for one last treat. Lovely old school Mince Tarts. With really crisp pastry and not too sweet as many tend to be these days. A fitting finish to a fantastic Christmas feast.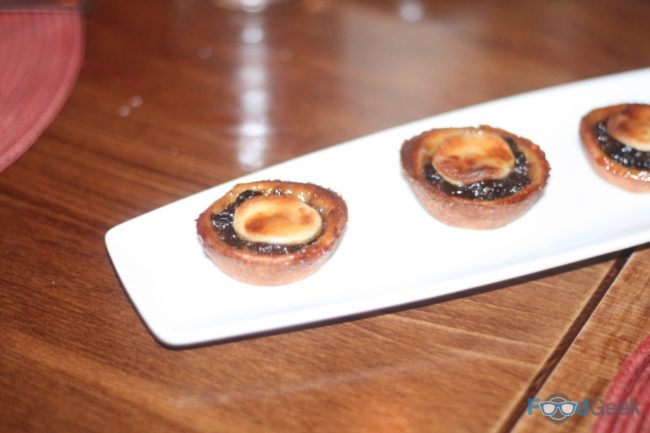 It was a shame the choir didn't turn up. But there was enough festive spirit in the food, decorations and service to help us leave full of Christmas cheer.
As I said at the start it's difficult to know what else to say about the Parkers Arms. The food was spot on, as ever. The service was immaculate, as ever. You can't help leaving full, happy and fully festive. What more can I say?
If you haven't been yet, just go!
Date of visit:18.12.2016
Follow @FoodGeekUK