I love Japanese food. We're lucky to have great places like Yuzu and Umezushi in Manchester but until recently there was nowhere to go for ramen. Well, good, authentic ramen anyway.
Sure there are a few restaurants with a token ramen dish on their random menus, it's been the 'in' thing for a few years now. But we were definitely missing somewhere specialising in the famous noodle soup dish.
Enter the latest London export to arrive in Manchester, Shoryu. I visited on their first weekend, during a soft launch period.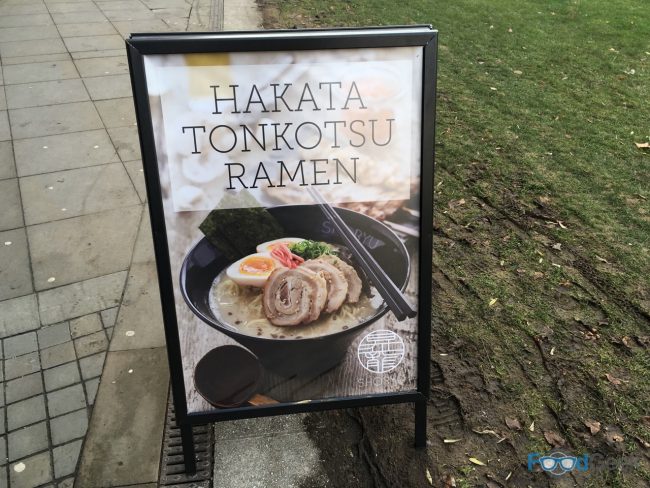 Shoryu is situated in Piccadilly Gardens. A slightly odd location given the other restaurants are mostly all mainstream chains. But the queue out of the door and round the block suggests they'll probably be fine there.
After almost an hours wait we made it through the door. To be greeted by a cheer from the staff and the bang of a drum (other customers were too, thankfully, or it would've felt a bit weird).
Inside is fairly minimal, as Japanese restaurants often are. Wood features heavily, as do pretty paper lanterns and bottles covered with Japanese writing.
I liked the decor, it strikes the right balance between welcoming and minimalist. It was particularly nice to visit a new restaurant in Manchester which actually has a finished ceiling.
We took our seats at one of the high shared benches. With a lovely view of one of the low hanging lanterns.
Although Shoryu specialise in ramen there are a few other dishes worthy of attention as well.
Their steamed Hirata buns are fantastic. Fluffy pillows filled with interesting ingredients.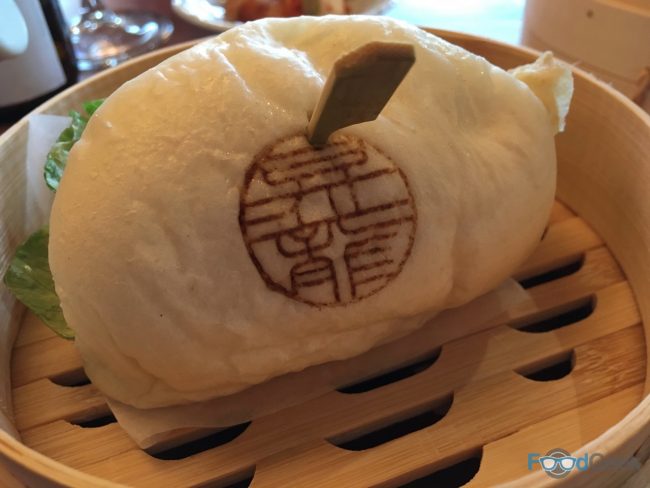 I went for 'Chicken Karage' and 'Tiger Prawn Tempura' but I'll be back for the rest!
The soft steamed bun with salad, hot sauce and crunchy meat/seafood is a wonderful combination of flavours and textures.
Although perhaps not quite as great as the buns the ramen was good too.
I enjoyed my 'Kimchi Seafood Tonkotsu'. A comforting bowl of spicy broth, noodles and seafood including prawns, scallops and squid and of course a nitamago egg.
I had a bit of an issue with the noodles though. You choose whether you'd like them cooked medium, soft, hard or very hard. I opted for soft but wish I'd gone for hard is they were already a bit overcooked and sitting in the extremely hot broth until I got to the bottom only made matters worse.
While Mrs FG went for signature 'Tonkotsu', 12-hour pork broth with char siu barbeque pork belly. She had the same problem with overcooked soft noodles, the broth could have had a little more depth to it and the meat was a bit flavourless. She happily slurped away until the end anyway.
The kimchi on the side was brilliant, though. As good as any I've ever had.
The drinks menu looks interesting. As well as the now fairly common Hitachino beers there are a few more interesting Japanese beers available. Including the Kagua I had, a lovely strong Belgian ale brewed with yuzu.
Along with a number of teas and an extensive sake selection. There's even a sake flight option which looks interesting and very good value.
I really enjoyed Shoryu, just as well after queuing for an hour to get in.
It wasn't perfect but it was the second day of their soft launch so it's to be expected. The ramen was ok and I'm sure it will improve but the food was generally a good standard. I'd happily return just for the steamed buns if nothing else!
Unfortunately, service was a little bit erratic. But it wasn't for lack of effort, just a bit of inexperience showing.
Overall, Shoryu is a great addition to our ever growing city. Once they find their feet I've no doubt it'll be as good as their London restaurants. It's already easily the best place to get ramen in Manchester.
Date of visit: 11.11.2016
Follow @FoodGeekUK