There's a new addition to Manchester's fine-dining scene.
'Grafene' on King Street is named after revolutionary 2D material 'graphene', albeit spelt incorrectly.
Run by Paul and Kathryn Roden, owners of highly regarded Losehill House Hotel & Spa in the Peak District. And headed up by their executive chef over there, Darren Goodwin.
Although I've never been to Losehill House I know several people who love it. And Darren definitely produces some of the best-looking food on Twitter/Instagram.
I was recently invited to a press lunch at Grafene for a sneak peek of the place. It just so happened to be the hottest day of the year too.
I checked the address as I sweated my way up King Street, #55 they said. So this must be it right??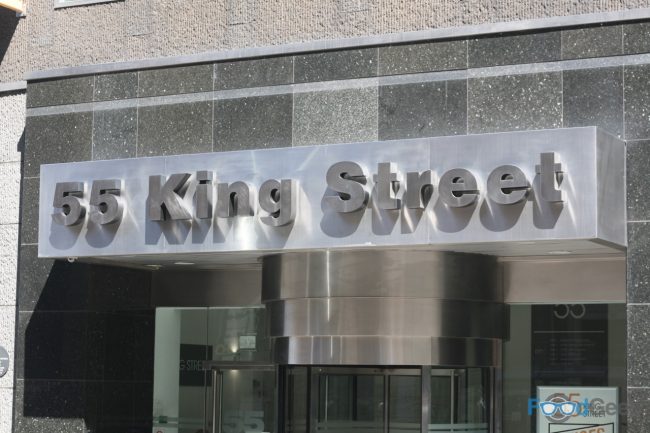 Well, no.
It's actually round the corner. On an odd little square between King Street and Chapel Walks. That despite walking past 100s of times I didn't even know existed.
Inside follows the recent trend of the industrial, unfinished ceiling, brick walls and plush booths.
I'm told the site used to be home to Brasserie Blanc. I imagine it's changed quite a bit since Raymond left, about £1million worth of changes apparantly.
I really like the colour scheme. Mostly classy charcoal grey with occasional bursts of colour.
We start in the large, open bar area.
Where along with a great range of spirits and cocktails there are a few decent local beers.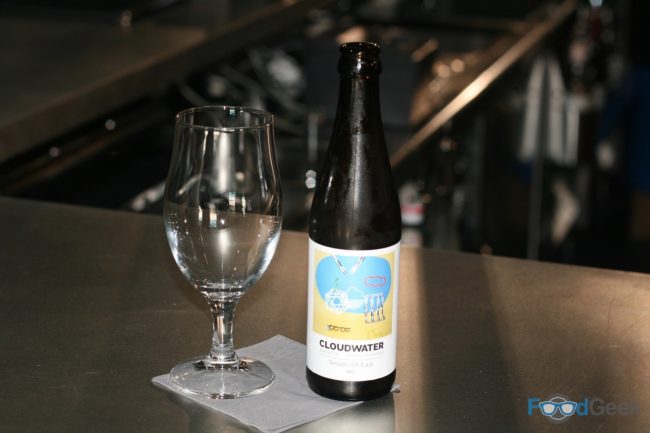 Enticing looking bar snacks are handed out.
All very enjoyable, the 'Venison Sausage Roll' is particularly good.
As we move through to our table I pass the fancy private dining area.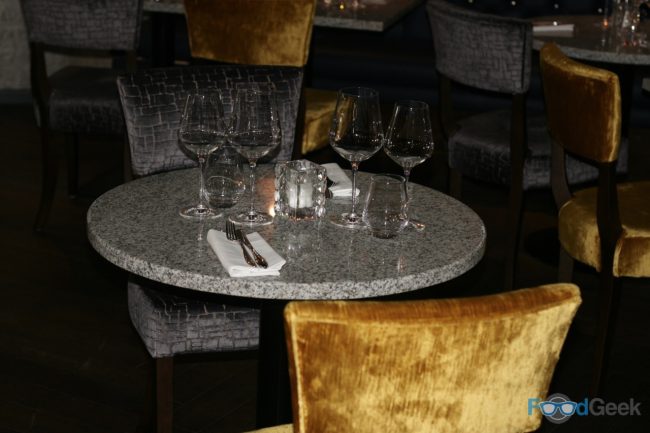 Executive chef Darren has developed the initial menu together with head chef Damien Cunliffe, formerly of acclaimed Didsbury restaurant Volta. They've concentrated on British produce but taken inspiration from further afield.
We got off to a good start with excellent bread and lovely salty butter.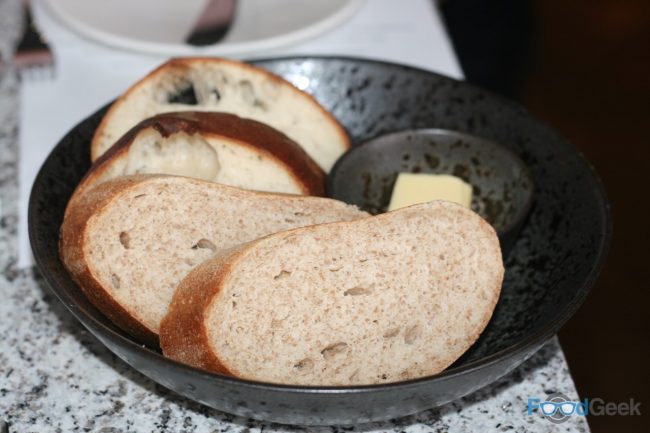 Followed by a number of starters.
My favourite was 'Lamb Breast, Saffron Yoghurt & Pomegranate'. My kind of dish on paper.
And it was good, the crispy lamb breast was beautiful. I'd have liked more of a saffron hit in the yoghurt though and more of the aubergine puree would have been nice too.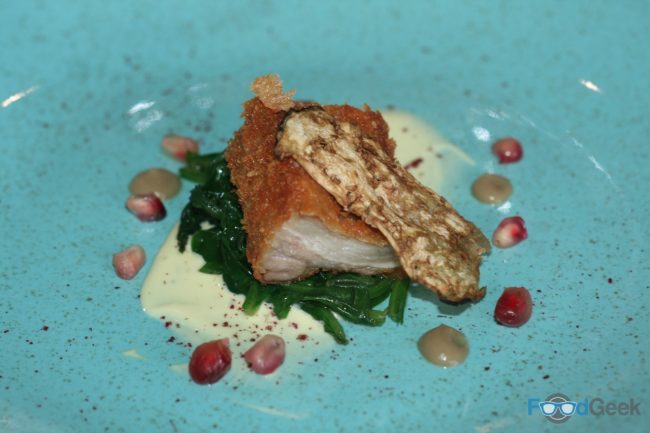 The 'Smoked Ham Terrine' was also quite subtle in flavour. But was accompanied by three elements that packed a real punch. Cider jelly, pickled cauliflower and piccalilli.
They all worked brilliantly with the rich meat. The only problem was there just wasn't enough of any of them.
The final starter 'Pea Mousse & Goats Curd' was pleasant enough, if a little less interesting.
It was light and refreshing. A good summer dish but I just felt it could have done with a bit more sweet pea flavour coming through.
My main course, however, was absolutely fantastic.
The 'Fillet of Brill, Cauliflower Risotto & Samphire' is a highly accomplished dish.
As good a piece of fish as I've had this year. On a faux risotto of finely chopped cauliflower with a crab bisque and charred grapes.
I'm never sure about grapes on savoury dishes but they definitely worked here.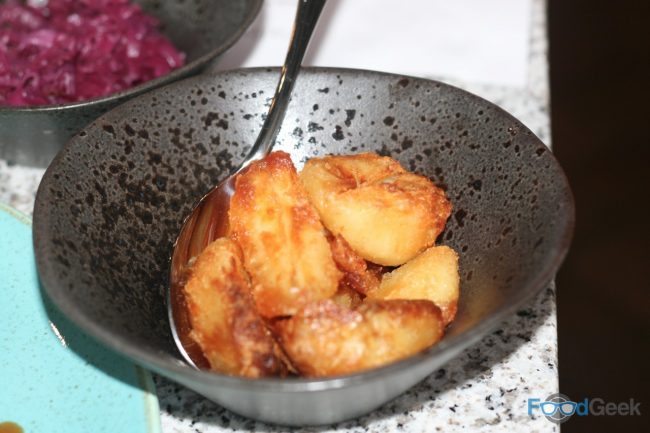 My favourite dish was a pre-dessert.
'Sorrel Posset, Creme Fraiche Sorbet & Sumac Meringue', a sort of crossover from savoury to sweet.
There's a lot going on here. Sorrel itself is a dominant flavour. It's joined by sumac in the meringue, sweet crunchy granola and cooling creme fraiche sorbet. Yet they all somehow come together to create a harmonious and really interesting dish.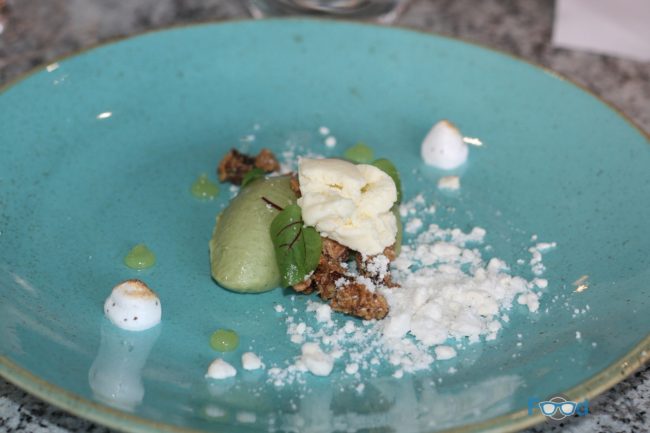 The final course was another good dessert.
At first glance, it looked like a deconstructed cheesecake. So my heart sank a bit (deconstructing things is not cool, ok!).
It's not deconstructed too much, though. And it tasted fantastic. Smooth, rich and creamy lime cheese. With fresh strawberries, strawberry sorbet and a macadamia crumble.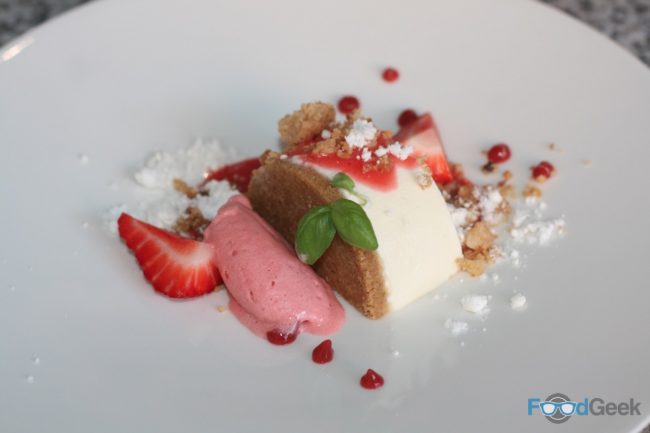 Lunch was enjoyed with a couple of excellent wines.
Including a gorgeous white pinot noir, a first for me. Just perfect for the hottest day of the year.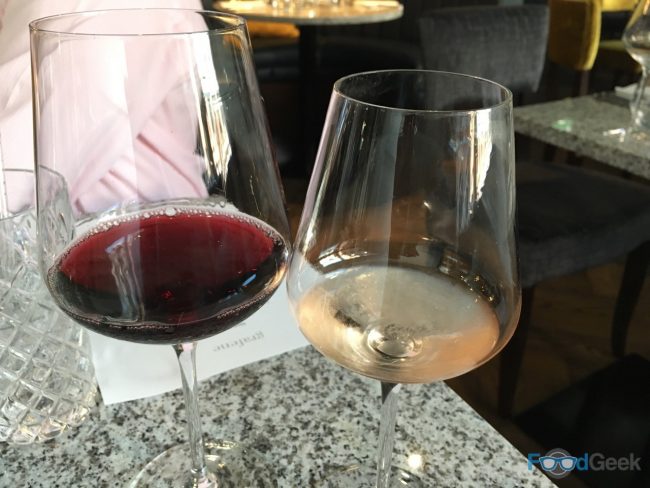 Overall I really enjoyed Grafene. There were a few of the dishes I felt could be tweaked. But this was a preview event before they even opened, so to be expected. I notice on the final menu a couple of the dishes have indeed been changed slightly, while some of them have been dropped completely.
The dessert menu is created by Cristina Molteni of The Ritz in Paris, no wonder I liked them so much! While sous chefs Phil Smith and Sean Forshaw are from the three AA Rosettes Alderley Edge Hotel restaurant in Cheshire and Ramsbottom's Hearth of the Ram respectively.
With that sort of pedigree working under Darren and Damien I can only see Grafene getting better and better. I'm looking forward to returning to find out.
There's a 7 course tasting menu which seems great value at under £50. So I'm looking forward to returning to find out.
Date of visit: 19.07.2016
Disclaimer: This was an invite-only preview event.
Follow @FoodGeekUK