I know afternoon tea is a time-honoured British tradition. But sitting around in fancy hotels eating tiny sandwiches and pouring from a teapot isn't exactly my idea of fun.
Mrs Food Geek loves a good afternoon tea, though.
So on a recent trip to London, I decided to repay the countless times she's been dragged around restaurants and bars for my benefit. With a surprise trip to two Michelin starred sketch .
Once you walk through the unassuming door on the normal looking Mayfair street everything is a little bit quirky and eccentric.
From the hopscotch squares on the floor to the mysterious little rooms you pass to get to the reception desk. Each decorated differently but all equally eye-catching and artistic.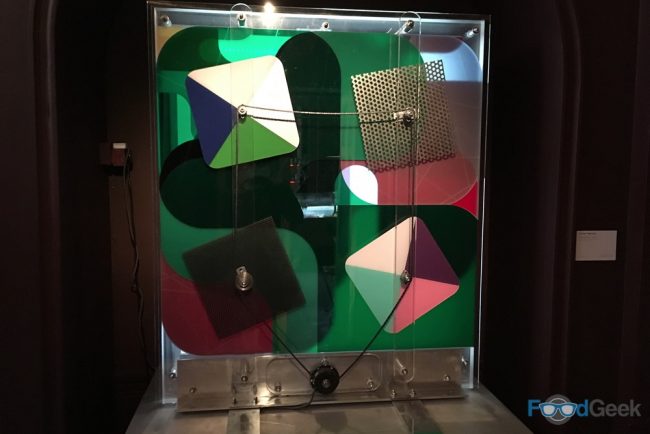 There are four dining rooms and bars spread over three floors. Afternoon tea is served in the glamorous and very pink 'Gallery'.
Pink walls, pink suede chairs, rose gold fittings and soft lighting. And a spectacular domed glass ceiling dominates the room.
Extensive work from Turner prize nominated British artist David Shrigley adorn the walls.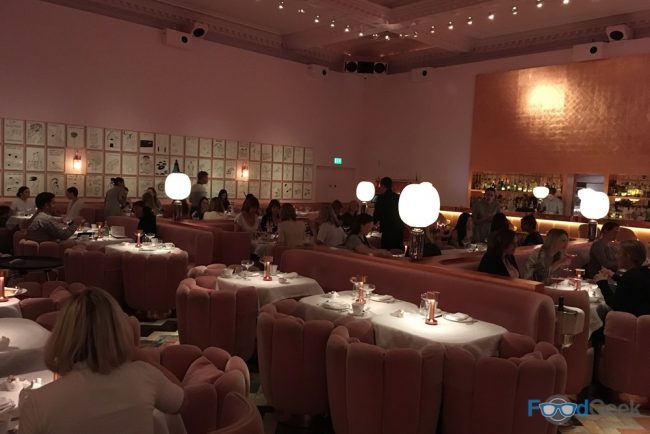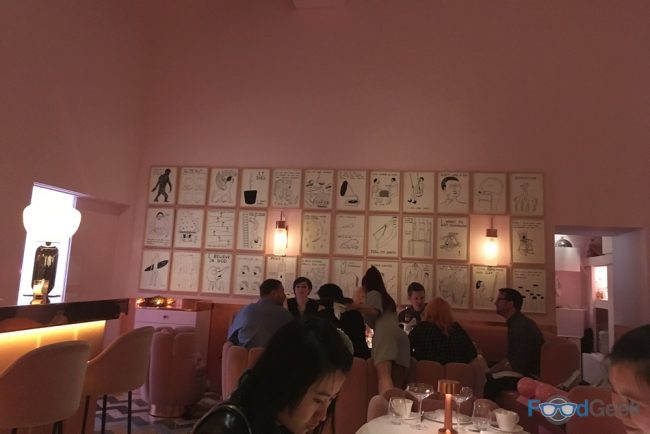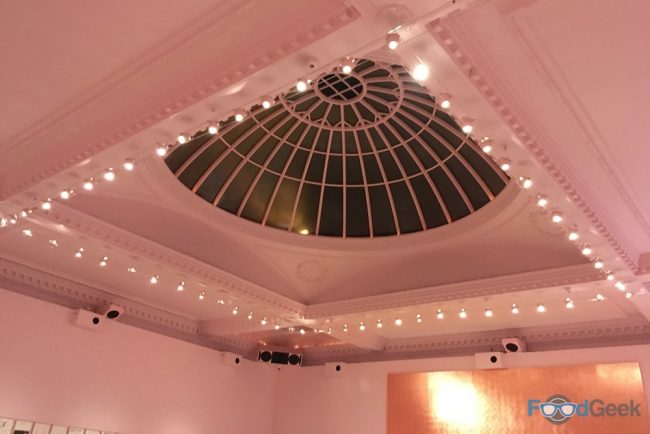 Staff are equally striking in their matching grey designer suits. They look like they could've come straight from the front cover of Cosmopolitan.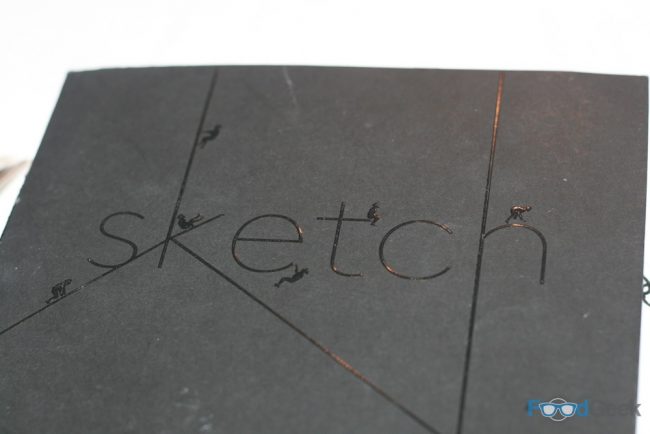 They hand us menus and explain the setup.
We'll be served an assortment of finger sandwiches, followed by scones and a selection of pastries. Then there's a choice of two desserts from the trolley.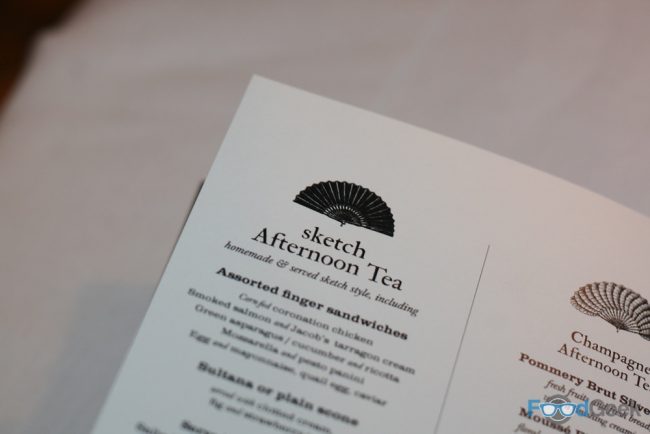 We order from the extensive tea menu too. I go for 'Sichuan Dew' a Chinese green tea with a rich umami flavour. Mrs FG has the 'Silver Needle', a delicate and fruity white tea.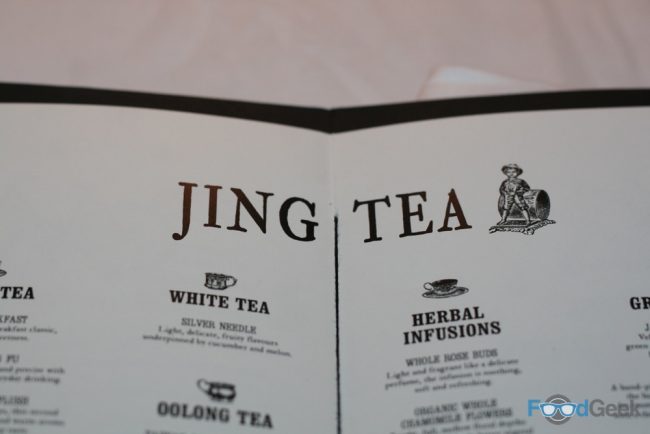 The tea arrives with cool white crockery, complete with random 'Alice In Wonderland' style words. I'm told this was also designed by David Shrigley.
Then it was time for the main event.
A pristine three tiered cake stand is full of immaculate sandwiches and pastries. Most look almost too good to eat.
We got off to a great start with the savoury selection. A good range of neatly prepared sandwiches. All very enjoyable.
We're told we can order more of anything we like. If only I'd known before, I might not have had the giant BLT on the train.
I only managed extras of my two favourites. The fancy 'Egg Mayo', complete with quails egg and caviar. And a prettily wrapped 'Mozzarella & Pesto Panini'.
Freshly baked, still warm 'Sultana Scones' followed.
Served with clotted cream, fig jam and strawberry jam.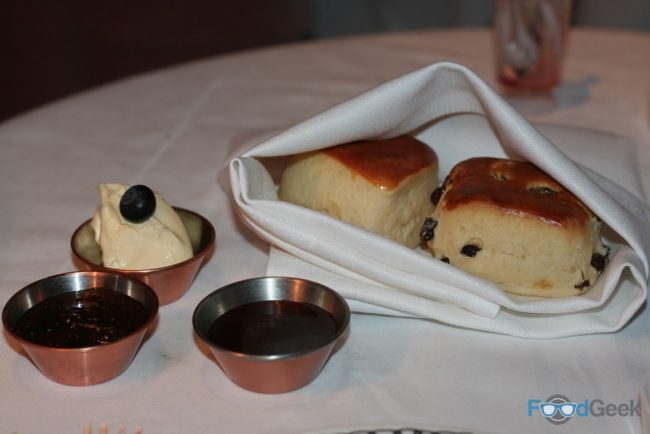 Then a choice of 'Salted Caramel & Chocolate Fondant' or 'Tahiti Vanilla Dome' from the dessert trolley.
We went for one of each.
Both looked incredible. The vanilla dome, in particular, was a perfect half sphere with a beautiful sheen. Filled with caramelised scented cardamom pears it tasted just as good.
The 'Salted Caramel & Chocolate Fondant' was equally skilful and precise.
It was excellent but perhaps a little rich to properly enjoy with so many other sweet things.
Back to the cake stand. The pastries included: strawberry tartlet, Battenberg cake, raspberry choux and an impressive gold leaf topped opera cake.
And finally, cloud-like marshmallows and light as a feather meringue.
These days it's quite common to find descriptions and sometimes even photos of toilets on certain food blogs. It's not something I've personally done before and I don't intend on making a habit of it.
I have to make an exception for sketch, though.
I mean, as good as the food was, it's this colourful and futuristic room filled with space pods to wee in that I'll remember most.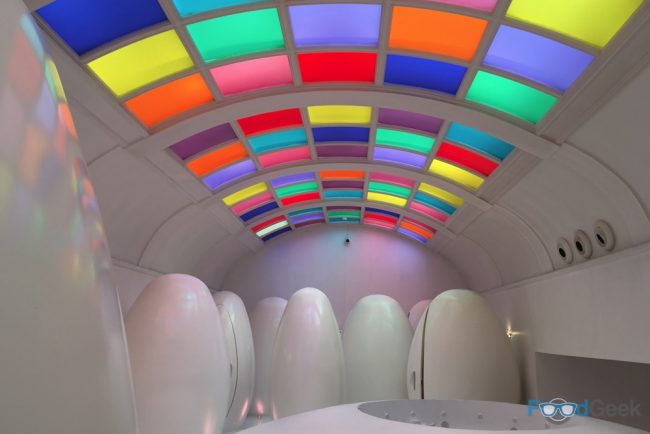 Despite afternoon tea not really being my thing I had a great time at sketch.
Service was speedy and attentive while the food was pretty much flawless.
One of my biggest complaints with afternoon tea, in general, is that they tend to be far too sweet heavy. So it's great that you can order more of the savouries.
Although the trouble is you then end up being too full to enjoy the richer stuff at the end. It's a tough balancing act.
It's the unique venue and artistic setting that really makes sketch stand out, though.
And the toilets, of course.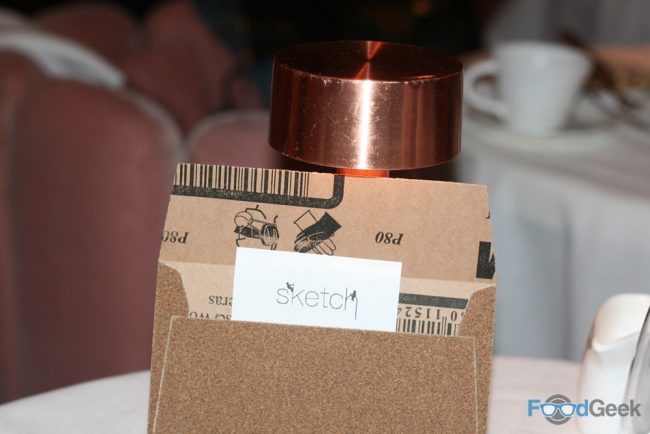 Date of visit: 23.03.2016
Follow @FoodGeekUK