Usually when I wake up in London wanting breakfast there's only one place on my mind; Dishoom's 'Bacon Naan' is legendary and one of my all time favourite breakfast items.
But one day I fancied something different, something a little healthier perhaps. Then I remembered that Mexican street food chain Wahaca serve breakfast.
Although I didn't realise at the time that only their Oxford Circus branch does, so a trek across London ensued; thankfully it was well worth the journey.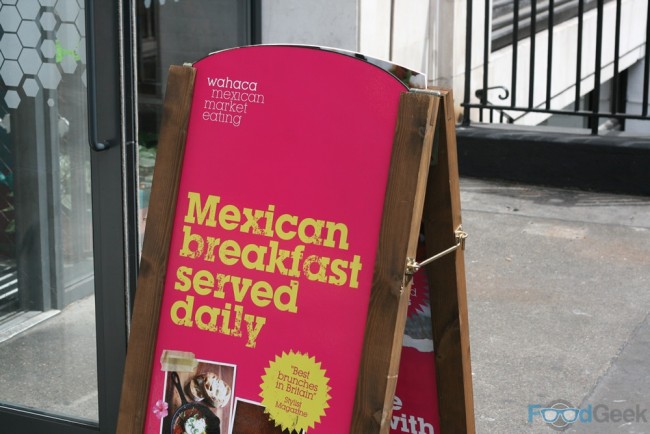 It was my first time at this particular Wahaca but like other's I've been to the inside is spacious and brightly coloured, with lots of nods to Mexico.
But it was a gorgeous sunny London morning, far too nice to be inside so we chose a table outside instead.
Very soon we received our cutlery, in a watering can.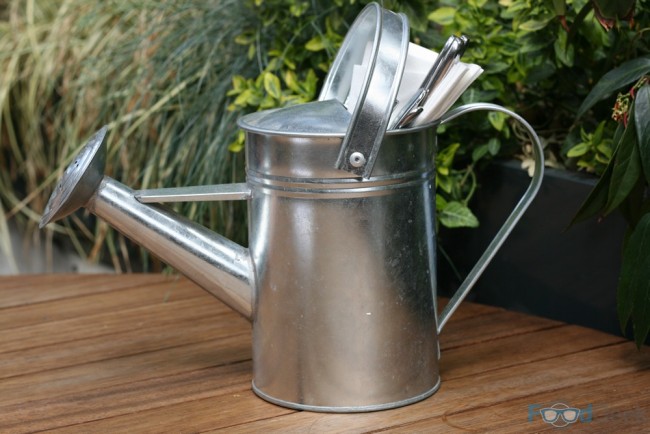 Followed by our drinks; good strong coffee and eventually breakfast tea in brightly coloured crockery (it was forgotten originally by the apologetic and otherwise very lovely waitress).
And an 'Avocado Smoothie'. I'm totally addicted to avocados and this was just brilliant.
It's dairy free, consisting of just blended avocado, apple, agave nectar and ice but the creaminess of the avocado gives it a naturally smoothie like texture.
I could practically feel my health increasing with every sip.
Choosing what to eat was incredibly difficult since I wanted pretty much everything.
Eventually I opted for a 'Breakfast Burrito'; filled with Mexican scrambled eggs, frijoles (black beans), spinach, salsa and bacon.
It was just what I needed; tasty, hearty and filling yet at the same time it somehow felt light and healthy.
'Avocado Toast' was healthier still.
Two slices of toasted sourdough topped with mashed avocado, lime, chilli and rocket. This simple dish is one of my favourite things to make at home and besides my lime wedge being a bit dried out and lacking in juice this was just as good.
Finally 'Sweetcorn Fritters', two sweet and crispy fritters topped with more mashed avocado, slow roasted tomatoes and sour cream.
The highlight though was the pot of roasted chipotle salsa on the side, which brought everything together and balanced the sweetness with smoke and spice.
I really enjoyed my breakfast at Wahaca, just like previous visits for the main menu it's fast and good value, while the food is fresh, vibrant and full of flavour.
They've expanded rapidly over the past few years and now have an amazing 17 restaurants in London and three out of the capital, including Manchester in the relaunched Corn Exchange (review coming soon).
It's great that they seem to be able to maintain the same high standards as they grow; hopefully it'll be more of the same in Manchester.
Date of visit: 21.06.2015
Follow @FoodGeekUK