Since the day this blog started – over five years ago – there have been a couple of ever present entries on the 'Upcoming Reviews' page.
One of which, Nutter's in Rochdale, I finally visited last month.
Though I have to confess it wasn't off my own bat. I was invited by Meze Publishing for the launch of their new 'Lancashire Cook Book'. The launch also coincided with Nutter's 23rd birthday celebrations.
I really have wanted to visit Nutter's for ages. It just never seemed to happen for various reasons (mainly because it's not easy to get to by public transport and I like to drink when I eat out).
Owner Andrew Nutter is one of the North West's best chefs and most interesting characters. I've met him several times but we won't go into those here or I'll lose the 'Clean' rating of this blog.
It was a gorgeous day for a party. Especially at a 165-year-old gothic manor, set in six acres of parkland in a beautiful rural area between Rochdale and Bury.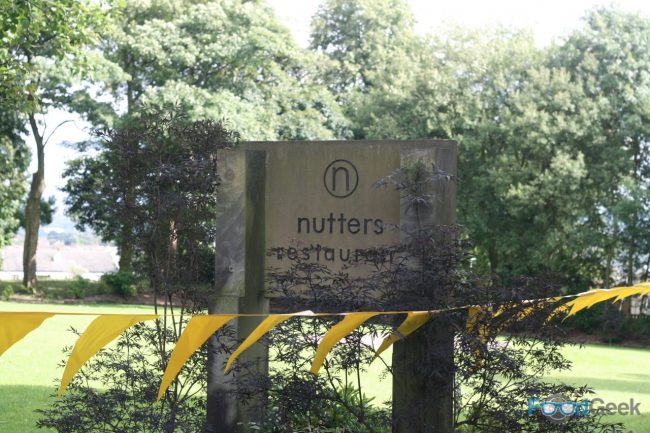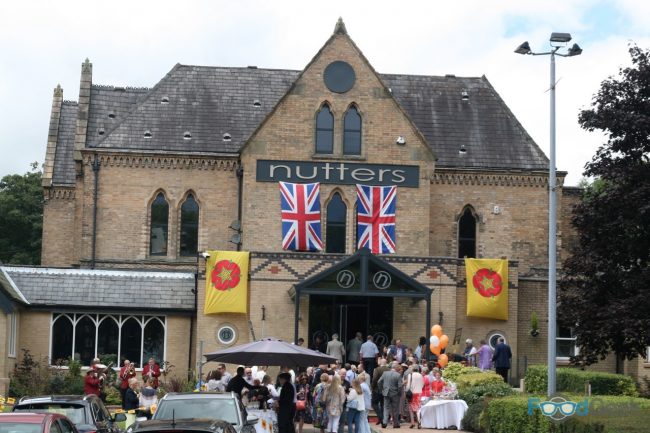 There was already a great party atmosphere when I arrived.
With champagne and canapes, ice creams, balloons and even a live jazz band playing at the front of the restaurant.
Inside was equally well decorated for the occasion.
With bunting and Lancashire roses everywhere. Including a magnificent tablecloth on the large press table.
To celebrate the launch of the Lancashire Cook Book the menu was created using recipes from the book.
Each submitted by a chef or restaurant featured in the book and using ingredients from key local suppliers.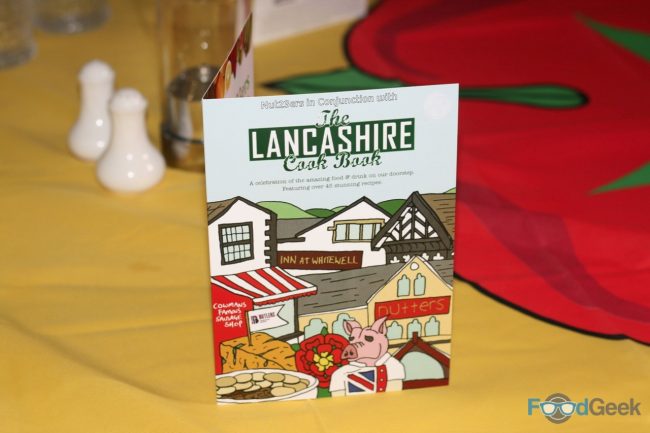 We started with a couple of small bites.
A lovely fresh, still warm focaccia made using the best black pudding in the world, Bury Black Pudding.
And better still; 'Jacob's Ladder' from Nigel Barden (of Simon Mayo's Drivetime fame).
The picture below doesn't do justice to the stunningly soft and sticky beef short rib.
Marinated with garlic, ginger, soy and Asian spices. It had a savoury, umami flavour with a hint of spice and chilli kick. So tender it melted in the mouth. It was sat on a bed of Asian slaw a brilliant contrast in flavour and texture. The sharpness cut through the fatty meat while adding a welcome crunch.
The starter was a fish dish from Andrew's latest venture, 'The Bird At Birtle'. A slightly more casual restaurant/pub just down the road from Nutter's.
An immaculately cooked piece of brill topped with a wild garlic pesto made with cashew nuts. Served with a light but vibrant heritage tomato salad.
If this dish is anything to go by I'll be needing to make a reservation at The Bird At Birtle very soon.
The main course was a joint venture between two esteemed local foodies. MasterChef 2015 winner and Oldham native Simon Wood and top chef Steve Smith from the fantastic Freemasons at Wiswell.
The dish consisted of Steve's 'Goosnargh Chicken with Black Garlic' and Simon's 'Pork Belly with Marvelous Mash'.
Although, it's worth pointing out that we were eating with Steve and he insisted that it was only "Andrew's interpretation" of his dish. Which I can only assume means he doesn't think it's as good as his own!
Dessert was perhaps my favourite course.
A rich chocolate brownie (recipe from Bertram's in Burnley) was served with boozy cherries, white chocolate snow, crushed pistachio's, Amaretto ice cream (from local Mrs Dowsons) and an edible book cover!
It would be wrong not to end the meal with cheese. Particularly when the producer of one of the best blue cheeses around was both featured in the book and sat at the table with us.
Butler's Blacksticks Blue is soft and creamy with a subtle tang. Served with compressed celery and a carrot puree.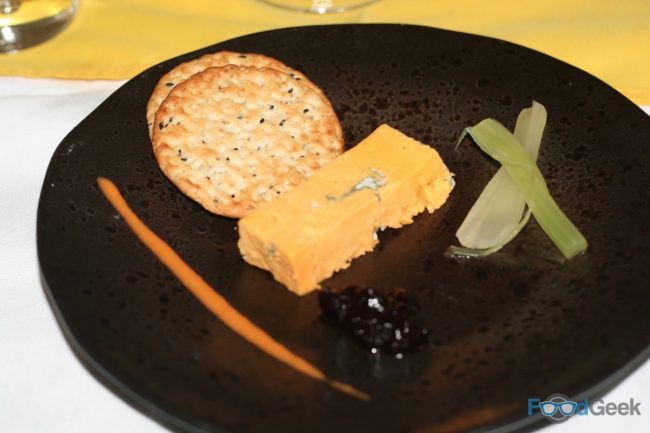 More treats followed in the form of a mini 'Banana & Pecan Cake' by the Saddleworth branch of the Women's Institute and chocolate from local 'BE Chocolates'.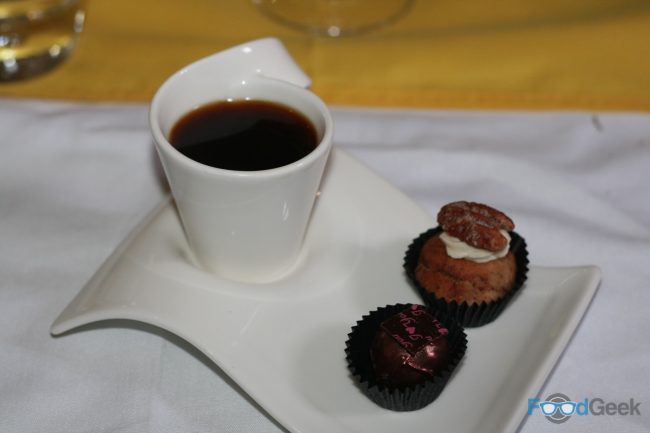 It was a hugely enjoyable meal.
Entertaining too, as the band from outside continued their set inside. Even playing tableside when members of our group were serenaded with personal celebrations and requests.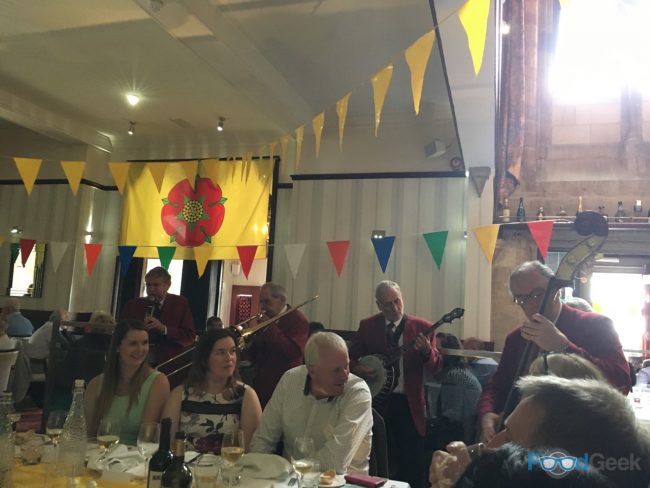 Despite the entertainment, I had chance to browse the brand new 'Lancashire Cook Book' between courses.
I buy a LOT of cook books (150 at last count) and was very impressed by this.
Not just for the recipes from top chefs like Andrew Nutter and Steve Smith. But the features on independent local businesses is a really nice touch. Some of my favourite restaurants, pubs, retailers and producers are included along with some I can't wait to check out.
It's clear from the book that it's made by people who are passionate about food as much as I am. This was echoed when I spoke to the small team behind it. Meze Publishing only make food related books and everybody who works for them is a massive foodie. Their passion was clear from the way they talked about putting the book together and just their work in general.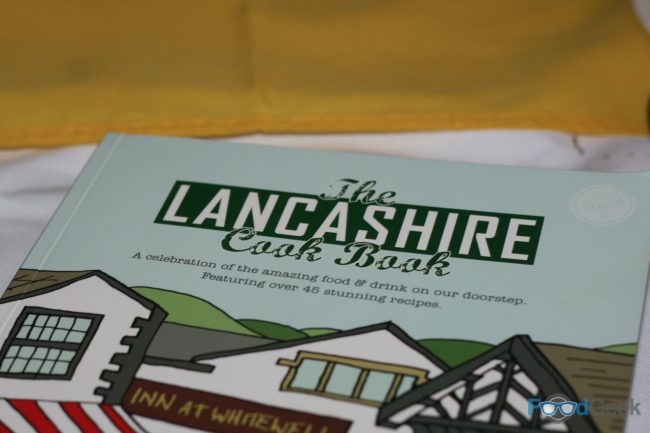 The Lancashire Cook Book is available to buy from most of the businesses it features, including Nutter's. I'd highly recommend visiting some and purchasing a book from them.
But if you can't, it's also available from Amazon for just £14.95.
I really enjoyed the event at Nutter's.
I knew Andrew was an amazing chef but didn't realise how nice Nutter's was in terms of the venue, surrounding area and friendly staff. The restaurant is very much a family affair with his Mum and Dad still actively involved day to day, which I think is great.
The place was full of regulars too. Speaking to some of them it's obvious that together they've built somewhere really special that the locals are proud of.
I'll definitely be back of my own accord, sooner rather than later.
Date of visit: 31.07.2016
Disclaimer: I was invited to the event as a guest in exchange for covering the book launch. However, all views on both the food and book are my own honest opinions. I later purchased the book with my own hard-earned money. Also, the fact that I hugged Andrew in Luck, Lust, Liquor & Burn the following day has in no way influenced my opinion. 
Follow @FoodGeekUK