I receive quite a few offers of promotional items and other PR opportunities, I turn most of them down because I don't feel that they're beneficial to the site or you the readers.
However, I was recently contacted by the supermarket Booths and invited to be a VIP guest of their weekly #BoothsCheers Twitter and Instagram parties.
I must confess that I haven't actually been to a Booths store as the closest to me is in Salford which is still a little far for a supermarket trip. So I didn't know much about them, after doing some research I was impressed with what I found. They have an interesting history but most importantly for me they are very focused on providing seasonal produce, the quality of their products and working with local suppliers and producers such as Mrs Kirkham's Lancashire Cheese which I love!
I also felt that a Twitter & Instagram party was a very interesting idea and of course I'm a huge Twitter & Instagram fan so I happily accepted their offer.
The following information from Booths explains how the parties work:
What is #BoothsCheers?

Our favourite time of the year is upon us! The festive period brings with it a chill in the air, but an excuse to curl up with a glass of something delicious. This season we are bringing our customers Booths' 12 Deals of Christmas for beers and wines and to celebrate, we are inviting them to join us every Wednesday at 7pm for our #BoothsCheers parties on Twitter and Instagram and in all stores!

During #BoothsCheers we'll be live sampling the latest of our 12 Deals of Christmas, sharing exclusive recipes and surprising our customers with rewards. There will be six #BoothsCheers parties in total, launching on Wednesday November 14th and concluding on Wednesday December 19th.

How will @BoothsCountry run the #BoothsCheers parties online:

Throughout the hour online we will be sampling the beers and wines with our community. We will be sharing recipes and seasonal food tips to match the beers and wines samples that week and running competitions and challenges to win these foods throughout the hour. We will also be sharing the news from our in store events, as we will be live social reporting from one store each week. Though content will be shared to all our social profiles, the focus of this activity will be mainly on our Booths Twitter and Instagram feeds (@BoothsCountry).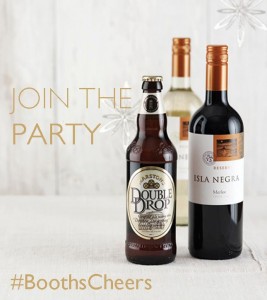 I have received this weeks wines & beer from Booths and will be sharing my thoughts on them live on Twitter after 7pm and will also update this blog post later.
How You Can Take Part In #BoothCheers
Firstly you can visit any Booths store on Wednesday at 7pm until Christmas to join in their in store parties. It's a little late this week but there are 5 more to go!
Or join us online by taking these simple steps:
Follow Booths on Twitter and/or Instagram (@BoothsCountry)

Every Wednesday at 7pm pour yourself a glass of that week's 12 Deal of Christmas

Share your experience with us using the #BoothsCheers hashtag

Sit back, relax and enjoy our festive tips and rewards

Follow @FoodGeekUK on Twitter and let me know if you're taking part!
Follow @FoodGeekUK