Good food is unfortunately hard to come by in Bolton, there's a great Thai place, Nam Ploy and a couple of decent restaurants in Horwich but other than that it's sadly lacking.
So I was very happy to hear about the reopening of The Farmers Arms in Little Lever by chef Jon Jones, a Masterchef: The Professionals quarter finalist who has worked in some of my favourite Manchester restaurants.
It opened last Wednesday, we tried to eat there for the first lunch service but couldn't due to some unforeseen problems, thankfully this week they seem to have been mostly ironed out, other than a faulty card machine.
It's hard to get too excited about the Farmers Arms in terms of the building and interior, it looks and feels like your average local pub. Which makes sense really as that's exactly what it is! But what sets it apart from other pubs is the food, of which there is nothing average at all.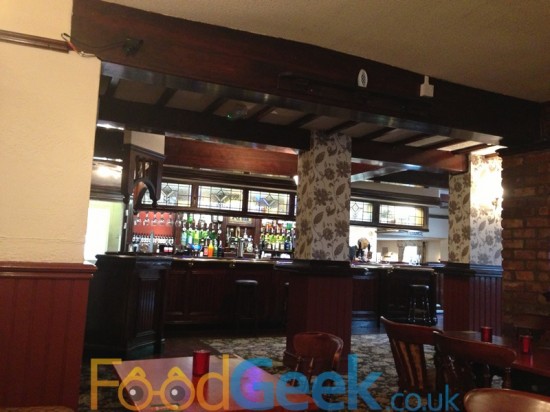 Understandably, the menu has been been kept intentionally simple for now, it contains pub classics like 'Soup Of The Day', 'Fish & Chips' & 'Homemade Pies' but there are a few more interesting dishes on offer such as my starter 'Pork & Black Pudding Terrine'.
A deliciously well cooked piece of Bury black pudding wrapped in tasty sausage meat and gorgeous smokey bacon. Served with a tomato compote, a perfectly poached egg and a slice of chargrilled ciabatta. Being overly critical, personally I found the the compote a bit too sweet for my taste but otherwise it was a fabulous dish with all the elements of a great breakfast combined in a very refined manner.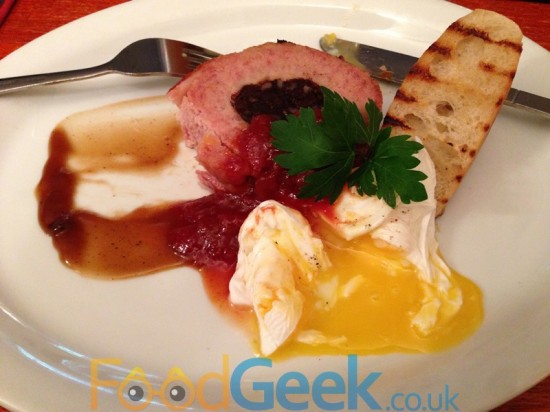 Mrs FoodGeek ordered the 'Farmers Arms Fish Cake' which was also very good. Containing a mixture of smoked fish (a combination of salmon, haddock & whiting) and crushed potatoes and then deep fried it was crunchy on the outside with a beautifully soft interior, served with a simple salad and a nice fresh herby mayo.
My main course of 'Pan Fried Salmon' continued the theme of good simple food cooked well. The salmon was very slightly over for my liking but again that's being overly critical, it was still moist inside, had a superb crispy skin and tasted fantastic. Combined with sautéed potatoes, chargrilled aubergine & courgettes and a tomato and herb dressing. It was a vibrant, light and summery dish full of flavour.
Mrs FG loved her 'Wild Mushroom Wellington'. Creamy earthy mushrooms mixed with garlic and herbs were wrapped in delicious puff pastry and served with crushed potatoes, spring onions and peas in a blue cheese sauce. She's not fond of blue cheese but loved the dish including the subtle and tangy sauce.
We'd enjoyed everything we'd eaten so far but the desserts took things to another level. Particularly my 'Chocolate & Orange Pie'. This is the dish that cost Jon a MasterChef semi final place, although the version he served Michel Roux Jr contained white chocolate & raspberries which has been replaced with milk chocolate and orange here. I can't speak for the MasterChef version but this was one of the best desserts i've eaten this year. Buttery pastry encased a deep rich chocolatey sauce and was topped with orange and delicious home made chocolate ice cream. It was a joy to eat and I'm sure Michel Roux would have loved this version!
Mrs FG enjoyed her 'Cheesecake Of the Day' almost as much, today it was 'Cookies & Cream'. We'd have preferred a slightly thicker base but what there was great, containing big chunks of chocolate cookie. The topping was smooth and creamy and was again topped with excellent quality homemade ice cream.
Overall we thoroughly enjoyed the Farmers Arms. It may not be exciting, it may not be pretty but it's a great local pub serving top quality food, far superior to any comparable places and at a very reasonable price. The staff are down to earth and very friendly and they have a good selection of beers, cask ales and even a cocktail of the week.
Although it was fairly quiet as it was late lunch time on a Wednesday afternoon I was impressed with how smoothly everything ran considering it has been open for only a week. It's defintely somewhere that I can see myself returning to again and again.
Date Of Visit: 03.07.2013
Follow @FoodGeekUK