You've probably noticed that I don't need much of an excuse to visit SoLita. I've spent an unhealthy amount of time there recently so after my last visit self-imposed a ban in the hope of maybe fitting into my holiday clothes in a couple of weeks.
I lasted 13 days.
Actually impressive by recent standards and the ban wasn't broken lightly, it was for a special one off event: 'Breaking Bad Night'. What can you do when your favourite restaurant hosts an entire night dedicated to your favourite TV show?
We were promised a night full of Breaking Bad fun including a fancy dress competition, quiz, classic episodes of the show and most importantly Breaking Bad cocktails and ABQ & MEX food.
The event sold out in record time and people were obviously keen as SoLita's recently refurbished basement (which coincidentally bears a certain resemblance to the super meth lab under the industrial laundry featured in Seasons 3 & 4 of Breaking Bad) was practically full and rocking by the time I arrived. We were treated to spiced SoLita popcorn and Blue Margaritas. The blue coming from Curaçao wasn't just a Breaking Bad inspired gimmick, it actually tasted amazing and was one of the best Margaritas I've had for a long time!
The classic episodes were playing away in the background but people were having too much fun talking, eating and drinking to watch them properly. Until a certain scene in 'Box Cutter'(Season 4, episode 1) when Gus slit Victor's throat. That certainly got people's attention!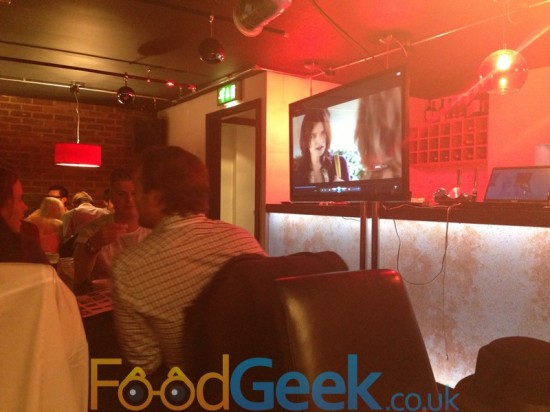 After struggling with the quiz for what felt like hours, it was finally time for the first course. 'Shredded pork and pico di gallo taquitos'. I love all things Mexican and taquitos are one of my favourites. These rolled up, crispy, fried tacos were filled with the most delicious shredded pork and pico di gallo (tomato, onion and chilli). Topped with 'Salamanca' salsa, melted Monterey Jack cheese, sour cream and cornmeal fried jalapeños they were unbelievably tasty.
A few people complained that 3 was unnecessary as they were big and filling. Possibly, but they tasted so good I'd have gladly eaten another 3!
The main course was a no-brainer, the return of the 'Breaking Bad Burger' one of the best burgers I've ever eaten at SoLita during it's brief appearance as a special last year. Containing a regular SoLita 6oz patty with 'Los Pollos Hermanos' chicken, chipotle chilli sauce, blue corn tortilla chips, queso blanco cheese and roasted red peppers. It had a lot to live up to and it certainly managed it as it tasted every bit as good as I remembered.
Cooked perfectly medium rare these chuck steak patties with added bone marrow don't need any help staying moist but they got it anyway in the form of the gorgeous chilli sauce, lashings of melted cheese and the soft and juicy red pepper. The addition of fried chicken and blue corn tortilla chips for added crunch is genius.
The burger seemed to almost finish off a few people, I ended up finishing Mrs FoodGeek's for her. What they probably didn't need to see coming at them next was a giant slab of amazing looking cheesecake. But that's exactly what they got, 'Blueberry & White Chocolate Cheesecake' complete with shards of blue crystal meth and 'Tuco's blood'!
I'm not a huge fan of white chocolate but this was a great cheesecake. I would've liked a few more blueberries in it but other than that it was stunning. Smooth, creamy and delicious and the shards of meth genuinely impressive. Even I had to admit that the portion size was on the large side given what we'd already eaten, though that didn't stop me finishing both my own and Mrs FG's of course.
They ran out of Blue Margaritas, not surprising as they're so good. Luckily my regular favourite with the silly name 'Cool As A Cucumber' was also available!
I've had many brilliant nights at SoLita but this one was definitely up there with the best. I left VERY full but very happy after some amazing food, lots of fun and meeting some lovely people. The quality of food and service was all the more impressive given that not only did they get 60 portions of each course out on time but the restaurant was open as normal upstairs! (Pork pie) Hats off to all of the staff who were brilliant.
SoLita are holding a similar Soprano's night at the end of the month which I can't make but I'll defintiely be at the Dexter, 24, Walking Dead, The Wire, True Blood, Sons Of Anarchy, Six Feet Under, Homeland and Lost nights! *
(*These may not all actually happen).
Date Of Visit: 05.08.2013
Follow @FoodGeekUK