Given how far I travel to eat I was genuinely excited when I realised the winner of 'Food Pub Of The Year' at the Manchester Food & Drink Festival awards is just 15 minutes down the road. The Shoulder Of Mutton is located in Holcombe, a tiny village just outside Ramsbottom. From the outside it looks like a good, old fashioned English pub, as indeed it is having been built in 1751.
Head chef Chris Yates was a Ramsay Scholar finalist in 2009 and even turned down a job with Gordon! His reputation has been growing ever since and he's now considered one of the best young chefs in the North West.
Inside is split into a small, plush formal dining area and a larger traditional pub area. We chose to eat in the pub by the warming open fire.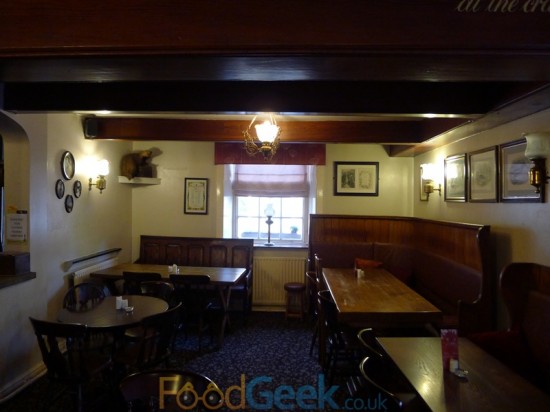 We ate from the 'Seasonal Lounge Menu' which is limited to a choice of just 4 starters and main courses but fantastic value at £30 for 2 courses for 2 people. Unfortunately they didn't have a quarter of the menu available though and of course it was the quarter that I wanted: Soused Mackerel and Daube Of Beef.
Luckily, my 'Chicken Liver Parfait, Apple Jelly & Melba Toast' was excellent so I soon forgot about the lack of mackerel. The chicken liver parfait was wonderfully rich and silky smooth, I loved the addition of sweet apple jelly which worked brilliantly and both together with the crispy toast were delightful.
Mrs FGs 'Crispy Pig Cheeks, Apple Puree & Pickled Mooli' was equally good. The tasty juicy meat encased in crispy breadcrumbs were absolutely delicious. The sweet apple puree and pickled daikon added an interesting contrast.
Whilst browsing the main menu a dish caught my eye. Intrigued by 'Slow Cooked Parsnip, Maple And Soy' I ordered it as an extra starter. A wise decision, it was as fascinating as it sounds. In fact it's one of the most interesting dishes i've eaten this year. The parsnips had a lovely texture having been slow cooked but it was all about the flavour, the sweetness of maple syrup comes through but was perfectly balanced by the umami rich soy. The seemingly odd accompaniment of savoury granola and pink grapefruit worked well, an unusual but successful flavour combination.
My second choice for main course after the beef was 'Roast Black Bream' served on a saffron risotto with gremalata, baby shoots and broccoli. The fish was cooked to absolute perfection with soft, moist flesh and a wonderfully crispy skin. I enjoyed the risotto and it's strong saffron flavour although I felt it was a little under seasoned but it was easy to fix with the salt & pepper on the table. It was the only minor criticism of everything we ate and overall still a great dish which meant I didn't miss the beef.
Mrs FG went for 'Wild Mushroom Ravioli, Sage Butter, Toasted Almonds & Broccoli'. We both felt the portion size was perhaps a little small even for such a good value menu but it certainly made up for it with taste. The pasta was lovely and soft and very thin. The filling of rich earthy mushrooms was excellent and tasted great with the sage button which was very strong in flavour but had been used sparingly. All in all it was an excellent autumnal dish.
All of the desserts sounded fantastic, proper traditional puds which was exactly what we needed on a frosty day. In the end we couldn't decide on just two so ordered a third as well.
Starting with 'Sticky Toffee Pudding' which ticked all the right boxes. Warm, moist and sticky sponge, a deliciously sweet caramel sauce topped with an excellent quality vanilla ice cream.
'Plum & Hazelnut Crumble' was just as good. I loved the contrast between the sharp plums and sweet Crème Anglaise while the addition of crushed hazelnuts in the crumble topping is inspired and worked brilliantly with the plum.
The final dessert is a thing of MasterChef contestants nightmares, a good old 'Chocolate Fondant' served with candy pistachios and what should have been pistachio ice cream. The fondant itself was perfect, breaking into it revealed an oozing, shiny, gooey chocolate sauce. They had no pistachio ice cream so instead we had 'Parkin Ice Cream' which was excellent and actually a great accompaniment.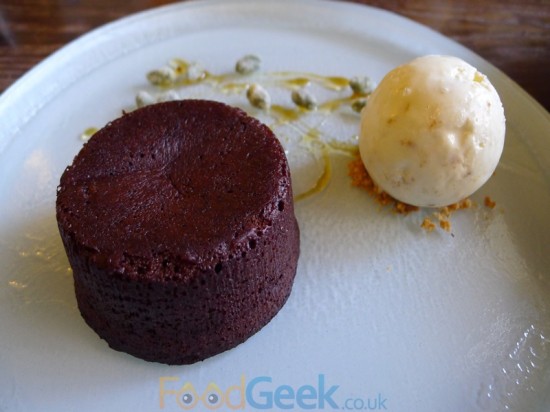 It was quiet during our visit but service was nevertheless very good. The pub is cosy and friendly, I imagine it would be a great local.
It's the food that's the clear winner though, Chris is doing great things in the kitchen. I loved that the dishes appear to be fairly simple on the surface but the clever use of flavour combinations and contrast of textures elevates them far above average pub food. I'm looking forward to returning and ordering from the main menu or perhaps the tasting menu.
Date of visit: 25.11.2013
Follow @FoodGeekUK