There are few restaurants I've had to wait as long to get into as The Man Behind The Curtain in Leeds. In fact, there are only three; Noma, The Fat Duck and Restaurant Gordon Ramsay.
This one was largely my own doing, though. Back in 2014, you could basically walk in off the street. But at that time I wasn't sure it was really for me. I worried it was a bit style over substance.
Eventually, I convinced myself to make a reservation. Unfortunately, my timing wasn't great. Firstly, it coincided with head chef Michael O'Hare winning BBC's 'Great British Menu'. And then the restaurant being awarded its first Michelin star. Weekend nights were booked up for almost a year. So I had to settle for a Tuesday evening, over five months later.
When the day finally came we almost missed our reservation. Nobody had bothered to tell me that the restaurant is located above a clothes shop.
Okay, there is a small clue in the window. But one that's easy to miss. Especially if you walk past with your eyes glued to your phone because you're trying to figure out why there isn't a restaurant where Google Maps says there should be.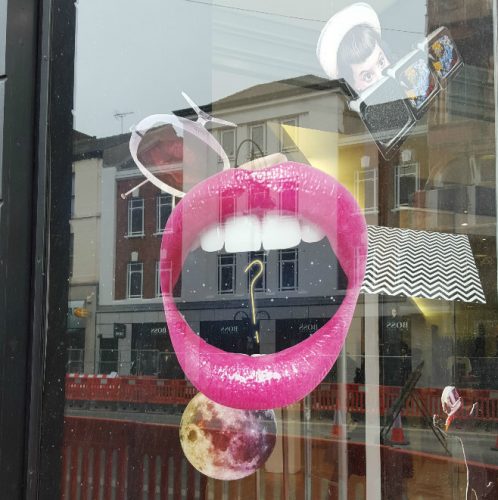 We finally sussed it out and made our way through the fancy designer clothes to take the lift to the third floor.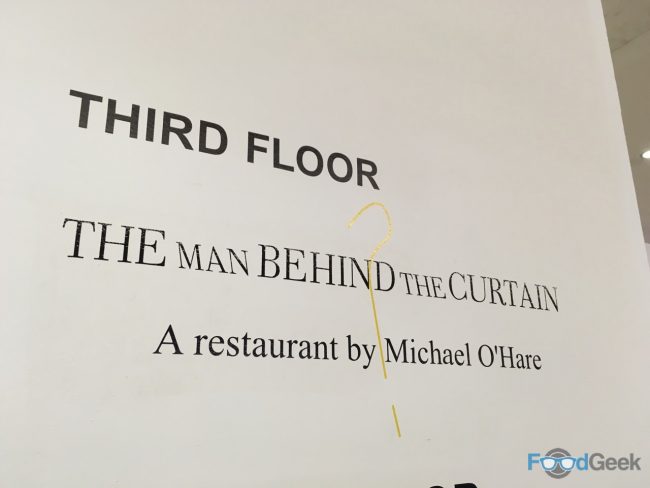 As I stepped out I wondered if I'd got off on the wrong floor. It was more reminiscent of an art studio than a restaurant.
The large open loft space is bright and minimalist. With wire mesh creations suspended from the ceiling and sculptured hands adorn the graffiti covered walls.
We're given a printed menu but it doesn't say much.
Simply a definition of 'carte blanche':
1. To allow full creative freedom.

2. To showcase what we feel is right for now.
And the price of the only option available, '12 sequences'. Which I assume mean dishes or courses.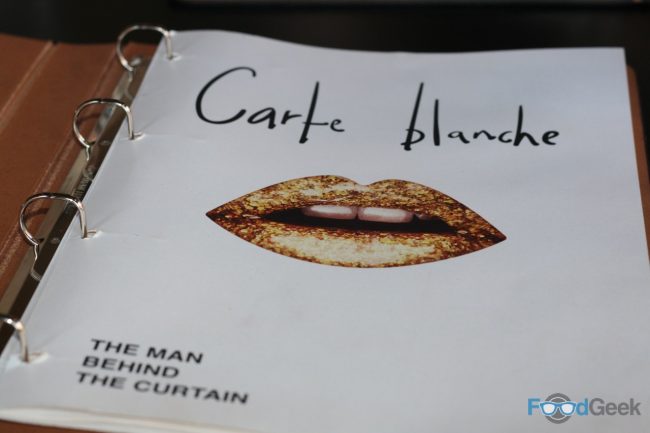 The first, an oyster cooked in its own juices. With an incredibly realistic 'pearl' made from oyster emulsion.
We'd opted for the matched drinks to accompany the tasting menu. The oyster came with a light, crisp champagne.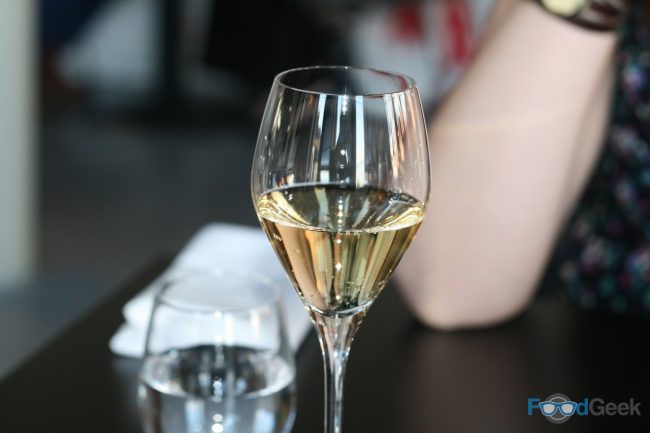 The next three 'Sequences' arrived together.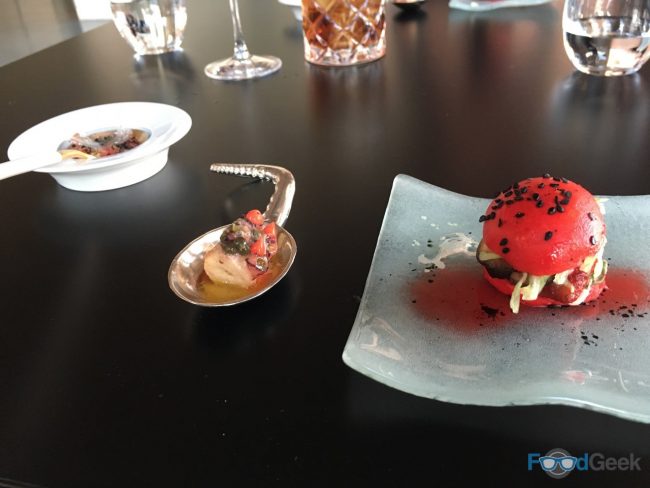 A silver spoon, with a tentacle-like handle contained the most amazing octopus.
The mollusc had been hand-massaged for 20 minutes apparently. It was joined by lightly spiced paprika emulsion and a rich lemon butter. It was only a mouthful but an incredible array of flavours. And the tenderest, best texture of octopus I've ever experienced.
Next, Wagyu beef with gordal olive juice and obulato. If you were wondering, that's edible layers of potato starch that looks like cellophane.
And my favourite, the 'Veal Sweetbread Slider'.
A beautifully soft sweetbread in spicy oriental sauce. Sandwiched in a bright red steamed Sriracha bun with pickled shiitake mushrooms.
The bite-sized trio were accompanied by an intriguing cocktail of Vermouth, olives and orange. This worked particularly well with the octopus dish.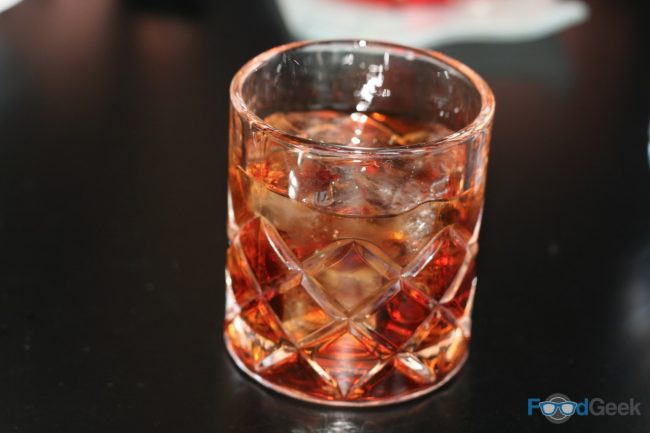 A striking, artistic red dish was described as a 'Spider Crab Wonton'.
Layers of crab and crispy wonton wrappers were topped with a Sriracha shard (for lack of a better word). Served with a fried quails egg with a layer of bilberry gel covering the yolk.
Three fairly well-known dishes followed. Man Behind The Curtain classics, you could say.
First, a smaller version of a dish Michael had the contestants cook during an appearance on MasterChef.
A beautifully cooked langoustine, in a fragrant Thai green curry topped with crispy rice noodles. It was amazing to get all flavours you expect from a rustic Thai curry in such a refined and visual dish.
Then the dish that earned Michael a perfect 10 from Marcus Wearing and saw him reach the Great British Menu banquet.
The name 'Fish & Chips' clearly doesn't do it justice and neither will my description.
The cod loin is the star of the show. It's topped with crispy shredded potato, squid ink and malt vinegar powder. Oh, and pea shoots that had been sprayed gold.
Despite looking like nothing I've ever eaten before, it actually had all the flavours you'd expect of its simpler namesake. It's by far the most interesting looking dish I've eaten for a very long time and it tasted just as good. The bursts of sharp vinegar from the powder were fantastic.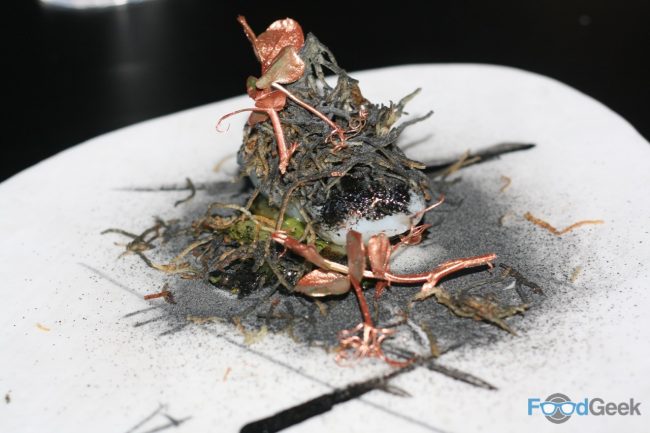 Even the empty plate looked like a work of art.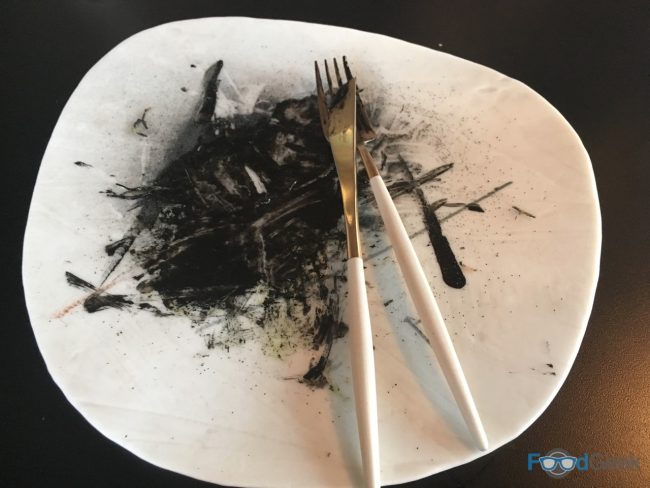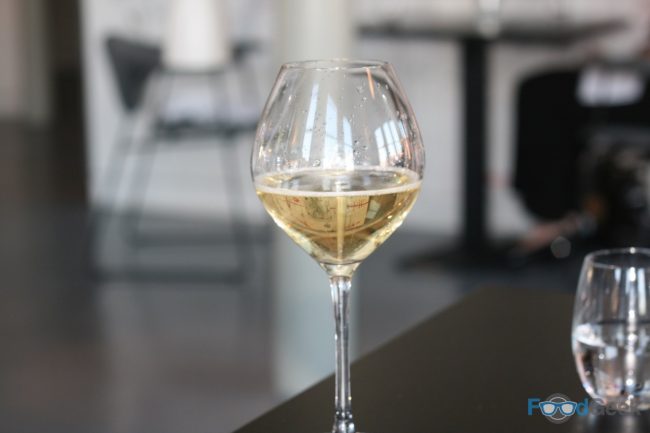 The main course was the most stunning visually. I wasn't sure whether to eat it or hang it up.
Iberian pork loin with anchovies was the name. But the main event was clearly the slow cooked egg yolk in a totally believable edible egg shell. It was filled with black bits described only as 'BBQ cinders'.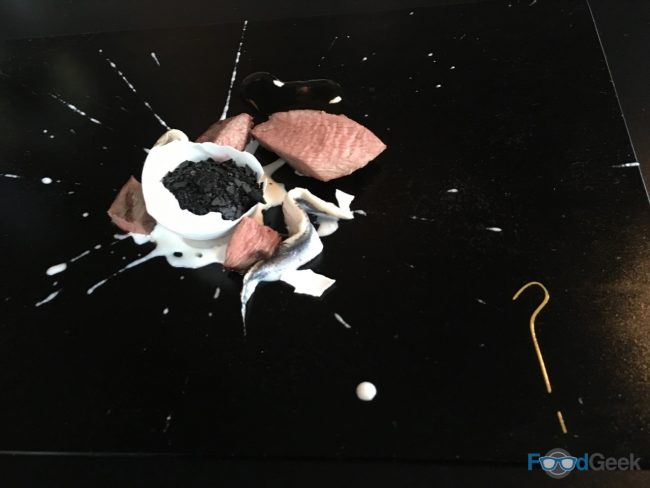 When a plate containing items covered in chocolate arrives, you assume that's the end of the savoury dishes.
In a way it was, but nothing is quite what it seems here. The dark chocolate was actually covering crispy pork skin. Which was then topped with caraway seeds, lavender and sea salt.
It made for an enjoyable but unusual and slightly confusing sensation of sweet, salty, bitter, savoury and floral flavours all at the same time.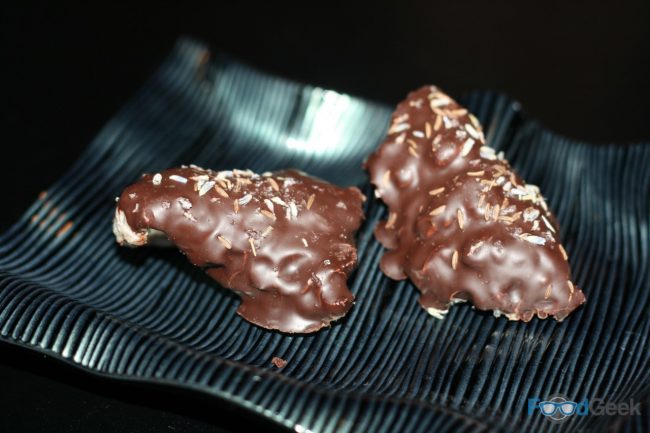 The next course almost sounded like a 'normal' dessert, until potato was mentioned anyway.
The dish comprised of a deliciously sweet lavender and honey mousse. Hidden by a thin sheet of curved, tempered chocolate. Which had been sprayed metallic silver. Baked potato custard and beetroot-coloured potato puffs were then added at the table.
On paper (or screen) this is the most bonkers sounding creation but it really worked.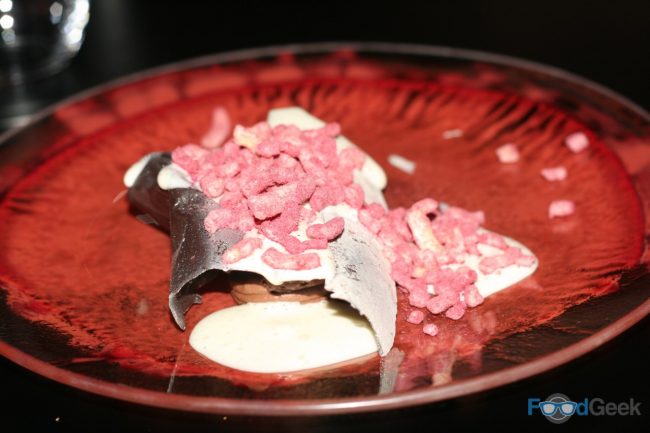 It had got pretty dark up in the loft by this point. The bad lighting combined with my poor choice of camera angle means the photo above looks nothing like the actual dish. The Instagram shot below is much closer to how I remember it.
The penultimate course was a refreshing sorbet of compressed strawberries, cucumber, lychee and lime.
An enjoyable combination of summery flavours. But just lacking the wow factor of everything that came before it.
The final course didn't appear to be particularly special either.
A pretty but fairly simple looking cupcake. In fact, visually it was upstaged by the amazing coffee cup.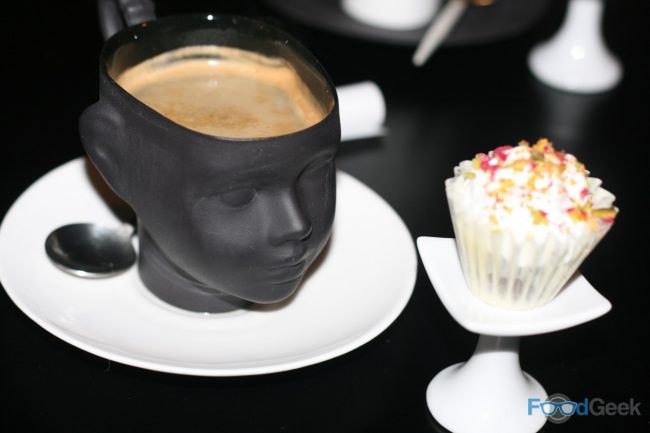 Of course, Michael had a couple of final tricks up his shiny silver sleeve.
Firstly, it was entirely edible. Including the wrapper, which is always fun.
Better still, it was designed to be eaten in one as it has a gorgeous liquid passion fruit centre.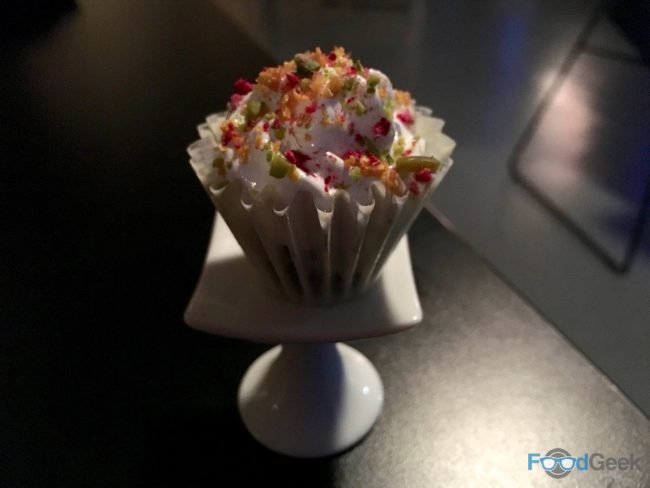 Up until this point, the excellent value drinks pairings had all been brilliant. Well, Mrs FG was disappointed by the lack of red wine but it will obviously vary based on the dishes each night.
The final pairing though was Umeshu Plum Sake. Which sounded great but actually tastes more of marzipan than plum or sake. I totally understand why it was paired with the desserts but couldn't enjoy it as marzipan is basically the devil.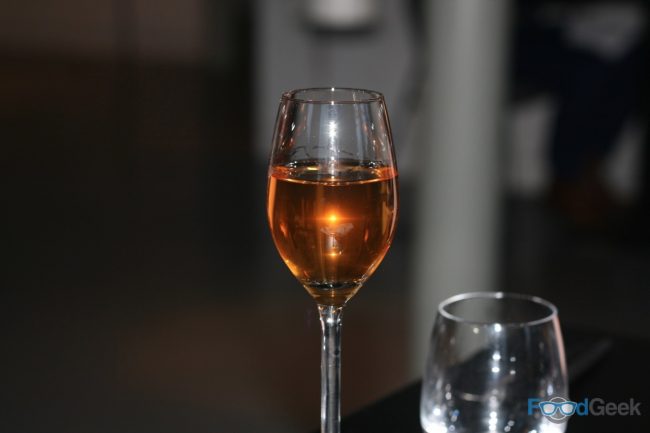 I've never eaten anywhere quite like The Man Behind The Curtain. It's creative, verging on mad but at the same time the cooking is flawless.
The only place that comes close in terms of 'wow factor' is The Fat Duck. But both the food and the overall experience is very different.
As a big fan of Asian food, Japanese in particular, I really loved the little nods to the Far East in many of the dishes. It's fused with some clear Spanish influences too. And of course Michael's own ideas and flamboyant personality. Making it totally unique.
I needn't have worried about it being style over substance. I mean there is a whole load of style, but there's plenty of substance to back it up.
It wasn't just the food, though, or the drinks pairings. It's the whole package. I wasn't sure about its location, decor, lack of menu, presentation, even some of the quirky plates and dishes. But by the end, I was well and truly won over.
The Fat Duck is still my greatest dining experience but this isn't too far behind. And while the lack of menu development means I've not been tempted to return to Bray yet. I get the feeling that The Man Behind The Curtain will constantly evolve. I can't wait to return and find out.
If only there wasn't a year long waiting list!
Date of visit: 24.05.2016
Follow @FoodGeekUK