The first few times I visited Aberdeen I mainly ate meat, cheese and burgers (usually because beer was involved). Last time I wanted something a little more cultural.
I found it by way of Yatai. An informal but authentic Japanese Izakaya style restaurant/bar. The equivalent of our gastropubs.
Owner and Executive head chef John Jones isn't Japanese but has dedicated many years to learning the cuisine. Working in Japan and then some of London's best Japanese restaurants.
Yatai is located on Langstane Place, a small street of many restaurants not far from the centre. I spotted the Japanese bottles in the window before the subtle sign on the door.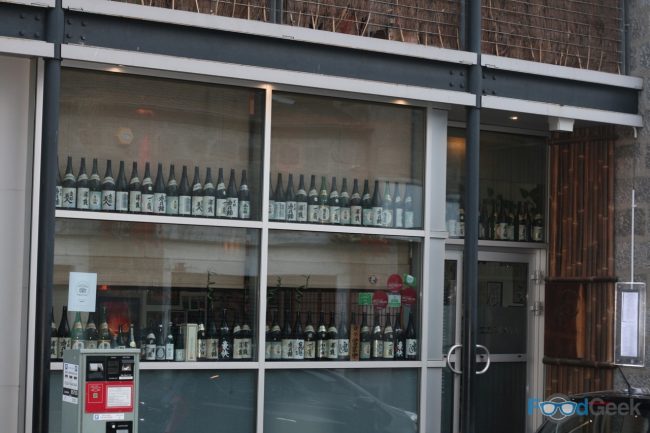 Inside is small and intimate with a tiny open kitchen and cosy but cluttered Japanese decor.
Yatai recommend 'Omakase' style dining which literally means "trust us". It's designed for people not overly familiar with Japanese dishes. Although we are, we decided to go along with it anyway and treat it like a tasting menu.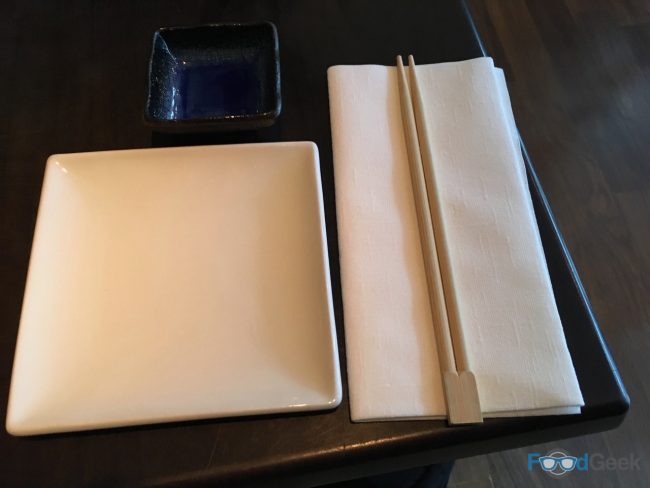 With a few of our own requests, though. 'Edamame' and 'Miso Soup' to start, I just can't go to a Japanese restaurant and not order them.
And a plate of 'Tsukemono'.
Tsukemono means "pickled things" and I pretty much love anything that's pickled. The things on this occasion being carrot, radish and cauliflower.
A few sushi rolls followed; Amberjack – a fish not too dissimilar to tuna, Avocado and Ebi (prawn) Tempura.
They weren't the neatest of rolls, there was large pieces of avocado and prawn that were never going to fit inside and were impossible to eat in one. I think it's fair to say that they were almost certainly not prepared by a trained sushi master.
The quality of ingredients was good though and they were enjoyable all the same.
The rice of the 'Nigiri' was formed better.
But both the 'Tuna' and particularly the 'Gyu Hire' (rare Aberdeen Angus beef) could have been sliced a little thinner.
Gyoza are always a good shout in a Japanese restaurant. And despite generally preferring my dumplings steamed these were very good.
Crisp pastry filled with soft vegetables and served with a tangy, umami-rich ponzu dipping sauce.
My favourite dish was Watarigani or soft shell crab tempura.
The super juicy and sweet whole crabs coated in thin and crispy batter were a delight. Even better when dunked in the punchy wasabi mayonnaise on the side.
Closely followed by 'Buta Niku Yaki', or teriyaki pork ribs.
Tender falls-easily-off-the-bone meat, charred and gnarly on the outside with a sweet and savoury ginger and black pepper glaze.
The beauty of eating Omakase style is enjoying dishes that you probably wouldn't order. Such as 'Okitake and Satsuma Imo Kushi'.
Chunks of grilled teriyaki coated sweet potato and meaty portobello mushrooms doused in miso butter. The mushrooms were particularly good, a simple dish but comforting and unmistakably Japanese.
Like most Japanese restaurants, and many Asian restaurants, in fact, there's little in the way of dessert at Yatai. Just a few flavours of ice cream and sorbet.
Albeit quite interesting flavours and very good quality.
Being an izakaya the drinks are as important as the food.
Many varieties of sake are available, both hot and cold. There's a decent wine list too, we enjoyed a nice Malbec. Along with a couple of good beers brewed for the restaurant with nearby brewery Six Degrees North. A citrus IPA and a yuzu wheat beer.
And even an intriguing Japanese lemonade with a frozen ball of ice in the neck. How?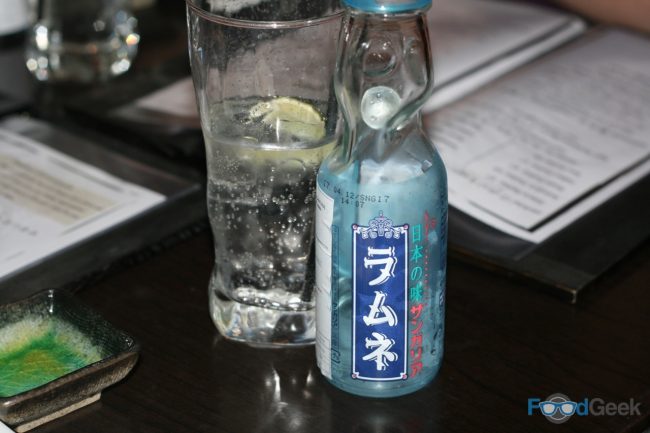 All in all Yatai was a very good experience.
It was fairly quiet but the staff were very attentive and super friendly. The food was all very tasty and the neatness of sushi rolls aside good quality too.
It's a lovely little place and something a bit different from anything else I've seen in Aberdeen.
Date of visit: 02.09.2016
Follow @FoodGeekUK