"Be prepared for a unique experience at the UK's first self-service beer venue."
The words of the Taps website, not mine. Although I can confirm that my experience certainly was unique  i'm not sure it was in the way they intended when they came up with that statement.
Yes it was the first time that I have sat at a table with my own beer pumps but it was also the first time i've spent 2.5 hours in a restaurant and received only 2 courses.
I'd genuinely been looking forward to my night at Taps, apparently the only restaurant/bar in the UK with self-service beer pumps on the tables. Being a beer fan and growing up with pub owning Grandparents the concept was very appealing.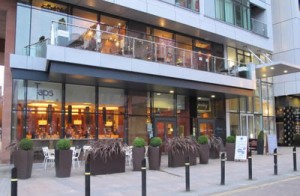 First impressions were good when we arrived at the ground floor of the Great Northern Tower the decor is modern and inviting whilst the pumps on the tables look great.
Unfortunately there were few positives from then on.
Limited Choice
My first complaint was with the choice of beers. Their website states that they stock "Amstel, Birra Moretti, Heineken, Duvel Green, Timmermans Strawberry Beer, Leifmans Fruit Beer, Vedett Extra White, Vedett Extra Blonde, Blue Moon." yet there are only 2 beer pumps on each table and you get no say in where you sit and therefore which beers are available to you. Our allocated table had Amstel & Leifmans Fruit Beer.
Luckily I like Amstel although it's not the most interesting of choices, I suppose Fruit Beer should be considered interesting but i'm just not a fan of flavoured beers, even less so when told that it cost an eye watering £5.25 per pint! The Amstel costs a slightly more reasonable £3.50/pint but even that is too expensive in my opinion.
The concept of pouring your own beers is definitely a fun experience although watching the costs mount up on the iPod display built into the table was less fun. Actually our iPod wasn't measuring initially but it soon caught up after a reboot.
My next disappointment came upon receiving the menu. I have a bad habit of studying the menus on websites of places i'm due to visit and am often left disappointed when a certain dish isn't available on the day. However on this occasion it wasn't just a certain dish that wasn't available but  rather the entire menu and whole style of cuisine.
The menu on the website is impressive and promises starters such as 'Steamed Razor Clams', 'Roast Wood Pigeon Breast', 'Deep Fried Soft Shell Crab' and main courses like 'Oxtail & Bone Marrow braised in Oerbier', 'Marinated Monkfish Loin', 'Chargrilled Marinated Halloumi Cheese'. The menu we received was much smaller, completely unrecognisable and no different to most of the Yatses, Weatherspoons type pubs in Manchester. Containing mainly burgers, steaks and middle of the road pub classics like Fish Pie & Lasagne.
After being utterly uninspired I finally decided on 2 starters of black pudding scotch egg and lamb kofta with mussels cooked in cider with bacon & extra chilli for a main course. When we eventually got the attention of the waitress – after a good 15 minutes of her avoiding eye contact every time she walked past – we also ordered a garlic bread for the table.
The garlic bread arrived reasonably quickly, particularly considering what was to come. Although it was speedy it really wasn't any good. A friend commented that it looked & tasted like "Asda Smart Price", I can't really describe it any better than that.
The Wait Begins….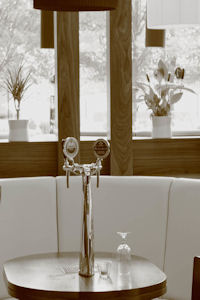 We were then in for a huge wait for any more food. As the time passed the novelty of the expensive self-serve beer wore very thin. The waitress came over a couple of times to half heartedly apologise whilst claiming that they were very busy, which they clearly were not. Our remaining starters finally arrived well over an hour after we were first sat down at our table.
Were they worth the wait? Yes and no. The lamb kofta not really, it wasn't awful, in fact it was good quality lamb and cooked well but it was incredibly bland, not just under seasoned but lacking in any sort of flavour whatsoever. The yoghurt dip wasn't much better and the salad was very dull. The Black Pudding Scotch Egg was a different story though and the standout dish of the evening. It was full of flavour, delicious earthy black pudding with a perfectly cooked soft egg inside. Even the salad was more interesting that the dull iceberg, tomato & cucumber served with most dishes. A tasty apple salad dressed in mustard and cider vinegar which was the perfect accompaniment to the earthy black pudding.
I had plenty of time to reminisce about the beauty of the scotch egg as we were in for another ridiculous wait for more food. This time it took another 30+ minutes from our starters being taken away to receiving our main courses. By the time they arrived we had been in the restaurant for well over 90 minutes and again they were a mixed bag but generally disappointing. My mussels themselves were not too bad, they seemed fresh and were not over cooked but the 'cider' that they were cooked in was disgusting,  it seriously looked like dirty dish water and didn't taste much better. The bacon was huge clumps of anaemic boiled meat with no colour or flavour and there was no chilli in sight. I complained about the missing chilli and to be fair they took the additional charge off the bill immediately yet still brought me over a pot of chopped red chilli. Of course I wanted it to be cooked with the mussels not sprinkled on top raw but it was a nice touch all the same.
After finishing our mediocre main courses we were already undecided as to wether we wanted to stay for dessert, we had already been there for a good 2 hours and who knows how long the desserts would take to arrive and if they'd be any good. As it turned out we needn't have worried, the 20 minute wait for them to clear away our plates and not even bother to offer a dessert menu made our minds up once and for all.
I demanded the bill and when asked if everything had been OK was completely honest and stated "not really, only receiving 2 courses in almost 2.5 hours is not acceptable". The waitress again apologised and said she would bring the bill. It arrived quicker than anything else had all night which was appreciated, as was the fact that she had discounted all of our drinks from the bill which after how long we waited and the fact that the pumps were right in front of us was a considerable amount. Although the discount still doesn't make up for the pathetically bad service and poor food it was a nice gesture and whilst I'm confident I won't be visiting Taps again I look back on it slightly more favourably than I would have done otherwise.
Date of visit: 14.02.2012 (Yes, it was Valentines Day but please don't think that affected the night in any way. The restaurant/bar was only half full most of the evening and much quieter when we first arrived and ordered).
Follow @FoodGeekUK