It had been 12 days, 16 hours, 44 minutes and 34 seconds since I had last stepped foot in a restaurant and I was beginning to go a little stir crazy.
I'm sure I don't need to point out that this was certainly not by choice but thanks to a wisdom tooth extraction and then a post op infection. My dentist had advised me to stick to 'simple and soft foods' but after more than a week I just could't cope anymore. I was feeling sorry for myself and there was only one thing for it, cake.
I'd heard that Delicieux, on Chorley Old Road a couple of miles out of Bolton town centre did good cake so that's where I headed. I'd visited the premisses previously whilst it was still called Zest and although it was fairly decent it was nothing special.
Other than not being able to fit on the car park which claimed 'parking for up to 20 cars' yet was completely full with only 6 cars first impressions of Delicieux were good. I don't remember exactly what Zest looked like as it had been a while since my last visit but the interior felt much lighter, brighter and modern. Much of the first wall is taken up by a huge blackboard containing the menu which was full of fascinating sounding dishes. Another wall contained shelves filled with fun and interesting produce for sale.
We were seated opposite the counter proudly displaying their pies, cakes and freshly baked bread.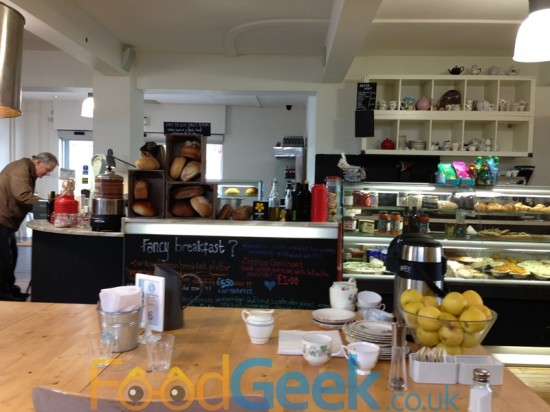 We ordered a couple of drinks whilst we perused the menus, I was glad that they also hand out paper versions as my eyes were struggling to read some of the dishes on the wall.
We started with a sample of breads; white artisan, Granary, Rye and Spelt I think. They were all fantastic, as was the homemade hummus and though I enjoyed the 'chilli gloop' (basically just a slightly thicker and more refined sweet chilli sauce) it would have been nice if it had a bit more of a kick.
I knew that I wanted a pie but choosing which was difficult as they all sounded amazing with flavours such as 'Chicken Curry with Sweet Potato Mash', 'Ratatouille with Pesto Mash' and 'Lasagna'! In the end I went for the 'Haggis Pie' but it was a very close call as a Lasagne Pie sounds pretty incredible to me.
After a fairly long wait it finally arrived, I knew immediately that it was worth the wait and it looked and smelled amazing. Cutting into it gave that crisp pastry sound that I usually only hear on The Great British Bake Off, i'm not a pastry expert but by my standards this was completely perfect. The filling too was excellent; soft, moist and delicious haggis packed full of flavour.
The chips tasted nice but were a little soggy, I really didn't care though as the pie was so good.
Mrs FG went for a lighter option, one of their sandwiches. As with the pies there were several interesting options, she went for a classic 'Pastrami, Cheese & Pickle' on toasted granary.
It looked impressive with nice char marks from a griddle and the bread is so good that anything would have tasted great on it. We both felt it could have perhaps had a few more pickles but other that that it was a great, hearty sandwich.
Disappointingly they had no coleslaw and our 'Sweet Potato Wedges' were quite a bit overcooked , a few were total mush. They tasted really good though and were full of delicious roasted garlic.
We were really here for one thing though, cake.
As you may have noticed, making choices isn't my strong point so despite being relatively full we ended up with 4 cakes to try (medical reasons, remember).
The 'Apple Galette' served warm on a slate with a sweet cream and caramel sauce was great. Perfect flaky & buttery puff pastry topped with deliciously sweet and caramelised apples.
The 'Lemon Drizzle Bundt' was equally good with a perfect balance of sharp lemon icing and sweet, moist cake.
I'm a huge fan of Portugese Nata and these didn't disappoint. More immaculate pastry, this time filled with luscious, rich custard. If I wasn't completely stuffed I'd have happily eaten several more of them.
I was most intrigued by the 'Moon Cake', with it's bright blue sponge and space silver topping it looked like it could have been part of the set of a low budget sci-fi movie. It was gorgeous! Soft fluffy sponge cake with a delicious white chocolate ganache.
Other than a couple of very minor issues I was more than happy with everything that we ate, especially the quality of the bread, pie and cakes which are seriously good.
Unfortunately service wasn't of the same standard. I realise that I have fairly high standards but I am realistic in my expectations when visiting smaller, cheaper and less formal places. The staff were all friendly and polite but very slow at times. Whilst I have no problem at all in waiting for fresh food I felt that we waited too long for most other things such as cake and drinks. It was 30minutes from when we made our order before we received our bread which seems excessive. Dirty plates where left on the table for a good 15 to 20 minutes after we'd finished eating and in total we were there for almost 2 hours. We'd arrived at around 2pm so just after the main lunch period and it certainly wasn't at all busy by the end. It wasn't a major problem but just a shame to leave with any negative feelings when the food is so good.
It won't stop me returning though, I really love what they are trying to do. The food is great and the menu is far more interesting than anything available in Bolton town centre and the fact that they make so much themselves and use good local suppliers is fantastic. I just hope that enough people appreciate them as i've seen many businesses try and fail in that building and I really hope that Delicieux doesn't join the list.
Date Of Visit: 24.05.2013
Follow @FoodGeekUK