After spending the seven months since my previous visit to Mughli raving about how good it is and telling everybody to go, I figured it was about time I went back myself to make sure I was right.
Last time was a quick, unplanned, late night trip after a gig at nearby Manchester Academy and having already eaten out just a few hours earlier. Hardly the best circumstances in which to enjoy somewhere with as much to offer as Mughli. So this time I returned earlier, sober and very hungry.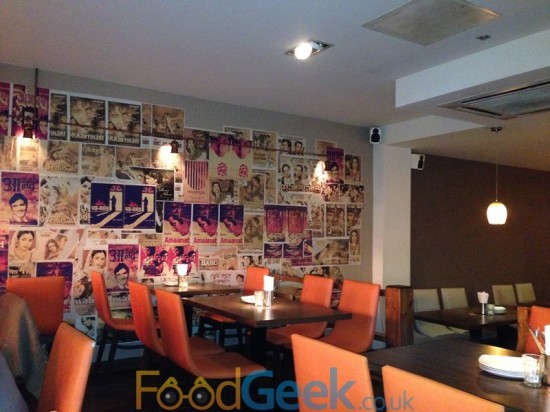 Being early evening on a Wednesday and less than an hour after they opened I'd expected to find an empty restaurant so was surprised to see it already half full!
After taking our seats and browsing the recently updated menu it was quickly apparent that ordering was going to be difficult. We literally wanted everything.
When faced with difficult decisions I often find that alcohol helps so ordered a couple of cocktails from the relatively short but very impressive list. A 'Goan Martini' made with lychee & guava juice and 'Bombay Caipirinha', a twist on one of my all time favourites that sees the addition of elderflower. Both were excellent and the perfect introduction for what was to follow.
We eventually made a decision on what to order, or more accurately what we reluctantly wouldn't be ordering. There are no starters as such at Mughli, instead a fascinating 'Street Food' section with small dishes inspired by the roadside stalls and carts of India and Pakistan.
The Street Food dishes are sent out as and when they're ready and they quickly began arriving. Starting with 'Pani Puri'. Crispy, mini puris filled with spicy chickpea & potato and topped with yoghurt and pomegranate seeds. To say I enjoyed them would be an understatement, they were simply stunning. The combination of crisp puri, spicy filling and sweet toppings was incredible, they lasted all of about 20 seconds and we'd have happily eaten dozens of them.
More amazing food followed, 'Halloumi Menader' is a dish that nearly never made it to Mughli as although boss Haz shares my love of halloumi and was keen to feature it on the menu he was worried about it's lack of authenticity.
Thankfully, with a little help from Wikipedia he learned of Menander, the Indo-Greek ruler who had his capital at Sakala in Punjab (modern day Pakistan) and the dish was born (and named).
You don't need to do much to make halloumi taste great, here it's simply battered & fried but it 's the clever use of spices that elevated the dish to one worthy of a top Indian restaurant. I've no doubt Menander would've approved!
Another seemingly simple dish transformed by spices was next. 'Gunpowder Chips' are essentially just sweet potato fries, of which i've eaten many but never tasting like this. Not only were they wonderfully crisp but the flavour was incredible. Sprinkled with chilli salt and lemon drizzle to give a stunning spicy, savoury flavour which I can't possibly do justice to with words. I urge anybody that ever visits Mughli to order them.
'Kati Roll' is a toasted roti packed with juicy, smokey tandoori chicken cooked over charcoal, spinach and red onion.
The 'Kati Roll' was fabulous but the 'Tava Roll' was even better. A spiced lamb kebab wrapped in a roti with chilli sauce and finished over the charcoal pit. The contrast between the soft, spicy lamb interior and crispy, smokey exterior was exquisite.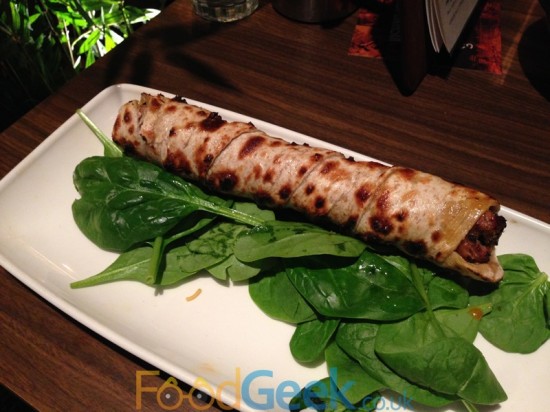 When Haz came over to ask how we'd found the food so far I mentioned that we'd wanted to order 'Tamarind Masala Fish' too but thought maybe it would be too much. He very kindly sent over a small portion for us to try and wow, am I glad that he did! Chunks of beautifully soft haddock are coated in a light but flavour packed masala batter before being tossed in a chilli tamarind & lime dressing. Fresh, vibrant and mouthwateringly good.
The high quality of food continued with the main course, 'Dhum Biryani'. It arrives in style on a wooden board in a very shiny metal pot with a thin naan bread over the top to seal the flavour in. Breaking into it releases a wonderful aroma as well as the layers of rice, pomegranate seeds and mint leaves. Served with a biryani sauce and cucumber raita on the site.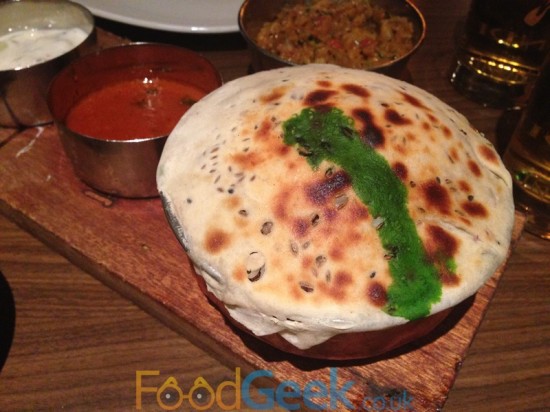 We also ordered a number of interesting sounding side dishes. 'Tamarind Chickpeas' were my favourite by far. I'm a big fan of chickpeas and eat them a lot but fear they'll never live up to these. The flavours were out of this world.
The 'Aubergine Mash' was tasty but a little too rich and buttery for me. It was my only minor complaint of the entire meal and one very much down to personal taste. I've cut down on the amount of butter I use in my own cooking over the last couple years so I really notice it in rich dishes like this.
Tarka Dahl is one of my favourite Indian dishes and one that I often cook myself. Though my own is much lighter than Mughli's 'Three-Dahl' version which is a soft, creamy delight.
Service was very friendly and efficient throughout, despite it getting busier and busier. All of the staff are great but I have to give special mention to Haz who is the perfect person to run a restaurant. I've spoken to him several times online and always been impressed and that feeling only increases in person. His knowledge of Indian & Pakistani food is immediately obvious and his passion shines through even more.
There was just time for one last treat as with the very reasonable bill we received not fancy petit fours but far more exciting Vimto lollies!
I didn't give Mughli the attention it deserves on my first visit but I certainly did this time and it more than lived up to it. I've always enjoyed Indian food and growing up it was probably the ethnic cuisine we ate the most but I've somewhat neglected it over the past few years in favour of seemingly more exciting cuisines. Mughli has rekindled my love of Indian food and reminded me that when done properly it's every bit as exciting as anything else out there. The food is exciting, authentic and cooked to seriously high standards with the quality of service and great cocktail menu it's the perfect place for me.
I can't wait to get back to Mughli to try the rest of the menu, there's no way it will take me 7 months this time.
Date of visit: 09.10.2013
Follow @FoodGeekUK
Review Overview
Summary : Quite simply the BEST Indian food in Manchester.