This website only exists because i'm passionate about food and love sharing my experiences. There are very few times that writing these posts feels like a chore or even a job but this is definitely one of them.
The restaurant in question, Cinnamon Fusion in Bolton was so unremarkably dull it's taken me almost two weeks to summon up the motivation to even consider writing about it. It's not that it was terrible, that would have been much more interesting, it was just really boring.
Except for one thing, the decor certainly can't be called 'boring'. Many years ago we'd enjoyed a couple of meals at the restaurant in Marsden House under its previous guise 'Vedas'. Back then it looked smart and stylish, mostly black from what I remember.
The new owners clearly wanted to make a statement and let everybody know this is a totally new restaurant, that message was received loud and clear.  I was genuinely shocked by the new ridiculously over the top, sparkly, pink decor. It feels totally out of place for an Indian restaurant, let alone one in Bolton. Their website describes it as "an oasis of calm, light and style". I can only assume they've had a major refit since that was written as the inside of the restaurant  is anything but calm or stylish. I spent the evening feeling like we were trapped in Paris Hilton's dreams.
Thinking back it's obvious we weren't, Paris wouldn't stand for the substandard cocktails we were served. I could barely taste tequila in my 'Margarita' and definitely no lime. There was a hint of artificial lemon flavour so i've no idea what was going on. Possibly one of those pre-mixed packets but having never (knowingly) tried one I couldn't say for sure. Mrs FGs 'Red Fusion' was better but not great either, the vodka and cranberry juice overpowered by far too much grenadine. Needless to say we didn't order any more cocktails.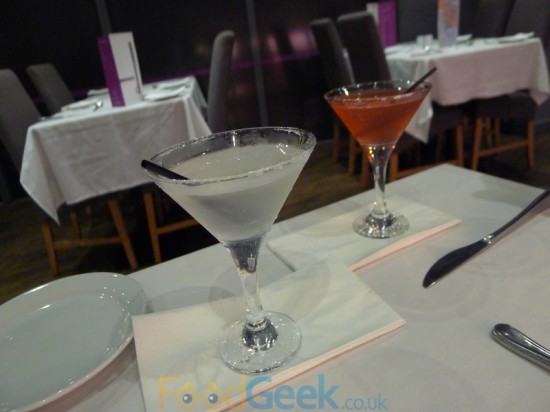 I'd have forgiven the naff disco decor and poor cocktails had the food been up to scratch but the 'Veg Platter' was incredibly dull. Containing various veg starters: samosas, onion bajis, aloo tikkies, aubergine fritters and paneer pakora, it may as well have been 10 portions of the same thing as they were all so bland there was little to differentiate between them.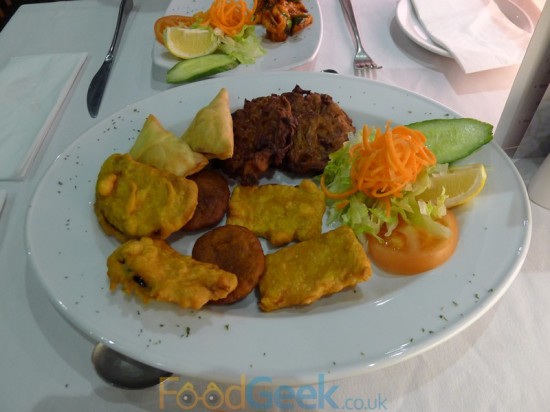 Our other starters were slightly better, apart from the disproportionately large garnish of uninspiring salad. 'Lamb Tikka' at least had some flavour and the meat was tender whilst 'King Prawn Sukka' were fairly tasty, well cooked, juicy king prawns.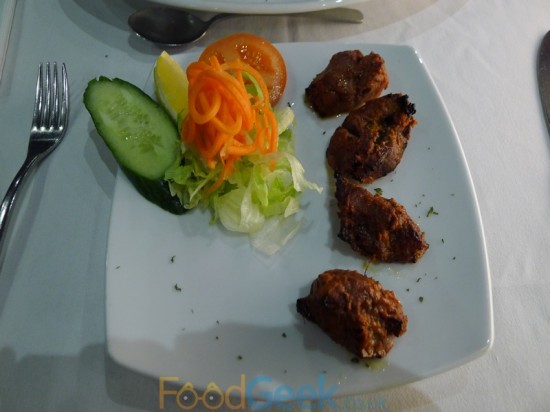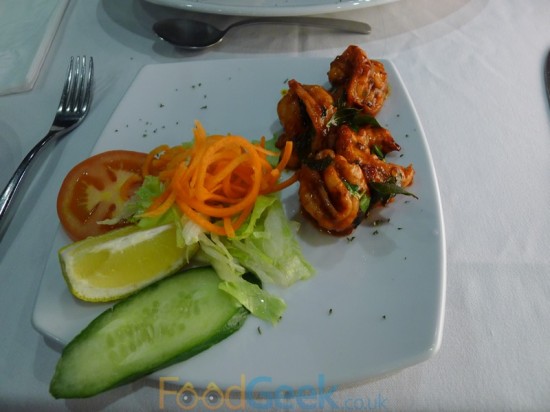 I was optimistic the main courses would be more enjoyable, you can't go wrong with curry can you? They both looked decent enough, by far the most appetising food we'd been served but again they were sadly lacking in flavour. 'Chicken Chettinad' was the best but was still rather dull.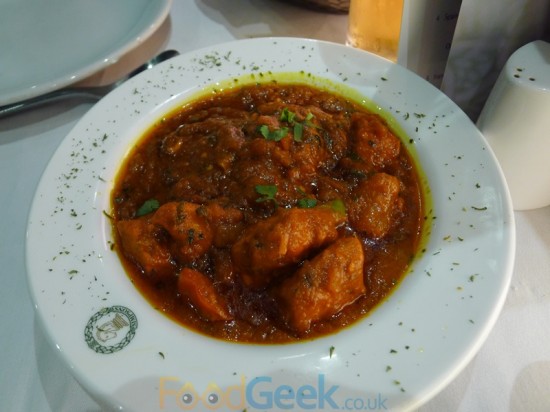 'Chicken Madras Masala' was not only totally lacking in heat but oddly far too sweet which completely ruined it. Both curries were supposedly from the 'Signature Dishes' Menu.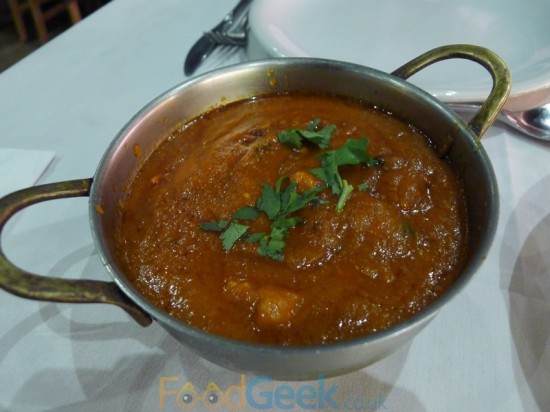 The best thing we ate all night was easily the bread. Both my 'Garlic Naan' and Mrs FGs Tandoori Roti were really good, weirdly the waiter tried talking her out of ordering a roti claiming that she'd find it 'not soft enough'. Thankfully she ignored his warning and really enjoyed it.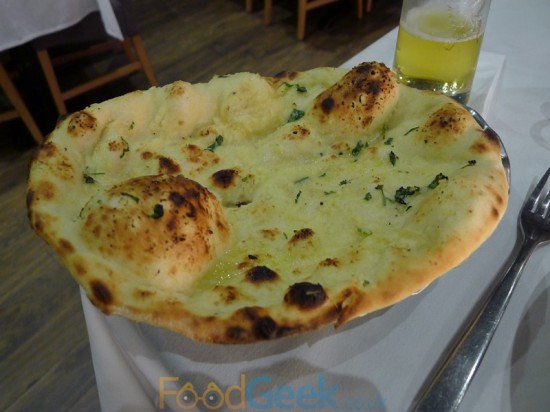 We didn't bother looking at the dessert menu. I can't imagine it containing anything more interesting than ice cream, maybe served in a Punky penguin if they're feeling adventurous.
It's fair to say I didn't enjoy Cinnamon Fusion. Service was perfectly fine but the food is just not good enough for me to even consider returning. As I said at the start it wasn't terrible but it was incredibly dull, almost everything we ate was just so bland.
It's not exactly cheap either, with a few beers the total bill was almost £70, over £40 of it on food. More than enough to expect a decent standard of food. I spent about the same last time at Mughli yet we ate many more dishes and most importantly they were vibrant and exciting.
I believe most Indian takeaways are probably serving better food than Cinnamon Fusion so i'd recommend staying at home and saving some money. To be honest even I regularly make better Indian food than they're serving (like this & this).
Date of visit: 16.11.2013