Being a massive foodie I embrace all cuisines but if I had to pick just one favourite it would almost certainly be Mexican. It appeals to the chilli addict in me, I love the heat of Mexican dishes but also the contrast when paired with cooling ingredients like soured cream, lime and my favourite thing in the world, guacamole. For me burritos, tacos and quesadillas are the ultimate comfort food and something I find myself making regularly at home.
Last year thanks to a ridiculously long wait at Bem Brazil I drunkenly stumbled upon Lucha Libre, an independent Mexican restaurant in Liverpool. Despite not remembering too many of the finer details (partly because of how good their Margaritas are) I do remember absolutely loving it and spending most of the night being grateful that scousers preferred to stuff their faces with meat.
When I heard Lucha Libre were to open a second venue in Manchester's Great Northern Tower I was naturally excited. The excitement further increased when I learned that Jason Latham, (formerly of 3TwentyOne Deansgate and later one of my favourite Manchester restaurants SoLita) had been appointed head chef. Like me Jason is a complete chilli freak, he even has a tattoo of a chilli (unlike me!).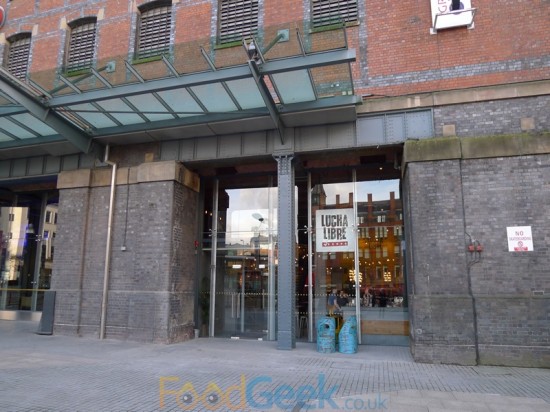 I visited on Thursday, just a few days after it's opening last weekend. There have been quite a few negative comments and reviews since and while it's fair to say that there were a few issues on my visit I think a few teething problems are understandable in the first week. Many bloggers chose not to write up their experiences in a very new restaurant for moral reasons which is a view I can understand and respect but personally I feel as long as I'm fair and balanced it's not unreasonable. Hopefully anybody reading this will do so bearing in mind that the restaurant had been open for less than a week.
Lucha Libre is situated next to All Star Lanes, the decor is great. I love the combination of industrial looking exposed brick and metal with the colourful painted walls and Mexican movie posters. The shelf full of chilli sauces puts even my extensive collection to shame!
To start we ate a couple of dishes from the 'Nibbles & Small Plates' section of the menu. 'Veggie Empanadas' and 'Jalapeño Poppers', both unspectacular but perfectly enjoyable. Particularly the Poppers with their combination of spicy jalapeño pepper stuffed with meltingly hot cream cheese coated in crispy breadcrumbs.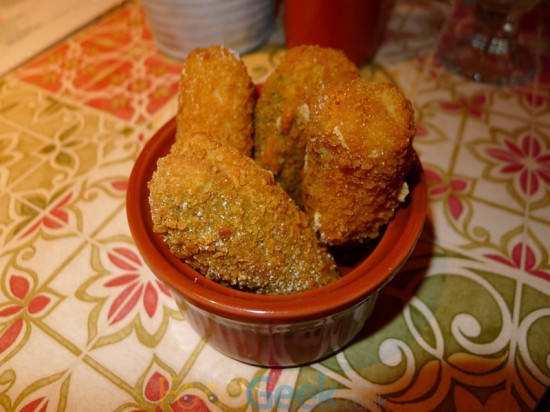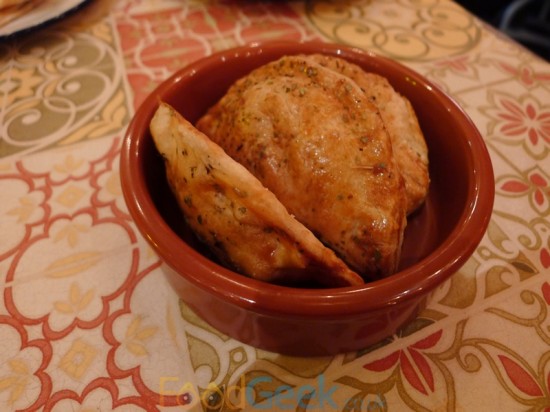 We also ordered several dishes from the 'Street Food' menu which arrived at different times as and when they're ready. Some where excellent including the 'Traditional Quesadillas' simply filled with black beans and melted cheese. Quesadillas are one of my favourites and these were good, I've heard people complain that it's bland but for me it tastes exactly like a black bean and cheese quesadilla should. When dipped in chipotle mayo or chilli sauce it was a delight. There are other more interesting flavour combinations on the menu including mushroom, chilli and spinach or new potato and chorizo or even pork belly and pineapple.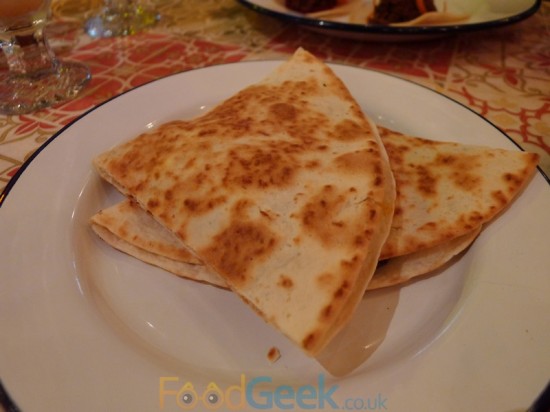 Also good were the 'Prawn & Mango Tacos', perfectly cooked, juicy king prawns with a fresh mango salsa topped with red chilli. Personally I'd have liked to see a lot more chilli on there but I understand that my taste isn't the same as many peoples, a point driven home by a women on a nearby table almost dying after eating the same thing. I was perfectly happy after drizzling them with hot sauce.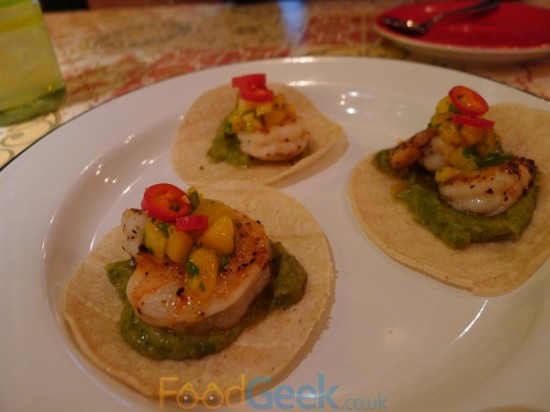 Other dishes I'm not convinced about. The 'Breakfast Burrito' containing black beans, egg omelette, chorizo, mushrooms & potato was a little dry while the 'Lamb Hot Pot Tacos' didn't really work for me and feel like they're only there as a gimmicky nod to Manchester/Lancashire.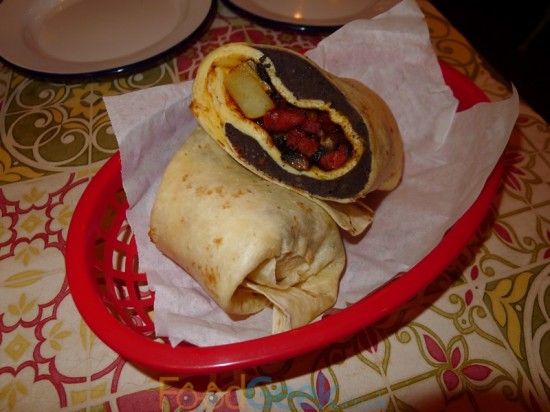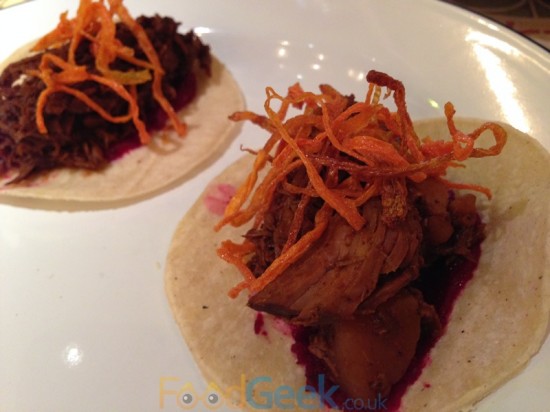 My favourite by far were the 'Fish Tacos' and it's no coincidence that they're the most flavour packed. The white fish is moist, coated in wonderfully crispy beer batter but it's the sharp caper aioli and tamarind salsa which makes everything taste so good.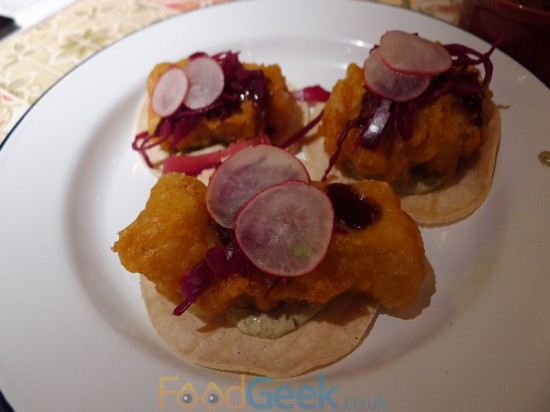 For dessert it had to be 'Churros' which were ok but I preferred the 'Key Lime & Hibiscus Cheesecake'. For some reason it's served upside down (no base, but crumbly biscuit sprinkled on top) which is a bit silly if you ask me but it made up for it in taste. The creamy lime cheesecake was zingy and incredibly light, the fig & hibiscus sauce was sweet and delicious, a really nice combination.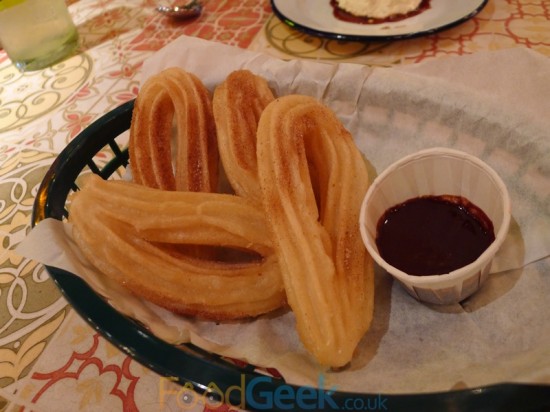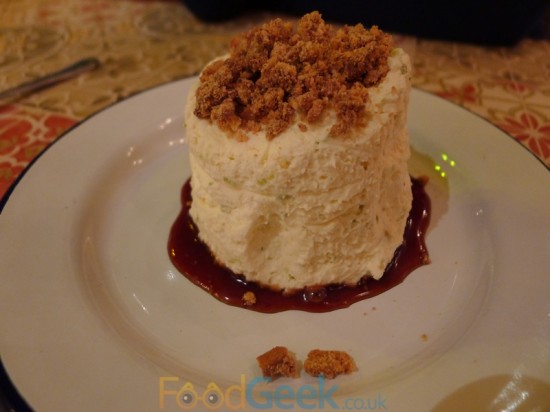 I'd be lying if I said I wasn't slightly disappointed with the food, there were high points but most of it lacked not just the heat I crave but also the punch and vibrancy of good Mexican food. But whilst it isn't perfect yet I've every confidence it will improve. Having eaten Jason's food on many occasions I know he's a great chef and most of these dishes work in Liverpool so there's no reason they won't here.
Unfortunately service isn't quite the finished article either. There were no major incidents but it was far from smooth. The staff were all incredibly friendly and definitely trying their hardest but you could sense the inexperience amongst many of them and there were times they got in each others way, repeatedly asked us the same questions and missed items from the order etc.. I can't help wondering if the opening has been rushed somewhat as I noticed that they were still taking on new staff only a few weeks ago.
Overall I'd say it's not quite there yet but it's understandable when a restaurant is less than a week old. There is much to be positive about and it definitely has the makings of a great restaurant, the building and location are perfect, they have an excellent chef cooking dishes which work elsewhere and it's good value too. I'll defintiely be returning soon and I have every confidence that both food and service will have improved.
Date of visit: 21.11.2013