Despite an issue with the service on my last visit (which was later resolved) I consider Yuzu one of my favourite restaurants in Manchester and recommend it to anybody who will listen. I've been meaning to return for ages and was shocked when I realised it had been over a year. During that time I've eaten in a lot of Japanese restaurants; some good, some very good, some bad and one so awful it's insulting to the nation of Japan to call it Japanese. I cook a lot of Japanese style food at home too like this, this and this. But nothing has blown me away as much as some of the dishes at Yuzu did so I finally returned to see if they were as good as I remembered.
If anything they should be better as since my last visit Yuzu has gone from strength to strength. Receiving a great review from Jay Rayner, a listing in the current issue of The Good Food Guide and a nomination for 'Restaurant Of The Year' at the recent Manchester Food & Drink Festival Awards!
Whilst I've thought about the food a lot over the past 12 months I'd forgotten how charming the cosy little restaurant located on the edge of Chinatown is. Inside feels authentically Japanese with it's minimalist clean lines and shared wooden benches. Further decorated with sake bottles, origami and a traditional Japanese umbrella that takes centre stage.
We started with two dishes I just can't resist ordering every time I visit a Japanese restaurant; 'Edamame' & 'Miso Soup'.
I may be a little addicted to those podded protein packed soybeans, particularly when they're hot and sprinkled with salt. Unfortunately these edamame were cold and saltless, much less enjoyable and a slightly disappointing start.
There was nothing disappointing about the 'Miso Soup' however, already one of my favourite things in the world and this was as good as it gets. The wonderfully savoury, umami-rich broth balanced perfectly by the inclusion of tofu, wakame and spring onions.
'Daikon & Wakame Salad' is wonderfully vibrant, crisp & refreshing. Finely shredded daikon (white radish) and wakame seaweed is served with a sharp yuzu dressing
Next the two dishes I've not stopped thinking about since my last visit. Both were every bit as good as I remembered. The 'Gyoza' were maybe even better! You can tell the dumpling wrappers are freshly made, they're silky soft having been steamed with a gorgeous crisp edge on one side. Filled with generous sized pieces of succulent king prawn they're utterly devine.
The Chicken Kara-Age defies science by managing to be super crispy on the outside whilst seriously tender and juicy inside. I don't think I'll ever eat a better piece of fried chicken, if I do, I hope it's served with Yuzu's intense ponzu dipping sauce which I adored too.
I was relieved to see the specials board listing what has become a bit of a signature dish for Yuzu 'Grilled Whole Sea Bream'. I've seen so many photos and reviews I was worried it couldn't possibly live up to the hype but I needn't have. It's stunning, a lesson in the art of simplicity. Top quality fish is cooked to perfection and served simply with soy sauce and fresh ginger. I don't think I spoke for 10 minutes whilst I demolished it, that's how good it is.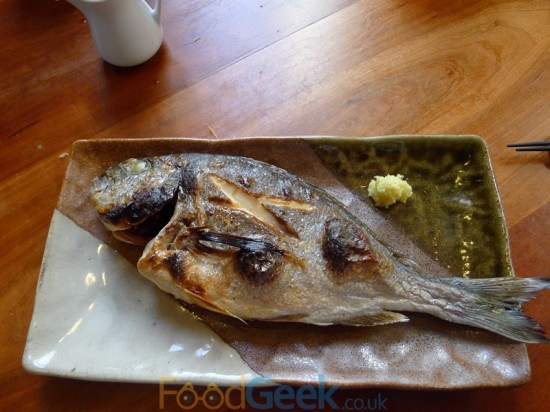 Another special 'Pink Bream Sashimi' was equally impressive. I've always been a huge fan of seafood but until not that long ago wasn't convinced by sashimi, I believed cooking the fish improved both flavour and texture. Over the last year or so my opinion has changed significantly and sashimi is now one of my favourite things, it's down to dishes like this. Served on a bed of shredded daikon with fresh ginger and excellent wasabi. The quality of the Pink Bream was phenomenal, as it needs to be when served in it's purest form. So tender with a delicate, sweet flavour it was a joy to eat.
Dessert isn't an option at Yuzu, they used to offer a selection of ice cream but now like many Japanese restaurants don't bother at all. Not a problem as just around the corner is the fabulous Wong Wong Bakery (review coming soon). Having eaten mostly healthy food at Yuzu we had the perfect excuse to go and stuff ourselves with cake.
Other than a lack of warmth and salt on the Edamame the food was stunning, flawless in fact. For the Gyoza & Kara-age to be as good as I remembered over a year ago and the Sea Bream to live up to my heightened expectations they're clearly doing something right. And that sashimi!
There were absolutely no problems with service this time either. Again there was only a single member of staff front of house and she was busy but always efficient. She was very friendly and we never had to wait long for anything. Yuzu genuinely deserves all the praise it's received since my last visit and it's now firmly one of my favourite restaurants, not just in Manchester but anywhere. There's no way it will take me a year to return again.
Date of visit: 15.11.2013
Follow @FoodGeekUK