It doesn't happen very often but when the sun is properly out as it was last Wednesday, Manchester is a beautiful place. Particularly the Castlefield area with the numerous restaurants and bars with outdoor seating areas overlooking the canal. We were on our way to one of them, 'Albert's Shed' famous for it's alfresco dining thanks to it's stunning terrace.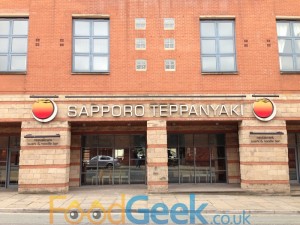 I can only imagine how amazing it would have been sitting on that terrace, soaking up the sun whilst enjoying some quality British cooking with a hint of Italian. Unfortunately, I'm quite impulsive and easily distracted and after spotting a Sapporo Teppanyaki on the way decided Albert's Shed would wait for another sunny day, I wanted Japanese food now.
You'd think that Sapporo Teppanyaki would be a good place for Japanese food, their website claims "Sapporo Teppanyaki is Japanese cooking that no one can resist.". Great.
Teppanyaki is a style of Japanese cooking where the food is cooked on a flat surfaced grill, usually in front of the guests. There are several teppanyaki tables at Sapporo but as we were the only guests it would have felt a bit weird so we opted to eat in the lounge instead.
We started with sushi, 'Fish Nigiri' for me. Neither the menu nor the waitress thought it worthy of mentioning the type of fish, I clearly ate salmon & tuna but will never know what the white fish was.
It wasn't the worst Nigiri i've ever had but it was average at best. The rice was cooked OK but lacked any sorted of seasoning and didn't hold it's shape very well when picked up.
The wasabi, pickled ginger and completely unnecessary parsley stalk looked like they'd been dumped on the plate. The ginger was actually really good but probably came out of a jar.
Mrs FoodGeek went for 'Tanuki Sushi' which despite being impossible to eat whole or with hands was actually really enjoyable. The sweet Inari bean pockets were filled with cucumber, carrots, edamame beans and brown sushi rice and sprinkled with bits of crispy tempura batter. Interesting, fun and delicious.
I was genuinely shocked when my main course of 'Scallops with ginger and garlic' arrived. I don't know whether it was the bland looking stir-fried vegetables, the ridiculously large portion of dry egg fried rice or the almost certainly frozen and very out of place sautéd potatoes but it didn't look like the "Japanese cooking that no one can resist" that I was promised.
As I suspected the rice was very dry, vegetables bland and even the scallops didn't taste good and I love scallops. They weren't overcooked but had an odd texture, i'm guessing it was quite a while since they last saw the sea. They did at least have a good amount of garlic and ginger flavour. I'm ashamed to say the best part of the dish was the now certainly frozen, fried potatoes which were actually pretty tasty dunked in the garlic sauce served on the side. Though it felt much more kebab shop than Japanese.
Mrs FGs 'Sirloin Steak' was no better. The teriyaki sauce it was supposed to come in was too thin, watery and bland. The steak was cooked medium rare but lacked any decent flavour. She too received a huge portion of rice, of which she ate less than me and also quite enjoyed the potatoes.
Dessert was uninspiring and unauthentic. I know Japanese restaurants are not big on desserts but Sapporo seemed proud of the fact that they serve 'Italian ice cream'. To be fair, my chocolate ice cream was actually really good, once i'd scraped the awful squirty cream off the top anyway. Mrs FG's banoffee flavoured wasn't though, it had an extremely odd flavour. I'd have much preferred something a little more authentic though, perhaps green tea flavour?
Overall I was massively underwhelmed by Sapporo Teppanyaki, nothing was absolutely terrible but it was all extremely average.
It was also ridiculously overpriced, even though we ate from the 'Early Diner' set menu with all 3 courses for £16 each. All I can say is it's very lucky that it was available so I only paid £32 for the food because I looked up the individual prices on the A La Carte menu and was shocked to find they'd have cost £54 if we'd been a couple of hours later which would have been insane.
The only constructive thing I can say is that the website shows a full restaurant with people sat around the teppanyaki tables watching the chefs chopping, flipping, catching and cooking the food before their eyes. I can imagine that on a busy night with a few drinks it would be a much better atmosphere and probably quite an exciting experience. I'm not sure if it would make up for the average food though.
I left with the impression that Sapporo Teppanyaki is a bland chain claiming to serve authentic Japanese cuisine but actually dishing up a weird mix of average food for the mainstream British diner. Essentially it's what Bella Italia is to Italian or Cafe Rouge to French cuisine. In future i'll stick to the excellent and genuinely authentic independent places like Yuzu or Umezushi.
Date Of Visit: 05.06.2013
Follow @FoodGeekUK