Fraiche is one of those restaurants i've been intending to visit for several years but for various reasons it just didn't happen. One reason is that despite being one of my closest Michelin starred restaurants it's difficult to reach by public transport so i'd need to either drive home, which I don't like to do after eating in fine dining establishments (ok, I like to drink lots of wine) or stay over which seemed a waste when only 45 miles from home.
Another reason is that it takes a lot of forward planning to get a reservation. Bookings are taken on the first day of each month for all dates 3 calendar months in advance. I kept missing this date for many months until the 1st July when I finally made a reservation for October and booked accommodation at a nearby B&B.
The date finally arrived, after enduring a terrible journey through some of the worst rain i've ever had to drive in, horrendous traffic and my first time going through the Mersey tunnel we made it to the pretty village of Oxton near Birkenhead. Things immediately began looking up at the B&B located on the edge of 90 acres of beautiful woodland. Owners Sue & Simon are two of the most charming people I've ever had the fortune of meeting, after a warm welcome Sue presented us with gorgeous home made brownies whilst Simon insisted on driving us to Fraiche! Though only 1 mile away it was an incredibly kind gesture and of course he refused to accept any payment. I'd highly recommend anybody planning on visiting Fraiche to stay here.
Fraiche is situated on one of the main streets in Oxton. I was reminded of the road in Bray where The Fat Duck and Hinds Head are found close together. The outside of the restaurant looks very exclusive, painted in black with it's drawn funky blinds.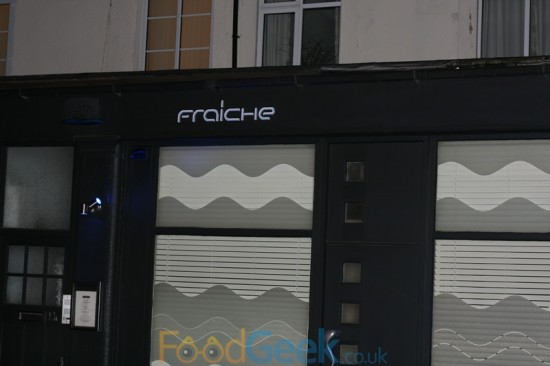 Inside is slightly larger than I expected for a restaurant serving just 8 covers – it's actually setup for 14 but they choose to limit the numbers as chef and owner Marc Wilkinson singlehandedly cooks the food – and there is a nice lounge area too. The decor is very modern and equally inviting.
From the moment we arrived we were looked after brilliantly by the single front of house staff member John. Within minutes we were enjoying a snack of spicy pecans whilst browsing the menu and wine list.
Our horrendous journey was soon forgotten as we enjoyed a stunning aperitif, 'Fraiche Champagne Cocktail'. A glass of crisp Louis Roederer champagne mixed with sweet hibiscus syrup and containing a whole hibiscus flower. A gorgeous drink after which we were given a pair of mini tongs to remove the hibiscus flower from the glass. It was the first time i'd eaten a whole hibiscus flower, I enjoyed it's sweet jammy taste and texture.
Fraiche serves a single 'Signature Menu', officially a 6 course tasting menu but before the first proper course were a number of small tasters.Starting with 'Bresaola, Wasabi Cream & Turnip Cress' followed by 'Apple Cloud, Onion Seed & Apple Puree'. Both beautifully presented, exquisite tasting mouthfuls of food.
'Cucumber Granite & Lime, Pineapple, Mint Salad' was theatrically prepared table side  by John. It was fun to watch but wasn't just for show, the end result was a brilliant dish in it's own right. Light, refreshing, sweet and zingy with each ingredient identifiable from the next.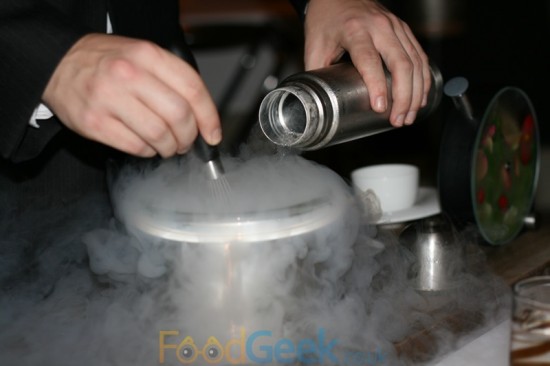 I was fascinated by the combination of 'Poached Mussels, Yuzu, Samphire & Ginger' and it didn't disappoint. The salty mussels and samphire along with the sharp yuzu jelly cut through the rich, creamed ginger to make a seriously well balanced and tasty dish. I'd love to see a full size version of this dish in future.
Being a big fan of bread I was excited that they served it as a course in itself. All four were hot, fresh and delicious with my favourite being the cheese and poppyseed loafs. The butter was equally good, one made from goats milk the other seasoned with lava salt.
'Textures Of Artichoke' was a stunningly complex dish. Containing amongst other things;  Artichoke crisp, artichoke puree, pickled artichoke, crisp chicken skin, truffle, rocket, pork jelly and a slow poached egg yolk. I feared there would be too much going on but every element deserved to be there and worked in perfect harmony. There were soft bits, crispy bits, sweet bits, sticky bits etc.. the pork jelly was amazing and the egg yolk brought a rich creaminess that held everything together.
The second bread course was even better than the first. Containing olive, mushroom, tomato, and oat breads, it was difficult to pick a favourite but the mushroom probably just edged it.
I've eaten some outstanding dishes this year and the next course was another, a clear contender for dish of the year. 'Tuna Sashimi with Textures Of Tomato' tasted every bit as beautiful as it looked. Fantastic quality tuna – almost raw except for a lovely sear around the edges – with pickled tomato, tomato consommé, olive oil powder, strawberry & tomato salsa and puffed wild rice. The combination of flavours and textures was stunning, each bite more interesting than the previous and an absolute joy to eat.
Another exceptionally good looking plate of food was next 'Pigeon, Lettuce, Potato Crisp, Celeriac & Pickled Mushroom'. The perfectly cooked roast pigeon breast was the clear star of the show but was complimented well by the variety of other elements including a confit pigeon leg, baby gem lettuce, pickled onions & beets, pea shoots, celeriac purée, pickled mushrooms and an impressive wirey potato crisp.
The first pre-dessert 'Goats Curd Sorbet' served with tangerine, raisins & sourdough crisps was another unusual but hugely successful dish. The sweetness of the tangerine and raisins countered the tangy goats curd whilst the sourdough crisps added a lovely crunch.
Another pre-dessert 'Fizzy Grapes' is apparently a bit of a Fraiche classic. I liked them, I found the fizzing sensation in the mouth a lot of fun but Mrs FG wasn't as keen.
At this point in the evening diners are offered a choice of 'Salt or Sugar' to end the meal, salt being a cheese course and sugar a sweet dessert. Regular readers will know i'm useless at such decisions but thankfully there is an option to have both which we gladly accepted.
The cheese trolley is the most impressive i've seen since Gordon Ramsay at Claridge's in 2006! A choice of 30 incredibly looking and smelling cheeses, each one described in great detail by John. Choosing was difficult but we eventually settled on four. After serving the cheeses John brought fresh honeycomb to the table, straight from a local hive just days earlier.
Our choice of cheeses were; a sloe gin soaked cows cheese, a 70% fat goats cheese rolled in ash – served with pickled blueberries, a Camembert soaked in Calvados and 'Lancashire Comb' a wonderfully creamy but mature goats cheese. All were outstanding in taste and quality.
The cheeses were paired with excellent crackers, pear jelly, champagne jelly and that fabulous fresh honeycomb which blew my mind.
The first part of the 'Sugar' dessert was a lovely 'Lemongrass Pannacotta' served in a funky glass. The creamy, subtly flavoured pannacotta topped with sour cherry mousse was closely followed by a dish that reminded me of my current favourite restaurant, The French. 'Poached Pear, Sesame Seed Crisp & Yoghurt' looked and tasted every bit a Simon Rogan dish, which is a huge compliment as far as i'm concerned.
As you would imagine there are no boring, uninspiring petit fours here. Three exciting little dishes to bring an end to a truly remarkable meal. The first, 'Early Gray & Apricot Sorbet' was a refreshing palate cleaner. 'Passion Fruit Marshmallows' were sticky, soft and sweet and accompanied by rich dark chocolate and finally 'Popcorn Lollies' a simple but deliciously sweet and crunchy finish.
I knew i'd like Fraiche but it far exceeded my expectations. I loved every second of my evening there, it's a definite contender for meal of the year and that includes some pretty stiff competition from the likes of The French & The Ledbury. On the evidence of this one meal Fraiche is deserving of being awarded a 2nd Michelin star, the whole package is far superior to many of the 1 star restaurants i've eaten in.
For some reason I was under the impression that the food here was fairly traditional but it's anything but. Modern techniques are paired with clever and unique tasting combinations to deliver some truly stunning and unique dishes. To think that Marc prepares and cooks these dishes alone is just incredible.
Special mention should go to John who runs the front of house brilliantly. Of course it's easy to be available when there are so few diners but it must be difficult to get the balance right between efficient and annoying. He manages it perfectly, he was there when we needed him but never in the way and his knowledge of the dishes and particularly the cheese is superb.
I'm genuinely ashamed of myself that it took so long for my first visit, i'm already planning the second.
Date Of Visit: 25.10.2013
Follow @FoodGeekUK