I always loved Christmas as a child and it's not changed much as i've grown up, although the reasons have. These days I prefer giving presents to receiving them but the bit I love the most is the food. I adore everything about Christmas food; turkey, pigs in blankets, Christmas spices, eggnog, chestnuts, cranberries etc and yes, even sprouts. So when my favourite restaurants start serving special Christmas dishes and even entire Christmas menus full of said festive ingredients I find it hard to resist.
Last week I visited some of my favourite restaurants to sample their festive dishes, starting with The Farmers Arms in Bolton.
Thanks to the festive decorations, Christmas music and a warming 'Mulled Wine' we were soon in the Christmas spirit. The 'Christmas Menu' wasn't lacking in festive cheer either, a three course set menu of exciting dishes full of seasonal ingredients.
I started with 'Smoked Salmon & Herb Pocket, Caper & Shallot Salad & Brioche Croutons'. The sharp capers cut through the oiliness of the cheese filled smoked salmon orb perfectly whilst the croutons added a welcome crunch. A light, zingy and delicious start.
Although I enjoyed my starter Mrs FG's was even better. 'Pig In Blanket Terrine' had all the flavours of one of the best bits of Christmas dinner in a refined, cold meat starter. Served with a lovely sweet Christmasssy chutney.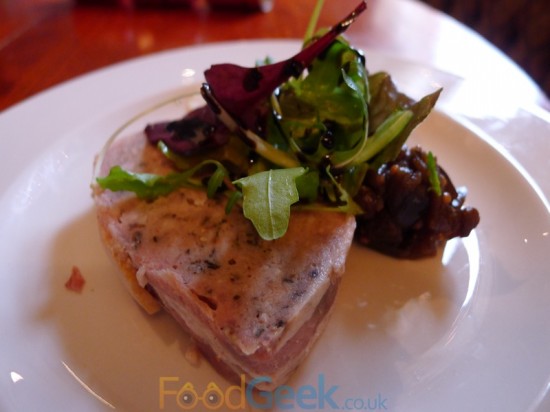 My main course of '8oz Braised Rump Steak with Mulled Wine Sauce' featured a tender piece of slow cooked steak, smothered in a sweet and sticky sauce of reduced mulled wine. A clever idea that works really well with the beef. Served with excellent roast potatoes, parsnips, carrots and cabbage. I'd have liked to see sprouts on there too but otherwise it was a really good, festive dish.
Mrs FG's was slightly less festive but just as good. The pastry of the 'Wild Mushroom & Leek Tart' was fantastic, filled with tasty, earthy mushrooms and smothered in a tangy blue cheese dressing. Served with the same accompaniments.
Desserts are always special at The Farmers Arms and this proved to be the case once again. My 'Eggnog Pannacotta' tasted so good I even forgave it being served in a jar. I'd have preferred to see it turned out onto a plate to show off it's wobble because it certainly would've had a good wobble but it was seriously good nevertheless. The rich, creamy and very boozy pannacotta was topped with vanilla crumb and served with mince pie ice cream.
Mrs FG's 'White Chocolate Cheesecake & After Eight Ice Cream' looked stunning and tasted just as good. I'm not particularly fond of After Eight mints but this ice cream was delicious and worked brilliantly with the elegant white chocolate cheesecake. Another exciting dessert with a festive twist.
I've never left The Farmers Arms disappointed but this was one of the most enjoyable visits yet. I left with a big smile on my face thanks to the fun and festive dishes. As usual the cooking was a high standard and the set menu is excellent value.
Date of visit: 19.12.2013
Follow @FoodGeekUK