As 2013 draws to a close and I begin to reflect on my culinary adventures over the past 12 months one of the undoubted highlights was the discovery of The Parkers Arms in the Ribble Valley. My first visit back in March remains one of the most memorable and enjoyable meals this year and I now consider it a firm favourite. It's fitting that my final post of the year is from my last visit to the Parkers where I had yet another great experience.
It was the only serious contender when deciding where to eat on Christmas Eve this year. A decision that was well and truly proven correct when we visited 9 days earlier for their annual festive market and found the place even more special than usual. With the restaurant and bar looking wonderfully Christmassy and samples of some of the beautiful produce available to buy from 'Parkers Pantry' introduced by head chef Stosie Madi. The Pantry was as exciting as Santa's Grotto for a foodie like me, I entered with the intention of buying a jar of crab parfait yet left £50 lighter with a bag full of amazing items including damson gin, plum brandy, potato skins, piccalilli and much more. All housemade and beautifully wrapped.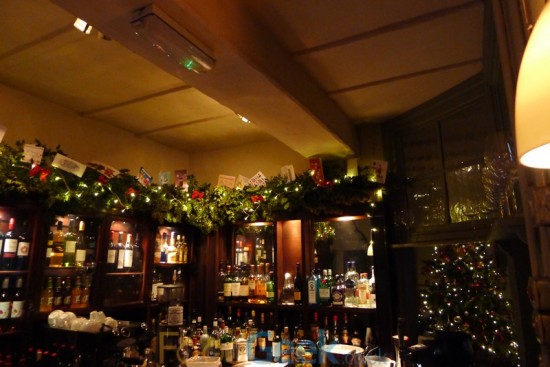 Later on there were traditional carol singers and even a visit from Santa himself! Needless to say we left full of Christmas cheer and couldn't wait to return 9 days later on Christmas Eve.
I borrowed the children's advent calendar to count down the days, when it finally arrived I woke up as excited as any kid on Christmas Eve. After the hour plus drive into the Ribble Valley we were greeted by AJ and seated at our regular table by the Christmas tree and presented with crackers and gifts. After a pint of festive beer 'Sleigh Bell' from local Bowland Brewery the food began to arrive.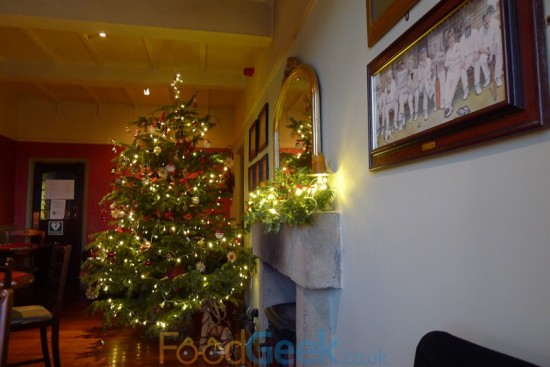 The 'Christmas Eve' menu was a choice of 3 courses but as usual there were lots of additional treats sent from the kitchen. Starting with a Parkers Arms speciality, crispy skins. We've had variations on previous visits including duck skin and pork crackling, this time my favourite besides the fantastic potato skins (which i'd been enjoying at home all week after stocking up from the Pantry) were the crispy ham skins, unbelievably tasty.
Either Stosie had a lot of duck liver to use up or she'd read my mind as we'd struggled deciding which of the starters we couldn't order (usually here we want everything so it's often easier to decide what we can't order rather than what we want to). In the end we reluctantly dropped the 'Duck Liver Parfait' so I was very happy to see it arrive at our table as another complimentary treat, even more so after tasting it! It's difficult to put into words how good this dish was, to think that I almost left without tasting it genuinely upsets me. The parfait itself was rich and flavoursome with the most amazing, smooth texture. The accompaniments; warm Christmas spiced bread, pickled celeriac, damson jelly & Christmas chutney each added a new flavour or texture that worked so well together.
'Canapés' came next in the form of light as a feather deep fried potato fritters and crunchy Lancashire cheese sticks.
Parfaits seem to be a bit of a Stosie speciality, her Crab Parfait is a thing of beauty and the 'Mushroom Parfait' was almost as good. Made from tasty brown cap mushrooms it was smooth, rich and full of flavour served in a case of buttery puff pastry. The soused mushrooms on the side cut through the richness perfectly to make a beautifully balanced dish.
Despite being a bit of a food snob and eating hardly any processed food one thing I'm quite partial to is tinned corned beef. Or at least I was until I tried this next dish, now I fear after eating 'Parkers Corned Beef' i'll never be able to eat the tinned variety again. Served warm in a jar the beef had all the same flavours but the texture was out of this world, with the fantastic fresh molasses bread and excellent piccalilli this was another outstanding dish.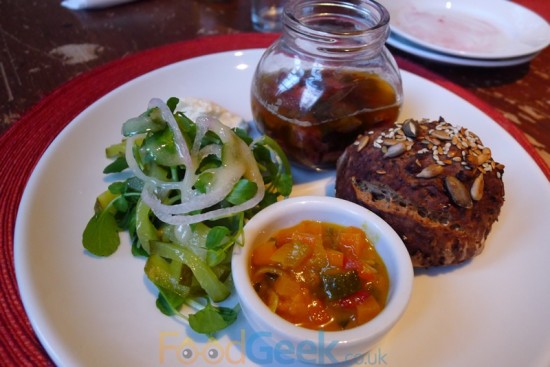 Our final starter 'Crab & Scallop Turnover' was equally good, I wish I could share with you the amazing smell of delicious seafood that appeared as I broke through the crisp pastry to reveal the generous filling of crab, queenie scallops and chestnuts. I loved the combination of flavours in the light, fresh fennel and orange salad on the side.
On my last visit here I was blown away by a Venison Carpaccio with damson jelly so had high hopes for my 'Seared Venison Loin & Anna Potatoes'. Although it didn't quite excite me as much as the previous dish it was still a fantastic plate of food. The quality of venison was again outstanding, as was the flawless cooking with a gorgeous charred sear and wonderfully rare meat in the middle.
For the very first time in many plates of food at the Parkers Arms I had something to be critical about! A serious amount of salt in the seaweed served with the 'Roast Cod & Sweet Onion Pilaf'. I'm fond of highly seasoned food but this was actually inedible. In many places i'd have simply left it but I knew Stosie would want to know about it which of course she did. Front of house manager AJ was hugely apologetic and Stosie kindly offered to replace the entire dish.
It turned out the seaweed had been pre-salted in the packets it was delivered in when it shouldn't have been. I almost didn't write about it as it's so completely out of character but felt for the integrity of my blog I needed too.
Salty seaweed aside it was a great dish. The cod perfectly cooked and sweet onion pilaf absolutely delicious but the star of the show was the stunning caramelised onion and  lemon sauce.
Just as we were looking forward to the desserts we'd ordered another treat arrived. A pre-dessert of luxurious 'Peanut Butter & Chocolate Cheesecake' with treacle ice cream was as good as I remembered from last time.
Realising i'd never had a cheese board at the Parkers Arms Christmas Eve seemed a good time to change that. The selection of local cheeses were all excellent and served with a variety of crackers, fruit, bread and fruitcake.
'Orange, Lemon & Ginger Posset' was a glass of lovely things. The posset itself was sweet and creamy and topped with orange curd, orange jelly and candied orange slices amongst other things. Each mouthful was tastier and more interesting than the last.
Our final dessert 'Chocolate & Chestnut Pavlova' was so stunningly beautiful it could easily have come from a high end fine dining restaurant. It tasted even better than it looked too. The meringues were like nothing i'd ever experienced before, so light and with an almost nutty flavour. Topped with various chestnuts and chocolate delights including whole chestnuts coated in caramel it was an exceptional dessert.
Finally, some of the best petit fours' i've ever had; Mini Chocolate Fondants were warm and gooey in the centre and Apple & Cinnamon Marshmallows amazingly light, almost like eating a cloud.
The Parkers Arms more than lived up to my expectations yet again and I honestly can't think of a single place i'd rather have spent Christmas Eve. I already loved the place but it seemed somehow even more magical at this time of year. Even without the complimentary dishes the set menu at £30 for 3 courses plus canapés and petit fours is unbelievably good value for cooking of this standard.
I can't thank AJ and Stosie enough for their generous hospitality on all four visits in 2013 and I hope there are many more to come in 2014.
Date of visits: 15.12.2013 (Festive Market) & 24.12.2013
Disclaimer: Some of the dishes were sent out free of charge. However, this has absolutely no influence on my opinion of the Parkers Arms. It's a wonderful place and I wouldn't drive for over an hour to eat there if I didn't think so.
Follow @FoodGeekUK