It's not everyday you get given a car and petrol for the day to go and visit some of the best restaurants and food producers in the region. But that's what happened after I was contacted on behalf of Europcar and asked to take part in their #BritainsBestBites campaign which aims to promote great local producers.
Britain's Best Bites is an interactive map showing a route from John O'Groats to Land's End which features some of the 'must-try' produce along the way. I was asked to plan my own mini road trip around the Manchester / North West area, visiting a couple of the places on the map along with some of my own suggestions. Here is what I came up with: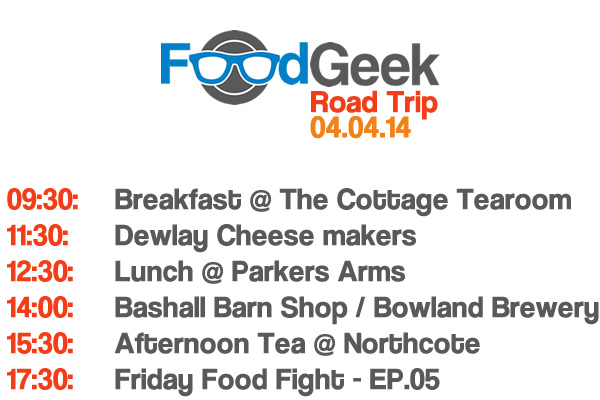 When considering the focal point of my trip, my first (and only) choice was the Parkers Arms, where chef Stosie Madi not only serves simply stunning food but is passionate about using seasonal local ingredients. Conveniently, two of the producers I was most interested in from the Britain's Best Bites map are not too far away with Dewlay Cheesemakers a 40 minute drive and Bashall Barn just 10 minutes down the road. With Michelin starred Northcote directly on the route back to Manchester the 125 mile round trip seemed well planned from a logistical point of view.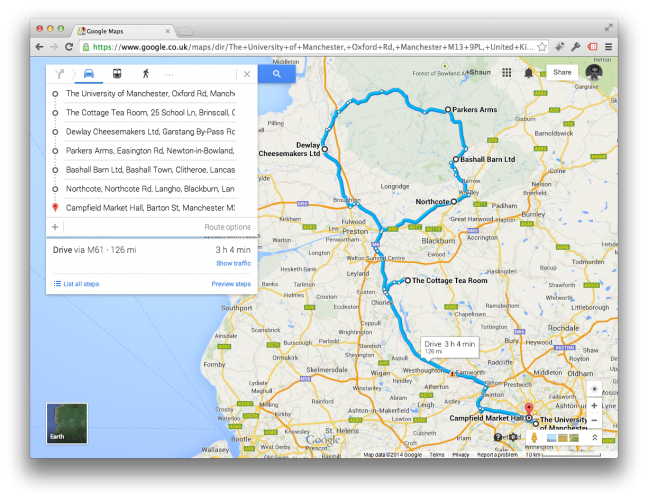 Unfortunately, I left it too late and by the time I called Northcote to make a reservation 'Afternoon Tea' was fully booked, much to Mrs FG's disappointment. It turned out probably for the best however as 'lunch' at the Parkers Arms was actually a 4 hour feast, so we'd have missed the reservation even if we were able to eat anything else (which we weren't, more on that later).
My car for the day was delivered first thing in the morning and we set off full of excitement, despite the gloomy Spring weather.
First stop was for breakfast, the most important meal of the day. Whilst looking for somewhere interesting, in a nice area and roughly halfway between Manchester and Dewlay Cheesemakers in Garstang I came across 'The Cottage Tea Room' in the village of Brinscall near Chorley.
It was my first time in Brinscall, in fact, i'd never even heard of the place but I now know it's pretty little village. Inside The Cottage Tea Room was lovely too and very much fits the brief in terms of promoting local produce. Not only is the food locally sourced but they also offer a variety of items for sale, including glass crafted by a local artist, limited edition prints by Brinscall artist Glynis Kidson and books by local authors!
But we were there to eat, not admire the flowers. The breakfast menu is simple but inviting, I was tempted by the full English but remembering what was to come sensibly went for the 'Big Breakfast Barmcake' instead; a soft white barm filled with sausage, bacon & egg. It was excellent; just quality ingredients, cooked properly. What more could you ask for in a breakfast barm? The coffee was also very good and a bargain at just £1.30 for a large cup!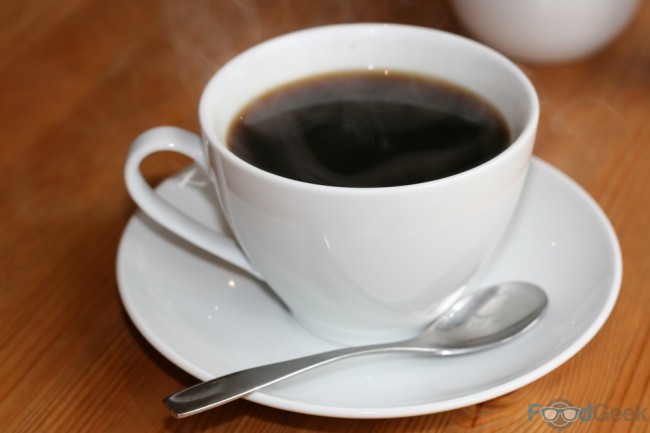 Mrs FG went for a healthier, even more sensible option; a toasted bagel with cream cheese and a pot of tea which was also very good.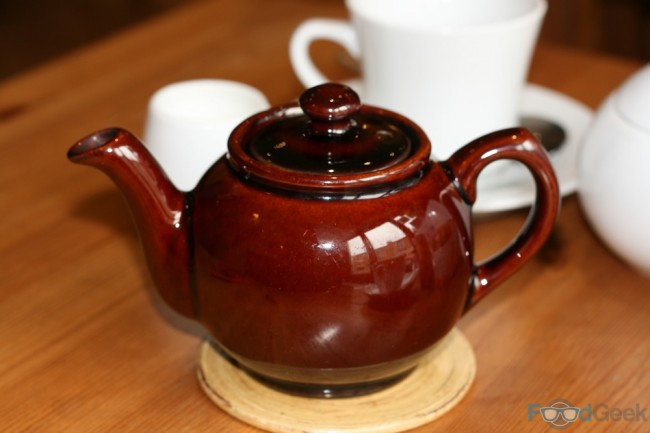 We really enjoyed our quick visit to The Cottage Tea Room; the food is great quality, staff very friendly and it's a beautiful area which we'd definitely like to return to. Possibly in the afternoon as they do a seriously good value cream tea special. We couldn't resist leaving without trying the delicious looking cakes so took away a Millionaires Shortbread and Grapefruit Drizzle Cake for later.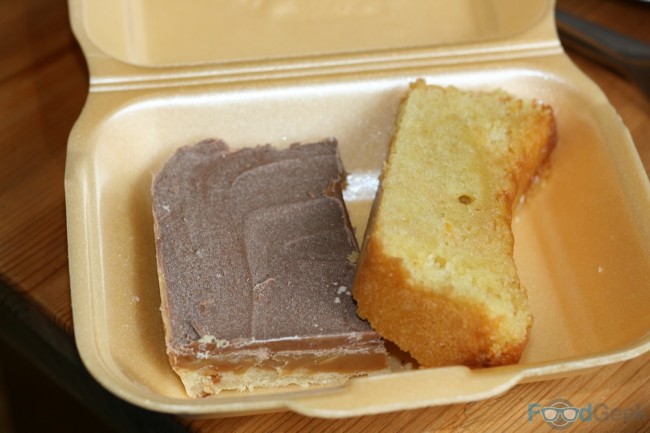 It was time to hit the road again, next stop, cheese!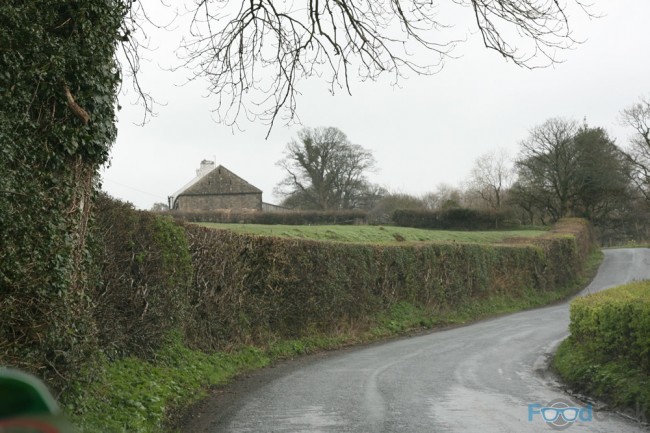 Dewlay Cheesemakers was founded in 1957 and over the past 50 years have earned a reputation for producing some of the best Lancashire cheese. They also have a 126m high wind turbine making them impossible to miss.
Having spotted my tweets about the trip, commercial director Conor contacted me and offered a personal guided tour which was greatly appreciated. First we saw lots of fascinating historical artefacts including some of the company's original equipment.
We then made our way up to the viewing gallery and watched workers busily producing vats of creamy Lancashire cheese while Conor talked us through the history of the company. I learned that they only make cheese with local milk; all 30,000 litres they use each day comes from 12 local farms, the furthest is just 9 miles away. I was also surprised to hear that they produce a range of Kosher cheese with the entire process from the milking of cows to packing supervised by Kosher inspectors. It was interesting to learn about the wind turbine too; installed in 2010 it provides so much power when turning that they actually only need 25% of it and the rest is put back into the National Grid! Making them probably the greenest cheese producer in the country.
As interesting as the tour was, nothing excites me more than buying food. Especially in places like the Dewlay shop, a Santa's grotto for cheese lovers.
Despite having a fridge full of cheese at home it would've been rude not to make a few purchases. I'm particularly looking forward to trying the 'Chilli Monster' and even more so the 'Whey Cream Butter', a product I hadn't heard of before. Made from cream separated from the whey left over after the cheese making process it sounds absolutely delicious.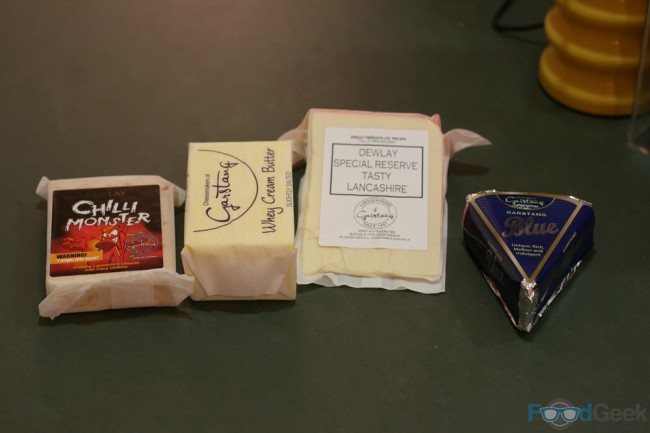 Despite arriving at Dewlay over 30 minutes early we were clearly having too much fun as we lost track of time and ended up leaving just before 12:30 – the time of our reservation at the Parkers Arms. Luckily the 19 mile drive through the beautiful Forest of Bowland was trouble free and we arrived before 1pm.
We were greeted as warmly as ever by AJ, the charming front of house manager and seated by the roaring open fire with a wonderful view.
What followed can only be described as an epic feast; lasting 4 hours, including 11 plates of food and a takeaway. We ordered from the 'Seasonal Specials' menu; 3 courses each plus an additional starter (we just couldn't choose between them). Knowing that we tend to share our dishes anyway Stosie offered to split each dish between 2 plates and send them out individually, essentially giving us a  tasting menu. As usual she also sent out lots of small taster dishes first, it was actually almost two hours before we started on the dishes we'd ordered. Not that we were complaining, everything we ate was stunning and some of the surprise tasters were our favourites.
Given the length of this post already I can't do the food and experience justice in just a few lines, see this follow up piece for more details. The photo below shows some of the highlights including: Parkers Slider, Rabbit & Pork Terrine, Brown Shrimp & Crumpet, Charcoal Grilled Mackerel with Roasted Rhubarb, Venison, Creamed Mash & Chocolate Sauce and a Valrhona Chocolate Pot.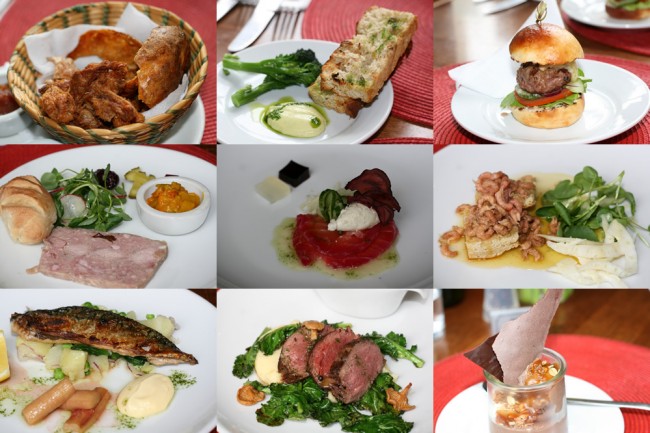 Not that there was ever any doubt but it proved i'd made the right decision planning the trip around the Parkers Arms. It's a truly special place; serving some of the best food i've ever eaten made with the amazing ingredients on it's doorstep. By the end we were grateful I hadn't been able to make a Northcote reservation as not only would we have been two hours late but the chances of us being able to eat a cake stand full of sandwiches and sweet things was remote.
Instead we took the short 10 minute drive to the Bashall Barn Food Visitor Centre.
Situated in the 'heart of the kingdom' or the geographical centre of the United Kingdom, the Bashall Barn complex features a coffee shop, ice cream parlour, restaurant and shop.
It was the farm shop where we spent most of our time browsing their lovely produce. From jams and chutneys to cakes and sweets.
Also on site is Bowland Brewery who produce hand-crafted real ales that i've enjoyed on many previous visits to the Parkers Arms. It was great to see where they're made and watch part of the process.
And of course buy a few bottles to take home.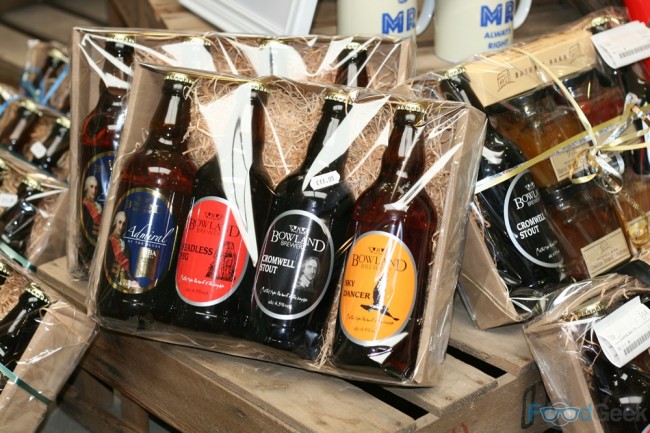 Our extended lunch at the Parkers Arms meant we left Bashall Barn as we should have been arriving at our final stop, Friday Food Fight. There was no way we'd get to Manchester before 6:30pm and the car was supposed to be picked up at 7pm so we reluctantly had to cancel the final part of the road trip too.
It was disappointing as it would've been the perfect end to an already fantastic day but I can't really complain as i'd had so much fun everywhere else. I'm grateful for having the opportunity to visit some brilliant producers from the Britain's Best Bites map as well as my own two choices who are both worthy of the same description.
All that was left was to say goodbye to the car which i'd grown quite attached to during the trip!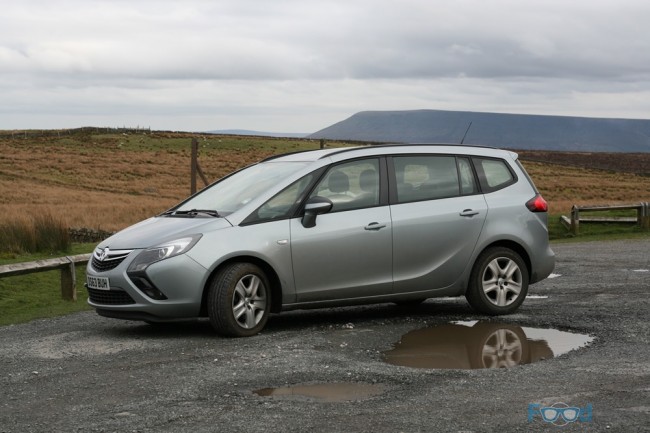 Date of road trip: 04.04.2014
Follow @FoodGeekUK