I was asked by the people behind the Britain's Best Bites website to plan my own foodie road trip around some of the 'must-try' food producers in the North West. The Parkers Arms immediately came to mind and became the focal point of the entire trip. Set in the beautiful Ribble Valley, chef Stosie Madi serves stunning food and is passionate about using seasonal local ingredients, fitting the brief perfectly.
On my first trip to the Parkers I considered them something of a 'hidden gem', maybe they never were but they're certainly not anymore. They seem to pick up a couple of new awards each time I visit. Most recently Stosie has been named 'Pub Restaurant Chef 2013' by the Craft Guild of Chefs and the Parkers Arms listed in the top 5 for the 'Taste of England Award' at the 'Visit England Awards' with esteemed company including Hugh Fearnley-Whittingstall's River Cottage.
I've spoken of my love of the Parkers Arms many times before,  whilst it's mostly down to the food it's a lovely place too. From the gorgeous views to the traditional country pub vibe and of course the warming hospitality of the ever charming AJ.
After a morning of cooked breakfast and cheese we needed to work up an appetite, which we did with the help of great local beers from Bowland & Lancaster breweries.
What followed can only be described as an epic feast; lasting 4 hours, consisting of 11 plates of food and even a takeaway. We ordered from the 'Seasonal Specials' menu; 3 courses each and an additional starter (we couldn't choose between them). Knowing that we usually share our dishes anyway Stosie kindly offered to split each dish between 2 plates and send them out individually, essentially giving us a tasting menu.
As usual she also sent several taster dishes first starting with a basket of 'Skins' including; chicken skins, potato skins and stunning pork crackling. Served with mushroom parfait, Parkers ketchup and a lovely chutney. A perfect way to start the meal, salty, crunchy beer snacks don't get any better than this!
It's wild garlic season so it features in many of the dishes. Like the fabulous, still warm homemade focaccia, dipping it in the silky wild garlic mayo turned it into the best garlic bread ever.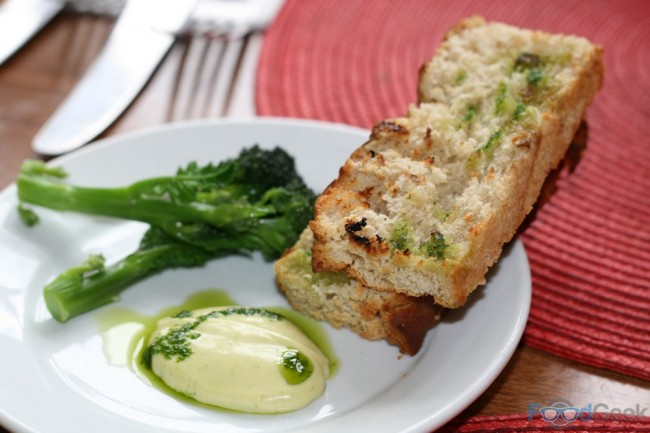 More wild garlic in the absolutely delicious 'Potato & Wild Garlic Soup', i've had some great soups in my time but this is up there with my favourite ever. The crunchy homemade breadstick on the side was also excellent.
Although i'm a big fan of burgers i'd never even considered ordering one here, only because there are always so many more interesting options on the menu. Now I know how good they are I might not be able to resist next time. The 'Parkers Slider', a mini version of their full size burger was mind blowing. Dressed simply with just tomato, lettuce, cucumber and cheese it was all about the homemade brioche bun, perfectly soft with just the right sweetness and particularly the phenomenal quality beef patty. Although I can't deny i've enjoyed the modern trend for crazy burgers (like visiting SoLita over 20 times last year) there was something special about going back to basics with this one and letting the quality of the meat shine.
'Wild Garlic, Potato Gnocchi, Young Spinach & Ewe's Cheese' was a main course we wanted to order but reluctantly couldn't so it was great to receive a taster version. It was as good as we'd hoped, Stosie's gnocchi are as good as any i've ever tasted, so light textured and just perfect with the combination of salty smokey bacon, wild garlic and fresh cheese.
The first course we'd ordered ourselves; 'Beetroot Cured Salmon, Soused Fennel & Beetroot Jelly' was deliciously light, a good thing as we were already starting to get full. A beautiful combination of flavours and textures from the soft horseradish cream to the crunchy beetroot crisps and sharp lemon jelly, all perfect accompaniments to the cured salmon.
I used to think I didn't like Piccalilli, but that was before i'd tried it here. Now I know I just don't like that stuff in a jar that looks like it's nuclear reactive. I was happy to see it turn on up alongside a lovely mini loaf of bread and an excellent rabbit & pork terrine served with beautiful pickled damsons.
A dish i'd seen lots of people raving about since my last visit 'Brown Southport Shrimps, Spiced Butter & Parkers Crumpet' didn't disappoint. Soft, homemade crumpet – nothing like those awful spongy things out of packets – topped with brown shrimp and swimming in delicious butter was as good as I hoped.
The next dish contained possibly the best piece of mackerel i've ever eaten, high praise considering previously it was Brett Graham's signature 'Flame Grilled Mackerel' at The Ledbury. This was better, the skin ridiculously crispy whilst the flesh wonderfully soft and moist. The warm potato and spring green salad was good but it was the roasted rhubarb which made it so special, a classic combination which clearly works but one i'd never tried before for some reason.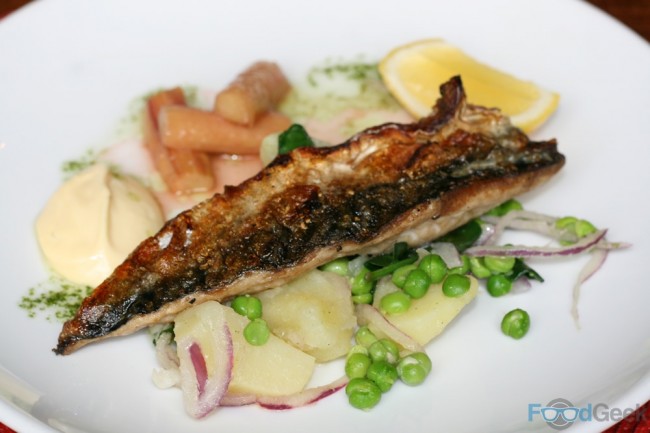 It's always a treat to eat venison here, their 'Venison Carpaccio' even won 'Best Starter' at last years Food Geek Awards. This dish was also great, the venison cooked perfectly and top quality as usual (on one visit AJ pointed to the field out of the window where they come from), soft buttery creamed mash and a rich, luxurious dark chocolate sauce. The inclusion of pickled girolle mushrooms is genius they tasted amazing and cut through the richness of the meat, sauce and mash wonderfully.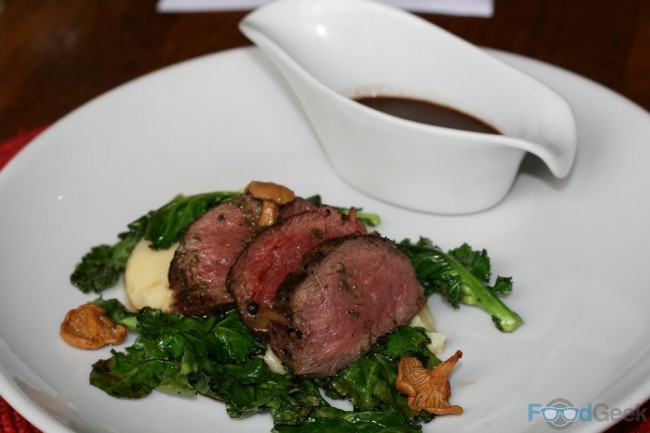 The name 'Valrhona Chocolate Pot' really doesn't do justice to the first dessert. A jar literally packed full of interesting and delicious things including: chocolate mousse, toasted oats, salted caramel, chocolate tuille and an impressive chocolate shard. Each bite was slightly different than the one before and despite being very full by this point it was so good we finished it in minutes, one of the most exciting desserts i've had this year.
Portuguese style egg custard tarts or Nata's are one of my favourite things and Stosie's are probably the best i've ever had. If it was anything else i'd probably have just eaten it there and then, but instead sensibly decided to take it home and save it until later when I knew i'd enjoy it more. It worked as we thoroughly enjoyed them a few hours later after recovering from our Parkers induced food coma, it was perhaps the best takeaway ever.
There's not much more I can say about the Parkers Arms, service was immaculate as ever and the food surely speaks for itself. They're so deserving of the recognition and awards they're receiving and I hope it continues. I've never been disappointed here but this meal was one of the best yet and the perfect centrepiece of my 'Britain's Best Bites' Road Trip. If you haven't been yet I strongly recommend that you do.
Date of visit: 04.04.2014
Follow @FoodGeekUK
Review Overview
Summary : Amazing views, hospitality and food. Just keeps getting better.