The Lowry Hotel is rightly regarded as the best in Manchester but its restaurant hasn't always had the same reputation. Marco Pierre White failed with 'The River Room' almost 10 years ago while it's replacement, 'The River Restaurant' was apparently excellent between 2006 – 2010 but has had mixed reviews in recent years.
It's those reviews that had stopped me visiting previously but when I heard the restaurant was to be relaunched as 'The River Bar and Grill' – reflecting a simpler menu, cooked on a charcoal grill – with a new head chef I wondered if it was worth a visit. A few days later I was invited to preview the new menu which seemed a perfect opportunity to find out.
The restaurant is situated on the first floor of the swanky, modern hotel. The light and inviting dining room is equally plush but more relaxed and informal than I'd expected.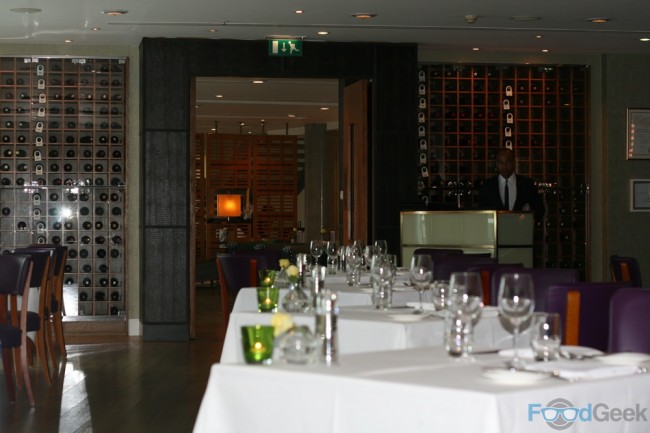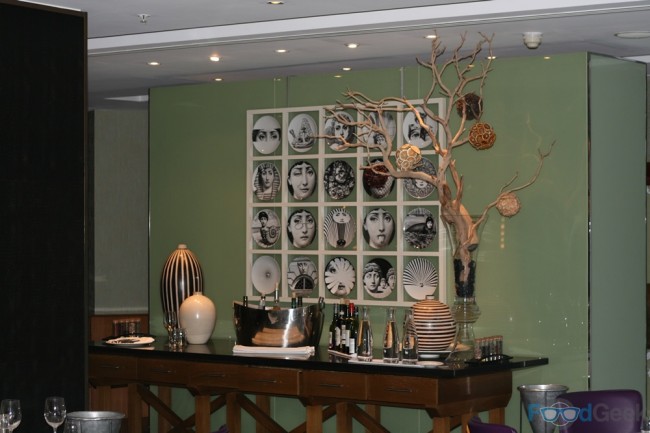 We were shown to our table, 'the best in the house' according to charismatic front of house manager Sherman, it certainly offered impressive views of both the inside of restaurant and the River Irwell through the large, floor to ceiling windows.
The restaurant doesn't have an official sommelier, not that we noticed as Filipe our Portuguese waiter was incredibly knowledgeable, suggesting several wines that would best compliment the various dishes we'd ordered. In the end we trusted him to choose for us and were happy with his selection; a beautiful 2001 Spanish red which he duly decanted.
The menu features relatively simple dishes with a focus on quality ingredients. Main courses are cooked on their new Josper Grill over charcoal.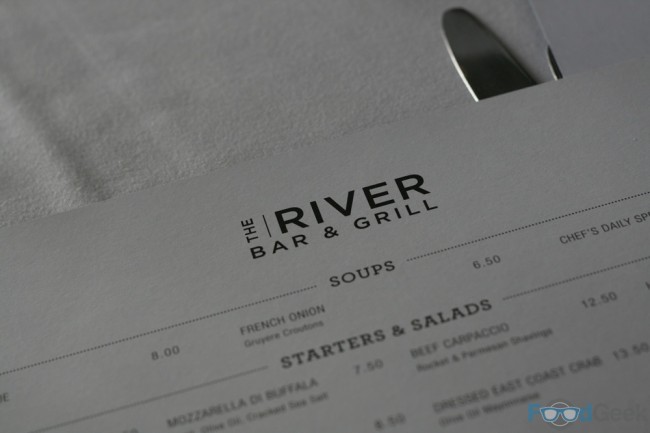 I often can't resist ordering scallops, when they're paired with pork belly it's a given. I had high expectations but the dish was stunning; excellent quality scallops were cooked to perfection with a wonderful golden sear on both sides, pork belly was soft, tender and full of flavour. Served with a sweet carrot puree and finely chopped carrot, cut so uniformly it could've been orange coloured rice and tangy, pickled baby red onions which really cut through the sweetness. The dish was equally beautiful in appearance and taste.
Mrs FG's 'Tuna Tartare' was also good, not least because it contained more of those amazing baby pickled onions and the quality of fish was immediately apparent once again. Personally I would've liked a bit more citrus sharpness but she disagreed whilst devouring it. We did both feel the melba toast was slightly too thin, meaning it broke easily and was difficult to eat with the tuna.
Continuing the seafood trend I opted for a whole lobster for my main course. Served simply with potatoes, asparagus, broccoli and copious garlic butter. There are few things better than a quality, perfectly cooked lobster smothered in garlic butter and this was all of those. The sweet, juicy lobster meat was phenomenal with a slight smokiness from the grill. Simplicity at it's very best.
Mrs FG deliberated over her choice of steak but after settling on sirloin was disappointed to find they had none. Her second choice, ribeye, was a very good steak at least. Cooked a touch over the requested medium in my opinion but again she was perfectly happy with it. The quality of meat was fantastic, with an incredible flavour thanks to the thick charred crust from the charcoal grill yet the inside remained perfectly moist. Served with very good, crunchy onion rings and an excellent red wine sauce.
Grill items all come with fries, to which we added sides of spinach and green beans & shallots. Each was well cooked, well seasoned and delicious.
For my dessert, the downfall of many a MasterChef contestant 'Chocolate Fondant'. No problems here though, perfectly formed with a crisp exterior which when broken revealed an oozing, gooey, intense dark chocolate sauce. Served with both cream and ice cream it was a rich, luxurious and hugely enjoyable pudding. I felt the elaborate squiggly churro type thing on top (edit: apparently this is a real thing called a 'Funnel Cake', popular at American funfairs! Thanks @Pilla_uk) was perhaps unnecessary but I shouldn't complain really as it tasted great.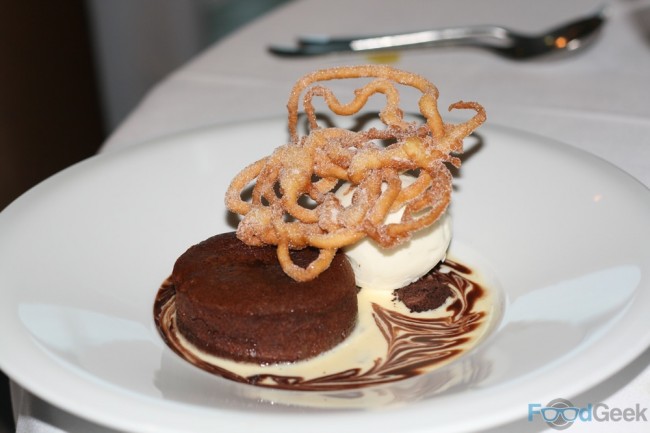 Mrs FG had 'Brett's Cheesecake', if you're wondering who Brett is, as we were, he's the head pastry chef. You don't often see desserts named after the chef but on this occasion it's justified as it was a fabulous baked lemon cheesecake. Unfortunately the plum on the side was unripe and as a result very hard and quite bitter, I'd suggest either cooking them or ensuring they're perfectly ripe. Otherwise it was another delightful dessert.
Filipe returned to impress us further with his knowledge of dessert wines, we both enjoyed a glass of fruity and not too sweet Muscat thanks to his recommendation. Before finishing with coffee and petit fours including a beautiful pistachio sponge cake.
I was more than impressed with the overall experience at The River Bar & Grill. It's a really lovely place that I imagine gets even better with nice weather, service was fantastic thanks to the impeccable Sherman and Filipe. Besides a couple of minor points the food is generally excellent, the quality of ingredients is obvious and is allowed to shine further by the uncomplicated cooking and serving. It's certainly not cheap but in my opinion well worth the expense for this level of food, with service to match.
Although, there is also a 'Chefs Grill Menu' which changes monthly and offers 3 courses for an extremely good value £19.95 at lunch of £24.95 for dinner! I'll definitely be returning to try that, if the food is anything like the quality of the regular menu it could well be the best value in Manchester.
Date of visit: 22.04.2014
Disclaimer: I was invited to The Lowry Hotel to preview the relaunched restaurant and menu and as such not asked to pay. As usual this does not effect what I write, all views are my own honest opinions. I'll very happily return as a paying customer. 
Follow @FoodGeekUK