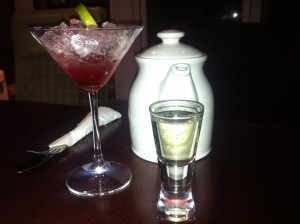 I'm a big fan of 'Afternoon Tea', what's not to love about tea, cake & sandwiches?
Afternoon Tea With A Twist
I heard about 'Afternoon Tea with a Twist' at Beluga, the twist being that instead of tea you are served with cocktails and for a double twist they're poured from a tea pot! Needless to say I was sold on that idea immediately.
I'd never been to Beluga before and had no idea what to expect. It's located just off Albert Square near Town Hall in a grade II listed building and looks very impressive from the outside.
Inside was a little less impressive and looked like an average town centre pub.
After being seated we were given the cocktail 'menu'. I'm not sure how many items must be listed to be technically a 'menu' but here there were only 3. Thankfully i'm a fan of all 3, classics Cosmopolitan, Long Island Ice Tea & Porn Star Martini. We chose the Long Island and the Martini.
After a short wait our food arrived, a large platter containing several sandwiches & cakes. The sandwiches were small but delicious, all 5 flavours were enjoyable: Egg mayo, cucumber, smoked salmon, ham & mustard, cheese & onion but the smoked salmon and ham & mustard were particularly good.
The cakes were also excellent, there were a number of mini cakes of different flavours including black forest gateaux and victoria sandwich, and a full size scone with portion of jam and amazingly tasty clotted cream.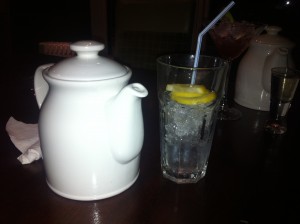 The cocktails arrived in tea pots and although obviously a gimmick they did actually look impressive and it was fun pouring them. They were also huge! We topped up our glasses several times as there was at least 3 individual cocktails worth in each tea pot.
Taste wise, the Porn Star Martini was perfect, no fresh passion fruit which would have been nice but was made with a nice passion fruit puree rather than a syrup or flavouring. It was served with Prosecco which worked well.
I'm not totally convinced that the Long Island Iced Tea it contained all 5 spirits but it was enjoyable all the same.
Recommended?
Overall Afternoon Tea with a Twist at Beluga was a great experience. At £18 per person it's not exactly cheap but when you consider the cost of 3 decent cocktails at similar bars the food which was great quality is effectively free.
The only thing that would stop me returning for a second visit is the extremely limited cocktail menu but i'd certainly recommend it to anybody (as long as you like the cocktails on offer).
Date of visit:  30.01.2012
Follow @FoodGeekUK