Despite it being the talk of the town for most of 2012 and knowing that i'll absolutely love the food I am still yet to visit Almost Famous in Manchester for various reasons. I'm not a hipster, I'm not really a fan of queuing for food but mainly because their marketing really annoys me.
However, I couldn't resist visiting 'Miracle On High Street' their Christmas popup and i'm glad I did as it was great.
When I heard they were replacing the popup and recently closed bar Socio Rehab with a new Mexican inspired restaurant I was very excited. Not only because of how much I enjoyed Miracle but I love everything about Mexican food, wraps, tacos, burritos the lot! Thankfully the marketing seems a bit more grown up than it's big brother too.
We visited on a Sunday evening and the restaurant was completely full, although not as full as we first feared as we wrongly thought they were queueing outside. Thankfully that queue was only for hipsters wanting burgers. We did have to wait a while for a table but not too long and when you're waiting in a bar full of drinks it's really not a problem.
After a couple of Coronas we were taken through to the restaurant. My first impressions were how noisy and especially how dark it was. I'm all for ambient lighting but it really was genuinely dark with the only lighting coming from small candles on the tables and a string of dull red fairy lights on the ceiling.
Deciding what to eat was incredibly difficult as I could have quite happily picked pretty much anything from the menu, it was made slightly easier as they were sold out of the delicious sounding Almost Famous style burgers.
We really wanted all 6 of the 'Quick Fixes' starters on the menu, eventually we narrowed it down to 3.
The Quesadilla's looked a little scruffy and as if they'd just been thrown on to the plate. They weren't the best quesadilla's i'd ever eaten either, sadly quite bland. Some of them were full of pepper and onions but one of them contained literally just one piece of pepper and a bit of melted cheese. They were better with the salsa and spicy sauce of the side but still needed something extra to lift them.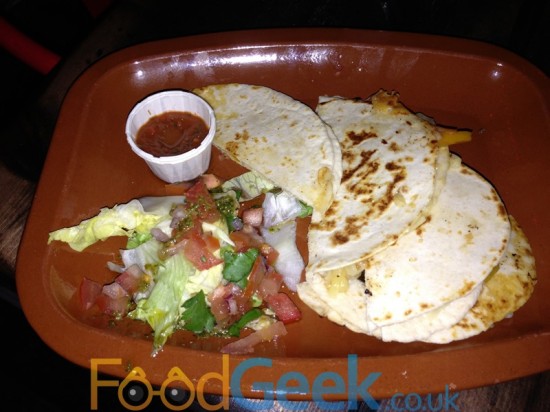 The Lettuce Cups were much better, although again I felt they looked a little scruffy (maybe the chefs plate up in the dark too?). They tasted fantastic though, cups of grilled chicken loaded with peanuts, pineapple & mango salsa and a BBQ sauce which had a great kick. I really liked these and could have eaten a plateful of them.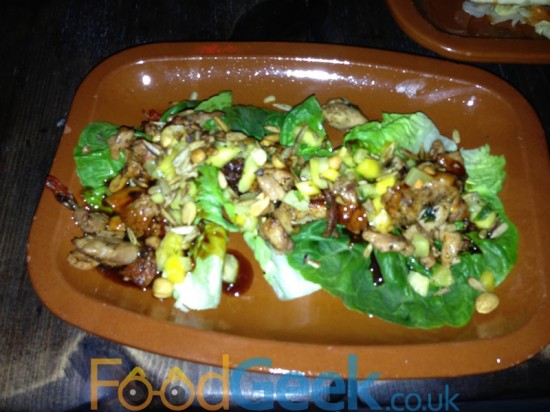 'Grilled Halloumi' was simple but very enjoyable, slices of grilled salty halloumi cheese drizzled with coriander pesto was very tasty. Unfortunately the photo didn't come out well. I'm blaming the dark.
I finally decided on a burrito for my main course, the 'Barrio Star' to be precise. It wasn't nearly as big as I was expecting but it certainly made up for it in taste. It was also the neatest looking dish of the night, perfectly wrapped and tightly packed with crispy taco beef (apparently 'rinsed' in tequila & lime although I couldn't taste it), fries, salad, salsa, cheese and spicy sauce. Every mouthful tasted slightly different depending on the variation and ratio of ingredients with each bite but was always amazing.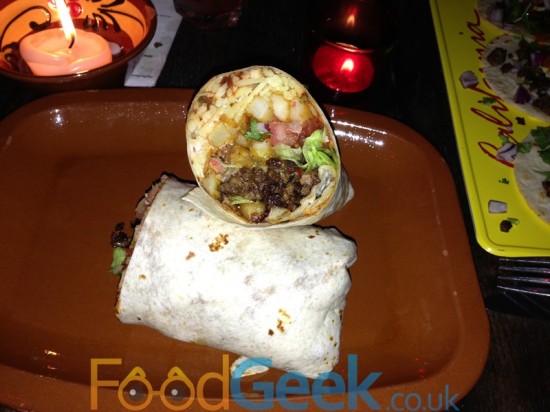 Mrs FG had 'Crispy Beef Street Tacos' served on a California style license plate which we both thought looked brilliant. The tacos were very good too, served open and a lesson in simplicity. They probably contained no more than 4 or 5 ingredients, the crispy beef, red onion, a delicious green sauce and a few coriander leaves but they tasted absolutely fantastic. Especially the crispy beef which was indeed very crispy and very tasty too. The tacos were gone in minutes but we loved every minute.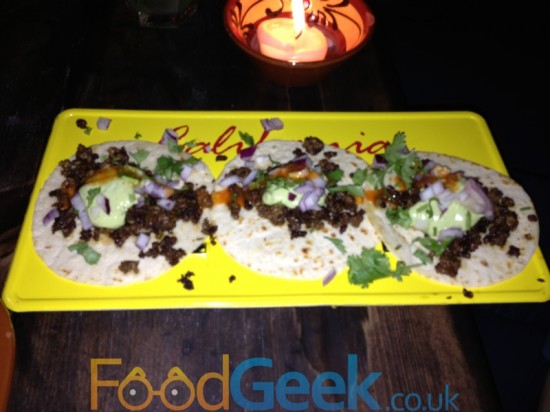 It would be crazy to go to a Mexican restaurant and not order 'Guacamole', quite possibly one of my favourite things in the entire world. Here it is 'smashed' at the table, although besides knowing that it's fresh I don't really see the benefit and it felt a little awkward. It tasted good though but personally I like my guac with a massive lime kick and also loads of coriander and a bit of chilli.
We also ordered 'Warm Artichoke Dip' which was an absolute revelation. Thick, warm, comforting and oozing with cream cheese and a gorgeous crust on top where it had been grilled. Served with a bucket of tortilla chips I just couldn't stop eating them no matter how full I got.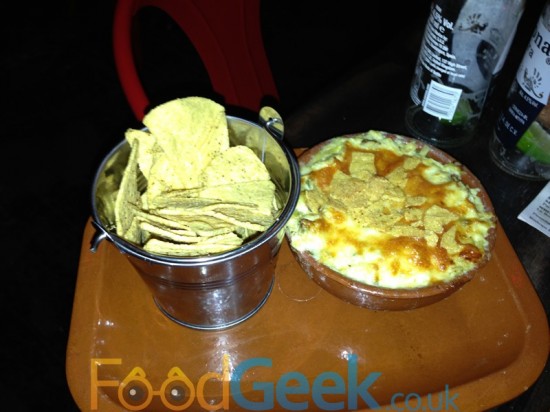 The desserts consisted of either Brownie or Cheesecake, i'm sure they'd both be great but they weren't exciting enough to tempt me after a bucket full of heart attack inducing artichoke dip.
I was tempted by several of the cocktails though, between us we tried 5 I think (memory is a little fuzzy towards the end for some reason). With the exception of one that tasted like melted marzipan (yuck!) they were really good, to be expected I suppose as Socio Rehab served some of the best cocktails in Manchester previously. My favourite was 'Break for the Border' made from tequila, elderflower, nettle, lime, mint and tonic or one that I don't remember much about other than a gorgeous taste of passion fruit.
Overall I really enjoyed Luck, Lust, Liquor & Burn (try saying that after several beers & cocktails though!). It's far too dark and a bit too noisy but that's probably just me being old and grumpy. It was very busy but service was pretty fast and everybody friendly. The food is generally really good, some of it stunning and the cocktails are excellent too. It's definitely a place I will return to again and again. I think it's almost persuaded me to finally pay Almost Famous a visit too, Almost.
Date of visit: 17.02.2013
Follow @FoodGeekUK