I love burgers but thanks to the Hard Rock Cafe, Almost Famous and especially SoLita i've eaten rather a lot of them lately.
As I made my way to Gorilla Bar & Kitchen, a place I know is renowned for serving decent burgers but also has a much more varied menu I repeated "must not order burger, must not order burger" to myself over and over again.
Gorilla is a bar, kitchen and live music venue from the people behind Trof and The Deaf Institute. It's situated in one of the arches under the train track just down from Oxford Road station. I loved the urban decor with it's wood panels, exposed brick, glass and shiny metal.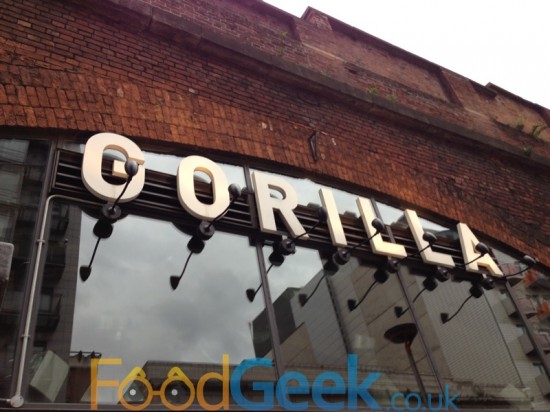 It was very busy when we arrived despite being fairly early (around 6:30pm on a Wednesday) but we managed to grab the last free table upstairs. I only stopped repeating my anti-burger mantra for just long enough to order drinks, when the waitress returned to take our food order I was 100% confident I wouldn't be ordering a burger. It started well as I chose a selection of snacks to make up a sharing platter and  then the genuinely appealing 'Halloumi & Roast Pepper Kebab' main course. Mrs FoodGeek, also partaking in the self imposed burger ban played her part well and ordered a salad. I'd done it! I'd successfully avoided ordering a burger, but then disaster struck, just as the waitress was about to leave, something deep down inside of me took over my conscious mind and said "Excuse me, please can I change the kebab for the burger actually". I was helpless to do anything about it, I was a total failure. But on the plus side, I was having a burger!
As I mentioned it was very busy, I assume this was because we were in the midst of their 'Afterwork Drinking' hours which I found out later is when they offer cheap cocktails and wine. Even accounting for how busy they were our first drinks took a long time to arrive, well over 15 minutes which is the longest i've waited for a drink for a while.
They seem to have a bit of a 'school' theme going on, the menus looks like old text books, some of them on graph paper, wine is served in glasses not disimilar from those I got water in during school dinners and unfortunately the chairs are as uncomfortable as school chairs too. The carafe of house wine is very good value at £8 between 5pm – 8pm, although the white that we had wasn't particularly nice.
Food was also slow but eventually our sharing platter arrived. Containing 'Sticky Chicken Wings', 'Grilled Lime & Chilli Halloumi', 'Marinated Artichokes', 'Smoked Bratwurst Chipolatas' as well as a Harissa Yogurt and Aioli dips.
Most were excellent, particularly the chicken wings with their tangy BBQ sauce which were seriously finger lickin' good and the sausage which was smokey and delicious. The Halloumi wasn't particularly lime or chilli flavoured but it was Halloumi which is good enough for me. The only disappointment was the 'Marinated Artichokes', the menu didn't say what they were marinated in and after eating them I still wasn't sure. Mrs FG suggested kitchen cleaner, a little harsh perhaps but they were quite odd and not that appetising. Both dips were good, especially the harissa yogurt, I maybe slightly biased though as harissa is pretty much my favourite ingredient at the moment.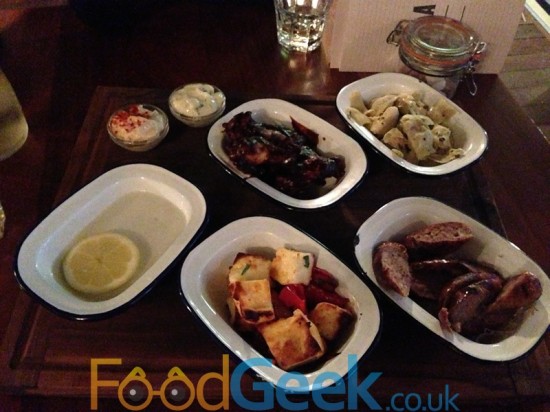 After another lengthy wait our main courses arrived, my burger looked impressive. The lamb burger here had been strongly recommended and does sound great but I felt like a proper classic burger and this certainly looked the part. A sesame brioche bun containing pickles, lettuce, melted cheddar cheese and 'burger sauce' which was a slightly more mustardy version of a certain Big Mac sauce. It was a good burger which ticked all of the boxes in terms of flavour for a traditional burger, unfortunately mine was quite badly overcooked, well past medium and as a result was quite dry. I later noticed somebody on a nearby table eating the same burger but hers was very pink and juicy so I guess I was just unlucky. I have to admit that even though I quite enjoyed it I wish i'd had the willpower to stick with my Halloumi Kebab. The fries were pretty good too, crispy and very well seasoned.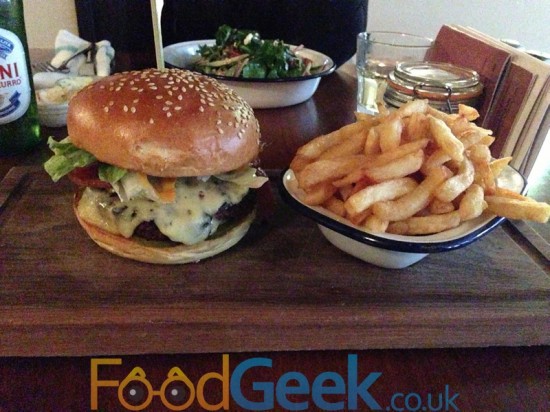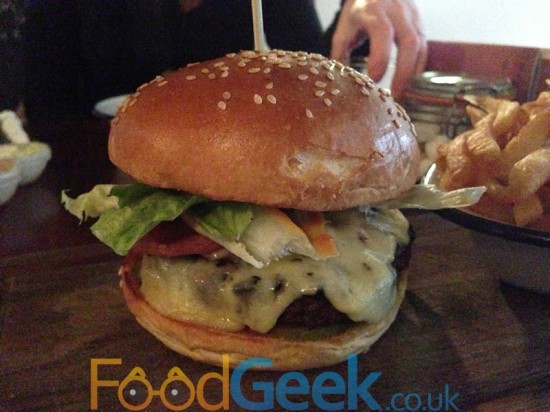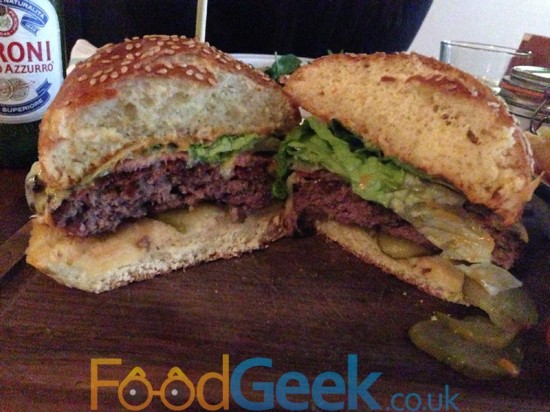 Mrs FG is obviously stronger than me and enjoyed her salad as a result. It looked fairly light but contained a decent amount of puy lentils, chorizo and feta cheese so was actually quite filling. Anything with chorizo in is going to taste great but it was also packed with other delicious flavours from lemon, mint, basil and sun-blush tomatoes. I don't often get too excited about salads but this was a good one.
We'd decided in advance not to do desserts as we'd be going for drinks at the Deaf Institute afterwards who do the most amazing cupcakes. The decision was made easier as there are only 4 on the menu and none are particularly inspring. As the food has taken so long though we'd worked up a bit of an appetite so decided to share one. We went for the 'Chocolate Pudding', served with chocolate fudge sauce & stem ginger ice cream. It was good, a decent chocolate pudding, warm and gooey with a rich chocolate sauce and the ginger ice cream was delicious though could have perhaps done with a bit more stem ginger. After we left we found that the Deaf Institute was closed for the night which was very annoying, i'd definitely have had another dessert at Gorilla had I known.
We sampled a couple of cocktails each too, we almost certainly would have done anyway but it seemed rude not to when they're only £5 during the 'Afterwork Drinking' hours. They were all good but the best came from the 'Gin Parlour' menu, particularly the 'Kingston Collins' which replaces the Soda in a Tom Collins with Lilt! Ironically the last time I had Lilt was probably when I was at school, it tasted great.
Overall I quite liked Gorilla, I love the decor and other than a couple of minor faults the food is generally good, the burger wasn't as good as SoLita but to be fair it's a bit cheaper. It's comparable to Almost Famous but Gorilla have a much more varied menu. They use high quality ingredients which they're proud of and it shows. Service was a bit of a problem though, the staff were friendly enough and generally attentive when available but there just wasn't enough of them around. As well as long waits between courses the waiting time for drinks was too long and we often weren't asked if we wanted more, I had to order at the bar several times.
It's possible they were understaffed or didn't expect it to be as busy, either way it wasn't enough to put me off going again. Whilst I probably won't go out of my way to return i'd be more than happy to if i'm ever in the area or the opportunity arises.
Date Of Visit: 17.04.2013
Follow @FoodGeekUK