A commercial property development may not be the most obvious place you'd expect to find a fine dining restaurant. MediaCityUK, home of the biggest BBC studios outside of London including BBC Children's, BBC Learning, BBC Radio 5 live, BBC Sport and BBC Breakfast as well as ITV Studios and The University of Salford digital media centre is an impressive looking set of buildings on the waterfront
Unfortunately the food offering is much less impressive though. With the usual dull and unorignal chains such as Harvester, Harry Ramsdens, Pizza Express, Prezzo and Cafe Rouge. There is one exception however, Damson. With an already successful and popular restaurant in Heaton Moor, Damson is not only the first independent restaurant in MediaCityUK but also the only place to go for fine-dining.
It looks every bit the fine dining restaurant inside with plush carpets and chairs, nice glassware and an impressive wine collection.
We were just in time for the incredibly good value 'Pre Theatre Menu' which offers 3 courses for just £19.95 before 6:30pm! It featured plenty of dishes that we'd have been undoubtedly happy with but we chose to eat from the extensive but pricier A La Carte menu instead.
First we were served a couple of freshly baked mini loaves of bread. The waitress didn't offer any further information but they were good quality and tasty, particularly the wholegrain which I liked best.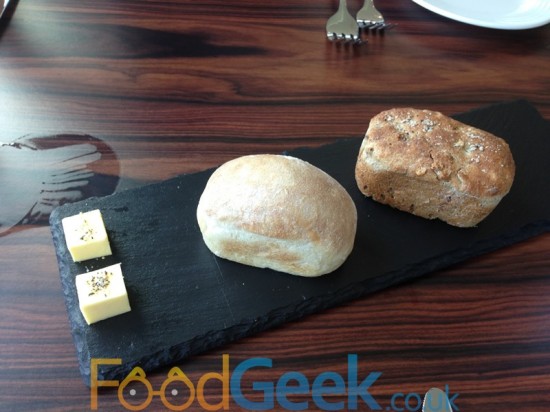 My starter was all about Quail. Featuring a delicate roasted breast, a sandwich containing richly flavoured meat, a fried quails egg with a lovely runny yolk, celeriac remoulade which was like a posh and delicious coleslaw and a truffle dressing.
It was a beautiful and well thought out dish. The breast moist, juicy and perfectly roasted, the sandwich crispy and delicious and the runny egg yolk and truffle dressing combining to make a wonderful sauce.
My only complaint with this dish was that it was a little small, i'd have been more than happy to pay a few more pounds for a bigger version.
As much as I enjoyed my starter, Mrs FG's 'Beetroot & Goats Cheese Salad' was even better! It looked beautiful and tasted just as good. Sweet and earthy beetroot was the star but was complimented brilliantly by a tangy, light and airy goats cheese mousse, pickled Thai shallots and candied walnuts. A seriously high end 'salad' full of interesting flavour and texture combinations.
My main course of 'Pork Belly with Black Pudding & Lancashire Cheese Hash Brown' didn't disappoint either.
Pork belly is one of my favourite cuts of meat and this was cooked extremely well. The fat completely melted down so it was soft and succulent with a thin layer of super crispy crackling on top.
I found the potato in the hash brown to be a little dry but it was more than made up for by the amazingly soft, moist black pudding and gooey, melted lancashire cheese in the bottom and wasn't an issue when combined with the tasty sauce.
I'm not generally a fan of raisins in savoury dishes but the golden raisins worked well here as did the spiced apple puree.
Mrs FG probably just about edged the starters but she was a clear winner with the main courses. Despite loving my pork belly I had to admit that her 'Cep & Rosemary Lasagne' blew it away. Being a hardcore meat eater i'd probably never have ordered a dish like this but it was stunning.
You barely missed the meat thanks to the deep, earthy mushroom flavour of the ceps. Combined with the gorgeous, rich cheese sauce and soft thin layers of pasta it was as good as any lasagne i've ever eaten. The grilled artichokes, asparagus & peas brought a summery freshness to the overall dish.
We couldn't decide on two desserts so ended up ordering 3. Firstly 'Catalan Tart & Cinnamon Doughnuts'. As with all the other dishes this was a very attractive plate of food but whilst the Catalan tart looked amazing and texturally was great it was somewhat lacking in flavour. It really didn't taste of anything at all which was rather odd.
The doughnuts however were packed with an intense cinnamon flavour and i'd have happily eaten a plateful of them. Half of an incredible dish, the other half probably not far away from being great either.
The 'Chocolate PannaCotta & Caramel Choux Buns' was also mixed for us. The panna cotta was excellent, rich and creamy with a brilliant wobble. The sweet avocado puree was delicious, i'm a massive avocado lover but this was the first time i've had it sweet and it works well. We both felt that the Grand Marnier cream filled choux buns were ruined by their caramel coating as it had set and the hard and crunchy texture took away from the excellent pastry underneath. This time two thirds of a great dessert.
Our final dessert was 'Virgin Rum Baba, Mango Carpaccio & Passion Fruit Sorbet'. I don't know why it's a 'virgin' baba, there is the option of a shot of rum on the side which needless to say we opted for but pouring neat rum over the top didn't really have the same effect as the baba being soaked in a mixture of rum and sugar syrup. Nevertheless, we enjoyed the dessert, the flavours from the mango and passion fruit were bold and punchy, mixed with the rum it was a real taste of the Caribbean.
Overall we really liked Damson, besides a couple of minor critiques with each dessert the food is very high quality, a couple of the dishes outstanding. The wine list is excellent with some very decent and reasonably priced bottles.
Although the restaurant was quiet during our visit service was friendly and efficient.
Damson are serving easily the best food in MediaCity and some of the best in Salford, I admire the ambition of serving food of this level at a mainstream place. I'd love others to follow their lead, The Trafford Centre being a prime example. I plan on returning to Damson MediaCity to see if the food on their excellent value set menus is as good quality and i'm keen to try their Heaton Moor restaurant now too.
Date Of Visit: 08.07.2013
Follow @FoodGeekUK