Ceviche is a Peruvian restaurant in London, opened by chef Martin Morales in 2012 following hugely successful supper clubs and then pop-ups. It had been on my shortlist for my last two London trips but we didn't quite make it there.
So as soon as I heard they were bringing their food to Manchester as part of 'Ceviche On Tour', the UKs first ever popup restaurant tour I jumped at the chance and booked immediately.
It was hosted by Teacup on Thomas Street in the Northern Quarter. Owned by legendary DJ Mr Scruff it's one of Manchester's hippest venues, so much more than just a place for tea and cakes and just perfect for an event like this.
Shortly after arriving we were presented with an intriguing, ice cold cocktail called 'Pisco Sour'. I now know it's the national drink of Peru but it was the first time i'd ever come across this cocktail, it certainly won't be the last as it blew my mind. Made with Peruvian liquor Pisco – a grape brandy – blended with lime juice, sugar syrup, egg white and ice and topped with bitters. I loved it's sourness and freshness, everything being blended together including the ice and egg white gave it a thick texture, almost like a milkshake. An amazing boozy, ice cold, zingy, grown up milkshake.
Making our way through to the dining area, our table had a great view of the Ceviche chefs preparing our food in Teacup's open kitchen.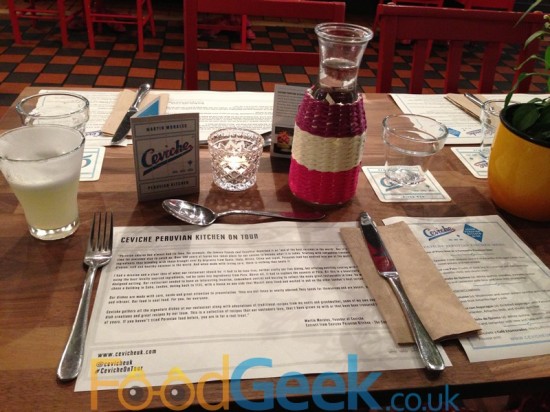 The first course 'Don Ceviche' is the signature dish and one of the most popular at Ceviche. After a couple of mouthfuls I could see why! The combination of super fresh, almost raw sea bass (it's lightly 'cooked' from the acid in the marinade) with soft sweet potato, delicate red onion, fresh zingy lime and a huge chilli kick was simply stunning. One of the lightest, healthiest yet flavour packed dishes i've eaten for a long time, every mouthful was a joy.
Chef and owner Martin Morales had already been to our table to introduce himself where he seemed genuinely interested in us and this blog. We talked about his Peruvian background, his past career as a DJ and other restaurants in London. It was wonderful to see how obviously passionate he is about his culture and being able to share it's cuisine with new people.
This passion was further evident when following the first course he made a speech to the whole room where he talked proudly about his restaurant, the tour and his team.
The second course 'Ensalada de Quinoa' is one of those dishes that convinces me I could actually make it as a vegetarian. A pretty salad of cold quinoa mixed with butter beans, coriander and chilli on a base of avocado and topped with red onion, tomato and chilli. The nutty quinoa and butter bean mixture was delicious on it's own but when combined with the zingy topping and creamy avocado it was a perfect flavour combination. Made even more interesting by the physalis coulis on the side.
Of course, I wouldn't really turn veggie. I'm happy with the best of both worlds especially when there are meat dishes like 'Arroz con Pato' around. The confit duck leg was as good a piece of meat as you're likely to get, a crispy, caramelised skin and wonderfully soft flesh just waiting to fall apart inside. The rich duck flavour, with a hint of garlic and orange from it's marinade worked brilliantly with the dark beer and coriander rice.
I was dreading the final course of 'Chocolate y Cafe Enamorados' (chocolate & coffee mousse pots) as despite being a coffee addict i'm not really a fan of it in desserts. Thankfully it was very subtle here and the intense chocolate flavour was dominant. It was simple but very tasty. Whilst it was rich, creamy and indulgent I felt it was perhaps a little small or could have been served with some sort of biscuit on the side.
I absolutely loved my introduction to Peruvian cuisine, not only the food but the whole experience which was helped by the service staff – who I think were mainly from Teacup – who were very friendly and efficient on what must have been an unusual occasion.
I enjoyed everything I ate particularly the first two courses and the Pisco sour which i've not stopped thinking about. All of the food was so fresh and vibrant, i'll definitely be visiting Ceviche next time i'm in London and i'll be attempting to recreate these dishes and others as all of the diners received a copy of Martin's new cookbook which contains the recipes for the all the food we ate and Pisco sours too! I've not been able to put the book down for the last few days.
'Ceviche Peruvian Kitchen' is an amazing cookbook, my collection is well past 100 now but this is unlike any other that I own. Not only is it full of amazing recipes such as the 4 dishes I ate but it also contains lovely stories about Martin's childhood and family in Peru and the passion and motivation behind Ceviche. There's a useful section about where to source some of the special ingredients. The book looks stunning too, the photography is just beautiful and even the front of the book with it's tiled cover feels special. I thouroughly recommend it and can't wait to start cooking from it! Click here for more details on the book.
Date Of Visit: 10.07.2013
Follow @FoodGeekUK