I've eaten loads of great pizzas in Manchester over the last few years but unfortunately none have been in restaurants.
All the best ones seem to be coming from street food vendors like Rudy's and particularly Honest Crust. I just couldn't understand why small traders can get it right whilst restaurants were continuously getting it wrong.
So when I was invited to PLY – a new pizza place on Stevenson Square in the Northern Quarter by the team behind nearby Kosmonaut – I was sceptical, even more so when I saw photos of their shiny, glittery pizza oven.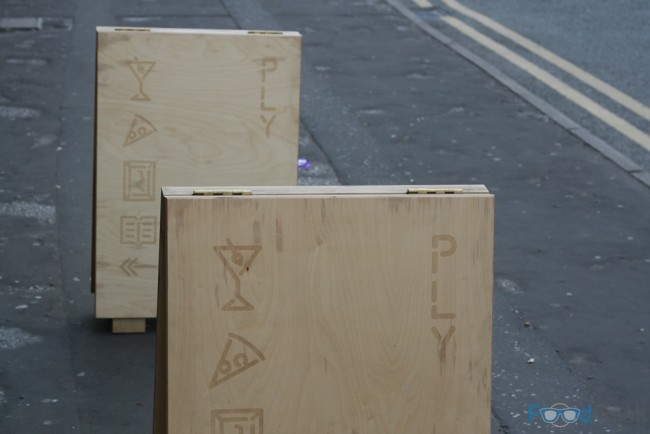 But after hearing favourable reviews from people I trust I decided to go along to see if it could possibly be true, is there really a restaurant in Manchester serving good pizza?
First impressions were good.
It's a much bigger space than it looks from the outside and I liked the now requisite Scandi decor.
I can't say the same about the pizza oven though. The big shiny, glittery thing in the corner is definitely not to my taste. But I'll happily forgive that if the pizza's good.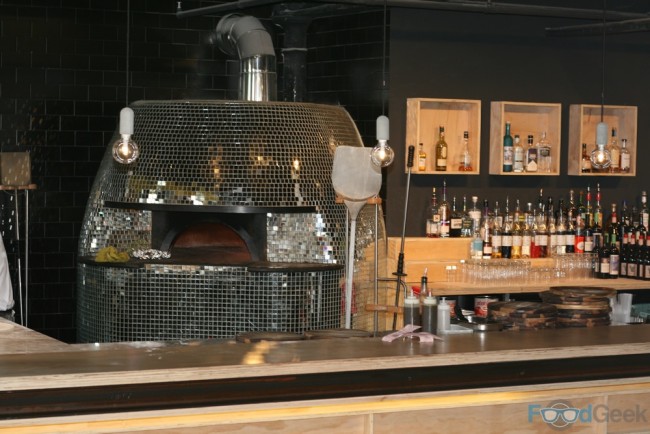 We started with juicy nocellara olives mixed with crunchy almonds.
To follow I had 'Aubergine and Burrata'; a nice dish with super creamy soft cheese and charred aubergine with a nice chilli kick.
It really did taste good but the ratio of ingredients is definitely wrong; there was far too much rocket (a huge handful) and nowhere near enough aubergine (three small, thin slices).
Mrs FoodGeek's 'Bresaola and Rocket' salad was pleasant enough; lovely thin slices of air-dried salted beef topped with rocket, radicchio and generous Parmesan shavings.
The best bit was the large, juicy caper berries and the zingy lemon dressing.
I was impressed by the look of my 'Artichoke and Pigs Cheek Pizza' when it arrived. It could've perhaps done with another 20 seconds in the oven, or at least being turned around during cooking as the char (or 'leoparding') was much more pronounced on one side.
Nevertheless, I couldn't wait to get stuck in.
It didn't disappoint.
I'm a huge fan of sourdough bases cooked in wood fire ovens and although this wasn't quite up there with the best (Honest Crust & Pizza Pilgrims) it was very good indeed.
I liked the restrained quantities of tomato sauce, cheese and other toppings too. And the smoky pigs cheek was delicious.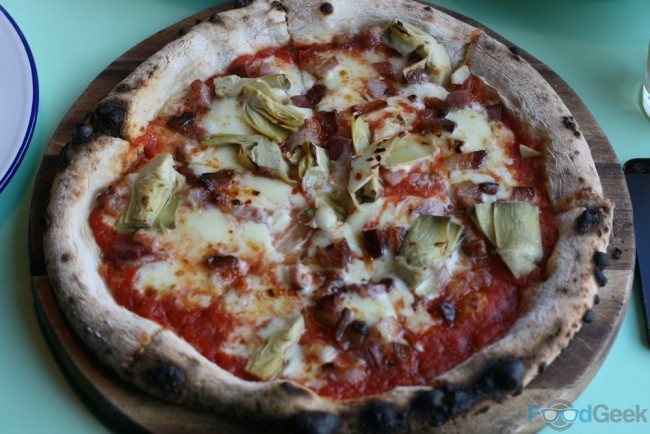 Despite Mrs FG's pizza looking pretty and containing one of our favourite cheeses (talaggio) we didn't enjoy it as much.
The base was good again but we felt without the tomato sauce topping (intentionally left out) it was a bit dry and would've almost certainly been better with tomato.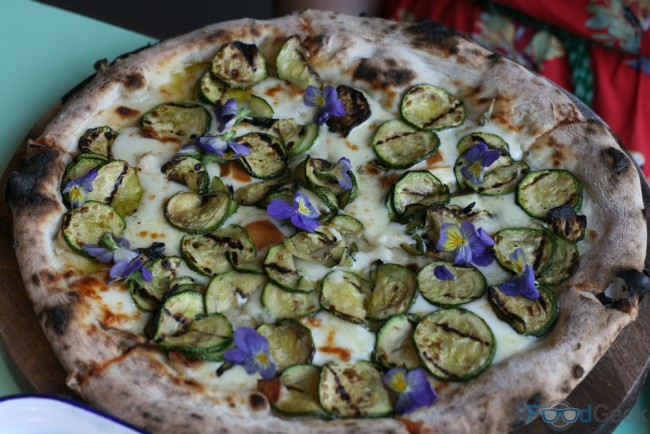 We really enjoyed the food overall and the place in general but had some issues with service.
Starting with a complete and utter shambles when trying to order beers.
First I was told that all of my first FOUR choices were unavailable. Then she came back 10 minutes later to tell me actually they did have most of them.
Only to then be told as they arrived that in fact they didn't have one of them after all. But instead of coming to see what I wanted instead she'd chosen something else for me "as it's a similar style".
Confused? Me too.
Worse still, I asked for halves and only later found out that they don't do them and I'd been served 2/3 pints, which could've been pretty serious had I been driving.
It's unusual when you've been invited somewhere to not receive excellent service but unfortunately that was the case at PLY.
Not only the mess up with the drinks but there were also several long periods of time when nobody came to check on us. And I asked for a dessert menu after finishing our main courses but never received one nor saw anybody to ask for at least 30 minutes, by which point we had to leave anyway.
To be fair, the girl serving us seemed very inexperienced so it's difficult to blame her. But it was very quiet and there were other staff on the floor too, including management.
Other than the service issues I did like PLY; it's a nice space, beers are far better than most comparable places, the standard of food is high and most importantly the pizzas are good. Whilst they're still not quite Honest Crust level for me they're not that far away and I can't think of a restaurant doing better pizzas.
If the service issues were a one off – which I'm hoping – I can definitely see myself eating there on a fairly regular basis.
Date of visit: 16.07.2015
Disclaimer: I was invited to PLY to sample the menu in exchange for honest feedback. 
Follow @FoodGeekUK