I do enjoy a good market, particularly those that sell food. I'd heard a lot of good things about Levenshulme Market, or 'Levy Market' as it's commonly known as. Held on the last Saturday of each month on the train station car park it's a community market of local traders selling everything from vintage clothes and gifts to music and of course lots of food.
There are around 50 traders and I wanted to buy from pretty much all of them. I had an enjoyable walk around, browsing the stalls and spotting a number of familiar faces, both foodie friends and some of my favourite street food vendors such as The Moocher & Margo & Rita.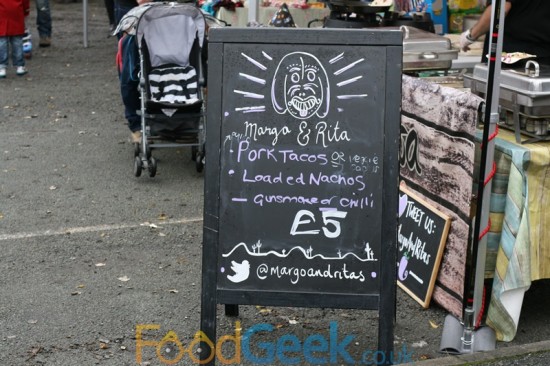 It was great to see tiny local brewery TicketyBrew there, having finally tasted their lovely beers for the first time recently I was glad to be able to stock up on them. Particularly the special edition 'Touch Of Ginger', released in celebration of winning a recent trademark dispute with alcoholic ginger beer giants Crabbies.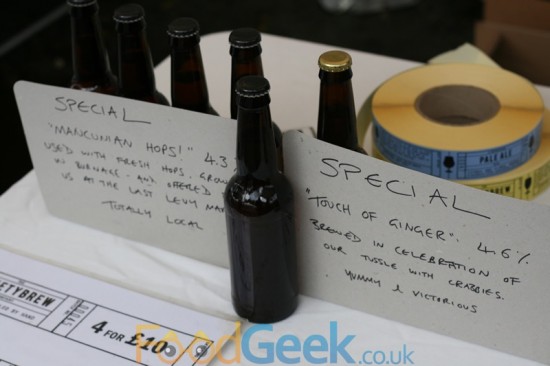 Other purchases included excellent value fresh fish and award winning sausages from 'Bobbys Bangers' which i've been desperate to get hold of for months. I can confirm that they are absolutely amazing sausages, especially the semi-cured Italian.
The main purpose of my visit though was to get my first taste of Columbian street food from friends and fellow bloggers Bailey & Jules with their ¡Arepa!¡Arepa!¡Arepa! stall.
Jules is half Columbian and having both spent time in Columbia they wanted to introduce Manchester to the intriguing arepa. But what is an arepa I hear you ask? They're maize based flatbreads cooked on hotplates, often cut open and packed with interesting and delicious fillings.
Disappointingly I arrived too late to enjoy the breakfast arepa which is filled with scrambled eggs, peppers, onions, cheese and hot sauce. I'll make more of an effort next time as they sound fantastic.
There are three options for the main arepas. 'Ajiaco' a Columbian soup with an arepa for dipping, 'Butifarra' an arepa filled with slow cooked pork and chilli mayo and the unusual 'Jackfruit', a vegetarian option that looks very much like pulled pork!
Naturally I needed to try all three. I'd expected the Butifarra to be my favourite but actually it wasn't. Though I did very much enjoy my first arepa and loved the slow cooked spicy meat with the kick of the chilli mayo.
The vegetarian 'Jackfruit Arepa' was even better. Filled with slow cooked jackfruit – apparently the largest tree-borne fruit and a member of the mulberry family – in a tomato and onion sauce. You can't see from the photo below as it's covered with 'Pande Bono' or cheesy Columbian bread balls that Bailey kindly offered us a sample of but the texture of the slow cooked jackfruit appears very much like shredded slow cooked meat. I'm sure there were a few vegetarians not sure whether to believe they could eat it!
My favourite though was the 'Ajiaco', a hearty chicken & potato soup. A delicious, warming broth packed with a generous amount of juicy chicken, chilli and capers. It was a lovely combination of flavours and unlike anything i've ever tasted before, the capers in particular were a brilliant addition. A brilliant, comforting winter warmer.
There's talk of sweet arepas coming soon but on this occasion dessert came in the form of macaroons by Alison Seagrave which were really good. Very neatly made and some lovely flavours, my favourites were chocolate and lemon but the special edition treacle toffee was also very good.
We took home Oreo & Peanut Butter brownies and Salted Caramel Tarts which were excellent too.
I thoroughly enjoyed my visit to Levy Market. There is some great produce available and everybody seems so friendly, both the traders and other customers. It's a bit of a drive for us but well worth the effort. I'll definitely be back, hopefully in November but certainly for the Christmas market in December.
Date of visit: 26.10.2013
Follow @FoodGeekUK