When I asked for breakfast recommendations in Manchester late last year one of the popular suggestions was Fyg Deli in the Northern Quarter. Before I'd had chance to visit I heard they'd been taken over and reopened as 'Wood. Wine & Deli' an independent wine bar. They promised bar stools made from tree trunks and food served on platters of rare Mexican wood. Both the food and drink menus looked excellent so I was looking forward to trying it sometime. When I was invited to sample one of their platters recently I jumped at the opportunity.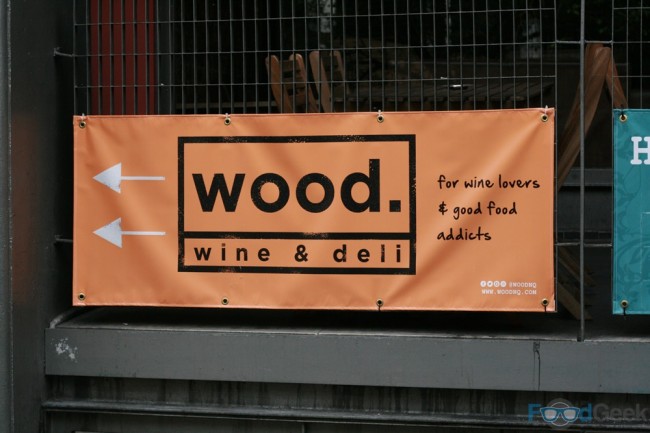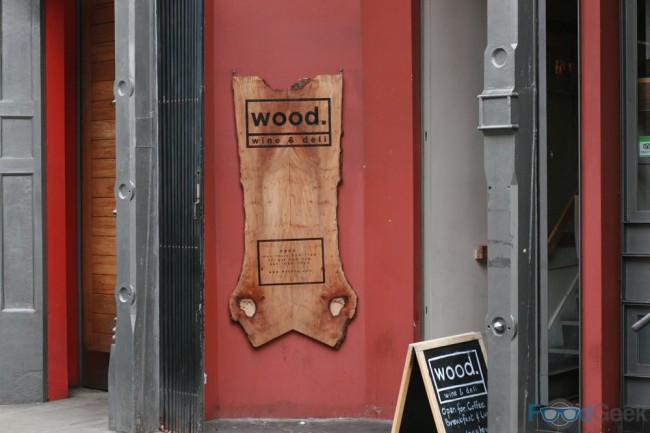 Wood certainly lives up to it's name when it comes to the decor; wooden tables and chairs, naturally. The bar is also made from planks of untreated wood, there's the stools carved from tree trunks as promised and a random piece of wood hanging in the window too. Lovely wooden shelves stock an array of deli produce available for purchase.
Although the tree trunk stools look fantastic, we settled into the far comfier Chesterfield sofa instead. The weather outside was beautiful, a Bob Marley CD playing and it felt like a really great place to sit and watch the NQ go about it's business. I was perfectly content and hadn't had a thing to eat yet.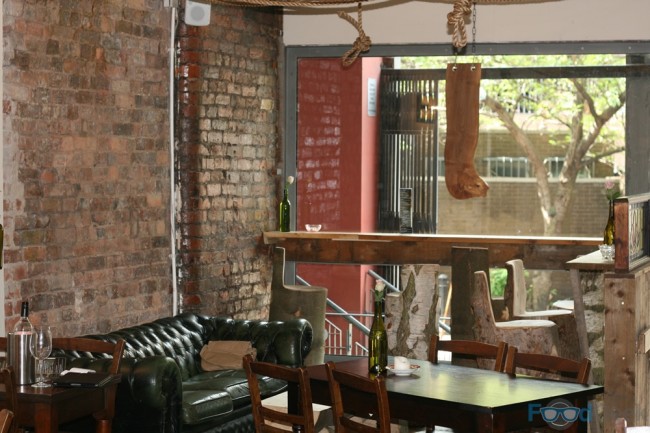 Things got even better when our wine arrived, an easy drinking 2011 French rosé, perfect for the sunny day. The wine menu is fairly varied with something to suit a range of tastes and prices.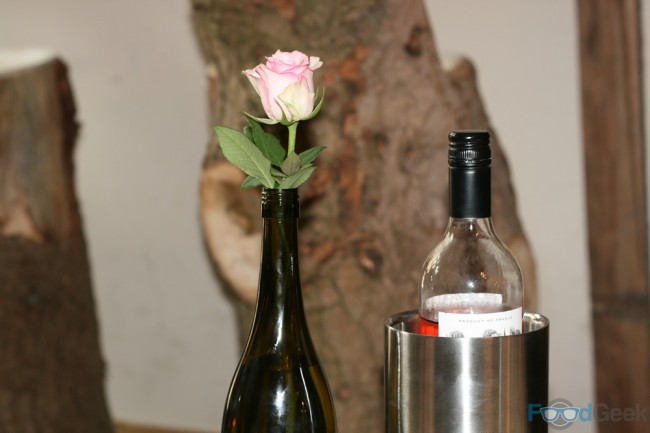 The food menu consists of Breakfast (served until 3pm), Sandwiches, a small number of 'Mains' (served until 5pm) including pasta, salads and a 'Quiche of the day'. 'Platters' are served all day which is what we were invited to try. There are several available from the self explanatory 'Cheese Board' to 'Tastes Of The North' containing a variety of Northern tastes such as pork pies and scotch eggs.
Continuing the summer theme we went for the 'Tastes of Spain' platter which arrived beautifully presented. The platter itself seemed fine but not unlike any other wooden board, despite it's rare Mexican heritage. Though it has to be said, I'm no wood expert.
I like to think I know a little something about food though and have eaten in Spain many times. Our board was packed with Spanish delicacies including: anchovies, olives, stuffed peppers, patats braves, chorizo, manchego cheese, chickpea salad, flatbread and a Spanish tortilla.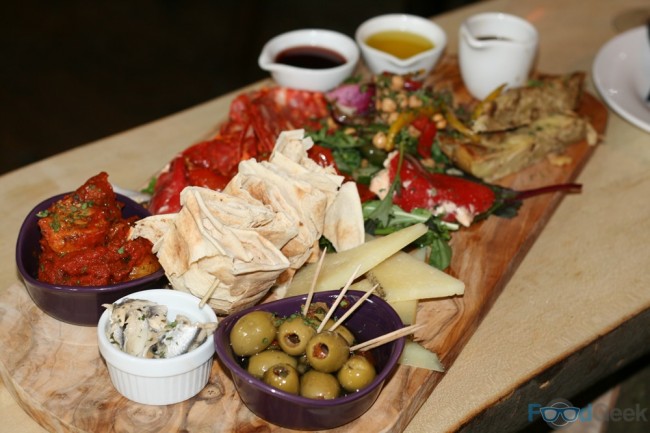 The high quality of ingredients was apparent from the olives to the cheese and particularly the anchovies. I especially liked the tortilla and chickpea salad but the highlight was the oils and vinegars. A stunning organic Spanish extra virgin olive oil which i'd have happily drunk and a tangy blackcurrant balsamic vinegar which was also excellent. My only complaint was with the flat breads, they were fine but I felt a softer bread would be more useful for soaking up the delicious oils.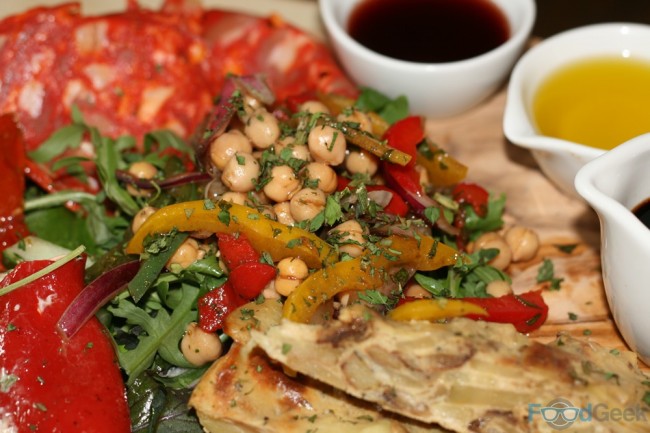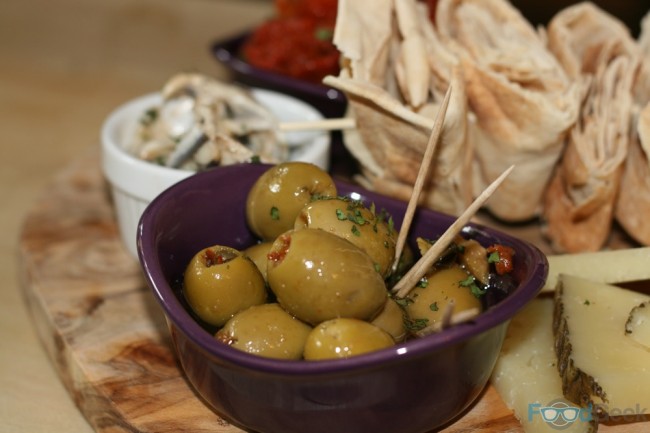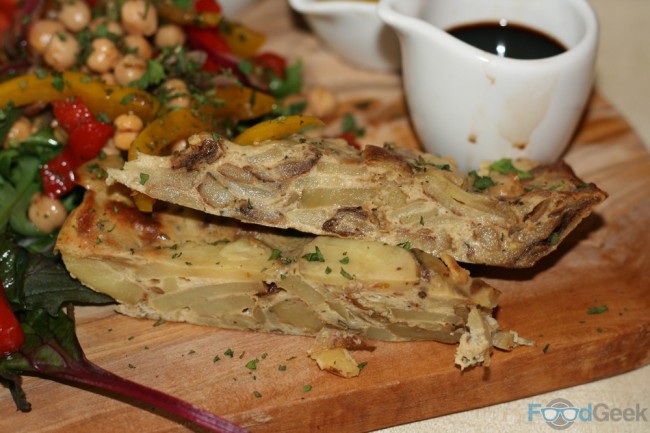 After being so impressed with the platter I was keen to try more food and noticed a specials board with 'Cakes of the day'.
We ordered an 'Egg Custard Tart', 'Peanut Butter & White Chocolate Cheesecake' and 'Cinnamon Swirl'. I'd have liked more custard in the tart as the ratio to pastry was about 50/50 and the Cinnamon Swirl was unfortunately a little stale.
But despite not really liking white chocolate or being a massive fan of peanut butter I absolutely loved the cheesecake. The texture was perfect, base just the right thickness and most importantly it wasn't too sweet as white chocolate often is.
I thoroughly enjoyed Wood, it really is a lovely place to relax and watch the world go by. It's an interesting concept, perfectly suited to the Northern Quarter. But most importantly for me the food is good.
Date of visit: 16.05.2014
Disclaimer: I was invited to review Wood. Wine & Deli and received the platter and bottle of wine to sample, free of charge. I happily paid for the cakes and coffee as well as leaving a tip.
Follow @FoodGeekUK