These days I get just as excited about good beer as I do food. I bought my tickets for not one but three sessions of Indy Man Beer Con (Independent Manchester Beer Convention) as soon as they went on sale in Spring and spent the next six months counting down the days.
I'd booked onto Jackie Kearney's (aka The Hungry Gecko) beer matched meal as well, which I was equally looking forward to. I read several fantastic reviews of Tim Anderson's meal last year which Jackie helped with so had high expectations.
The private meal was hosted in one of the small ante-rooms within Victoria Baths, the stunning venue of Indy Man Beer Con.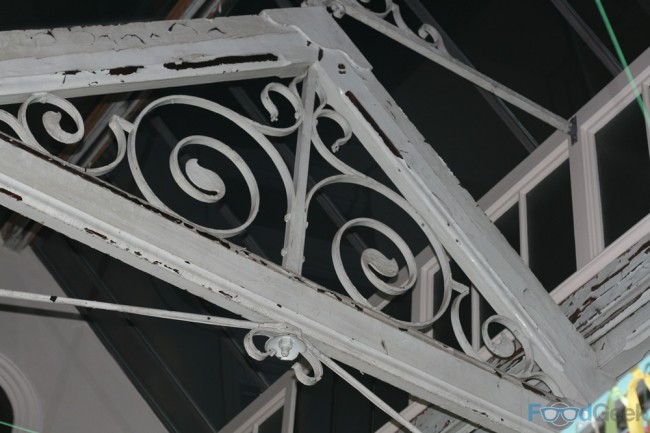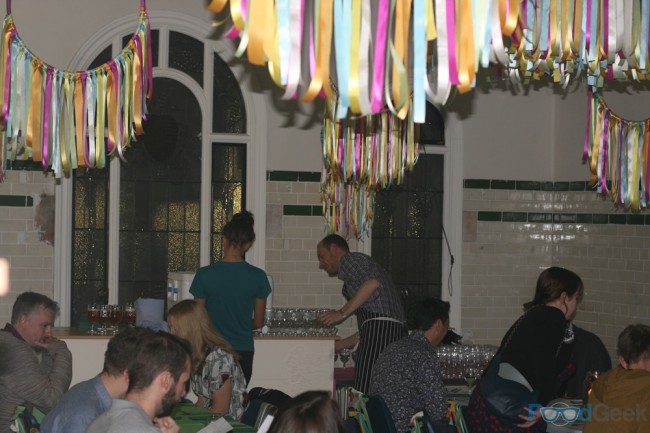 After sitting around waiting for what felt like forever we finally received some food. To be fair, though it did feel like forever it was probably no more than 20 minutes. But bear in mind that the entire four course meal was only supposed to take an hour and there was another sitting due in just 30 minutes after us. Also, I couldn't help thinking how much drinking time we were wasting!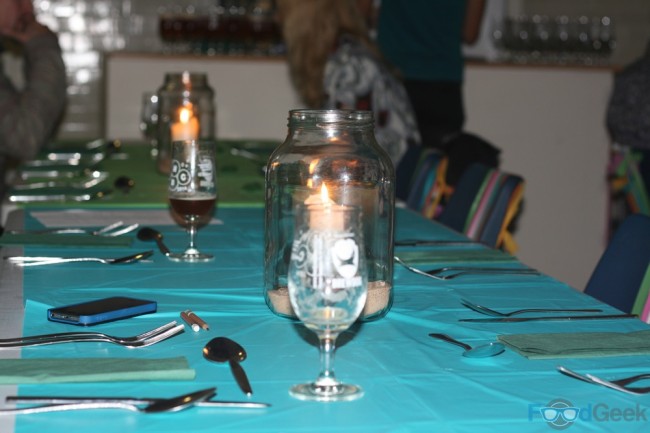 The first course 'Sweet & Sour Popcorn Tofu' was a fairly underwhelming start. The crispy tofu balls were quite bland on their own; not a problem as they were served with a 'plum sweet & sour sauce', but unfortunately I found it far too sweet and not enough sour.
The paring worked really well with the dish though; Shnoodlepip by The Wild Beer Co is a lovely beer that tastes as unusual as its name. With slightly odd sweet and sour flavours of its own, along with a peppery finish that helped to balance the overly sweet sauce.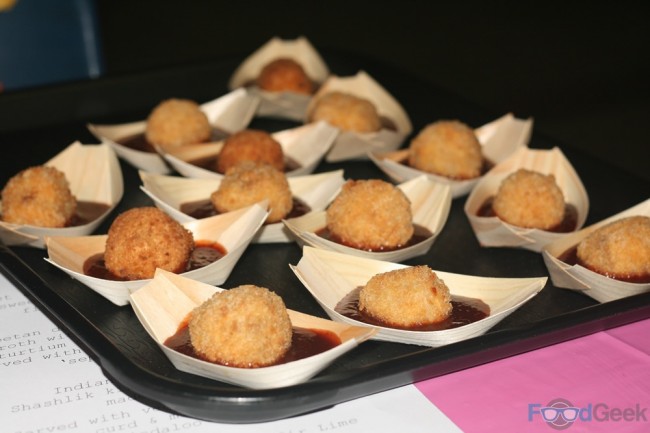 There was another long wait before the second course and plenty of confusion too. Although Mrs FG isn't actually a vegetarian she often chooses to eat the vegetarian options when available. The menu both on the night and at the time we ordered tickets quite clearly stated "wild mushroom & nasturtium OR beef & nasturtium" which suggested there would be a choice. However, it turned out that they only had vegetarian versions for people who'd told them in advance. Something we were never asked. Eventually she got her mushroom based dish but it was a long time after everybody else had finished and it was obvious that things hadn't been organised very welll.
At least the 'Momo Soup' was a vast improvement on the first course. While the clear broth itself lacked flavour,  the Tibetan dumplings were absolutely delicious. I think the idea was to stir the Tibetan 'Sepen' Chutney served on the side into the broth which did improve the overall flavour a little, though even the chutney didn't have as much flavour as it probably should and this was never communicated to us either. So I could've been committing some major faux pas. All in all, I thought it was a decent dish though, many people around me disagreed.
But I disliked the beer this time. Admittedly saison isn't my favourite style but I've had plenty that I do like. 'Saison' by Burning Sky Brewery definitely isn't not one of them, it turned out to be one of the worst beers I had at Indy Man, and there were many (51 to be precise).
The main course was described as an 'Indian Dining Plate' which sounded more exciting than it actually was. Three well cooked and fairly tasty king prawns were sat on what was supposedly a 'vegetable biryani' but was essentially just a mound of quite bland rice. The action was all in the circle of flavour around the edges; dollops of goat curd and mint mousse were refreshingly delicious and there was an occasional burst of sweet and tangy juice from the few pomengrate seeds. If only there was a lot more of those elements it could've been a fantastic dish.
There was a 'Vindaloo Shot' on the side too which got me excited but again proved to be lacking in flavour. I know I'm seemingly immune to chilli and like things much hotter than most people but if you call something a 'Vindaloo' it has to have some serious heat which this just didn't.
The main course was paired with a beer from one of my favourite breweries, Buxton Brewery. 'Ace Edge' is a special version of one of their best beers Axe Edge which is loaded with Sorachi Ace hops to give a totally unique flavour. I think I just about prefer Axe Edge but this was still a brilliant beer and by far the best of the four pairings.
The vegetarian option was basically the same dish but with paneer instead of prawns. We didn't get to taste it as Mrs FG didn't even get a main course due to the vegetarian cock-up. Though we did receive quite a few beer tokens as compensation which somewhat softened the blow. She bought tacos from Margo & Rita later instead, they were excellent.
Dessert didn't look particularly impressive and had a misleading title of 'Lemongrass & Lime Kaffir Tart'. It was clearly a cheesecake and not a tart but I thought it tasted pretty good. The lemongrass and lime flavours were rather subtle, in fact it was a little over sweet and would've benefited from some sharpness from the lime. The highlight was the vivid red goji berry sauce which added a different dimension.
The final beer pairing was Gose by Westbrook Brewing. An interesting sour wheat beer that contrasted with the sweet dessert really well.
I did enjoy several parts of the meal but overall left feeling disappointed. There were serious organisational issues which might not have been so bad had the food been amazing but it just wasn't. I've eaten Jackie's food before and always really enjoyed it but on this occasion too much of it missed the mark. I'm not sure if it's because she was under pressure to serve 30 portions of each course at once or if she consciously decided to tone down the flavour and heat in her dishes but either way it didn't work. There were other diners who enjoyed it even less than I did.
I wasn't impressed with the beer pairings in general either, even though I loved the Ace Edge and felt a couple of the others did work well with the dishes. I think they were all far too similar in style and would've liked to see a much wider range.
Tickets weren't cheap either at £37.50, although that included entrance to Indy Man which would've cost around £10. I'm really not sure that these four dishes and four small beers were worth over £25 each. For less money I could've bought myself enough tokens for twice as many (better) beers and two amazing pizzas from Honest Crust who were outside with their wood fire oven.
Sadly, I couldn't help wishing that I had.
Date of visit: 10.10.2014
Follow @FoodGeekUK