It's ever so slightly awkward being asked to visit somewhere you've previously been fairly negative about. It happened recently when I was invited to Momentum Restaurant & Lounge in Westhoughton. I'm assuming they hadn't read my less than glowing review anyway. Still, it was over two years ago and my complaints were all service related. I was impressed by the food back then so thought it'd be a good opportunity to see how they've progressed.
Momentum is located in Westhoughton, a suburb of Bolton where you wouldn't necessarily expect to find a 'fine dining' restaurant or cocktail lounge.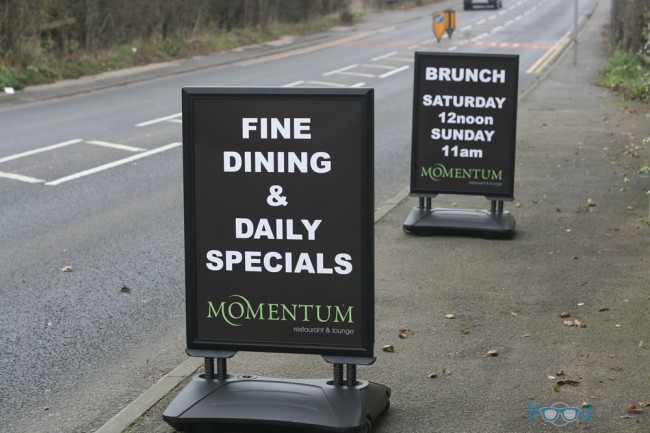 Inside is as inviting as I remembered; with modern decor, smart cutlery and plush, comfy seating.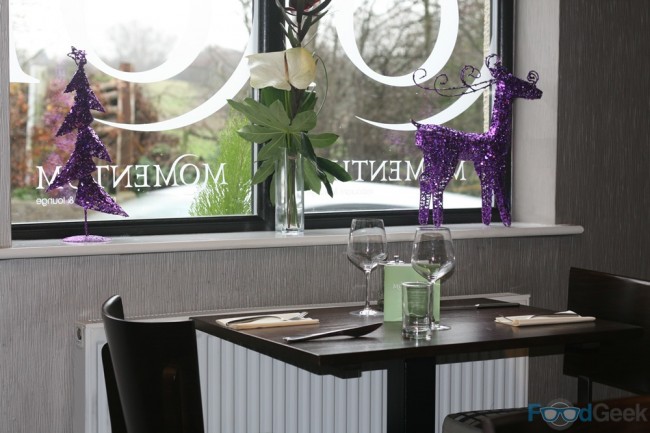 Besides slow service, another issue last time was the temperature of the place (it was freezing). No such problem this time as the restaurant was lovely and warm. Better still, we were then seated right next to a cosy fire.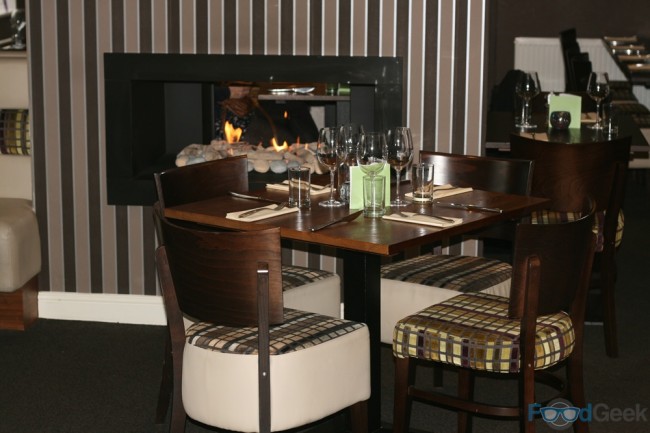 The menu at Momentum is full of intriguing sounding dishes from a variety of cuisines, all with a modern twist. I was particularly impressed by the amount of seafood on offer.
There are some things I just can't resist ordering wherever I see them, whitebait is one of them. These were very good; super crispy and served with a chilli salt, which gave it a real kick. A great start to the meal.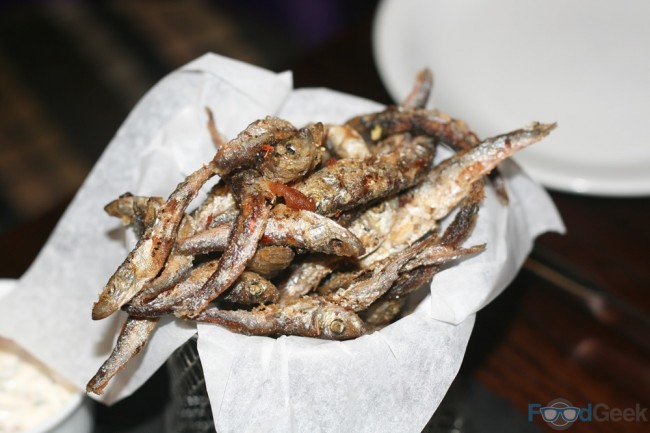 Perhaps noticing how much seafood we'd ordered the chef also sent out 'Panko breaded tiger prawns' for us to try. They were just as good. Fat juicy prawns with a crisp yet light, almost tempura like batter. Served with a sweet and spicy mango and chilli dipping sauce. They came sat on a fennel and pomegranate salad; a fantastic combination and good accompaniment to the prawns. I would've liked a bit of citrus zing to balance the sweetness but it was a great dish nonetheless.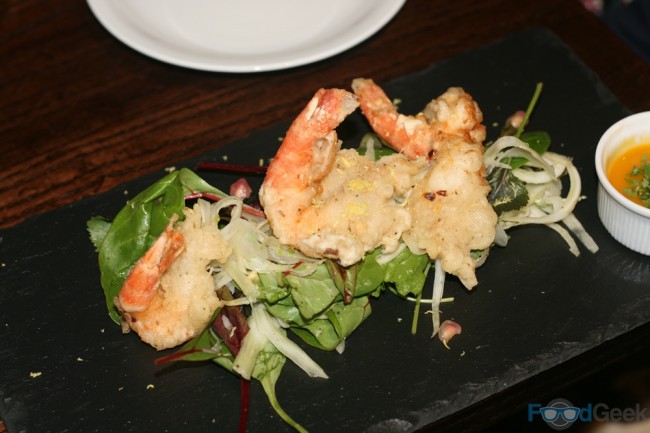 For my starter; 'Glazed pork belly pancakes', a clever twist on the more conventional duck and pancakes. The meat was ridiculously tender, presumably slow cooked for many hours. Accompanied by chopped fresh chillies, spring onions and coriander along with chilli sauce, sticky soy sauce and several Asian style pancakes. Making them up was kind of messy but a lot of fun. I'm not ashamed by how much mess I made with this dish, but I am ashamed to admit I genuinely considered licking the spillages off the table, it tasted that good.
Like the prawn dish I felt it was a touch sweet overall and would've benefited from a squeeze of lime perhaps.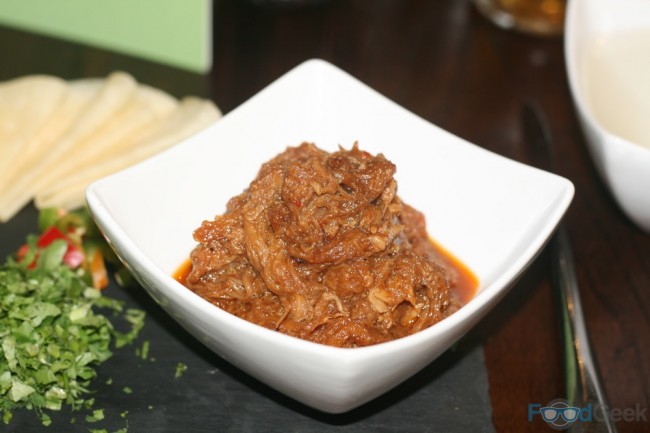 Mrs FG's 'Grilled Halloumi and minted watermelon salad' was also excellent. Watermelon and feta is one of my favourite combinations and it works just as well with Halloumi. Salty cheese and cool sweet watermelon is just a brilliant combination. The almost pesto like mint oil added another dimension to this interesting and tasty salad.
It was back to seafood with my main course of 'Sea bass with ratatouille & sautéed potatoes'. A beautiful and highly accomplished dish; perfectly cooked sea bass with soft flesh and a wonderfully crispy skin, sat on a bed of ratatouille. The sautéed potatoes were soft and crisp in all the right places and I loved the addition of crispy fried basil leaves and salty olives to counter the sweetness of the ratatouille. All that was missing was a little Mediterranean sunshine.
Across the table Mrs FG was getting stuck into a very generous portion of 'Spaghettini of queenie scallops, king prawns and mussels'. The seafood was all well cooked and plentiful as was the pasta, it was held together by a silky lemon, garlic and olive oil sauce. She struggled to finish it but only because of the portion size, enjoying every mouthful before I gallantly stepped in to help out.
For my dessert I'd ordered a baked custard tart, moments later the chef appeared with an apologetic look on his face. It wasn't set enough to serve yet he said. A crushing blow but I totally respect him for not sending it out if he wasn't happy with it. Instead I went for the even more comforting 'Sticky Toffee Pudding', perfectly suited to the cold autumn day. Moist sticky sponge cake sat in a bowl of rich toffee sauce topped with contrastingly cool vanilla ice cream. It's about as close as you can get to a hug in a bowl.
There was another winter warmer for Mrs FG, in the form of 'Apple & Blackberry Crumble'. A really good crumble with plenty of fruit – decent sized pieces, so it hadn't broken down to mush – and quite sharp too which we both loved. Serving with both ice cream and custard is inspired and I'll demand it for all future crumble dishes. Being overly critical; the custard was perhaps a little thin but it tasted good all the same and it didn't stop us finishing every last drop.
The chef sent out a few additional desserts for us to try; Chocolate Brownies, Cherry Scone and a Chocolate Toffee Crunch. We did try them all and enjoyed what we could manage but were unable to finish them after everything that came before.
I thoroughly enjoyed my second visit to Momentum, I'd like to think either I caught them on a bad day last time or, if it was a bigger problem, at least it's been identified and rectified since.
Of course you'd expect service to be spot on given that I'd been invited and so it was. But I watched as all the other diners were looked after just as well. There were certainly no long waits like last time for myself or anybody else.
The food was as good if not better than previously too, it's by far the most interesting and ambitious menu anywhere in the area but they definitely pull it off. Everything was cooked to a high standard; particularly the seafood and the pork pancakes dish is one of the most fun I've eaten for a while.
I've no doubt that I'll return to Momentum and if I lived closer I'd probably be a regular. I can't think of anywhere better to eat food like this without going to Manchester.
Date of visit: 21.11.2014
Disclaimer: I was invited to Momentum to sample the food as a guest of the restaurant. Like usual this does not guarantee a write up, let alone a positive one. 
Follow @FoodGeekUK