I've always loved BrewDog; their beer and their bars. I used to love their food too; the BBQ menu was fantastic, featuring: tender ribs, brilliant burnt beans and a simply stunning smoked mac 'n' cheese. And I'm not ashamed to say I've made several visits purely to get my fix of their awesome fried pickles.
So you can imagine my disappointment when I discovered that not only has all that amazing BBQ food been replaced, but that it's been replaced with just three burgers and a hot dog! I came close to cancelling my latest visit in protest but decided it was only fair to give it a try, at least I knew I'd drink well.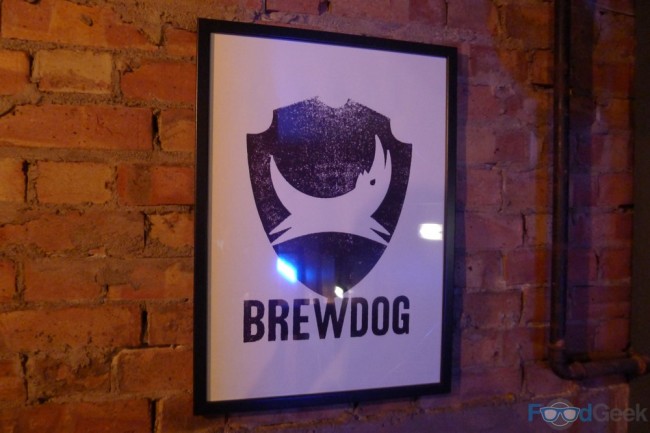 We sat in the quieter, relaxing upstairs area on the super comfy couches. Enjoying a couple of drinks whilst browsing the menu and deciding what to order. It didn't take long.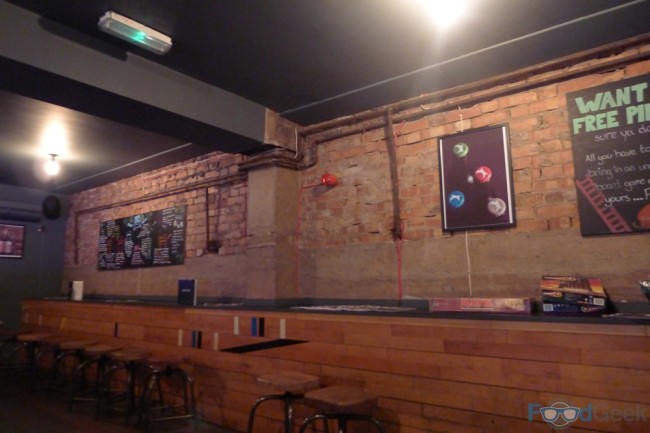 Even the sides have gone; the beans, mac 'n' cheese and pickles are no more. Instead the only side dish on offer are 'Tots', deep fried mini potato croquettes also known as tater tots. Big in America apparently.
BrewDog's version comes with a variety of toppings such as cheese, onions, pickled jalapeños and chilli con carne. Conveniently there's also an option for greedy people which includes all of the above!
I wish I could say I didn't enjoy the Tots but I did. They're crispy, fried potato topped with spicy, meaty chilli and melted cheese. What's not to love? The perfect snack for eating with several high ABV beers but they're not even close to the quality of the dishes they replaced in my opinion.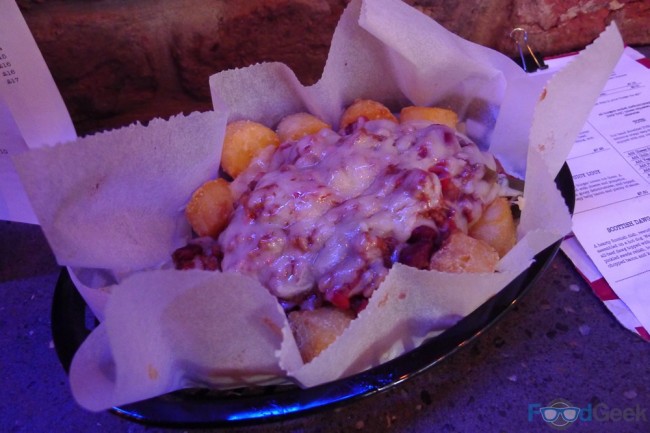 It's no secret that I'm fond of a burger, just as well really as it was that or a hot dog. Of the three burgers available I only had eyes for the 'Juicy Lucy'. I was first made aware of this creation via Adam Richman on an old episode of Man Vs Food and have been fascinated with it ever since. My only previous encounter with one was at Solita which I'd loved so was keen to try a second.
It wasn't as good as Solita but was a pretty enjoyable burger all the same. For those not in the know, a 'Juicy Lucy' patty contains cheese, actually inside the patty. As the patty is cooked the cheese melts and oozes out when you bite into it. It makes for a gooey, cheesy, messy but tasty delight. BrewDog's Juicy Lucy patty had chopped jalapeños in with the cheese too which I really liked. Served in a brioche bun accompanied with crispy bacon and lettuce.
Although I did enjoy the food on this occasion I didn't love it like I have previously. It's not that the food is bad but there are plenty of other places to get burgers and hot dogs in Manchester, many better. And the menu is so limited now I've no reason to return to eat anytime soon. It won't stop me drinking their of course as I still love the place and the beers, but next time I'll be eating elsewhere before or after (probably both).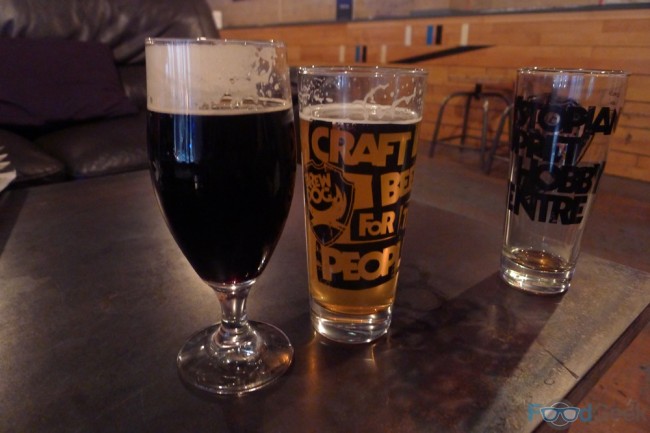 Date of visit: 05.10.2014
Follow @FoodGeekUK
Review Overview
Summary : Decent burger but not even close to matching the quality of the previous menu. Doesn't do the beers of offer justice.