There are plenty of Thai restaurants in Manchester but until last year none that I really wanted to eat at. Most are either way too expensive or serving up average, westernised food. Or both.
Then Siam Smiles came along.
There was so much buzz about Siam right from the start, including a hugely positive review from Marina O'Loughlin in The Guardian. I'm ashamed of myself for not getting there sooner, but earlier this year I finally did.
Located on George Street in Chinatown, you'd be forgiven for walking straight past as it looks very much like a small store from the outside.
Because it is.
Essentially just ten or so tables on the shop floor of Siam Supermarket, a basement Thai grocers.
There's a certain charm to the decor but it's very much a no frills sort of place.
But who cares about fancy chairs and table numbers when the food is so exciting.
We started with one of my go-to Thai dishes; Sai Krok E-San. Homemade Thai sausages that are left to ferment for a couple of days to give a tangy, almost sour flavour which is balanced beautifully with fiery ginger, chilli and spices.
'Lok Chin Moo' are steamed pork balls, they weren't quite as enjoyable, mainly due to their rather odd, almost sponge-like texture.
They tasted pretty good though, with a deep savoury pork flavour, which was even better when combined with the spicy chilli sauce.
My main course 'Kuay Tiew Ped' was absolutely fantastic.
Egg noodles in a meaty broth with a real depth of flavour, topped with a generous amount of roast duck with incredibly crispy skin and water spinach. Easily one of the best noodle dishes I've eaten for a long time.
Mrs FG's 'Kwai Tiew Yen Ta Fo Tom Yam' was also good, though slightly more challenging.
Containing fermented red tofu, fish balls and curdled blood along with flat noodles and water spinach. The broth was unusual and very savoury but we enjoyed it.
It's difficult not to like any dish that comes topped with pork scratchings to be honest.
Like all good Thai restaurants there are various condiments on the table to allow you to adjust the seasoning and more importantly the heat of your dish.
Naturally I added a ridiculous amount of chilli flakes, chilli vinegar and pickled chillies along with some none hot ingredients including fish sauce and crushed peanuts.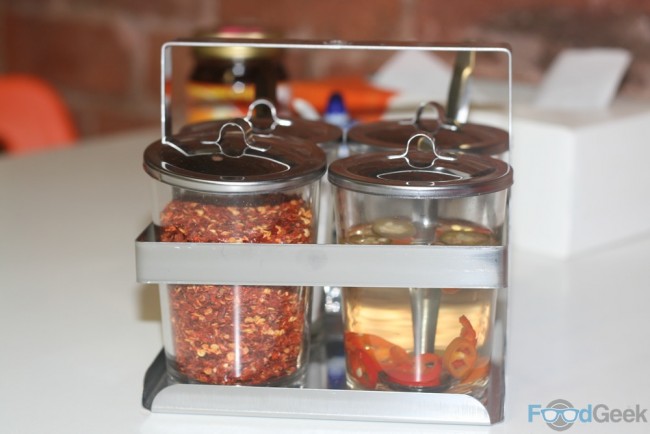 Even the rice here is brilliant. Served in the mini bamboo basket in which it's steamed, the sticky grains clung together for dear life yet each and every one was perfectly cooked and not at all mushy.
There's no alcohol at Siam Smiles sadly but there are an array of interesting Thai soft drinks on the supermarket shelf which can be taken and added to the bill.
Plus a range of Chinese and Thai teas served in fancy mugs.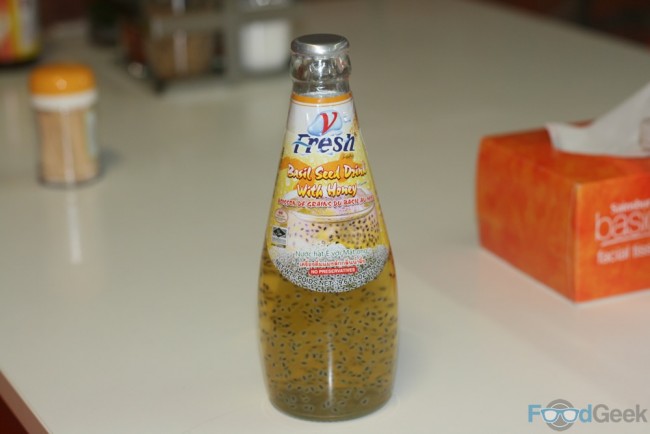 I loved everything about Siam Smiles; the food is rustic and honest but feels genuinely authentic and is fantastic quality. Everything packs a real punch in terms of flavour.
Service was a little hectic as it got very busy during our visit but it was always charming and it's very easy to forgive when everything tastes so good.
It's excellent value too; you'll really struggle to spend more than £40 for two, unless you're happy to be rolled out anyway.
Date of visit: 27.02.2015
Follow @FoodGeekUK