Since 'retiring' last year Ryan Giggs seems to have seriously upped his workload.
Assistant manager of one of the biggest football clubs in the world is a full time job to most, but he's also pursuing a number of personal business ventures including co-owning Salford City football club, a restaurant, George's in Worsley and now Hotel Football.
Located right outside Old Trafford, the football-themed hotel, restaurant and bar has become a go-to destination for fans on match days.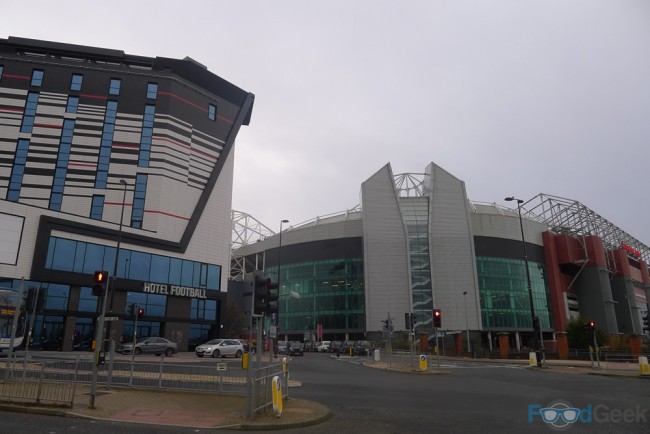 But it's not just for the football crowd, it's a popular conference centre too and the Charlatan's even played a gig there recently. Most interesting for me though is that they're taking the restaurant, Cafe Football seriously.
Executive chef Brendan Fyldes has a great pedigree after starting his career at Michelin-starred Northcote over 20 years ago before going on to work under Paul Heathcote, Richard Corrigan and Marco Pierre White.
A few weeks ago I was invited to preview their 'Festive Menu' and special three course 'Christmas Day Menu'. I usually try to contain Christmas to the month of December, but I made an exception as I was keen to see Hotel Football and try Brendan's food.
The event was hosted upstairs in the 'Class Of '92 Suite'. Looking suitably festive with Prosecco flowing and Christmas music playing. There's a pretty decent view from the window too.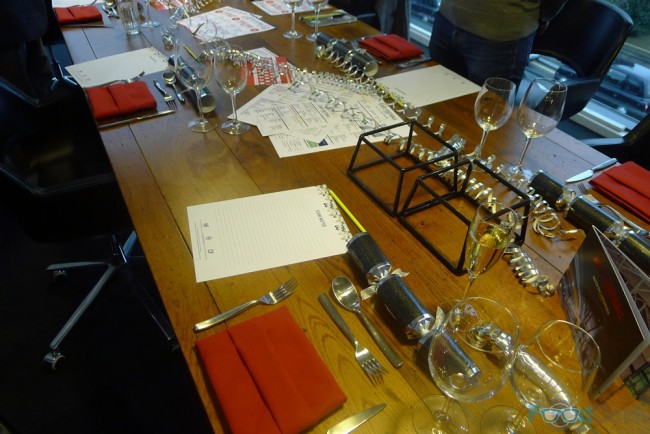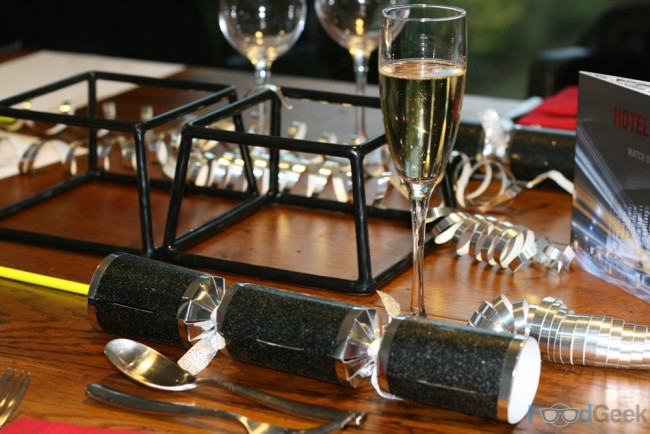 The festivities began with a small shot of sweet, velvety 'Chestnut Soup', the vegetarian option for Christmas Day diners (I imagine they'll get a whole bowl though).
Fish eaters will instead be tucking into 'Sea Salt Cured Salmon'.
Slices of luxurious, slightly smoky fish are served with an assortment of condiments; horseradish sauce, chopped shallots and capers along with excellent, freshly baked Irish soda bread.
While the 'Festive Menu' – which is available right now until Christmas – features a whole 'Rack Of Ribs' and 'Chicken In A Basket'.
We received a platter containing a small sample of both. The ribs were particularly good; ridiculously tender with a sweet and spicy barbecue sauce.
Other dishes include 'The Shrimper', a modern twist on a classic prawn cocktail and 'Treble Pies', a trio of beef and onion, curried chicken and cheese and vegetable mini pies.
My favourite starter was 'Deep Fried Brie'. Crisp breadcrumbs encased warm, gooey French cheese. The cranberry and port sauce on the side was divine and a fantastic partner for the cheese.
Main course on Christmas Day is a traditional Christmas dinner, naturally.
Juicy roast turkey is served with fondant potato, sage and onion stuffing, honey roasted root vegetables, sprouts with bacon, gravy and the world's fattest pigs in blankets.
The regular 'Festive Menu' features somewhat less Christmassy main courses such as pizzas, burgers (both beef and fish) and chicken tagliatelle.
There is at least one Christmassy dish, though, 'Festive Pie' is filled with succulent turkey, chestnuts and ham and comes served with gravy and parsnip chips.
Audible gasps could be heard around the table as dessert was brought out.
After so much food it was really the last thing anybody needed. Unlike Christmas dinner at home we couldn't snooze on the couch for the rest of the day.
But they looked so appetising I couldn't resist getting stuck in.
The 'Sticky Toffee Pudding' was good, particularly the salted caramel ice cream on top.
Better still was the 'Christmas Pudding', a traditional affair topped with brandy butter and served with creme anglaise.
And that really was it. Even I couldn't manage another bite.
Executive chef Brendan came up to see us whilst we quietly slipped into a food coma. He spoke about his career and talked passionately about Lancashire and the surrounding areas, he's proud that as much produce as possible is sourced locally.
Overall I think Hotel Football and Cafe Football is a great thing, I grew up eating nasty fast food before and after matches and would've loved somewhere like this.
But equally, the food is good enough to be a restaurant in it's own right.
Date of visit: 19.11.2015
Disclaimer: This was a special, invitation-only preview event. 
Follow @FoodGeekUK