I've been attending supper clubs for over two years now, but although I've been to loads they're mostly run by the same few people. It had been ages since I went to a new one.
Step in the new kids on the block, 'The Gourmet Gays', also known as Stephen, Andy and Carl.
The menu for their inaugural supper club 'A Night In Sevilla' looked fantastic, but unfortunately, I couldn't make it. I did get to their next event 'A Venezian Evening Of Cicchetti' though. Ironically just a couple of weeks after returning from a holiday in Venice.
Salford may not be able to compete with Venice in many ways, but Stephen and Carl's Quay's apartment is inviting, quite fancy and very colourful.
We were welcomed with a lovely 'Bellini'.
The food quickly followed. Firstly, 'Pan fried olives' and 'Fried hazelnuts'.
I only came across fried olives for the first time last year at another supper club, they blew my mind then and were just as good here.
As were the 'Fried hazelnuts', also a first for me and another revelation.
Next up, cured duck prosciutto. Really delicious and all the more impressive after learning that they'd cured it themselves!
Better still was the gorgeous soft quails egg wrapped in smoky speck, with a big salty, fishy hit of anchovy.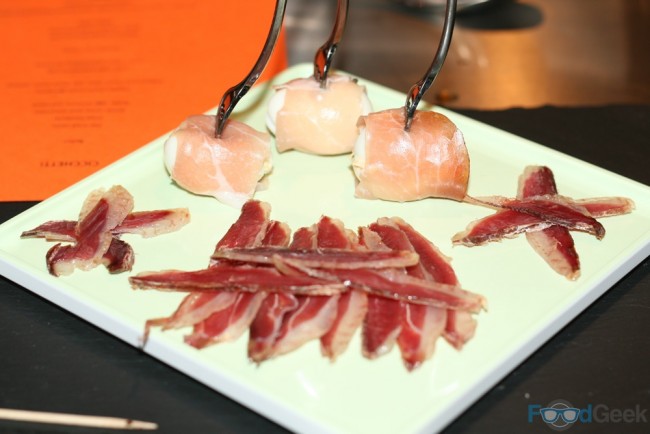 And yet more delightful small bites in the form of a sweet and sour crostini and a delicate little polenta cake.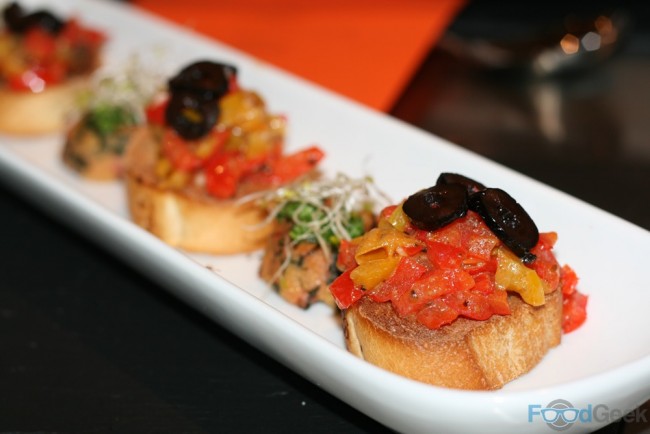 Then 'Fritto Misto', an enticing looking plate of fried seafood: giant prawns, succulent squid and crisp whitebait. Along with crunchy balls of crabmeat and thyme.
The best bit was hidden underneath, the crispy, salty delight of tempura samphire.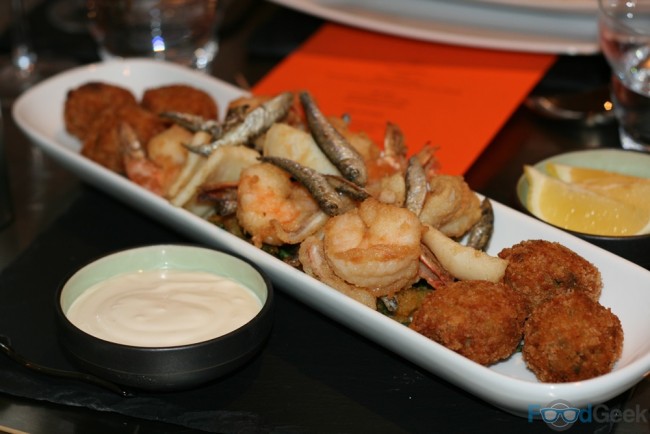 Although I quite like risotto, I didn't expect my favourite dish to be the 'Chicken Liver Risotto', but it was just so good.
The rice cooked to perfection, with a real depth of flavour throughout and finished with generous chunks of tender chicken liver.
I'm not ashamed to say I ate most of one the other guests risotto too (a stranger only an hour earlier). Even Mrs FG, not known for her love of offal, particularly liver, devoured it.
Main course was a decadent 'Radicchio & Gorgonzola Bake', a beautiful balance of bitter leaves and salty, tangy blue cheese.
Along with a rich and meaty 'Oxtail, Tomato & Porcini Stew', with a fresh and leafy 'Italian Salad'.
I expected not to like half of the dessert as despite loving coffee I'm not a huge fan of coffee flavoured puds.
But the 'Cappuccino semi freddo' was stunning. Beautifully smooth with the perfect balance of creaminess and coffee flavour.
Although I loved the homemade meringue even more.
I genuinely thought they'd been bought as they looked so perfect, but Stephen swore he'd made them himself. I could tell it was true the moment I bit into it, you'd never get such a light crisp exterior and soft, gooey inside from a packet.
The limoncello curd was sharp yet sweet with a velvety smooth texture.
We finished with good strong Italian coffee and a couple of final treats, homemade 'Biscotti' and 'Chocolate Salami'.
I really enjoyed my first experience of The Gourmet Gays and was impressed with how smoothly everything ran.
Like all supper clubs their success is partially dependent on the other guests and we were lucky to meet some great people. I liked the fact that there are only six around the table, the smallest supper club I've ever attended.
But mainly because the food was just so good. I sometimes worry about writing up supper clubs because whilst I have to be honest it just doesn't feel right to criticise when I'm in somebody's home, eating food that they've cooked usually for fun rather than money.
But I can truly say that every single thing I ate was as good as anything I'd had in Venice and would be fitting of any fine Italian restaurant.
Date of visit: 22.09.2015
Follow @FoodGeekUK