Many people – including Iain, aka the Drunken Butcher – say the cheek is the best part of any animal. It makes sense really given how much work those muscles get through.
They can be tough though without careful cooking, luckily he knows what he's doing and decided to show us by putting on 'The Cheek Of It', a seven course menu using the cheeks of six different animals, even one for dessert!
Thankfully he didn't try to incorporate meat into the welcome drink though. Instead we received Ian's classic house cocktail; a combination of homemade red fruit whiskey, bitters and fizz.
The food started with a light and refreshing 'Monkfish Cheek Ceviche'.
Predictably, I'd have liked a bit more chilli heat but I loved the sharp citrus flavours with the soft, tender fish while the slightest hint of smoke added extra depth.
Followed by 'Chilli & Soy Pork Cheeks'.
I've had these several times before and they never get dull; succulent meat with a huge umami kick and a nice bit of heat at the end.
Another dish I'd eaten before but was very happy to see again was 'Deep Fried Cod Cheeks'.
The crispy citrus battered nuggets of soft, flaky fish are about as good as fried fish gets.
Served with excellent mushy peas – full of vinegar – and a brilliant homemade tartare sauce with a great acidity to cut through the batter.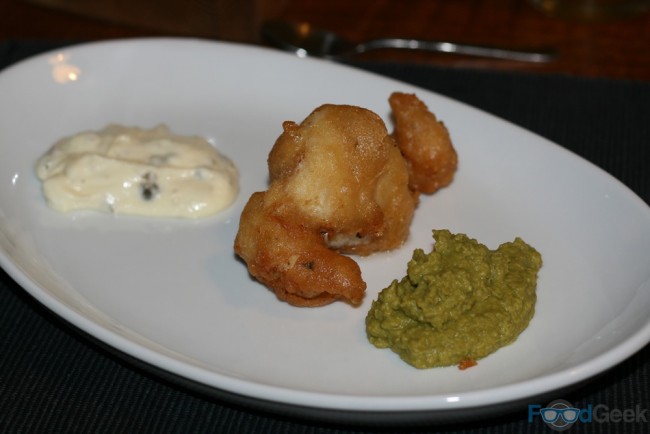 And then the highlight of the night.
Not the cider & thyme braised pork cheeks, although they were pretty special themselves.
No, it was the 'mashed potato sauce'. I've seen 60/40 mash (60% potato, 40% butter) and Michel Roux Jr famously insists on 50% butter in his but this was something else.
I didn't dare ask Iain but I reckon it's fairly safe to assume that there was more dairy than potato in this sauce. It was rich, indulgent, silky smooth, creamy and buttery, whilst at the same time still actually tasting of potato. Fantastic stuff.
I'm not sure I've ever eaten 'Lamb Cheeks' before but I hope I do again. There's the same mouthwateringly succulent texture as the pork cheek but with a gorgeous deep lamb flavour, I wonder why we don't see them around more often?
The fondant turnip upon which the lamb was sat was also unusual but excellent.
My only minor complaint all night was that the sweetbreads they were accompanied by were perhaps a little small to really appreciate them.
I've enjoyed Iain's 'Ox Cheek Ragu' previously too. Last time with gnocchi, this time with deep fried cauliflower cheese.
The ragu was as ridiculously rich, meaty and meltingly tender as I remembered (thanks to being slow cooked for about 2 days).
The deep fried ball of cauliflower cheese added a cheesy creaminess and a welcome crunch. A clever twist on the now infamous deep fried mac 'n' cheese.
Sides included greens and some of the best triple cooked chips around.
How do you make a dessert from cheek meat?
Candied pork cheek lollipops! These were somewhat unusual but were sticky and sweet enough to work as a dessert.
Particularly when served with a fabulously boozy maple syrup & bourbon ice cream. A fitting end to a fantastic meal.
Despite the fact I'd spent all day before the supper club drinking at Magic Rock Tap in Huddersfield I couldn't resist taking my own beers to Iain's as well. One of the things I love most about supper clubs is the fact that they're BYO (bring your own).
I love taking quality beers matched to the individual dishes. On this occasion the highlight was a stunning 15% Bourbon barrel aged imperial stout that was just perfect with the dessert.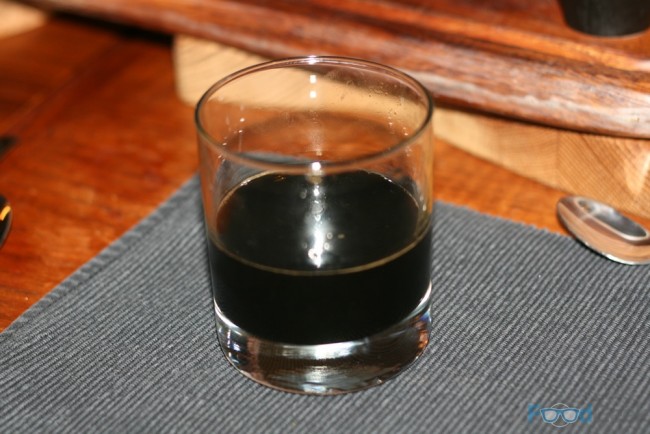 I must admit that as much as I trust Iain's cooking and have never been let down by any of the many supper clubs I've attended, I wasn't totally sold on the concept of this one initially.
Whilst I love eating cheeks I just worried that using them for all seven courses would be a bit much and feel too repetitive.
I should've known better though as it totally worked, none of the dishes felt remotely similar and it was just a brilliant menu overall.
Date of supper club: 11.07.2015
Follow @FoodGeekUK