There were glimpses of the Drunken Butcher's fancier, more refined side at his Spanish themed supper club last year. But even that didn't quite prepare me for the transformation from hearty, comfort food to the fine dining tasting menu at his very special 'One Night Stand' event last November.
Not only was it Iain's most ambitious menu to date, it was by far the biggest too at 12 courses. Each was paired with a matching wine, selected by Nicolas Rezzouk of Reserve Wines in Didsbury, from where the wines were also sourced.
It's customary to receive a welcome cocktail at Iain's supper clubs but for the occasion it was replaced with a fresh and crisp Champagne.
The aperitif was served with several canapés: 'Bourbon cured salmon', 'Torchon of suckling pig head', 'Chilli & soy pork cheeks' and 'Cheese, sage & elderflower wontons'.
I've no idea what's involved in getting the meat off a suckling pig's head and turning it into a delicious, deep-fried, bite sized morsel such as this but I'm glad Iain does as they're amazing!
The salmon crostini was also excellent; home-cured with Jim Bean, a technique Iain picked up on his travels recently to Holland.
These pork cheeks are a Drunken Butcher classic and were as good as ever; dark, sticky, ridiculously tender meat with a massive umami flavour and a good chilli kick.
While the wontons were a delightful contrast; light, delicate and filled with an intriguing combination of cream cheese, elderflower honey & sage.
The first proper course turned out to be one of my favourites, 'Cod cheek ceviche'. Melt in your mouth cod with a zingy lime and chilli dressing.
I won't comment on all of the wine pairings, as I don't know enough to do them justice. However, this particular wine – a New Zealand Riesling – was a stunning match. The light, fresh flavours of lime and grapefruit were just perfect with the ceviche.
Next up, 'Chicken thigh & pea puree wrapped in Parma ham', matched with a very good Chardonnay. A simple but well executed dish with a beautiful balance of flavours.
The only dish I struggled with was the 'Monkfish liver parfait', despite the fact that I love monkfish liver and Iain makes a great parfait. For me the overall dish was too sweet. The parfait was served on brioche with a sauce made from Sauternes soaked raisins. Sauternes is a sweet, French wine and it is very sweet. I'd definitely have preferred it with a little less sauce and perhaps on something like sourdough rather than sweet brioche.
Although, I say struggled, but I happily finished my own before anybody else and then most of Mrs FG's too.
The parfait was paired with not only the most expensive wine of the evening (Domaine Huet Vouvray Sec "Le Haut Lieu" at £28.99) but also a shot of the Sauternes that the raisins were soaked in.
The next course was a lesson in the art of simplicity. Just three perfectly cooked prawns in a cocktail glass, on a bed of shredded fennel that had been marinated with lemon and a silky smooth bisque. Simple yes, but elegant, sophisticated and tastes amazing.
The White Rioja was another fantastic pairing, the citrus notes worked brilliantly with the prawns, fennel and lemon.
Followed by a superbly cooked piece of Turbot, with a buttery fondant potato, rosemary & lemon sauce and spinach & parsley puree. Served with a delicate, South African, dry rosé.
Before switching from lighter dishes and wines to the meat based main courses and deeper red wines there was a palate cleansing 'Cherry Sorbet'. Intense cherry flavours but at the same time utterly refreshing.
And then a stunning 'Venison Tartare'. Good-sized chunks – none of that finely chopped business – of quality venison with gherkins, red onion and cider vinegar to cut through the richness of the meat and a few homemade potato crisps on the side.
Two meat heavy plates followed; starting with a large piece of suckling pig that would've seemed huge in a three-course meal let alone on a 12 course tasting menu. It had been stuffed with earthy black pudding and soft, buttery cabbage and served with cider sauce and fondant swede. Every component of this dish worked together in perfect harmony and was complimented further by the Australian red wine.
'Beef Short Rib' had been slow cooked for an incredible 72 hours, and it showed. Unbelievably tender and quite literally falling apart. They tasted great too with a rich, mustardy, red wine sauce.
It was served with a French red, Cotes du Rhone, a good match but it was around this point in the evening that I started imagining how much better certain beers would pair with some of the dishes. This one for example; obviously beef and red wine is a classic combination but I couldn't help thinking I'd have preferred it with a lovely smoked porter.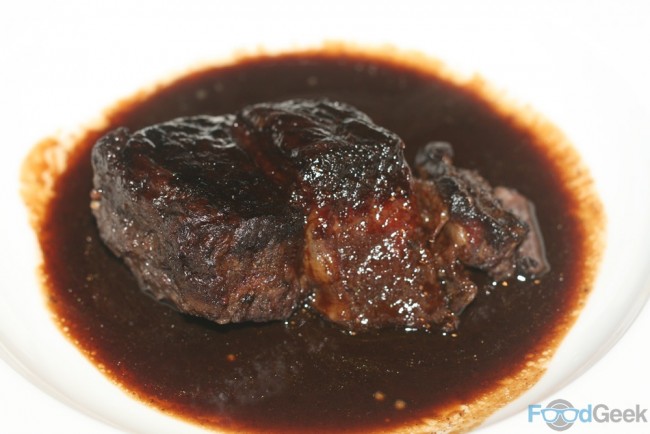 I was surprised to find the short rib served with French fries rather than Iain's famous and quite fabulous triple cooked chips. He did have some sort of explanation for this but I'm afraid I can't remember what it was (I don't think it was because the wine was French!).
Needless to say they were perfectly decent, better than that in fact, they were really good fries. Those triple cooked chips though…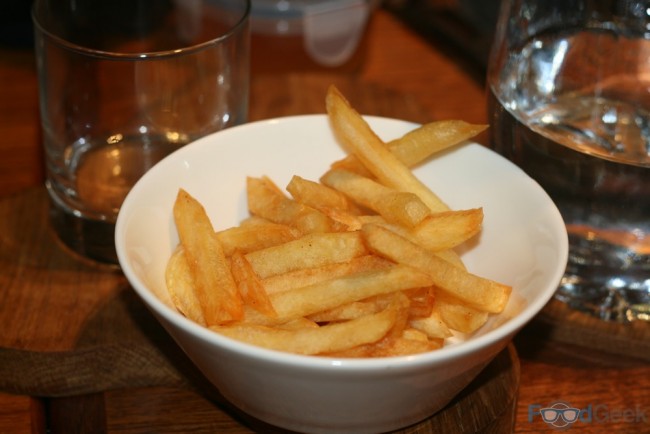 The first of two desserts was 'Assiette of lemon', consisting of lemon posset, lemon sorbet, mini lemon tart, lemon crème brûlée and raspberry clotted cream ice cream. Four fifths of a fantastic dessert.
The posset, sorbet, tart and ice cream were outstanding, only the brûlée let the side down. I can't think of many (any?) dishes I've eaten here that were just wrong but this was unfortunately one of them. It actually tasted good, with a nice sharpness from the lemon but it was far too heavy. I mentioned this to Iain afterwards and he totally agreed. I've no doubt next time I have a brûlée there it'll be perfect.
Nic chose not to match a wine with this course, presumably because it's incredibly difficult to pair wine to most desserts, particularly those with strong citrus flavours and also ice cream. Thankfully I'd thought ahead, and although turning up to an event where I'd be receiving more than ten glasses of wine with my own supply of alcohol did nothing for my reputation, I had the last laugh. As my Black IPA was a genuinely brilliant match for every element of the dessert.
The second dessert and final course was described simply as 'Chocolate'. It consisted of a chocolate brownie, Kirsch marinated cherry coated in chocolate and white chocolate mousse.
On paper I should've only really enjoyed the brownie since I'm not a huge fan of either white chocolate or the combination of chocolate and cherry. However, the mousse was so light and fluffy I couldn't help but like it and even the chocolate coated cherry was fairly enjoyable, possibly due to the huge boozy kick from the Kirsch.
The 'Chocolate' course was paired with both a sweet dessert wine and a shot of Kirsch.
Although sweet wines do work to an extent, chocolate is another ingredient to which beer is a far better match. They have so much more in common, particularly stouts with their roasty, chocolatey flavours. The coffee milk stout I brought for this course was a phenomenal match for the chocolate, if I do say so myself.
A 12 course menu with wine pairings was always going to be a challenge for somebody as obsessed with beer and as passionate about matching food and beer as I am these days. Although I've enjoyed many tasting menus with wine pairings in some fancy restaurants over the years, it's something I've become less and less interested in.
But despite that I really enjoyed the pairings overall, Nic did a great job in choosing the wines. It did get a bit much for me by the end and nobody will ever convince me that wine works as well as beer with most food, particularly desserts and chocolate but there were some stunning matches. The Riesling with the cod cheeks and White Rioja with the prawns especially.
The food was pretty special as well. Iain clearly pushed himself hard with this menu, not only technically but with the sheer amount of work involved in so many dishes. With the exception of the crème brûlée every element was flawless, which is pretty damn impressive if you ask me.
I loved the balance in the menu too, from the exciting canapés through chicken and seafood to lighter meat, red meat and then dessert, it flowed beautifully. I'd've happily eaten some of the standout dishes such as the cod cheek ceviche and venison tartare in any of the best fine dining restaurants in the country.
Date of supper club: 15.11.2014
Follow @FoodGeekUK