Of the almost 20 supper clubs I attended last year, one of my favourites was 'Chicken Soup For The Soul'. An Israeli/Middle Eastern inspired feast cooked up by Sue Waxman at her Prestwich home.
When she announced her next event 'Balabusta Delight' would feature some of her favourite Jewish dishes I snapped up tickets immediately.
With more guests than ever before the table had to be extended just to fit us all in. It was definitely the largest supper club I've ever been to in a home.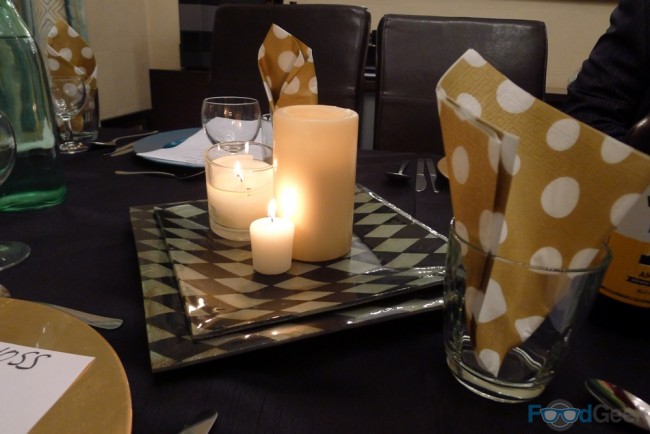 The 'Pomegranate Cosmopolitan' was as good as I remembered; sharp, fruity and boozy. Although it lacked the lovely fresh pomegranate seeds in the bottom like last time it's still a fantastic drink.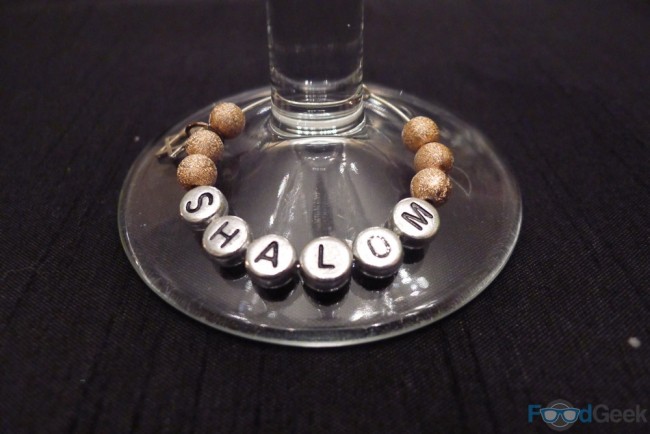 The first course, 'Trio Of Fish' was served with tangy tabbouleh and consisted of chopped and fried fish balls, smoked salmon kreplach and gefilte fish with chrane. I'm not going to lie; I had to look up about half of those words.
Kreplach is the crispy little pancake thing, possibly made from wonton wrappers, filled with smoked salmon, while 'gefilte fish' is poached white fish.
My favourite bit was the 'chrane', an intensely flavoured smooth beetroot puree, it went beautifully with the kreplach.
Next up was Sue's signature dish, 'Matzah Ball Chicken Soup'. I absolutely loved it last time and although it was still enjoyable here it was unfortunately quite badly under seasoned.
However, it was served with brilliant little 'Chopped Liver Choux Buns'. I'm not ashamed to admit eating several of these.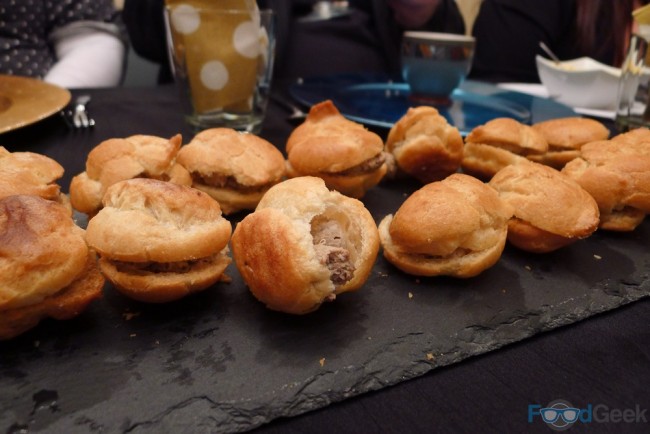 Main course was 'Morrocan Roasted Chicken' with tzimmes, potato kugel and green beans in tomato sauce. Again I needed a Jewish dictionary to decipher parts of the menu.
Tzimmes is a traditional Jewish stew, personally I found it far too sweet but most people around the table seemed to enjoy it.
For me the highlight was the potato kugel, lovely and crispy on the outside yet soft and creamy inside.
Dessert was also excellent; 'Apple & Challah Pudding', a sort of spicy bread and butter pudding made with traditional Jewish bread.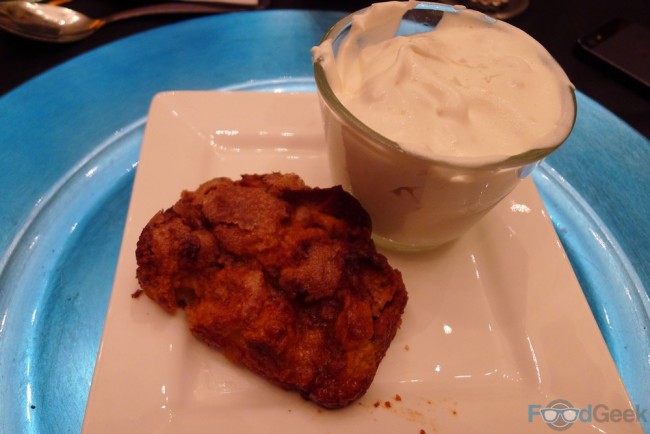 Finally, coffee was served with sweet, perfectly formed cinnamon balls.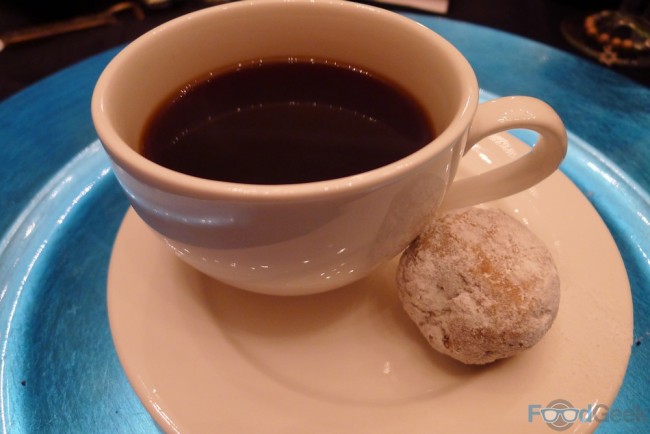 While there were some real highlights I think it's fair to say that the food in general wasn't quite as good as last time, although that's only because of the incredibly high standard Sue set previously.
Perhaps there were just a few too many guests this time? Regardless, it's still a massive achievement to feed so many people and everybody left happy, myself included.
I'm already looking forward to Sue's next event in April. The menu sounds brilliant, 'roast brussels sprout & pastrami bites' anybody?
Date of supper club: 24.01.2015
Follow @FoodGeekUK