Ask anybody who's into food for dining recommendations in Harrogate and the answer almost always includes Van Zeller. A partnership between David Moore – who has two Michelin stars from London restaurants Pied à Terre and L'Autre Pied – and head chef Tom van Zeller, who's worked with the likes of Raymond Blanc, Pierre Koffman and Tom Aikens.
Not only loved by diners, Van Zeller has won numerous awards too, including 'Restaurant Of The Year' in the 2013 Good Food Guide.
It's located in the Montpellier Quarter of Harrogate; a quaint little street of fancy shops, somewhat reminiscent of Diagon Alley from the world of Harry Potter.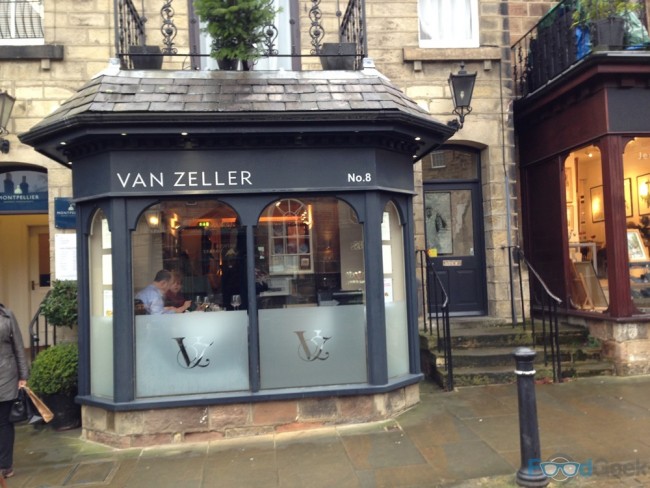 Walking through the door you're greeted by a life sized photograph of a man in chef whites, who I imagine must be Tom himself.
The restaurant was almost empty when we arrived; we were given the best table in the house, sat in the large bay window. Eating lunch in full view of the busy street was slightly odd at first but once you get over that, it's a great place to sit and people watch.
The light, plush decor reminded me of the dining room at Gordon Ramsay's three star Royal Hospital Road restaurant, albeit slightly less formal.
We chose to eat from the 7-course lunch tasting menu, fantastic value at just £35 per person.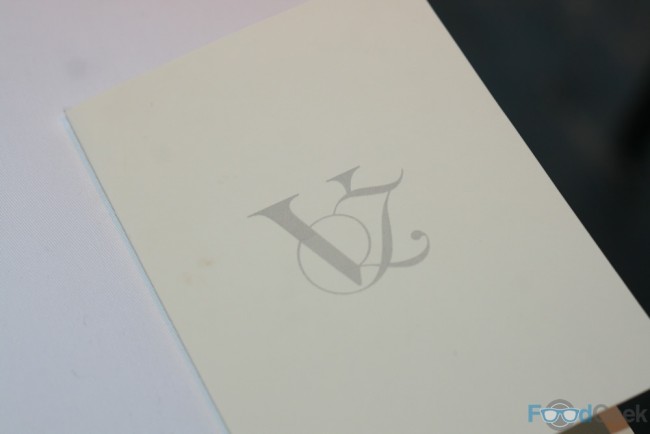 Most good tasting menus start with good bread. True to form, both the 'Cheese & Garlic' and 'Rye' were excellent; freshly baked, soft, warm and delicious.
One of my pet hates in restaurants is not being told what beers are available. Often, as was the case here, they're not even listed on the drinks menu.
It's even more frustrating when you're somewhere that actually has decent beers. Van Zeller stock a lovely light and refreshing pale ale from local brewery Treboom, which was perfect for the first few courses of the tasting menu, yet I'd never have known about it if I hadn't gone to the trouble of asking myself.
The first course, 'Celeriac & Apple Remoulade' was amuse bouche sized – served in something resembling a petri dish – but packed a punch in terms of flavour. The remoulade itself was rich and smooth with a good kick of mustard, while the dots of apple purée were a welcome, sharp contrast.
Followed by a dish described only as 'Pigs Head'.
Though there wasn't an ear or snout in sight, just a beautiful plate of food with a meaty torchon at the centre and a number of complementary elements including pickled radish, wonderfully crispy bacon and a smooth, prune purée.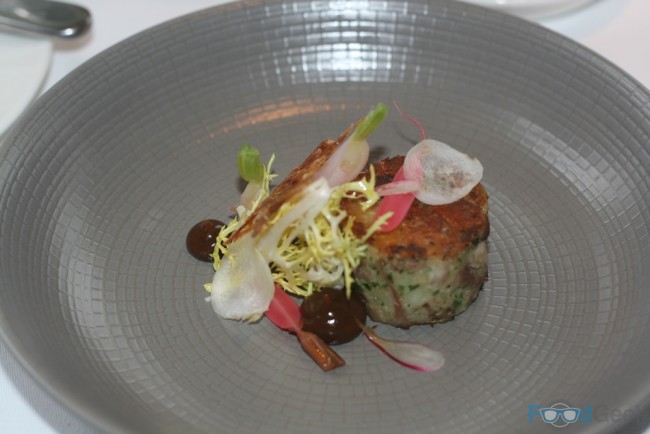 Then a 'Slow Poached Hens Egg', absolutely perfect in shape, temperature and texture.
The tiny bowl also contained Parmesan, truffle and crispy potato. Bursting the egg and allowing the yolk to mix with the other ingredients produced a creamy, indulgent dish, full of comforting flavours and textures.
One of my favourite dishes was perhaps the simplest; a 'Scallop' with a brilliant sear on each side, in a stunning langoustine consommé with samphire and purslane.
I've no doubt a lot of work went into making the flavoursome consommé but the actual finished dish was a lesson in the art of simplicity.
The main course looked exquisite and tasted even better. A perfectly cooked piece of duck breast, still wonderfully pink yet with an incredible crispy skin was the centrepiece but it was surrounded with other enticing elements too. A crispy pastry cylinder filled with shredded leg meat, hazelnuts, spiced apple puree and various onions; from fresh spring onions to crisp baby onion rings.
This superb dish was just perfect with a glass of a very good Pinot Noir.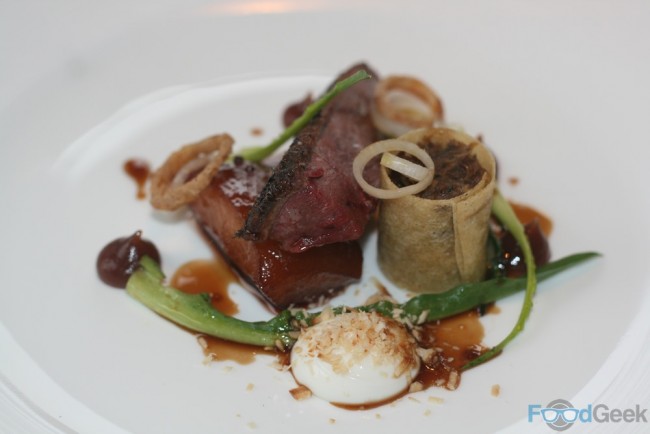 Many fine dining restaurants offer a cheese course as an optional extra on tasting menus.
At Van Zeller – for a £6.50 supplement – it's an actual cheese dish, a very pretty one too. A generous portion of Harrogate Blue with a lovely hazelnut & truffle dressing and toasted hazelnuts.
I'm going to have to insist that all cheese courses are presented like this from now on.
Mrs FG didn't fancy blue cheese but was offered many alternatives.
She chose a young ash-rolled, French 'Goats Cheese'; it came with crisp bread, turnips, raisin purée and olive oil powder.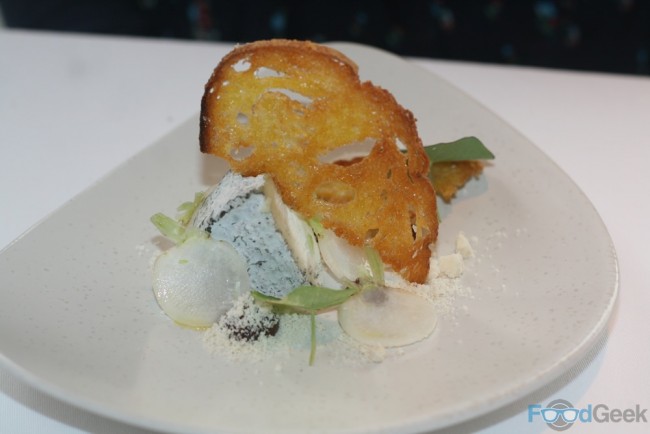 Pre-dessert was tiny but beautifully formed; 'Mirabelle' with puffed rice muesli, chocolate and a pretty edible flower.
It looked almost too good to eat but we didn't come to stare at our plates, it tasted just as beautiful.
I wasn't sure I was going to like the final dessert, as I don't always get on with 'Frangipane'.
I needn't have worried as it was delightful; beautifully plated, soft light frangipane with delicate flavours of pear, nougat and bay. A very classy dessert and a fitting end to a fabulous meal.
Besides the little niggle with the beer I honestly can't think of a bad word to say about Van Zeller. Everything we ate looked amazing and tasted even better, simply flawless cooking.
Although it's clearly not 'cheap', I felt this lunch menu was phenomenal value. Even with the cheese course supplement, a couple of beers and glasses of good wine and service charge the total bill was still under £150 for one of the best lunches I've had for a long time.
I've given up trying to understand Michelin but the fact that Van Zeller's doesn't have a star is inexcusable. Like The French in Manchester, the standard of cooking here is so far above many 1 star restaurants. I'm convinced that they'd both have them by now if they were in London.
But it's Michelin's loss, it won't stop me returning next time I'm in Harrogate, hopefully for a full evening tasting menu.
Date of visit: 29.11.2014
Follow @FoodGeekUK
Review Overview
Summary : Simply stunning food, the tasting menu is phenomenal value at lunch.