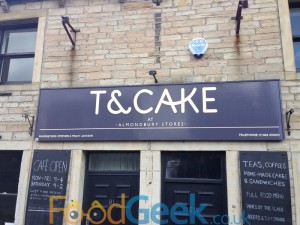 T&Cake is a modern café just outside Huddersfield in the pretty village of Almondbury, West Yorkshire.
They serve interesting sandwiches and small snacky dishes along with a huge selection of bespoke teas, coffee and loads of cake.
It's owned and managed by Stephen & Tracy Jackson who gave up running a fine-dining restaurant after 20 years to follow their dream. That passion and attention to detail is immediately obvious upon walking through the door. The place is immaculate, simply decorated but very welcoming. There is a shelf filled with countless recipe books, some excellent titles in there too! They're clearly proud of their ingredients and show off that most are locally sourced and seasonal. They cure their own ham, grown their own fruit & veg and even forage for ingredients.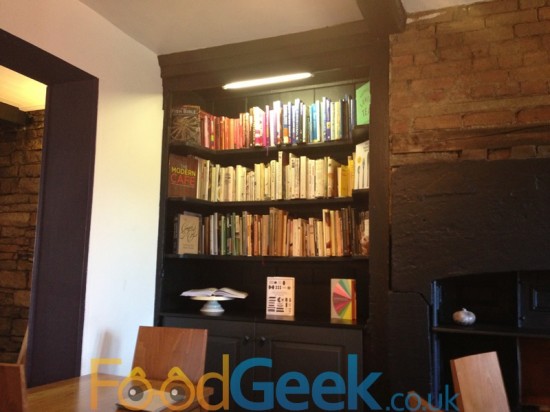 It was very quiet when we ate there but we purposefully arrived before lunch time as i'd heard it can get very busy and was on a tight schedule. The staff were very friendly and attentive throughout our visit.
We were really only here to eat cake but being grown ups thought it wise to eat something savoury first. There is a wide range of interesting sandwiches as well as a number of salads, things on toast and other small dishes such as tarts. Apparently Pulled Pork is so 2012 but i'm still not bored of it yet and couldn't resist ordering the 'Hot Pulled Pork & Pickled Apple Sandwich'.
It arrived very quickly looking fantastic served on a wooden board. A beautifully soft and very fresh white roll packed with a mound of moist and juicy pulled pork which tasted delicious and dripped with juicy porky goodness. It also contained a layer of coleslaw, baby gem lettuce and pieces of pickled apple which were absolutely genius and contrasted with the sweet pulled pork perfectly.
Mrs FG ordered a 'Butter Bean & Chorizo Stew' from the specials board which was served in a cute little cast iron dish with an even cuter little bread roll, a 'Pao de queijo' to be precise (Brazilian cheese bun). The bun was brilliant. Amazingly fresh, soft and warm and tasted great. The stew of onions, garlic, red wine and of course butter bean and chorizo was rich, comforting and tasty but needed a touch more seasoning in my opinion.
Choosing from the huge selection of cakes was very difficult, in the end we just about managed to narrow down to a choice of 4. When we saw the size of the slices it was obvious that we wouldn't be able to finish them all at once so we asked for 2 of them to be boxed up to take home with us.
First we had a giant slice of carrot cake which was really good. Soft and moist cake with just the right amount of buttermilk frosting which wasn't too sweet as they often can be. A really good cake.
Being in Yorkshire it would have been rude not to try the 'Yorkshire ginger parkin' so we did! Another giant piece of beautiful cake. Sticky and moist with a nice kick from the ginger, it could only have been improved by being served with a spoonful of thick cream.
We took home a slice of lemon drizzle cake which was light and moist with a lovely crumb and bags of refreshing lemon flavour and a 'Chocolate, ginger and chili brownie' which was almost the best brownie i've ever eaten. It was certainly the gooiest and if i'd ordered a chocolate brownie it would have been amazing, the chocolate flavour was deep, intense and gorgeous. I was slightly disappointed that the ginger and particularly the chilli flavour was very subtle. Admittedly i'm a complete chilli freak and almost always want more not less but it was very minimal in this brownie and almost no point in it being there.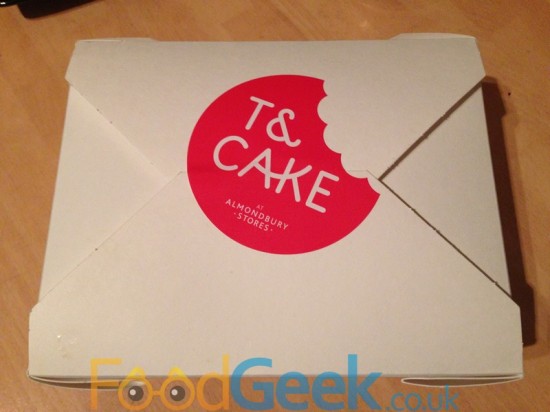 It's not uncommon to come across descriptions and even photos of toilets on food blogs these days, you won't find any of that here but I did make an exception with the toilet door at T&Cake as the sign on the door really made me laugh…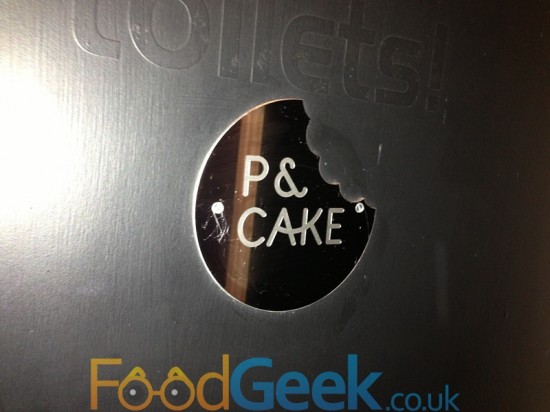 I very much enjoyed T&Cake and haven't even mentioned the tea! That would be because i'm not a huge tea drinker and instead drank coffee, which was good. Mrs FoodGeek knows her tea though and she had 'T&Cosy' which is T&Cakes own special blend and similar to Earl Grey. She insists it was very good and was impressed that the tea is served loose in a proper tea pot.
The service was impecable, fast and friendly and the food mostly very high quality, especially the cakes. It's also seriously good value for money.
There is so much more on the menu that I would love to try, so I must return soon. Conveniently, I have family not too far away in Yorkshire who may find themselves getting more regular visits than usual.
Date of visit: 11.03.2013
Follow @FoodGeekUK