Last Tuesday I had the honour of being the first guest through the door to eat at the newly opened Simon Rogan @ The French restaurant in the Midland Hotel.
When I first heard that Simon Rogan was to open a Manchester restaurant I was ecstatic, my trip to L'Enclume a couple of years ago reamins one of my most memorable of all time and the prospect of having something similar so close to home was incredibly exciting.
Since that visit L'Enclume's reputation has continued to grow, being ranked #2 in the Good Food Guide 2013 Top 50 Restaurants whilst receiving a cooking score of 10/10 (only The Fat Duck matches it) and has earned a second Michelin star. Likewise Simon Rogan has been going from strength to strength personally with a hugely successful appearance on BBC's 'Great British Menu' where he became the first chef to have all 4 of his dishes finish in the final 3 with his dessert being chosen for the banquet.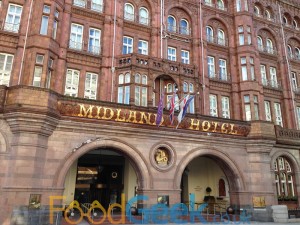 The excitement I felt at Simon's arrival was dampened somewhat when I learned that he was to take over 'The French' restaurant at The Midland Hotel. Partly because i've never been totally sold on the whole restaurant within a hotel thing and partly because despite being one of the first restaurants in the country to receive a Michelin star and Manchester's last star (held until 1975) The French really hasn't had a very good reputation for as long as I have been interested in dining out. Mainly though I just didn't see The French and The Midland fitting in with the Simon Rogan style, I never ate there but my understanding is that it was very formal and dated, L'Enclume is the exact opposite.
Sill, I put my faith in Simon above my doubts over his choice of setting and made 2 reservations. One for a Friday evening in a couple of weeks and one for lunch this past Tuesday, the first sitting on opening day.
We arrived just before midday and were greeted as 'the very first guests' of the new restaurant which was nice and is definitely going on my C.V (well, it would if I had one). Although the honour of being first meant that we ate alone for the first 20 – 30minutes which was an odd experience and actually slightly eery. Thankfully the restaurant gradually filled up and as it did the ambience grew.
The time alone did allow me to take in the grandeur of the dining room at least. I've walked past The Midland countless times but never having been inside I didn't know what to expect. It's not up there with Claridge's or The Dorchester but it is certainly the grandest setting i've eaten in outside of London and I had to keep reminding myself that I was in the centre of Manchester.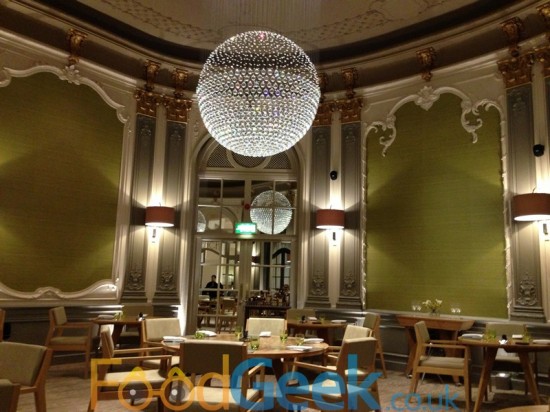 Whilst the room itself features high ceilings, oak panels, gold fixtures & fittings and stunning glittering chandeliers this luxury is countered brilliantly by informal touches such as a lack of table cloths, L'Enclume style pebbles in glasses and the food being served from ultra modern dishes, plates and slates.
There are 3 menu options at The French, 10 course tasting which is only available in the evening, 6 course and 3 courses. Clearly we went for the 6 courses and will be certain to have the full 10 courses when we return.
First though we were given a couple of tasters not on the menu, starting with an amuse bouche of crisp onion & potato crackers topped with smoked eel, onion seeds & onion ashes. I have a bit of a problem with food 'ashes' as I don't particularly enjoy eating something that looks as if it's had an ashtray emptied on it. Those feelings were soon forgotten on this occasion as this tasted stunning, the smoked eel was delicious and the savoury onion flavours worked brilliantly with it. I loved the piece of bark that they were served from too.
We were off to a great start because if anything the second taster was even better. A cute little pot containing cubes of black pudding and apple topped with cumberland sauce, black pudding mousse and a extremely realistic twig. The whole dish was a joy to eat, from the earthy cubes of black pudding to the delicious, light as a feather black pudding mousse. The sharp apple balanced the earthiness perfectly and the twig as well as looking great tasted good too.
I often say you can tell how good a restaurant is by the quality of it's bread. If i'm right then The French is an exceptional restaurant because the bread was brilliant. Three mini loaves of warm, incredibly fresh bread: Cornish Chestnut Cob, Rye Baguette and a Wholemeal bun made with beer from local Holt brewery. Served with butter sitting upon a slab of rock.
The first proper course arrived in a large bowl with a pretty collection of interesting looking ingredients carefully placed in the bottom. The bowl was then filled with a dark broth from a clear glass teapot.
The broth itself, packed full of savoury umami flavour was tasty enough but I wouldn't have wanted a bowl full of it on it's own, that was never the point though. It was all about the stunning combination of flavours and textures of the other ingredients: bacon, radish, hazelnuts and particularly the artichoke dumplings which are becoming a bit of a Simon Rogan speciality.
Next up was one of my favourite dishes: 'Ox Tartare with Coal Oil, Pumpkin Seed, Kohlrabi & Sunflower Shoots'. Exceptional for two reasons, firstly the phenomenal quality of the meat which had also been expertly prepared and then for the fascinating flavour brought by the 'coal oil' which is actually grapeseed oil which has red hot stones dropped into it to create an intense smokey flavour. The remaining ingredients each added their own taste or texture to a truly multidimensional dish.
Even Mrs FG loved it and she really isn't a huge fan of raw meat.
The next dish of 'Crab, Braised Cabbage, Horseradish, Chicken Skin & Crow Garlic' was every bit as good but much more subtle than the previous.
The delicate flavour of crab was allowed to come through as the powerful horseradish & garlic were well restrained. The addition of delicious, crispy chicken skin was sheer genius.
Another demonstration in the art of subtlety followed in the form of 'Fillet of Sole with Onions, Smoked Scallops, Parsley & Leeks'. The lemon sole was cooked to perfection, the scallops delicately smoked and both were supported by mild onion flavour from various textures of onion and leek including a smooth onion puree, a blanched young leek and the best crispy onion rings ever.
The final main course was another favourite of mine. 'Rose Veal, Blewitts, Spit Pea, Sorrel & Beetroot'. The veal was about as perfect as a piece of meat can possibly be, soft, pink and moist, studded with pieces of fat to add even more flavour it tasted sublime. The accompanying ingredients complimented the meat beautifully, the delicious split peas and cute baby mushrooms (Blewitts) adding an earthy note countered by the sweet beetroot and bitter sorrel. An absolute joy to eat.
I was slightly disappointed to find that the dessert on the 6 course menu was a pear dish, I don't have anything against pear but the 3 course menu featured a rhubarb dish that sounded fantastic and we both love rhubarb.
The disappointment lasted about 10 seconds after we took our first mouthful of 'Pear with Meadowsweet, Rye, Buttermilk & Linseeds'. We looked at each other and both said "Wow". My writing skills are not even close to being good enough to describe this dish. The dish looks and even sounds fairly simple, slices of beautifully poached pear along with a smooth pear puree were topped with various bits and pieces. It was those bits though that brought the dish to life, each added amazing flavours and textures. There was pear granita and snow to make 4 different textures of pear, crunch from the rye cracker and popped linseeds which tasted like a cross between popcorn and sugar puffs (in a very good way). A dollop of rich buttermilk cream brought richness and creaminess. This was one of the best desserts I've ever eaten and I hope it's still on the menu when I return.
There was still time for a few last treats, starting with 'Sass 'N' Soda', a shot of Sarsaparilla cordial served with a Sarsaparilla sandwich made from Sarsaparilla flavoured parfait & jelly between two delicate Sarsaparilla flavoured meringues. It sounds like a lot of Sarsaparilla and it was but it worked and it was delicious.
We were very full by now (must remember not to eat lunch when we're back for 10 courses) but just about managed to squeeze in the petit fours served with our coffees. There was a chocolate crisp which was pleasant enough but the other was an aerated chocolate which was amazing in itself, made even better by being topped with Uncle Joe's Mint Ball ice cream! It must be 20 years since I last had an Uncle Joe's Mint Ball and this brought some memories flooding back, I'm pretty sure they didn't taste as good as this though. The coffee is a local blend from 'just around the corner' and was also very good.
Service was a little awkward at time as the staff seem to be a mixture of people Simon has brought with him from L'Enclume and people that worked at The French previously. It's fair to say that it was pretty obvious which were which. Everybody was friendly and polite but the staff who had been here for a while seemed less familiar with the dishes and ingredients and less comfortable talking about the dishes than the L'Enclume staff. They also have a much more formal manner of speaking and interacting with the guests, I'm sure that this is something that will improve over time.
After finishing our meal I was lucky enough to be invited into the kitchen where I got to watch Simon Rogan work his magic on the pass for a few minutes and then shake his hand and welcome him to Manchester (I genuinely did this). I may have sounded like a chef groupie which I generally try hard not to be but I meant everything that I said.
I've travelled hundreds of miles to eat in restaurants of this standard and the fact that this is now available on my door step really excites me. I see it as somewhere that I can return to again and again to sample new dishes and watch it grow from this very first service to hopefully bringing Manchester a very long awaited Michelin star. I have absolutely no doubt that will happen sooner rather than later if this level of quality is maintained.
I told Simon that I loved the little nods to the North West throughout the menu and he promised that the 10 course menu features even more, if that's the case we're in for a treat in a few weeks time!
Date of visit: 12.03.2013
* UPDATE * You can read about my return trip to The French here.
Follow @FoodGeekUK