Last month, The French restaurant in Manchester's Midland Hotel reopened with superchef Simon Rogan in the kitchen. I had the pleasure of being the first customer on the very first lunch service which went amazingly well as you can read here (I won't go into detail about dishes that were exactly the same as this visit).
I've been desperate to return ever since, particularly because at the time they only offered a 3 or 6 course tasting menu for lunch with the full 10 course menu only available in the evenings (this has since changed and 10 courses are now available at lunch too!). I couldn't stand knowing there were four dishes I hadn't tried so last Friday evening I returned for the full experience.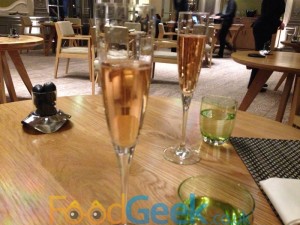 I don't often revisit a restaurant so quickly, certainly not one offering a single tasting menu where I've already tried more than half of the dishes as I generally like to experience as many restaurants and dishes as possible. However, I genuinely couldn't wait to get back to The French, of course to try the four additional dishes but I was just as excited to see how the dishes I'd tried have evolved since that first service.
It was lovely to not only be greeted by name which I always like but also that the staff remembered our first visit. A very pleasant start which got even better as we were offered an aperitif, a beautiful sparkling English rosé.
The amuse bouche or pre-menu tasters quickly began to arrive, firstly, raw radish served with a delicious nutmeg mayo and sprinkled with toasted barley.
The black pudding mousse I'd enjoyed so much last time came out next and didn't disappoint the second time around.
Followed by parsnip crisps, topped with cubes of meltingly soft pork belly, smoked eel and fennel. Although similar to the onion & potato crackers with onion seeds and ashes from last time I liked this even more.
Pickled mussels were next, served in fun & tasty edible shells like we'd had at Noma and more recently from The Wine Glass restaurant at the Etrop Hotel in Manchester.
Seaweed crisps planted in a glass of edible sand looked and tasted fantastic. The edible sand tasted exactly like cheese & onion crisps but the waiter insisted they'd been made especially and were not just ground Walkers.
Breads were the same as last time: Cornish Chestnut Cob, Rye Baguette and Wholemeal bun made with beer from local Holt brewery. All excellent once again.
The first main dish of 'Razor Clam, Egg Yolk, Celeriac & Sea Herbs' was one i'd been particularly looking forward to after being disappointed that it didn't feature in the 6 course menu on opening day. I was surprised when it came out served in a bowl as i'd seen pictures of an egg shell and razor clam shell sitting upon a plate of pebbles. It may not look as fun but it tasted fantastic and i'm sure it's been changed for good reason.
The egg yolk had been slow poached to silky smooth perfection, the razor clam deliciously soft but the dish was held together by the light and subtle celeriac velouté and the wonderfully nutty, crispy roasted garlic.
The next two dishes were my favourite savoury dishes of the previous visit. The first of them 'Artichoke broth with truffle dumplings, bacon, radish & hazelnut' was was even better this time thanks to smoother and more flavoursome dumplings, tastier broth and a more pronounced hazelnut flavour.
'Ox in coal oil, pumpkin seed, kohlrabi and sunflower seeds' was identical to how I remembered it, which is a very good thing as the dish is perfect. Likewise the 'Fresh crab and caramelised cabbage, horseradish, chicken skin with crow garlic' was much the same. Clever, light, subtle and delicious.
The fifth dish was another new one 'Early spring offering, vegetables, herbs and flowers'. I've never been as excited by a small plate of vegetables before in my life, it was seriously that good! Containing a number of fascinating flavours and textures from crunchy vegetables such as kohlrabi & cauliflower to unusual barbecued radicchio, broccoli custard and finished with amazing lovage salt. Every single mouthful brought different tastes and sensations, it was just a joy to eat.
The fish course I actually preferred the first time around. The Sole fillet has been poached this time rather than sousvide and was equally as good but the delicious smoked scallops had been replaced by scallop roe which didn't work as well in my opinion. I definitely missed the onion puree and crispy onion rings of the original version too.
Another new dish 'Hogget and sweetbreads, wild garlic & sheeps milk' uses hogget from Yew Tree Farm which is just a couple of miles from Cartmel. I've eaten their hogget in a brilliant dish at L'Enclume and though this was very different it was every bit as good, possibly better. The hogget itself was meltingly soft with a gorgeous crispy, charred exterior, the gravy rich, meaty and packed with lamb flavour which contrasted well with the creamy sheeps milk. I've thought about this dish a lot since I ate it and the more I think about it the more I like it.
The final main course of 'Reg's duck, blewitts, beetroot, mustard and sorrel' was similar to the rose veal dish last time although I think I preferred that one. Duck is one of my favourite meats and this was brilliantly cooked but I really loved the veal and even more so the split peas last time. There was more beetroot here though which worked well, it was an excellent dish and i'm sure i'd have thought it was a great one had it not been for that other still in my mind.
The first dessert of 'Sweet cheese with rhubarb, toasted oats, mulled cider' looked beautiful and tasted every bit as good. Creamy goats cheese ice cream with several textures of rhubarb (poached, purée and a tuile) which were all stunningly good, toasted oat granola was both delicious and added a necessary crunch. The mulled cider sauce tasted great but i'd like to have seen a little more of it on the plate. Other than that minor point it was an exquisite dessert.
We finished with the same 'Pear, meadowsweet and rye, buttermilk, linseeds' dish which was every bit as good as I remembered and is still one of my favourite desserts. Then 'Sass 'N' Soda' with it's overdose of Sarsaparilla and petit fours of aerated chocolate with Uncle Joe's Mint Ball ice cream which are just as fun the second time around.
With just a couple exceptions everything we ate was either as good or even better than last time which is probably to be expected given that they've had 3 more weeks to practice and refine the dishes. I was a little worried that they may not have the same impact the second time around but that thankfully that wasn't the case.
Service was impecable, the staff Simon has brought from L'Enclume are amongst the friendliest and most passionate & knowledgeable that i've ever been served by.
The whole experience was even more magical, it's definitely a place that I will be returning to regularly, particularly once the menu starts changing with the seasons as it inevitably will do.
Simon was still in the kitchen during this visit, it will be interesting to see if these same high standards are kept once he goes back to splitting his time between his other interests. If they are I stand by my claim that Manchester will be seeing it's first Michelin star in my lifetime very soon.
Date Of Visit: 05.04.2013
Follow @FoodGeekUK