I first heard about chef Ernst van Zyl late last summer, the more I read about him and saw his stunning looking food the more I was desperate to go and try it. However, as I had a pretty fully booked end to 2012 I decided to test my willpower and wait until January before paying him a visit. Mrs FoodGeeks birthday at the end of the month seemed like the perfect occasion.
Ernst has trained at some of the best restaurants in the world including Le Manoir, The Fat Duck and Noma. He hasn't finished learning yet either, he already has a stage planned at L'Enclume later in the year and the day after our meal he left for a 4 week stage at Frantzen / Lindeberg in Sweden, currently the 20th best restaurant in the world!
There's been a lot of buzz on Twitter around Ernst for the last few months, of course because of his background and the quality of food he is producing but also because he creates 'Bespoke Tasting Menus' based on diners favourite ingredients. Before our visit I gave him a list of around 15 of Mrs FG's favourite foods and then let him work his magic on the menu.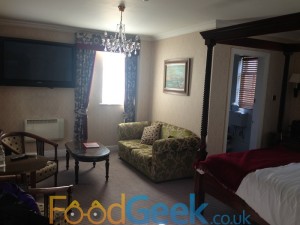 The Wine Glass Restaurant is within the Etrop Grange Hotel situated near Manchester Airport. When I heard this I was a little worried as I have never stayed in a good hotel so close to an airport, never mind one with decent food! But the Etrop is actually really nice, if a little more traditional than my usual modern tastes. Our room featured chandeliers and a four-poster bed as well as a huge flat screen TV on the wall.
After a particularly long and stressful drive we just had time to freshen up, enjoy the bottle of Prosecco in our room and catch up with Great British Menu on the huge TV before making our way to the restaurant for dinner.
The restaurant, like the rest of the hotel is quite traditional and formal but has a certain charm. It was very quiet for 8pm on a Friday evening with only another 2 or 3 tables occupied. There was however a lot of noisee coming from the room next door, presumably some kind of private function.
Our bespoke menu had been printed and left on the table, I was immediately very excited and a little intrigued as it didn't contain actual descriptions of the dishes but rather a list of the main ingredients and there were some fascinating combinations.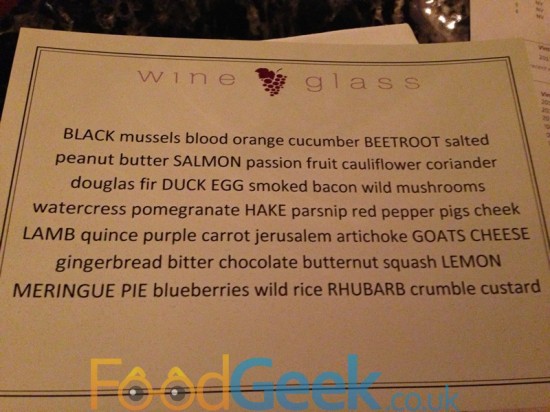 Before we got started on those 9 courses though we were given an amuse bouche of Scallop crisps & crispy fried pigs ears. The scallop crisps were extremely thin slices of scallop that had been air dried. I can't say they're my favourite way of eating scallops but they had an interesting texture and a strong fish flavour. The pigs ears were absolutely delicious and thankfully didn't look like pigs ears as although I'm not at all fussy or squeamish about what I eat the last time I saw pigs ears was in a pet shop and they weren't particularly appetising. These were served with a salmon roe & chive mayonaise which was great to dip them in.
The first proper course was mussels. Inside the shell with the cooked black mussel was pickled shallots & blood orange jelly which added sharp and contrasting flavours and were topped with a mussel foam. The dish also showed off a technique that we'd experienced on our trip to Noma and Ernie had picked up during his time working there, the mussels had edible shells! At least the bottom half was edible, the top definitely wasn't as I accidentally found out (ouch!). I'm not totally sure what they were made out of, they had a sort of prawn cracker texture but tasted much better! With the mussel, pickled shallot & blood orange jelly it was a brilliant and interesting mouthful. We were also served a shot of cucumber soda on the side which again was interesting and I could see the logic behind it but wasn't particularly needed in my opinion, the dish was great already.
Next up was one of the most fascinating dishes of the night, Beetroot & Salted Peanut Butter! I must confess to not being a huge peanut butter fan, I never have been really but even less so after an unfortunate incident last year. I am capable of loving it in certain dishes though and Mrs FG loves the stuff which is why it was on the list.
The dish blew me away. If it had a name it would probably have been called 'Textures of beetroot & peanut' as it contained several variations of both. Four distinct textures of beetroot, most interestingly a beetroot marshmallow which was soft and full of flavour, this contrasted beautifully with crispy beetroot spaghetti, beetroot jelly and discs of pickled beetroot. There was also pan fried peanuts and a peanut butter crumble which was just incredible, dry and crumbly on the plate but somehow turning back into a soft, peanut butter texture in the mouth! Very odd but extremely enjoyable. The dish was one of the most interesting I've eaten for a long time, a perfect balance of interesting flavours and especially textures with a bit of magic thrown in too.
Before our next course there was another little nod to our Noma trip. A wrapped up loaf of freshly baked sourdough bread. It was still warm and delicious, especially with the salted butter on the side.
Half way through demolishing the bread we were served our next course, a very pretty looking salmon dish which somehow managed to top the greatness of the previous dish! It has a similar balance of interesting textures but with an even more surprising and enjoyable flavour combination.
The salmon itself had been perfectly poached in a water bath and was served with delicate cubes of passion fruit jelly, pickled cauliflower, cauliflower purée, fresh grated cauliflower, coriander oil and specs of douglas fir. The flavour combination really blew my mind, I would never in a million years consider combining passion fruit with cauliflower, let alone put them with salmon, coriander and douglas fir too but it worked beautifully and I loved it. Douglas fir is a really strong and distinctive flavour but it was used sparingly and balanced perfectly. As with the previous dish the textures were so fascinating, soft fish, smooth puree, crunchy pickled cauliflower, crispy passion fruit seeds – a mouthful of sensations and another truly memorable dish.
I have to admit that even despite the skill & quality of the previous dishes when I read the next dish on the menu I was a little worried about the addition of pomegranate. Not that I have anything against pomegranate, I just had couldn't imagine it with egg, bacon & mushrooms but I needn't have worried. It was another winning dish! The egg had been slow cooked in a water bath which gave it a lovely soft texture, the yolk was soft and perfectly runny but the white was also soft and almost the same texture. The egg was sitting on a bed of mushroom porridge which was rich and creamy. The flavours were brilliant too, a huge bacon hit which with the egg and pickled wild mushrooms were very comforting and traditional but then there was the occasional shock of sweet & sour pomegranate which somehow just worked.
The fish dish next, 'Hake, Parsnip, Red Pepper, Pigs Cheek' the menu read. A well cooked piece of hake sitting on a parsnip puree with cubes of red pepper and pigs cheek with dots of rocket and new potato spaghetti. It was a perfectly good dish but didn't quite match the wow factor of the previous few, although the new potato spaghetti was very clever.
Unfortunately the dish looked so good I forgot to take a photo before getting stuck in, sorry!
The meat course of 'Lamb, Quince, Purple Carrot & Jerusalem Artichoke' was also fairly conventional compared to the earlier dishes but was very enjoyable and contained some interesting textures once again. The best end of lamb was immaculately cooked, presumably in a water bath which is great for tender meat but I would have preferred the fat to be removed or browned in a pan as it wasn't very appealing. That was my only culinary complaint of the entire evening though so it was very easy to forgive. The purple carrot had been roasted and was deliciously sweet as was the artichoke puree. All this sweetness was balanced beautifully by the sharpness of raw quince.
If the last two dishes were conventional, we were certainly back into experimental territory with the next. Described as the 'crossover' from savoury to desserts it was a fantastic combination of both. The goats cheese was 'areo goats cheese' which i'd read tweets about from Ernie earlier in the day as he talked about making it and I secretly hoped that it was for us! I'm glad it was, I love goats cheese anyway but this was something else. It had all the flavour but was unbelievably light and almost disappeared in the mouth. The unusual flavours really worked too, the butternut squash cubes & purée as well as the gingerbread soil were very sweet whilst the chocolate soil and dark chocolate shavings were bitter and all together combined to make a really delicious mouth full.
The first dessert course was possibly my favourite of the night. It looked so good that once again I couldn't restrain myself for long enough to take a photo but thankfully Ernie had taken one earlier and it looks far better under the bright kitchen lights than the ambient lighting of the restaurant. It was a sort of deconstructed Lemon Meringue Pie, i've never been a fan of 'deconstructed' classics but this was very special. Identical rows of soft Italian meringue and sweet lemon curd tasted amazing on their own but they were accompanied by pickled blueberries which were delightfully sweet & sour at the same time, soft and crumbly almond biscuits added a lovely crunch but the best bit was grains of puffed wild rice which tasted like the most amazing sugar puffs! Finished with a mint gel sauce and fresh mint leaves which brought a nice freshness. The whole dish was absolute genius and one of the best desserts i've eaten for a long time.
Most of the list I provided for Ernst was individual ingredients which he used to create the dishes, there was one complete dish that I requested though as it is Mrs FG's all time favourite – Rhubarb Crumble & Custard! I had no idea if it was even possible to turn such homely comfort food into a fine dining dish, it turns out that it was.
The main component of the dish was a large piece of what I can only describe as a thin film of set rhubarb gel. It was an odd texture but had a very natural sharp rhubarb flavour, there was other textures of rhubarb including a rhubarb tuile which shattered in the mouth. The sharpness of the rhubarb components was overcome by piles of sweet crumble mix and a delicious custard parfait.
We both agreed that although it couldn't compete with a comforting bowl of hot rhubarb crumble and custard it was a really clever interpretation of it.
We were getting incredibly full by this point but just about saved space for the petit fours we were presented with. Three jellies or pastilles with interesting, perhaps a little odd flavours, the first apple, blueberry & vanilla sounded normal enough but was actually a really unusual taste but very enjoyable and my personal favourite. The other two were also unusual – one cucumber the other red bush tea – but not quite as enjoyable.
The Wine Glass offer 'Beer Pairing' to compliment the tasting menu which I decided to try as a change from wine. I'm glad I did as it was excellent value and very enjoyable. Starting with the lightest and fruitiest beer i've ever tasted (Blue Moon, a Belgian white), followed by the beer created by Ferran Adrià of El Bulli (the waiter deeply offended me by asking me if i'd heard of El Bulli when presenting this beer!). These were followed up with a dry Japanese beer and a wheaty German beer for the main courses and finished with a fifth that tasted of banana bread and finally an Estonian beer with a distinctly toffee taste with the desserts.
We had an amazing evening, whilst it's obviously a huge advantage that the menu was created for us based on our favourite ingredients the quality of food is also outstanding and it's obvious that Ernst is not only hugely skilled but also highly ambitious. It's the closest we've ever got to recreating our experience at Noma, we certainly didn't expect that to happen 15 miles from home.
If you are interested in modern food and being challenged with interesting flavour combinations, textures and cooking techniques you should definitely try Ernst's cooking. He is also an incredibly nice person, we spent some time chatting with him after the meal and his obvious passion is great to see.
Date of visit: 01.02.2013
Follow @FoodGeekUK